On Track Congratulates Anatoliy Adamitskiy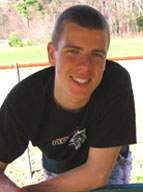 On Track, the leader in customized education for motocross athletes looking to obtain a cutting edge education, has awarded Anatoliy Adamitskiy a scholarship in honor of James and Sonya Stewart.
Anatoliy has kept in touch with On Track throughout the year in search of an educational program that would fit his life style and still provide the education that would also allow him to achieve great success in academics. Anatoliy followed up with a letter, briefly describing his and his family's move to the United States from Russia.
In the letter he described, how his family came here, with nothing but a dream and desire to support Anatoliy's love of motocross and his goal to become a motocross racer. Without even able to speak English, through hard work and determination, he improved dramatically both on the track and the classroom continually keeping a 3.5 G.P.A in honor's classes. He went on to explain that this scholarship would help him continue his education, and his desire to: " …give my family something in return for all the hard work they have put in to making my dream a reality."
Andrea:
"On Track has recently received 501 C3 status as a non-profit school making it possible to accept scholarship donations that are 100% tax deductible as well as write grants for federal funding. We can finally sponsor students in need of both financial support and an education while they pursue their career goals in motocross. Anatoliy came to us months ago with the hope of such an opportunity. The Stewart family provided for a scholarship while I was at Loretta's and it was destiny for Anatoliy to be the recipient. Thank you James and Sonya for recognizing this need and making a dream come true."
Anatoliy:
"Thank you so much for this opportunity, it is a dream come true. My family and I have been waiting for a breakthrough such as this one and it means the world to my family and myself. I would just like to thank the Stewart's and On Track for giving me this opportunity. It is great to see that people care about the sport and want to give back. Again, thank you."
On Track provides driven amateur and professional athletes with a cutting edge accredited education for grades 5-12 as well as offer college level courses. Andrea Leib has her Master's Degree in Educational Counseling and shares her take on current events and topics of interest at:
http://ontracklearning.blogspot.com/
or contact
Andrea Leib
at
909-374-8851
for an On Track brochure and list of current learning coaches.