Davey Coombs' normal weekly column, Racerhead, has been hijacked this week by the staff, as he is in the middle of a 12-hour drive home from Loretta Lynn's, where he spent the better part of a week picking up kids in very hot, very muggy temperatures that are common at the Loretta Lynn's Amateur MX Nationals.
For those of you who haven't seen them, check out the videos and photo updates from Loretta's posted on this site throughout the week, including the latest here.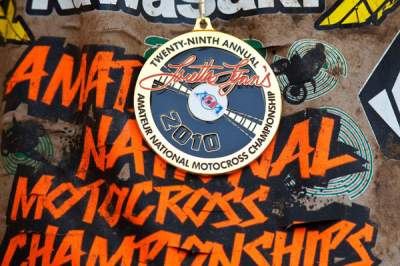 What it's all about...
Photo: Simon Cudby

But since I wasn't at Loretta's, I'm going to turn it over right away to DC, who did send in a bit of info from his iPad on the road (no, he wasn't driving):
The place was packed to the gills with riders – 1406 is the full capacity for the 34 classes – and there was huge industry presence. All of the OEMs had massive areas with new models and fun activities, plus Fox Racing, Red Bull, Oakley, DC Shoes, Answer, Volcom, the new ARMA Energy SNX, Asterisk... The list goes on and on.
We had a bunch of past champs on hand, too: Ricky Carmichael, Jeff Emig, Ryan Villopoto, Timmy Ferry, Buddy Antunez, Dean Wilson, and Kevin Windham's coming tonight. It was lots of fun, and while the weather was hot, the people were very cool – and there were more golf carts than you could ever count! And more pretty girls – sisters and moms – than you will see anywhere this side of the Anaheim pits.
Great times in Tennessee!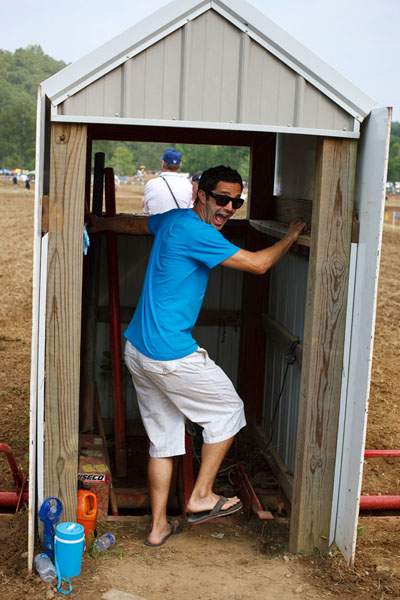 Jeff Emig is not wearing proper toe protection...
Photo: Simon Cudby
Okay, so without further ado, here is Jason Weigandt, who basically went directly from the X Games to Loretta's to announce all week. His baby may have doubled in size since the last time he was home:
There are two things you can count on at the AMA Amateur National at Loretta Lynn Ranch: it's gonna be hot, and then it's gonna rain. And that's what happened as predicted this week, except the heat was even hotter than usual. How hot? The heat index reached 111 on Wednesday, which is apparently a record for this area of the country on that date. Anyone who has ever sweated it out down here knows it takes one heck of a heat wave to break records, and yet, there it was, melting everyone down.
The good news is the weather didn't result in any major ill effects, as most of the work-a-day riders in the vet classes knew to back it down when needed. Even Doug Dubach, probably the most experienced rider anywhere, had to cruise through the last few laps of a first-moto 40 Plus battle with Kevin Walker due to overheating. So what we saw were more riders pacing themselves, and more riders getting doused with more water after the motos were done. But really, even record heat isn't much higher than the crazy temps we always have here anyway.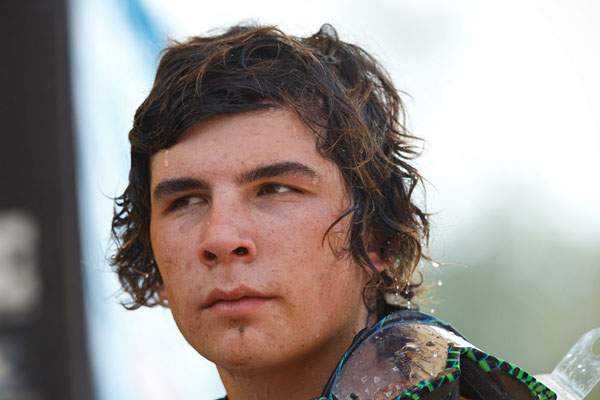 Jason Anderson is going fast...
Photo: Simon Cudby
A few riders have caught fire in the heat. Kawasaki riders Jason Anderson (in the A classes) and Justin Bogle (in the B classes) are yet to lose a moto through Friday afternoon. Anderson is the subject of a lot of rumors as where he will be riding next, and when. He could have graduated from the amateur ranks a year ago but chose to go another year to adjust from his old KTMs to his new green machines. Could that result in a big ride for next year, ala Dean Wilson last year?
Kawasaki has a big hitter in the Supermini ranks with Adam Cianciarulo, but he's had a tough time this week. He crashed while leading a moto and took second, had some terrible starts that resulted in a fifth and an eighth, and in that eighth-place moto, he was apparently accidentally riding a with an 85cc engine inside his Supermini, which is supposed to be a 112. They put the wrong engine in, according to AC. Then, in a muddy moto this morning, he was up to second place and then ran into more troubles when his bike stalled.
Red Bull Honda's Cooper Webb isn't looking to hear about Adam Cianciarulo; he's out to win, and he leads both Supermini classes with solid scores of two moto wins, a second and a third. Good starts or bad, muddy or dry, Webb has been strong. Suzuki riders Jace Owen and Dakota Alix have been battling him close, though.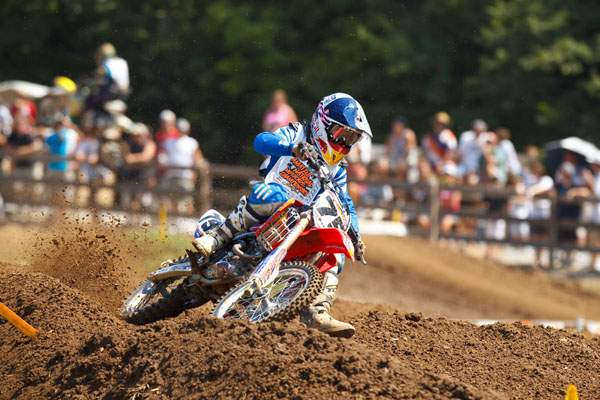 Cooper Webb on a JGR-prepared Red Bull Honda CRF150R.
Photo: Simon Cudby
A notch below that, Chris Alldredge just wrapped the first 85cc title with a 1-1-1 sweep of the 85 (12-14) Stock class. The mod title will be decided tomorrow. Alexander Frye won the second (12-14) Mod moto this morning, in the mud.
Yeah, the mud. The heavens unleashed late in the day yesterday, which led to postponement of the last few motos. Then it rained again late last night, which pushed today's motos back from 7:30 to 9:00 a.m. You can always count on heat, and rain.
The program is back on schedule now and things look good. New England Vet Keith S. Johnson just won the first title, 35 Plus, with 1-1-2 scores over Kevin Walker. Walker is holding 1-1 scores in 40 Plus, looking to hold back Dubach and Mike Treadwell tomorrow for his record 14th championship at the ranch.
Other names going fast? Too many to list. Check out daily updates here for info. I got to go back to announcing now, see ya.
Okay, thanks Weege.
Nevermind; back to Weege:
I'm back with more! Thanks to Wes Kain, Rodney Tomblin and Kevin Kelly for helping with the announcing duties. Suzuki is definitely pumped on their A riders, as Gannon Audette and Ian Trettle have been battling for titles as well (there are four A classes, 250 and 450 Pro Sport, and 250 A and 450 A). And while B rider Jeremy Martin is out of the title hunt after tough first motos, he came back with an amazing performance yesterday by winning the Schoolboy 2 moto at 1 p.m., and then coming back to win the 250 B Mod moto at 2 p.m. That's two moto wins in one hour in extreme heat! Jeremy's parents are the owners of the Spring Creek track in Millville, Minnesota, and his little bro Alex is, of course, a top privateer in the pro ranks.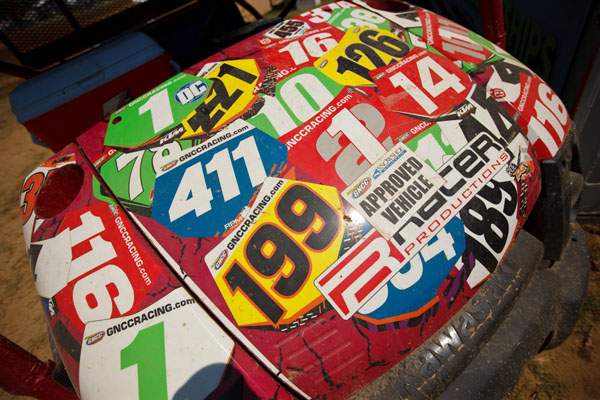 Some fast numbers there...
Photo: Simon Cudby
Of course, Loretta's features much more than just racing, and there's been plenty of fun off the track, too. Kawasaki held a fun Traxxas RC car exhibition on Wednesday night, with Ryan Villopoto driving against their minicycle stars such as Thomas Covington and Mark Worth. RV also returned to the racetrack to ride the 2011 KX450F, alongside Dean Wilson on a 2011 KX250F. And then Ricky Carmichael came to ride the RM-Z250 and RM-Z450, but unfortunately not at the same time – just for a few laps each. The Lorettaspalooza dance party was a hit with the teen crowd on Tuesday night, and FMF Karaoke provided the fun on Thursday. There's always something to see and do here, and speaking of that, it's time to get back to announcing this stuff. Probably gonna have to make a top-end change in the old voice box, but otherwise we're feeling good.
Thanks again, Weege.
Here's Ping:
The Surfercross is ramping up again. With the US Open of Surfing winding down in Huntington Beach this week and a break in the national motocross schedule it is the perfect time to get the very best from each sport together to share disciplines. Toyota and Muscle Milk are big supporters of the event and with their help it is one of the best competitions of the year for a lot of surfers and riders. I haven't seen the official entry list yet but I know Josh Grant and Justin Brayton will be there. Tarah Gieger is competing and she might be one of the best picks this year. She is crazy fast on a bike but where will really shine is in the water. She grew up surfing on the mean sets of Puerto Rico and, from what she tells me, she gets her slash on. I think I heard her say something about being better than 90% of the people in the lineup? Is that right, Tarah? Either way, she will be a good pull so my advice is, even if you have to cheat: draw her name. Plus, she looks better in a bikini than Josh Hansen.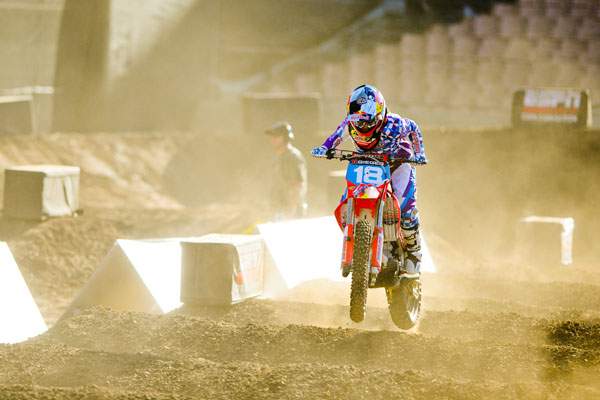 Tarah Gieger may be a ringer at Surfercross.
Photo: Steve Cox
Speaking of Josh Hansen, he is the latest victim of vicious defaming on Twitter. When did that place become the spot to talk trash? His TV girlfriend, Stephanie Pratt, dumped him when she found out he was talking to Hugh Hefner's old girlfriend, Holly Madison. You remember Holly, right? She was Hugh's "main" girlfriend and star of the "Girls Next Door" series. Anyway, Pratt lit Josh up pretty good and then wished him well as he, ahem, slept his way into Hollywood. Ouch.
James Stewart is out in California testing still. The man who used to be called the "Fastest man on the planet" still looks pretty good on a bike. Though lately he has been taking some heat for being the fastest man not racing bikes anymore. I wish I were going to be at Unadilla because I see a pretty great race shaping up in New York. James was reportedly displeased with one of the titles on the latest Racer X that had a picture of Ryan Dungey and the words "The new fastest man on the planet?" under it. I guess he took offense to the posed question and I think that alone is going to be enough to spur on a great race between the two. Add in Ben Townley, who is still looking for his first moto win and really likes the next two venues, then Josh Grant, Andrew Short, Kevin Windham (loves Unadilla) and the rest of the contenders, and it's shaping up to be an epic weekend.
I won't be making it to the next three rounds of the series. I started a paramedic program and will be buried in textbooks for the next seven months. Yep, back to college. Hey, will someone call Jody and let him know he was finally right?
And now my (Cox's) turn:
Since Racerhead last week, I went and shot the Best Whip, Best Trick and Step-Up competitions at the X Games on Friday, and then did the same for Speed & Style on Sunday, all at the Staples Center. It's funny, because I think the Step-Up competition is definitely the most straight-forward competition, as it isn't judged; you either make the height or you don't. But I think that it's probably the least fun moto event of the entire week. If we could just get Ronnie Renner to jump it every time, with those cool whips over the bar, then it would be more fun, but watching guys just launch into the sky and then come back down is kind of boring anymore.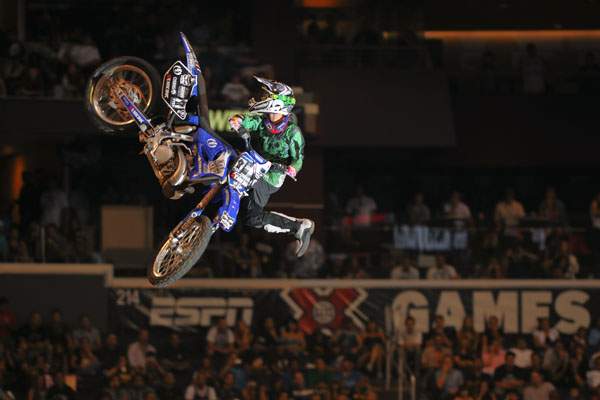 Jarryd McNeil was killing it in Best Whip.
Photo: Steve Cox
But Best Whip? Great competition – if it was judged by real judges on location. I get the idea of getting the home viewers involved, but Josh Hansen was pissed (probably rightfully so) about the camera angles he kept getting on his whips. He and Josh Grant both threw some very sick whips, but they weren't in the same zip code as the top two guys – Todd Potter and newcomer from Australia Jarryd McNeil. So while the two may have competed for a bronze, there's really nothing to be mad about because they wouldn't have won, regardless of camera angles. But they were both upside-down at times – especially JG. They just couldn't match up to the guys who jump for a living. It's respectable.
And Best Trick was won by a guy with a great story in Cam Sinclair, who nearly died at an event a couple years ago. He pulled the double-flip, which definitely took a LOT of balls, but Travis Pastrana did that in his victory lap during the regular Freestyle competition the day before at the Coliseum. It seems like once a trick is part of any sort of full run, it shouldn't win Best Trick. And I think Sinclair agrees, since he said afterward that he had another, bigger trick ready to go if he needed it – because he expected that he would need it. He gets to save it until next year. But in my opinion, both second and third could've won, and it would've been harder to argue. Robbie Maddison's body varial to side-saddle landing was smooth and really cool – although he did pull that trick without the side-saddle landing at the Freestyle comps (and then crashed doing it later). Japanese freestyler Takayuki Higashino could've won it with his very, very gnarly double-grab backflip, and that would've been legit.
But it's easy to wonder if the judges were influenced by Sinclair's story, and you couldn't blame them if they were. Sinclair is a bad dude.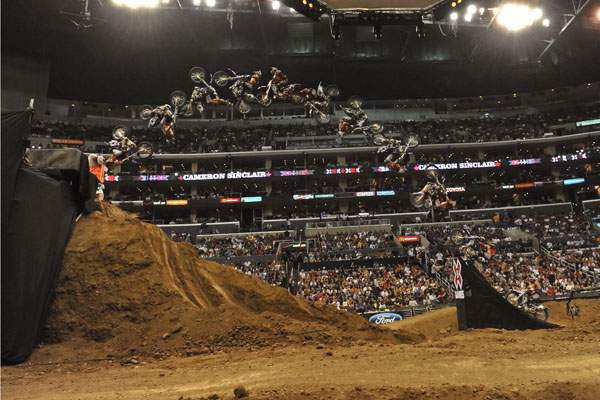 Cam Sinclair's very ballsy trick... But was it the "Best Trick"?
Photo: Steve Cox
To see photo galleries from the X Games, click here (for Thursday) and here (for Friday and Sunday), and for wallpapers from the event, click here.
Oh, and that Pastrana guy won Speed & Style after having a horrible day doing the joke of this year's X Games – Rally. People getting lost and DQ'd, cars breaking... Who thinks like me and thinks that they should just go with off-road truck racing with some really big, really sick jumps? I mean, Brian Deegan (silver medal in Rally) is already racing the trucks, as is Carey Hart, Ox Kargola, Jeremy "Twitch" Stenberg, etc., and you can't tell me Travis or any of the rest of the stars of Rally couldn't learn to drive a truck pretty quickly...
Let's see it, X Games! The trucks are excitement. The Rally this year was... Well, not.
Glen Helen
today shooting some of the guys. They will be racing tomorrow and Sunday at
Glen Helen
, including
McGrath
,
Wardy
,
RJ
,
Ricky James
, and all of the rest of the guys I already mentioned. Go check it out if you're bored and want to get sunburned while watching people smash into each other in off-road trucks. Sounds like fun to me!
And finally, I just wanted to point out that in Racerhead #26 on June 25th, we (I) pointed out how weird it was that Youthstream announced its 2011 schedule with a handful of TBAs in it (races without a venue), and where a couple races took place after the Motocross des Nations, and where the promoter was expecting teams to pay to race overseas a whole lot, including twice in the USA (probably consecutively and not close to one another, but no word as to how the teams were supposed to get from the west coast to the east coast, as the US teams would likely be busy), once in Brazil, and it was to kick off in Australia. Some people didn't like that I pointed it out, apparently, as I was mentioned (not by name) in a press release that came out later that day, but lo and behold, a press release came out last Saturday that said that the teams met with Youthstream, probably with the same concerns as I pointed out, and Youthstream backed off. Cooler heads prevailed. Good job, Youthstream! Now, there will be one US GP (at Glen Helen), one race in Brazil, and the Australia race is off. Also, there was no mention if the series would still start after the US Supercross series ends (in May), but it did say that there will still be 15 rounds, and that the MXdN will be held after the final round now – in its proper place. Will they still be able to squeeze 15 rounds in that short of a period of time, with the MXdN still at the end, and coming to the USA and going to Brazil? Well, we know how hectic the US Nationals schedule normally is, and it is only 12 rounds, all on the same continent, and starts after SX, too...
Just sayin'...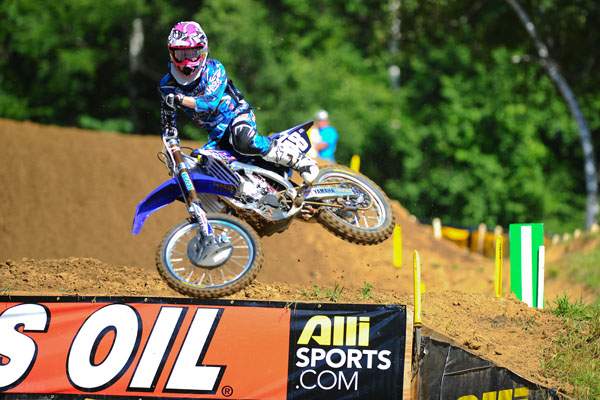 Max Anstie is joining his fellow Brit Tommy Searle in the GPs next year. They'll be back.
Photo: Steve Cox
And that leads me into my final bit, which is that I'm bummed to hear that Tommy Searle and Max Anstie are heading back to Europe to race for the CLS Kawasaki team. Their results have been pretty hit and miss so far in the USA, as racing here is a lot different than it is in Europe, but I believe both of them have what it takes to make it here; but perhaps it will be better for them to go over there and get some confidence back before making another run at racing in the USA. And believe me, they both want to, and both will very likely be back.
There were rumors, though, that the Pro Circuit team was going to hire Searle to race Supercross here, then send him to Europe to race for CLS (which Pro Circuit sponsors), but I can't reiterate this enough to those who start and/or believe these rumors: The US manufacturers don't want to spend money paying a guy to race in Europe. This is just true. It's not impossible for KTM to do it, as they are based in Europe and it could be good for a rider on their bikes, but when it comes to Kawasaki Motors Corp., USA; American Honda Motor Co.; Yamaha Motor Corp., USA; and American Suzuki Motor Corp.; you'll notice some key words in there. I italicized them for you. That's where they care about selling motorcycles, so that's where they spend their budget to race. Period. If a GP team wants to bring over a rider to race in SX (like Zach Osborne may do next year), that's one thing, but don't expect the US teams to foot the bill to split the schedule and send riders to Europe or Brazil to race when they can be racing here in the USA – presumably resulting in better bike sales here in the USA, where it matters.
I'll shut up now. Time for some other stuff:
How cool is it when the owner of a motocross-oriented company not only allows a motocross track to be built on his property, but actually jumps on a dozer and builds it himself? Racer X Publisher Scott Wallenberg witnessed one of the first riding sessions held at WPS headquarters in Boise today. National Sales Mgr. Doug Riipinen and Fly Racing's Pete Treadwell ripped off a few hot laps for the lens of Allen Picard on the track built by WPS president Craig Shoemaker.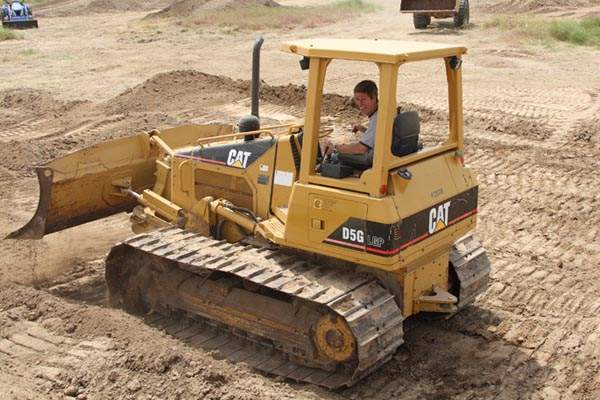 Craig Shoemaker makes a track instead.
Photo: Allen Picard
Tyrelle Cranmore sent us this:
We have a local track in Montana that could use support from the motocross community. They are about to be shut down if we can't get more support. Please, if you could post this link and help draw a little attention, anything would help. Thank you.
And check this out: Merge Racing's Michael Holigan is forming a team for the 2011 Indy 500:
Thanks for reading Racerhead. See you at the races.