Friday Update from Loretta Lynn's
Sometimes it's just not your week, and Adam Cianciarulo now knows this. For the fourth moto in a row, the young rider many consider a future superstar in AMA Motocross and Supercross had problems at Loretta Lynn's Ranch, this time when his motor let go while running third in the morning Super Mini 1 moto. His bad luck was mirrored by Jace Owen, who was leading the moto on his Suzuki. Owen's DNF opened the door to Dakota Alix, who is having a great week here at the 29th Annual AMA Amateur National Motocross Championships. Alix now has a 2-1 on his Suzuki, which puts him even with Honda CRF150 rider Cooper Webb, who finished second in moto two after a win in the opener.

The Super Mini 1 moto was the second of the day after a lightning storm ended Thursday's motos early, causing a red flag of the 85cc (12-14) Modified. Rain stayed in the area until 7 a.m., drenching the facility and necessitating a two-hour delay to drain as much water from the track as possible. When the MX Sports crew and Marc Peters of Petersbuilt Tracks were done, the mud was not nearly as large a factor. In the restarted moto, Suzuki-mounted Alexander Frye got on the board with a moto win, giving him a 6-1 so far here. Florida's Bodie Colangelo was second, but he was thirty-seventh in the first moto. And first-moto winner Jordon Smith of North Carolina ended up sixth. So the young man to beat in the last moto here will be West Virginia's Steve Gretchen, who has a 2-3 score for low points going into the title-deciding moto tomorrow.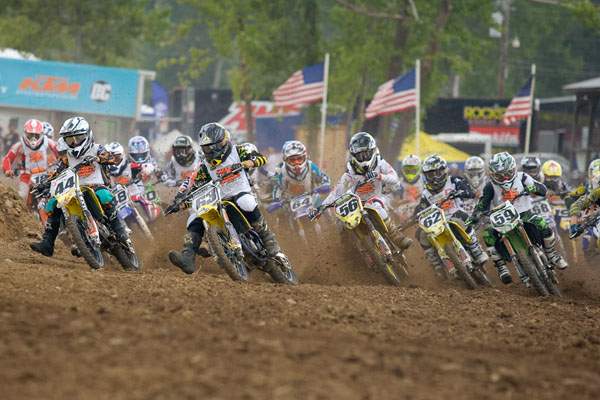 The 85cc 12-14 mod class was restarted due to lightning in the area.
Photo: Matt Ware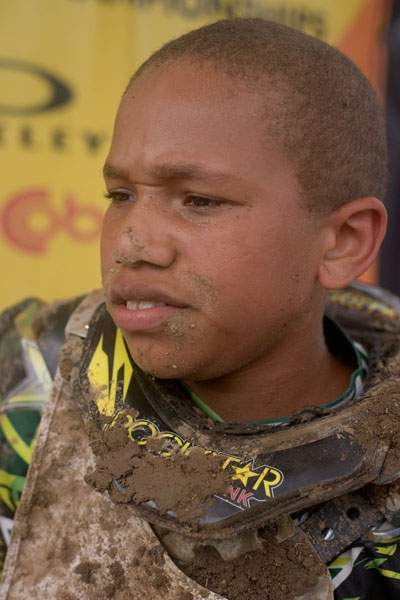 Alexander Frye took home the win.
Photo: Matt Ware

In the 85cc (9-11) Stock division, Michigan's Mitchell Harrison was the second-moto winner, leaving the Kawasaki rider with a 5-1 after two motos. Missouri's Austin Forkner has a 3-2, while Yamaha rider Tristan Charboneau is the leader here with 1-3 tallies. All three motos count in every class, so Harrison and Forkner still have a shot at the title.

Kevin Walker, most successful rider in Loretta Lynn's history with thirteen titles, moved a big step closer to number fourteen when he ran off and hid from the rest of the pack in the Senior +40 moto. Walker got some help from an unlikely source in Team Green rider Mike Treadwell, who held off Doug Dubach for much of the moto, then almost passed him back at the end. Walker's 1-1 looks good compared to Dubach's 2-2, as the latter will need Treadwell or someone else to get between him and Walker in the last moto in order to take the title.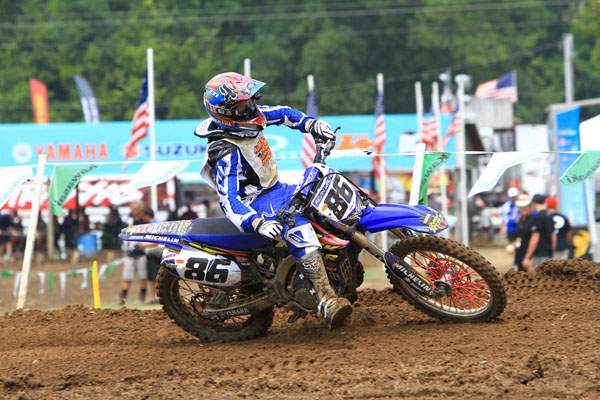 So far Kevin Walker is 1-1 at Loretta's this week. Can he get the third moto win?
Photo: RaceDayPix.com
Justin Bogle got another moto win in the 250 B Mod class, again over Honda-mounted Kyle Peters. Their scores mirror those of the Senior class: Bogle's 1-1 looks good against Peters' 2-2. Texas Brad Frace was third in the second moto.
And in some late motos Thursday before the rain delay, Jeremy Martin, younger brother of Alex, took the Schoolboy 2 (13-16) moto win over fellow Minnesotan Jesse Wentland and first moto winner Joey Savatgy. Martin then turned around and beat everyone in the 250 B Stock moto, but his overall chances are a long shot in both classes after eleventh- and ninth-place finishes in the first motos of either class.

Ian Trettel
got a moto win over
Gannon Audette
in the 250 A class, which means the two Suzuki riders will likely settle the title between themselves in the final moto. Floridian Zach Freeberg was third again.
And in the Women's class, Jennifer Burton lost her title shot when the first-moto winner DNF'd after just one lap around. California's Alexah Pearson now holds a 2-1 here while Florida's Serratia Gonzalez is 4-2 after two motos.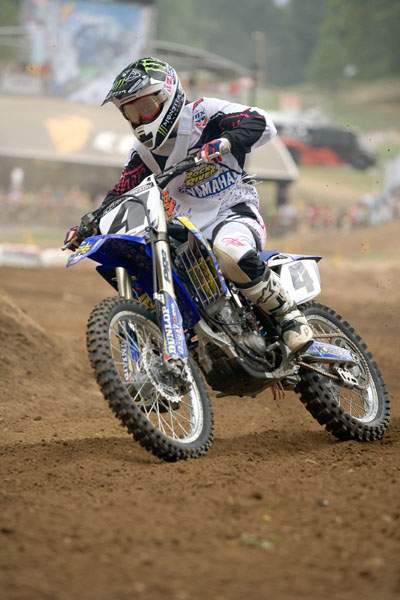 Alexah Pearson sits atop the Women's class.
Photo: Matt Ware