PJ Larsen Crowned Australian Motocross Pro Lites Champion
JDR Motorsports/Motorex/KTM rider PJ Larsen claimed the 2010 Rockstar Energy Australian MX Nationals title in the Pro Lites category one round early during Coolum's mega double-header season finale in Queensland on July 24-25, 2010.

Larsen's top finishing scores throughout the season gave him an 84 point advantage heading to the final round which allowed him to take the championship after Saturday's race and gave him the opportunity to run his new #1 plate during Sunday's event.

Saturday's race was comprised of three 8-lap motos. Larsen pulled the holeshot in the first moto and went on to finish 2nd in the moto. He finished 2nd and 4th respectively in the next two motos to take 3rd overall for the day and the Championship.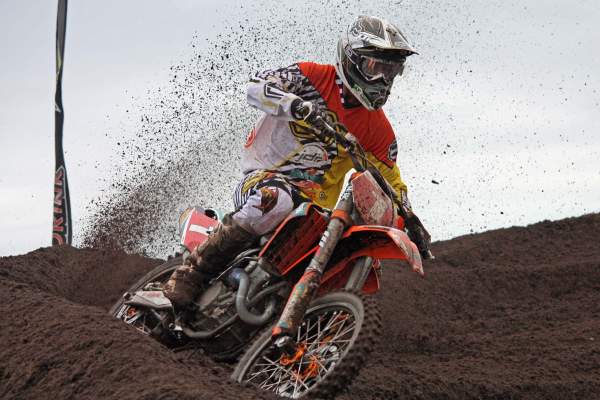 The series win marks a fitting finale to what has been a dominant season for Larsen and the JDR Motorsports outfit in its maiden season in cooperation with KTM, the team taking out the title on the weekend using the all-new 2011 KTM 250 SX-F model.

"It means a lot to me to win this title after getting the opportunity to come and do a season in Australia with the JDR Motorsports/Motorex/KTM Team," commented the 19-year-old, who is originally from South Carolina. "I'm glad that we could come out with the championship."

The championship victory is a proud moment for the JDR Motorsports team, winning the title in memory of teammate Andrew McFarlane, who was tragically killed in at Broadford's third round of the title earlier this season.

"The whole team has been working really hard because we wanted to win the title for Andrew – the whole goal was to go and do our best, make Andrew proud, and I think that we did a good job of it," Larsen said, eventually winning with a comfortable margin of 65 points.

With the pressures of the championship challenge off his shoulders for Sunday's round, California-based Larsen endured a difficult end to the season by his standards, taking out 4th overall with a consistent run of 4-5-4 results.
"It definitely wasn't the best weekend for me," he reflected. "I've been resting up an ankle injury that I suffered in the lead-up to Moree, but all in all we made the best of what we had, won the championship and that's all that matters."

"Winning the Pro Lites title is a first for PJ, it's a first for the JDR team and it's a first for the 2011 model KTM 250 SX-F," Team Manager Jay Rynenberg commented. "I think PJ really proved a point to the Americans as well that he's going to be a guy to be reckoned with next year. It's a credit to his work ethic and a really good day for JDR.
Team JDR Motorex KTM team will now be preparing for the upcoming Super X Australasian Supercross Championship, which is scheduled to kick-off at Energy Australia Stadium in Newcastle on October 16, 2010.

As for Larsen, he will return to the United States for the next two months and prepare for the Australian Supercross Series while in California. During his first week back he plans to relax and watch some racing instead of participate. "I am planning on going to the X-Games and then to Loretta Lynn's in order to just catch up with some friends and take a break."

Visit www.mxnationals.com.au for more information and detailed results on the 2010 Rockstar Energy MX Nationals. For further information on KTM Australia log onto www.ktm.com.au or visit www.jdrmotorsports.com.au to visit the JDR Motorsports team on the web.

PRO LITES CHAMPIONSHIP RESULTS:
1. PJ Larsen 535pts (JDR Motorex KTM)
2. Kirk Gibbs 470
3. Ford Dale 413
4. Ryan Marmont 387 (JDR Motorex KTM)
5. Lawson Bopping 380

PRO OPEN CHAMPIONSHIP RESULTS:
1. Jay Marmont 495pts
2. Billy Mackenzie 482
3. Dean Ferris 465
4. Tye Simmonds 431 (JDR Motorex KTM)
5. Cheyne Boyd 416

UNDER 19s CHAMPIONSHIP RESULTS:
1. Josh Cachia 540pts (MXRAD Coastal KTM)
2. Ross Beaton 483
3. Harley Quinlan 450
4. Dylan Peterson 414
5. Matthew Phillips 363