Loretta Lynn's Bitten by a Cobra
Cobra opens the 2010 AMA Amateur MX National Championship with press launch of 2011 bike line tonight

HILLSDALE, Mich. – American-made Cobra Motorcycles – featuring the planet's most successful line of competition mini cycles - take center stage this weekend when the world's best amateur motocross racers gather at Loretta Lynn's Ranch in Hurricane Mills (Tenn.) for the 29th running of the AMA Amateur National Motocross Championships, presented by AMSOIL.

Cobra, which swept both the 51cc AMA 2 and AMA 1 Stock podiums in 2009, returns a team stacked with the sport's future top pro racers – aka the Cobra Generation.

"All the hard work the comes with being a top amateur motocross racer – including the many family sacrifices - come together this week in Tennessee for these kids," said Cobra President Sean Hilbert. "Loretta's is where America celebrates the great sport of amateur motocross racing. And Cobra's pumped to be there with a full factory effort for our racers."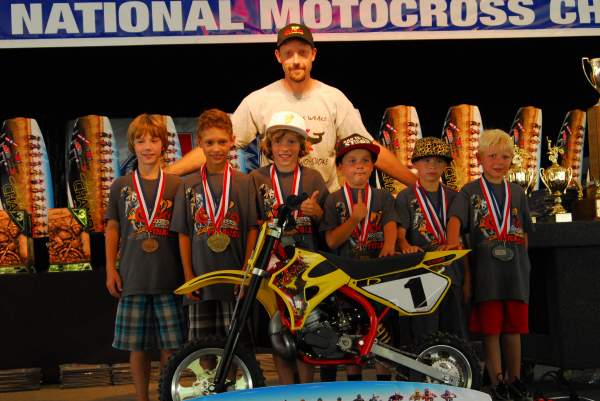 Cobra will be led in the 51cc AMA 2 title chase by three proven talents. Defending 51cc AMA 1 class champion Stilez Robertson (California) and Missouri speedster "Lightning" Lance Kobush are the two early favorites, but watch out for Utah's Pierce Brown, who's coming off an unreal Ponca City event, along with Washington's Levi Kitchen and California's Carson Mumford in the 7-8 class. And though these three enter as favorites, there's plenty of other Cobra racers that will be gunning for the for the coveted Loretta's podium spots. Other 7-8 Cobra kids to keep an eye on include: Gauge Keith (Md.), who was last year's 4-6 AMA 1 runner-up, Jack Rogers (Md.), Larry Davis (Ill.), Tennessee's Kruz Sampson and Jackson Turpin (Ga.).

In all, Cobra's King 50 is defending an amazing 1st through 24th place – and 37 out of 42 qualifying gate picks - from 2009 in the AMA 2 class!

The little guys (4-6, AMA 1) are going to have a Battle Royal on their hands, according to Hilbert, as Georgia's Gage Linville, Colorado's Andrew Britt, Michigan's Jaiden Taylor, Nevada's Robert Hailey and Ohio's Vance Stiers all came blazing out of their Loretta's regionals with the speed it takes to podium at the finals that last year featured eight of the top ten spots – and 36 of the 43 total entries – on the Cobra CX Jr. model.

And as the ground-breaking, American-made Cobra CX65 continues to gain momentum, longtime Cobra racers will be up against a sea of orange bikes in the battle for the 65cc 7-9 title. Cobra CX 65 riders include: Michael Hicks (Mo.) and Brandon Smith (N.M.), both of whom had outstanding careers on the Cobra CX Jr. and King 50 bikes in working their way up to the 7-9 65cc class. Joining Hicks and Smith will be North Carolina's Jonathan Lee, along with Colorado's Aaden Veazie in the 7-11 65cc Modified class. And in the 10-11 65cc Stock and 7-11 65cc Modified classes Illinois' Chase Sexton will be the lone racer flying the CX65 flag for Cobra factory against the field of foreign bike manufacturers.

For more information on the 2010 AMA Amateur National Championships – including up-to-date scoring, link to the Loretta's website at: www.mxsports.com.

Cobra, founded in 1993, produces the most successful line of competition mini cycles and mini quads in the United States with more than 200 national titles in the last decade. Based out of Hillsdale, Mich., Cobra's mission is to build premium products for the serious racer. For more information on Cobra products, please visit our website at www.cobramotorcycle.com.