It's Memorial Day Weekend in America, which means a great deal to our country, especially in a time of war. If you're an American, or live in a country that's been helped out at some point by the U.S. military, take a moment and think about that, especially on Memorial Day, which is Monday. Their service and sacrifice means a great deal to us all.
It's been a week since the 42nd Annual Rockstar Energy Hangtown Motocross Classic, and the motocross world is still shaking its head in disbelief over what it saw there from pure rookie Eli Tomac. The quiet kid from Cortez, Colorado, is the latest product of the GEICO Powersports Honda talent factory (Factory Connection, actually), and he got off to an even more amazing start than "that little kid" Justin Barcia did last year when he led the most laps at the opener but didn't win.
As for the 450 class, I don't know if I was more impressed by Chad Reed or Mike Alessi (and Davi Millsaps was no slouch out there, either). They were fast, they looked fit, and it should be a fantastic summer in the Lucas Oil AMA Motocross Championship.
If you missed the first set of motos (and even if you watched, you didn't hear anything due to a faulty receiver), here are all three in the set: 450, 250, and the WMX moto, which featured an upset of sorts as well in the ongoing battle between Ashley Fiolek and Jessica Patterson.
It was a struggle this week getting this archive up, as Allisports.com is using a whole new system. Now they have it sorted and, starting with Texas, the first motos will be up at the beginning of the week, not the end. I apologize again for the delays and hope you enjoy this over the weekend. I also want to thank Will McDonough and Doug Kirk for getting the whole thing sorted.
Also, with a server crash screwing up the delivery of results and lap sheets last Saturday, everyone has been working triple overtime to correct those problems and to prevent them from ever happening again. I have learned more about internet technology in the last week than I have in the last ten years.
And speaking of technology, the new Racer X App for your iPhone or iPod Touch is available! It's a pretty cool way to stay up to date on everything in the motocross world: breaking news, weekly features, rider columns, and more will load quickly and are easy to read on your handheld device. You will also be able to watch the Racer X Pre- and Post-Race Shows from all of the Lucas Oil AMA Pro Motocross Championship. It's free, and it's right here.
So by now everyone knows pretty much everything about Hangtown, but I would like to add a shout-out to the Dirt Diggers for all the extra work and effort they put in to make the track rough, exciting, and very safe (the ambulance didn't leave the track). Those guys (and girls) pride themselves on building a great event, and that was one. It was a huge crowd, there were four different moto winners (from three different countries), and there could have been four other moto winners in Tommy Searle, Trey Canard, Josh Grant, and Davi Millsaps.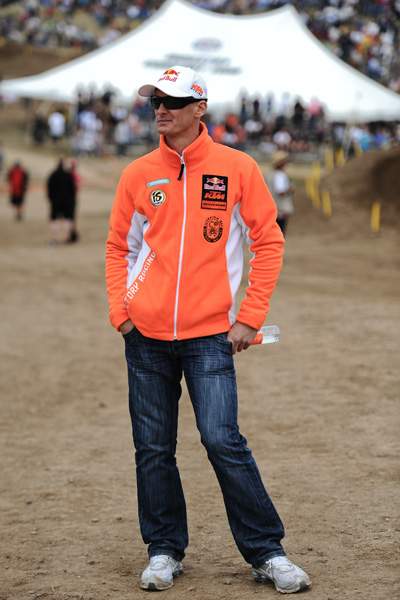 Stefan Everts was at Hangtown to see how the AMA debut of KTM's 2011 bikes went.
Of course, now comes the off-weekend for most, and the U.S. Grand Prix at Glen Helen for some. Fresh off his fantastic second-moto win at Hangtown is Mike Alessi, who gets another chance to impress his KTM boss from Europe, Stefan Everts, and also battle with his friend Tony Cairoli, also on a KTM 350. I think that one is honestly too close to call!
In the MX2 class (250Fs) AMA-bound Marvin Musquin is the favorite, with 16-year-old Ken Roczen and 15-year-old Jeffrey Herlings giving chase. But there are a couple of already-in-America British riders, Tommy Searle and Max Anstie, who could also get in there and mix it up. Plus there's DNA Shred Stix Yamaha rider Broc Tickle, who was my long-shot pick at Hangtown.
[Editor's note: Tickle, it turns out, is sitting out the GP this weekend, choosing instead to focus on his primary goal; the AMA 250cc MX title.]
As for the event itself, I wish I were headed out to California to watch, but since this is my first "off" Memorial Day Weekend since the seventies, I am going to hang out around the house and work at High Point. For thirty years, the High Point National was on Memorial Day Weekend, but I talked my mom into moving it for the sake of the travel pattern last year and to help out Glen Helen, which wanted to move to the front of the outdoor schedule. After things went south, rather than move back to our traditional date, we thought that would be tough on everyone – including Glen Helen. But next year there will be a national on Memorial Day Weekend again, so this is my one and only chance to be home and not at the races.
My esteemed colleague Steve Matthes of Transworld MX and PulpMX may also be doing nothing: he was denied a press credential for apparently being "too negative" about the Grand Prix series in a piece he did for Racer X Online. Apparently, they didn't read MXA from the early eighties until April 2010.
The track out at Glen Helen looks really fun and challenging, and if you're not going, you can watch the races on Freecaster.tv on Sunday afternoon, for a fee of two euros (it's apparently not on TV here in the States). The races start at noon in California, which means 3:00 here in the East. Here's hoping all the riders from either series put on a good show and the fans get their money's worth.
Check out the Racer X Podcast on Hangtown, too. It's got some really funny stuff, especially from Ryan Villopoto!

Privateer Deven Raper had a strange crash in practice when his transponder apparently slid on his fork leg, causing it to lock the steering. He somehow ended up with his head stuck in the rear chassis of his bike, and a good samaritan photographer (anyone know who that guy was?) jumped in to help out. Our friend Angela shot this photo, which Deven jokingly begged us not to run! Well, at least we think he was joking….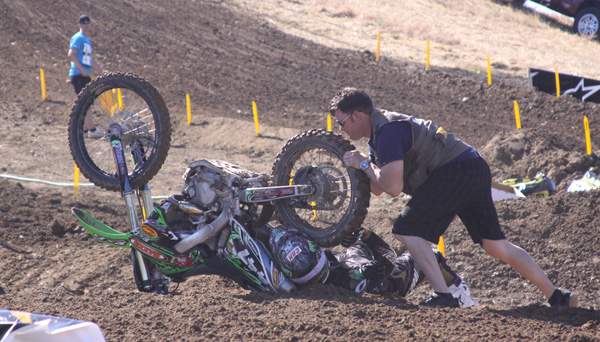 Deven Raper got himself into a bit of a sticky wicket!
In the accident, Raper busted the mounts of his JD Ignition. MX Sports contacted Pro Circuit to see if they had a replacement ignition, and Bones and the gang came through to help Deven out.
Eric Johnson had an interesting evening on Tuesday: Stefan Everts and Johnny O'Mara each brought their families to his house to watch the Lakers game and visit. What's cool is that EJ grew up in Ohio, hanging over the fence at the old Valvoline U.S. 125cc Grand Prix at Mid-Ohio, cheering the O'Show on, then later became a fan and now friend of Stefan Everts. Stefan is in town for the USGP, and to begin laying the groundwork for KTM's resurgent push into the Lucas Oil AMA Motocross Championship, as well as Monster Energy Supercross, beginning in 2011.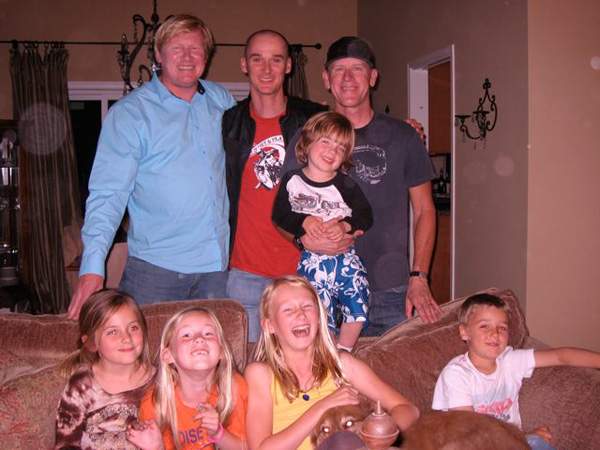 EJ The Johnson, Everts and O'Mara boys (and girls).
Speaking of that, USA-bound Marvin Musquin was also at Hangtown, though obviously not racing. He's moving here as soon as the season ends in Europe with a two-year deal to race the AMA series as part of KTM's new push. I asked Marvin if he wanted an infield pass, but he politely declined, saying that he had a handful of friends with him, including Sebastien Pourcel and his father, plus Xavier Boog, and was just going to watch from trackside. I wish I would have found Marvin afterward, because I would have loved to hear what he thought of Eli Tomac!
More funny stuff from Johnny O'Hannah: His take on Eli Tomac, the new "GEICO American Hero," which is a play off the '80s superhero spoof The Greatest American … oh, forget it.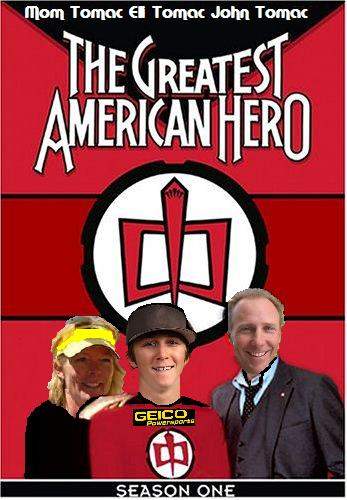 When Simon Cudby and I went to visit Chad Reed earlier this month, he sounded off on a wide variety of topics. One in particular came into play this weekend when Eli Tomac, all of 17, won his first pro race out of the gate. I asked Chad what he thought about the AMA racing the age limit to 18 next year:
"The age limit going to 18? My personal opinion? It's the wrong direction. I am not at all in agreement with it. I understand the whole reasoning with the waivers and the parent-guardian kind of thing, but there's got to be a way around it somehow. I just think it's lame. I think it sucks that you have to take somebody with talent and somebody with something special—that one-in-a-million guy that can step right up to the plate and rise to the occasion—and they can't race for two years. Look at Europe: They have two 15-year-old guys battling it out for podiums and race wins, and I think the U.S. is going to lose a lot of talent during that transition. The promoters wanting them to go to high school and all that kind of stuff, I don't know if it's going to work the way people think it is. Two more years of having to stay at home, two more years of having to live under the rules of your parents, two more years of the parents having to pay to go racing, that could break a lot of families too, as much as it could help.
"If you're off the rails at 16, nothing's going to change by the time you're 18, but that's my own personal experience of me growing up in Australia, in a world of wanting to be the best, me traveling to New Zealand when I was 15 because I couldn't race in Australia. I couldn't imagine having to wait two more years to turn pro—I personally think I would have done something different, because I was at a point where I couldn't get any better, there was no challenge, and so the interest of wanting to be better was running down. And people get hurt when you're not concentrating. When you're 16, 17 years old and you're murdering everyone out there, I think you lose focus and maybe will transition off to something else, rather than waiting around for two more years. You might say, 'The hell with this,' and just go start working somewhere else and making money and building a career there, rather than waiting for two years to see how you're going to do in professional motocross."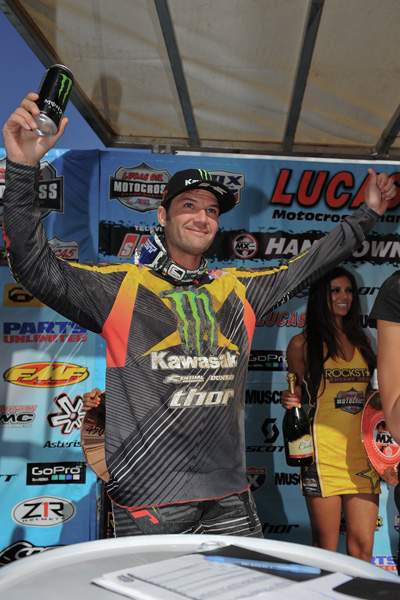 Chad says he might not have waited around until he was 18 to race professionally.
GuyB over on VitalMX.com scored a couple of very interesting interviews yesterday, first with the temporarily-out-of-retirement Ryan Hughes, as well as the still-sidelined James "Bubba" Stewart.
After the GP, Ryno will go back to his training programs, plus Ryno Organics, as well as planning the brand new national track at Pala Raceway with the staff down there. Ryno and I also have a bet: if he gets on the podium in either moto, he gets the cover of Racer X!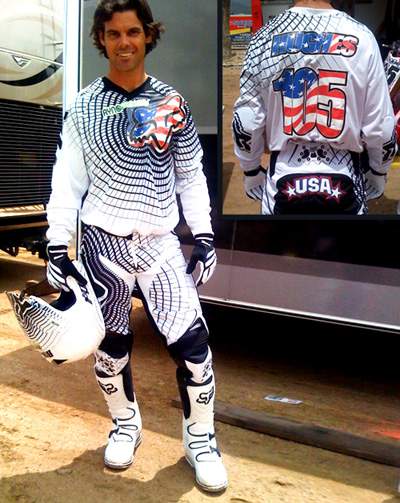 Top-three in either moto at the US GP lands Ryno the cover of Racer X.
As for James Stewart, he sounds totally motivated to get back on track; it's just a matter of when with his injured wrist heals. We may see Stewart on the track as soon as Texas! Actually, it's probably going to be Malcolm Stewart making his own pro debut. But as soon as James is ready, and hopefully it's soon, we will see him at some AMA Motocross races.
Okay, here's Steve Cox with much more on Hangtown:
Mike Alessi is a great motocross racer, and he's the best starter in the entire world, but what he has there is often offset (and then some) by the possibly thoughtless things he sometimes says or does. For example, the whole Ivan Tedesco incident at Glen Helen a bunch of years ago. No one knows exactly what he was thinking – maybe not even Alessi – but it happened regardless.
And the crazy thing is, after a year basically away from racing, Alessi still lets his emotions run rampant with no filter between his brain and his mouth. After an absolutely masterful performance in the second moto at Hangtown, where he got the holeshot and just left everyone behind on his sleek new KTM 350, Alessi rolled up to the podium and essentially moved people out of the way because they (understandably) weren't expecting that. As he revved his bike on the podium, his competition was dumbfounded. His former teammate Chad Reed didn't know what to make of it, and Alessi's longtime rival Davi Millsaps just thought it was hilarious.
Then Alessi was informed that he didn't win the overall. Chad Reed did. A 1-3 beats a 4-1 in any motocross series in existence. But that didn't stop Alessi.
In the press conference, Alessi had the opportunity to be humble but, as usual, missed the mark. "After the second moto, I wasn't even tired," he stated. "I mean, this is my helmet from the second moto, and it's not even dirty." Later, he said that he didn't even break a sweat. He went on to talk about how coming back from Europe to race at REM was the best thing he had done, because it exposed a lot of flaws in the bike. "We learned a lot on the motorcycle from being in Europe for a month and made the bike better, and then we came back to America and made the bike even better. I mean, honestly, the best thing that I did in the last month was racing the pre-races that I did at REM…. We learned a lot about the motorcycle: we had fuel-boiling, we had electronical [sic] problems, we had a shock blow out…. We had just different stuff. And it just shows that those races – those meaningless races that we did – proved that we had work to do, and for the last month we've been working hard to make the problem better. And it shows. The bike was frickin' awesome today. It couldn't have been any better…."
So if you're buying a bike, would you want one that has all of those problems when it's not a completely dialed-in factory bike? This is why most riders are tight-lipped about bike problems – because they're being paid to sell bikes.
He went on, with a similar question, to end an answer with "We made some big improvements in the last couple of weeks and came here and just demolished them today." Of course, Alessi didn't demolish them. He actually finished second.
Chad Reed was really funny when he got up, getting giggles from the entire audience when he immediately said, "I won, right? I won the overall? I was almost confused by listening to that…."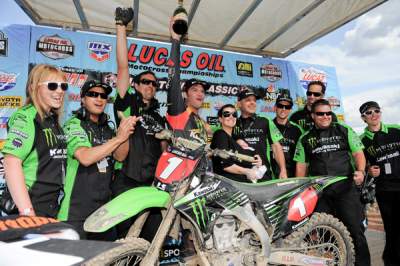 The Monster Energy Kawasaki team took the podium to correct the perceived slight from Alessi.
Two motos into a twenty-four-moto series, #800 has already managed to offend and anger most of his competition, including the guy who beat him last Saturday, Reed. And Reed is exactly the wrong kind of guy to give motivation to.
The amazing thing is that Mike made his professional debut at Millville in 2004 (compare that fiasco to what we saw from Eli Tomac). That was six years ago. But nothing has changed. That either means he's incapable of changing or that he simply doesn't recognize the need. But if fueling Chad Reed's fire this summer doesn't make him realize that he needs to change his way of thinking, nothing probably ever will.
And how about that Eli Tomac kid, huh?
And Ben Townley, too. I saw Ben after the race and he seemed perturbed. I've always liked him, and I thought it was weird that he seemed angry, so I said, "Ben, are you in a bad mood?" He goes, "Yeah, I rode like crap." I was like, "Dude, you just took like two years off of racing at this level and you ran in a podium spot in both motos coming from behind!" He wasn't amused. He just said he was upset that he fell. I'm calling out Townley to win at least one of these nationals this summer.
Then there's Brett Metcalfe. I said in the national preview that he was looking to land a 450cc ride next year and that to do that, he will have to put in some results. I wrote, "Betting that he will do that is one of the safest bets in the AMA pits." Well, it seems that few other people knew how much of a bulldog Metty is, because he wasn't really talked about much coming into the race, yet he spent both motos near the front and battled around inside the top five – and he was also disappointed with the result! Check out what he had to say earlier this week in our 5 Minutes With here.
And finally, I'm calling out Mike Alessi to win the Glen Helen GP this weekend. He goes really, really fast at Glen Helen, but that's not why I'm going out on a limb to say he's going to win. It also has a lot to do with the fact that it's going to be over 90 degrees out there on Sunday, and in my experience, the Euro guys don't do so well in that kind of heat. A couple of years ago, when Marc de Reuver came over to race Southwick, he said it was just way too hot, but the reality was that it was a mild weekend by Southwick standards. And Mikey lives in the high desert of southern California, where in the summer it's often over 110 degrees. So 90-something for Mikey is cool, while 90-something for Tony Cairoli probably won't be so cool. Although I've been proven wrong before, even by Cairoli, so we'll have to see!
Here's the Weege:
I would love to go and check out the USGP at Glen Helen this weekend, partially because I've only seen Antonio Cairoli ride once, and that was at the 2007 MXdN - certainly not his best day. But mostly I just want to go because I wouldn't have to do any announcing—I could just stand by the fences and party with the fans. Reminds me of the glorious World Cup of Motocross at Glen Helen in 2002, which may have been the last race I went to where watching was my only job. And those were good times!
Alas, I don't live in SoCal, so this would be another travel weekend for me, and that won't go over well with my wife, who entered her ninth month of pregnancy on Wednesday. If the kid decides to come out this weekend, I would already know that it's blessed, because there hasn't been a Memorial Day Weekend without an AMA Motocross race since, well, at least since High Point started in 1977, which is before I was even born myself!
And speaking of High Point, our actual due date is a few days after that race two weeks from now, so I have "between the first and second motos in the Asterisk Mobile Medical rig" in the office pool. By the way, how come everyone refers to pregnancy as nine months, but you're not due until 40 weeks, which is nearly ten months?
But enough about me. How about Hangtown, eh? I covered a lot this week through the Renthal ReduX column on Tuesday and the Hangtown from the Sidelines podcast on Wednesday with myself, Ping, and guest Ryan Villopoto. Read and listen in and you'll know everything there is and was to know about the opener. But after breaking down all of the info, the main thing I learned from Hangtown is that we didn't learn much from Hangtown. Villopoto says it's a much different track than others on the tour, and combined with opening round jitters, riders coming in with untested setups, and other factors, things could be totally different in Texas. So different that, when I asked Tony Alessi if Mike would like to do an interview this week, he said they would rather not, because things might change very quickly. Even Tony admits it's way too early to say that Mike and the 350 are going to win some more—I just wish he could have gotten that message to Mike before the post-race press conference. Or maybe I don't.
Anyway, enjoy your weekend if you're going to Glen Helen, and maybe I'll see some folks in Texas. Unless we're having a baby that weekend, in which case you'll be hearing a Jeff Emig/David Bailey TV team on Speed. They might do so well that I won't ever get the job back!
Good luck to Weege and the Weegette on their impending delivery.
Attention, two-stroke enthusiasts! Local PAMX rider Brian Shuckhart has something cool up his sleeve for the upcoming High Point National. We got this note this week from his friend, Christian Panaia:
My friends and I are coming together to gather money and resources to build a competitive Suzuki RM125 for local privateer Brian Shuckhart to use trying to qualify in the 250 class at High Point. This is just a group of friends coming together as a team and trying to put a 125 two-stroke in the forty-man field for the first time in, well, I don't know how long. If you would like to put something online we will accept anything from parts, money, services, and food [laughs]. All money donations can be sent to raible213@gmail.com. For any other donations, they can contact me at cmp15@hotmail.com. Any help we get is greatly appreciated.
Here's another note we received this week:
I am a contributor to AlliSports "Expression Session" blog as well as my own blog actionsportsreview.com. I had my brother write about his experience with his injury and I put it up on the blogs. It is a funny read and gives a good perspective into the mentality of motocrossers and injuries. This is my brother's first shot at writing and I thought I'd pass it along… It has a Ping-ish vibe to it, so it might appeal to some of the Racer X readers.
Feel free to share the link if you wish, I just thought some positive reinforcement might be good in pushing him to maybe develop his talent a bit while he's in college.
Derek Egbert
actionsportsreview.com
Attention, RC Fans:
Special Ticket Discount for Texas Motor Speedway
Ricky Carmichael's Motocross fans can get a special half-off discount to see Ricky in the NASCAR Camping World Truck Series when it returns to Texas Motor Speedway on Friday, June 4th! Just click here for tickets and enter a special offer code of "rickyc" at checkout.
This is not an off-weekend for David Pingree, as his Lucas Oil/Troy Lee Designs Honda rider Ben Townley is getting back to his GP roots by racing Glen Helen. But Ping did send this short report over:
One race that didn't get a ton of coverage last weekend was the Where the Snow Meets the Dirt crossover race that has become a Hangtown tradition. Shaun Palmer, Daron Rahlves, Nate Holland, and a whole slew of action-sports athletes come together to enjoy a weekend of dirt bike racing and Pabst Blue Ribbon. Seriously, PBR sponsored the event. These guys might have all made a living in other sports, but they all love motocross, and they get to ride the exact same track that the pros ride the next day. It's a cool experience for them and they always manage to have a good time, no doubt fueled by their aforementioned beverage sponsor. Palm has been dominating the event since its inception years ago, and there was even talk of banishing him to another class this year. But snowboarder Ian Price took him down with 2-1 finishes and set the stage for an epic shootout between the two at the next crossover event.
The guy who made the whole thing happen, Aaron Cooke, rounded out the crossover podium. There's talk of them doing another event later this summer at the motocross series finale at Pala Raceway.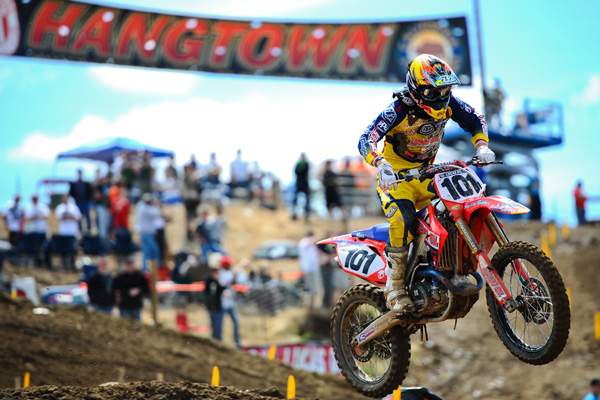 Ben Townley will be back in the GPs for one weekend.
It's been very strange how the European riders have descended on the Temecula valley. I was hanging out with my family at the mall last Sunday and Stefan Everts came walking up beside me. After chatting for a bit, he asked if I knew where the "record store" was. Um, yeah, I think it's back in 1982, Stefan. Then I saw his whole crew at Perris Raceway on Tuesday shaking down their race bikes. It was hard to gauge Cairoli and some of the others, but Musquin was definitely hauling the mail (or the baguettes, or whatever they haul in France). That guy will be fun to watch this weekend, and all of next two years.
Check out this TLD/Lucas Oil Honda team video from Hangtown here.
Colorado is our state up for votes for this week's Fox Fifty, which is very convenient, given what just went down at Hangtown with Cortez, Colorado's Eli Tomac. But in a humble bid NOT to get votes, former pro Paul Lindsey actually posted this on VitalMX.
Pretty funny. If you know what a sweetheart and how genuine Paul is, well, this should not be a surprise.
Monster Energy Kawasaki rider Ryan Villopoto relaunched his website, www.ryanvillopoto2.com, Friday with new features, giving fans a chance to stay up-to-date with the latest from the champion rider.
Remember Ken Faught? He was the longtime editor of Dirt Rider, and now he's part of a very successful chain of go-kart tracks called Pole Position Raceways. He sent me this note this afternoon:
I was out flying by myself today and saw an oil tanker burning out of control in Corona, CA on the 91 freeway. The closer I got I noticed it was by Pro Circuit. It's a cool view at 2200 feet!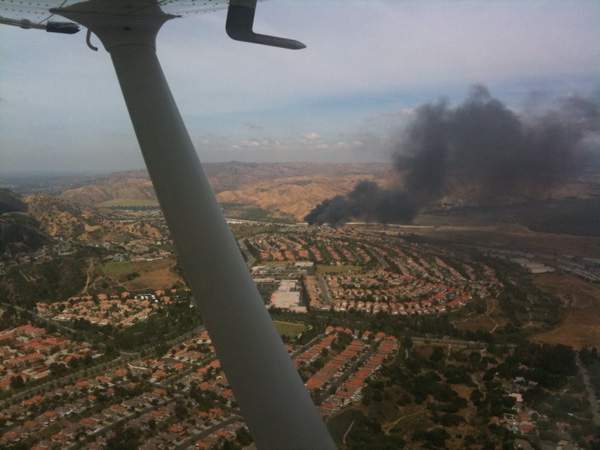 Ken Faught grabbed this photo of a tanker burning on the 91 Freeway right by PC.
If you get ten minutes this weekend, check out the helmet-cam footage Honda Red Bull Racing's Andrew Short grabbed while riding yesterday at a place call Red Rock in Texas, which is part of Matt Tallon's ranch. The track looks really, really cool!
Sounds like they have quite a ride day planned for Sunday, as Tallon told me Rockstar Energy Suzuki's Tommy Hahn, Blake Baggett, and Hunter Hewitt will be out there, as well Lucas Oil/TLD Honda's Wilbur Hahn and privateer Drew Yenerich.
Not sure what they put in the water down in Australia, but man, does that continent love motocross. Not only have they produced some of the best motocrossers and freestylers in the world, but their moto media has really stepped it up in recent years. You've probably seen some of Jase MacAlpine's videos right here on Racer X Online, but his stuff originates at www.mxdaily.com.au. Then there's Alex Gobert, of the royal road-racing Gobert clan, and his www.motoonline.com.au. He does pavement as well, but not at the expense of rich moto content.
The latest offering is Aussie moto-journalism vet Andy Wigan's latest project, Transmoto Dirt Bike Magazine. You can sample their first issue in digital format at www.transmoto.com.au. It's a really cool book, and the website has a ton of original content as well. And of course there's www.fullnoise.com.au, which houses Australia's main motocross message board, among other content. If you're an Australian motocross fan, you have to be feeling pretty good about the sport right now.
The guys over at the Metal Mulisha (www.metalmulisha.com) have two really cool contests going on that you should definitely check out. They're giving away a couple of Hondas, a trip to the X Games, crazy amounts of MM swag, a year's supply of Rockstar Energy Drink... definitely great contests. You can enter both here and here.
After reading our injury report yesterday, Christian Craig's agent sent us a more recent update:
The rods in Christian's back are expected to be removed in early June. He is healing very well and eager to have them taken out. Once the rods are removed it should be 2 to 3 months before he can ride again. He has been working out with his Troy Lee Designs Red Bull Lucas Oil Honda team at Charles Dao's "Icon Sports Performance" and making great progress. People can follow his recovery by signing up for his email list at www.ChristianCraig.net.
Depending on his recovery pace he should be up to speed in time for the U.S. Open. However his focus is already set on the 2011 SX season.
You know that big oil spill down in the Gulf of Mexico? VP Racing Fuels will be supporting a response coordinated by Florida's Mote Marine Laboratory. VP will donate $5,000 toward the effort. That's the second time that VP has stepped up big, the last time being to help get supplies to Haiti following that devastating earthquake. Well done.
Our friend Taylor Congdon is hard at work on Moto 2 The Movie, the DVD sequel to - can you guess? - Moto The Movie. He's a really talented guy and his first film was awesome, so we're excited about the new one. You can keep up with Taylor as his project progresses at his official Facebook Page.
And that's it, out of time, and out the door to go work on High Point. Thanks for reading Racerhead. See you at the races.