Racer X's 2010 Lucas Oil/AMA National Preview
It seems like just when the riders are getting tired of supercross, the outdoor nationals are right around the corner. (At the end of the Nationals, usually the riders are hoping for supercross again.) We're at that point today, as the 2010 Lucas Oil/AMA Pro Motocross Championship series opener, the Hangtown Classic, kicks off this Saturday at Prairie City State Vehicular Recreation Area (SVRA) in Rancho Cordova, Calif.
Here's a preview of who will be out there:
250cc
Monster Energy/Pro Circuit Kawasaki
The 250cc powerhouse heads into the outdoors at full speed ahead after not only wrapping up both of the Lites SX titles in 2010, but going 1-2-3-4 at the series-finale Dave Coombs Sr. East/West Shootout in Las Vegas. Three of those four riders, and one other, will be lining up this Saturday at Hangtown: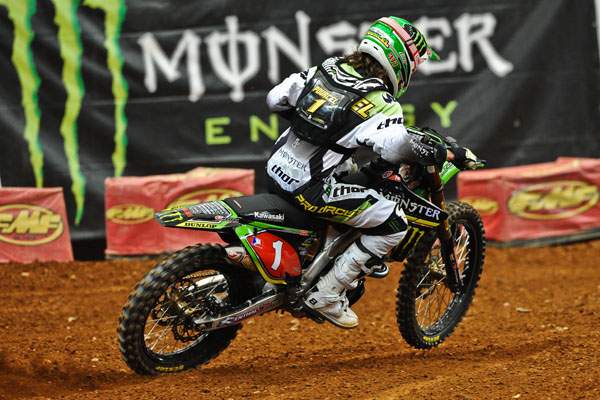 Steve Cox Photo
377 Christophe Pourcel
The Frenchman is the series favorite coming in after defending his 2009 Lites East SX title and narrowly losing out on the 2009 Lucas Oil/AMA 250cc National Motocross Championship title. This is likely his last chance to pull this title down.
12 Jake Weimer
The only American on the team, this Idaho native is in his final year in the 250cc class as well, and after winning three AMA Nationals last summer, the Motocross des Nations, and then winning the Lites West SX Championship and the East/West Shootout, Weimer is carrying a full head of steam into Hangtown. Outdoor racing isn't his specialty, but he has proven he's fully capable of winning and contending for a title.
28 Tyla Rattray
The South African former world champ sat out supercross after getting injured in the off-season, but he has been healthy for a while now and has been preparing for his assault on the nationals. In essence, he takes over Josh Hansen's spot, as Hansen is not racing the nationals. Rattray won the 250cc class at the Four-Stroke World Championship at Glen Helen last weekend.
108 Dean Wilson
Hailing from Scotland by way of Canada, Wilson put in a strong performance in the B main at last year's Motocross des Nations. In the last year of amateur racing, he beat last year's Southwick winner Justin Barcia and this year's Dallas Supercross winner Blake Baggett pretty consistently, so he should be a contender in his rookie outdoor season.

GEICO Powersports Honda
Considered by most to be the second most desirable 250cc team to ride for in the AMA pits, the Factory Connection Racing team has a few tricks up its sleeves for the 2010 Nationals.
38 Trey Canard
The 2008 AMA Lites East SX champ has a lot to prove in his last year on a 250F as well. He will be joining the Honda Red Bull Racing squad next year on a 450, and he hasn't ever actually won an AMA National Motocross event. Last year, he had the overall covered at the
High Point
MX National when he crashed at the end of the race and broke his arm, ending his season. In 2008, he just started to pick up speed and run at a podium pace when he broke his femur at
Washougal
. This redhead is a title contender if he stays healthy.
17 Justin Barcia
Barcia took his lumps during the 2009 MX season, where he began his pro career at Hangtown, but he ended up winning the Southwick MX National that year, and he followed that up with a couple of supercross wins as well in the Lites East. This wild rider is expected to be a contender outdoors.
243 Eli Tomac
Tomac is this year's Justin Barcia for the Factory Connection Racing squad. Son of mountain-bike legend John Tomac, Eli is officially starting his pro career under the GEICO awning at Hangtown. Very few know what to expect of him just yet, but there's no doubt that he's in shape and he's fast.
21 Blake Wharton
Wharton is still trying to find his legs a bit outdoors, where he has put in solid rides in the past. Is this the year that things come together for him? We'll have a better idea Saturday night.

Rockstar/Makita Suzuki
With only one 250cc rider on the roster, Austin Stroupe, there won't be a factory 2010 RM-Z250 on the line until Stroupe gets back from his shoulder injury suffered late in the Lites East SX title chase. As of now, we're hearing a return for RedBud.
45 Austin Stroupe
Return likely for RedBud, but until then, no one on a factory Suzuki outdoors.

Rockstar Energy Suzuki
Without a factory bike on the line, Suzuki will be relying on the Rockstar Energy Suzuki squad to put Suzukis up front.
66 Blake Baggett
The winner of this year's Dallas Supercross, Baggett is a solid outdoor rider, and he's looking to prove some things in his first full outdoor season.
116 Ryan Morais
Longtime SX standout, Morais will be taking it outside after years of being injured for most of the nationals.
126 Hunter Hewitt
Hunter really picked up some speed indoors this year and is looking to be a contender outdoors as well.

DNA Shred Stix/Star Racing Yamaha
The Star Racing team is likely going to surprise some people once the gate drops in the first moto this weekend. Everyone knows that the Pro Circuit guys and the Factory Connection guys will be strong, but this team is frequently overlooked. Check out their roster:
20 Broc Tickle
Tickle finally broke through and won his first supercross this year, in Seattle, and has been a staple on the box for most of the SX season. Outdoors is his specialty, though, and he just plain goes fast outside. He's in great shape, and from the sound of his interviews, he's sick and tired of finishing second or third. He's a fighter, and he'll probably be in it from the get-go.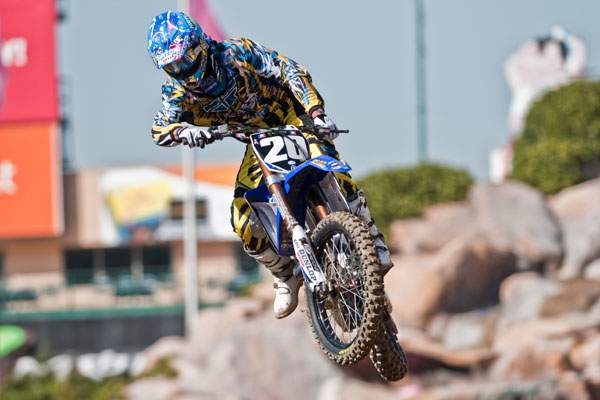 Steve Cox Photo
48 Max Anstie
This Brit turned 17 just a few weeks ago. Last year, he rode a KTM out of the J-Law Racing rig in his first season outdoors at the fresh age of 16, but this year he knows what to expect. He nearly won the San Diego Supercross this year, and there's no doubt about his speed outdoors anymore either, as he dominated the first moto over Rattray and company at the Four-Stroke Worlds last weekend. Plus, he's a redhead, so that usually helps.
577 Martin Davalos
Davalos has always been fast outdoors. Last year, coming off injuries, he still came out and ran up front right away. Expect him to do the same from time to time outdoors this year.
341 Nico Izzi
Izzi is a former amateur standout who rode for the Suzuki factory the past couple of years. He has had a few injuries already in his pro career, but he definitely has speed. The question mark for Izzi has always been his endurance. However, he has been riding outdoors for a while now after incurring yet another injury during this year's Lites East SX championship, so he may well be a contender at the very front of the pack come round one.

FMF KTM
This is the official Lites factory team for the KTM squad in 2010, and they're lining up only one guy, but he's a doozy.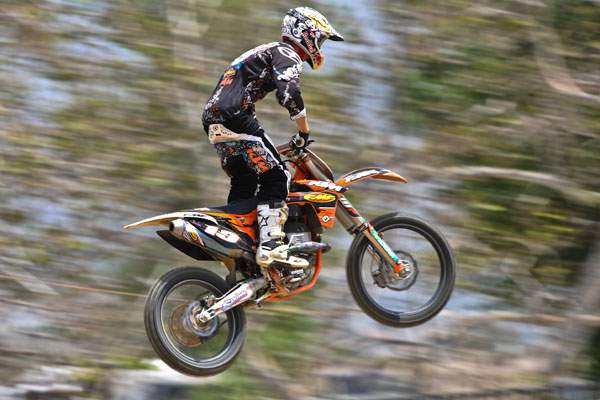 Steve Cox Photo
19 Tommy Searle
Searle is a former two-time world-championship runner-up, and he's young, and after sitting out most of the supercross season hurt, he's hungry. Last year, he got a feel for the American tracks and the America way of racing, and this year he's coming in prepared – on a homologated, linkage-wearing 2011 KTM 250 SX/F. If he stays healthy, he should be a title contender throughout the entire series.

TLD/Lucas Oil Honda
The Troy Lee team turned a lot of heads indoors this year, and they're gaining a reputation for fielding some of the strongest bikes on the track. They've also got a couple young, motivated riders lining up for them at Hangtown.
49 Wil Hahn
Younger brother of
Tommy Hahn
, Wil doesn't have a history of strong outdoor performances – but that doesn't mean he's incapable of them. He was on the podium all through the Lites West SX title chase on his way to second in that championship, and he wants to show that he's not just glitz and glamour, but he's dirt and blood and sweat too, so he will be pushing to make a mark in the nationals. He is, however, recovering from an injured shoulder that caused him to miss the Vegas finale, but we have yet to see if that's going to hold him back at all.
200 Cole Seely
Seely also had a breakout year in supercross, and despite a couple relatively minor injuries, he stayed near the front of the pack most of the year. Outdoors is going to take fitness, though, and although Seely hasn't really been known to be the most fit rider in the past, working under the tutelage of team manager David Pingree, he will be this year. It will be interesting to see where he ends up at the checkereds.

Honda of Troy
A new team with an old name, the 2010 Honda of Troy team is actually part of a merger with the Kilbarger Racing team that Levi Kilbarger raced for last year. They are heading to the outdoors with a full rig and a lot to prove among the established teams listed above. However, Kilbarger got injured in the huge first-turn pileup in Dallas, so he will be sitting out the Nationals.
36 Darryn Durham
As you can tell by his low national number, Durham is a strong outdoor rider. His bikes are good, so you can expect him to be racing around near the front quite frequently this year outdoors.
92 Michael Willard
Willard is a longtime privateer who is getting a shot at racing without the pressures associated with doing it yourself this year. Last year, he earned a top-100 number, so he should do much better than that in 2010.
87 Les Smith
Smith is filling in for Kilbarger outdoors in 2010 after riding a Yamaha in the 2010 Lites East.
505 Sean Lipanovich
Lipanovich showed flashes of brilliance in the 2010 Lites East, including leading for a while at Daytona, which should indicate that he's a strong rider outdoors. If he's in shape, don't be surprised to see the 505 banging around in the top 10.

Suzuki City/Nitro Circus

31 Matt Lemoine
Lemoine is a solid outdoor rider who is pushing to find his way back onto a factory-supported team in 2011, but don't let the Suzuki City guys fool you; the bikes are really good. Lemoine will be looking to make a mark on 250s.

Motoconcepts Racing Yamaha
The Motoconcepts Racing team drops some guys for the nationals. Jeff Alessi is off the team for 250s.
61 Vince Friese
Friese is known as a good starter, and he has been a solid contender in supercross for a couple of years. Outdoors, though, has been a different story. He hopes to turn that around this year.
585 Travis Baker
Baker is hoping to build on a good indoor season with a solid outdoor performance.
450
Monster Energy Kawasaki
For the 2010 season, the factory Kawasaki squad sort of inherited a defending champ. That's not to say they don't deserve to have him in the truck, though. This is a proven championship-winning team for at least three decades.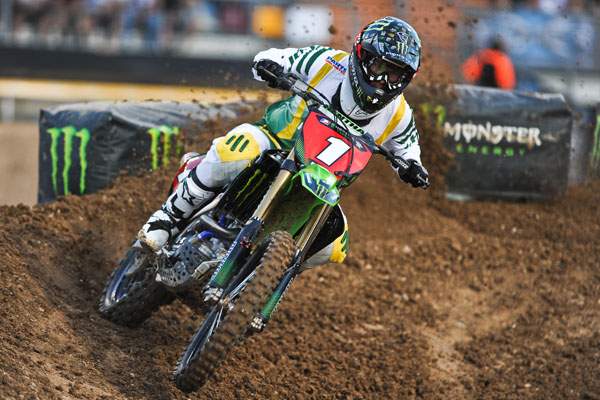 Steve Cox Photo
1 Chad Reed
Reed won the 2009 AMA National Motocross title while riding for the factory Suzuki squad, but after that team signed Ryan Dungey, they didn't have enough budget left to retain the services of the Aussie multi-time champ. Monster stepped up, though, and Reed landed at Kawasaki. Normally considered a supercross specialist, Reed's indoor season was a disaster with a broken hand suffered at round two, then becoming a dad and missing a race (understandably), and he finished out the season with a best finish of second place, at the season finale in Vegas. It's the first time ever that Reed has failed to win a single main event in a season. You can bet he's going to be looking for revenge outdoors.
27 Nick Wey
Wey got the nod to fill in for Reed when he was hurt during supercross, and then again for Ryan Villopoto later on in the series, and now that presumed title contender Villopoto is out for much of, if not all of, the nationals, Wey will be filling in for the duration of the summer on the factory squad. His TiLube Racing rig that took him to much of the indoor championship will be utilized by Ben Evans, whose BBMX team is not racing outdoors.

Rockstar/Makita Suzuki
Unlike in the 250cc class, the Suzuki squad will not only be fielding a racer on the big bikes, but he's expected to be in the thick of it.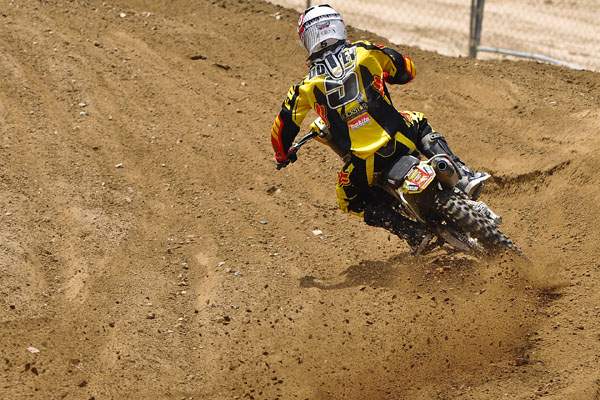 Steve Cox Photo
5 Ryan Dungey
The 2010 AMA Supercross Champion earned the number 5 (as single-digit numbers are reserved for national champions) after winning the 250cc National title last summer, so there is no doubt that he can ride outdoors. He furthered that reputation by winning the individual overall at the MXdN last year in his first-ever outdoor race on a 450. After that win, and the supercross championship, one thing's for sure, and that is that no one is underestimating Ryan Dungey anymore.

Rockstar Energy Suzuki
This team won a 450cc overall last year, but it wasn't on Suzukis. However, the rider who pulled it off is still on-board.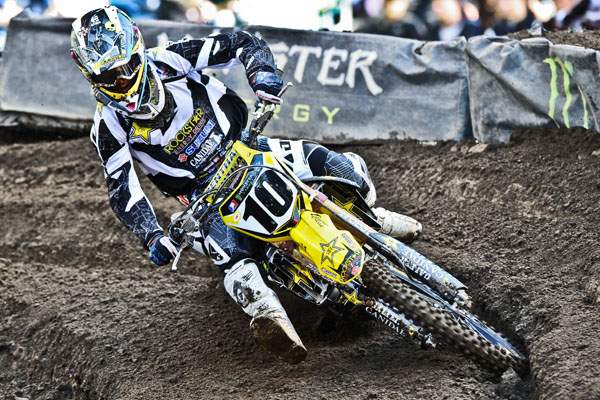 Steve Cox Photo
10 Tommy Hahn
Hahn won the season-finale Steel City MX National last year, and after a mostly frustrating supercross season, he's hoping that going back outside will be just the kick in the pants that he needs in order to pick his results up. It's a mistake to count him out, as he proved with an overall win in 2009. Those don't come with luck.
40 Jake Moss
The U.S. veteran Moss twin will be joining Hahn on a 450 outdoors. Last year, Jake Moss surprised a lot of people with great rides filling in at Kawasaki, so it will be interesting to see how he does this year.

Honda Red Bull Racing
The Honda factory squad heads outdoors with two riders both in contract seasons. That usually makes for good results.
29 Andrew Short
Shorty is always a contender outdoors – or at least he has been for the last half-decade or so. As mentioned above, he's in a contract year, and with Canard coming onto the team, and rumors of
Jake Weimer
doing the same for 2011, Short is hoping to give Honda reason to create a third spot on the factory squad for next year. He's always a fan favorite, and he's always in shape, so Shorty should be in the mix.
18 Davi Millsaps
There's no questioning Millsaps' speed, but he's in the same boat as Short as he looks for a ride for 2011. At minimum, he's going to want to beat Shorty, but even that may not guarantee him a spot on the team next year. One or both of these guys may actually be auditioning for another team, so it's more important than ever for them to put up good numbers.

GEICO Powersports Honda
The past two years, the GEICO Powersports Honda squad has brought up an amateur prospect for the Nationals, and then filled Kevin Windham's vacated 450cc spot (since he doesn't race the nationals anymore, unfortunately) with one of the team's 250cc riders. And both times, it has been an Aussie who has bumped up to the 450cc class.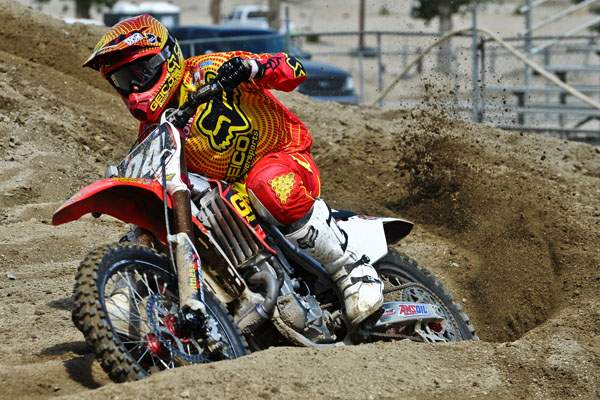 Steve Cox Photo
24 Brett Metcalfe
After a very long 250cc career, Metcalfe is chomping at the bit to show what he can do on a 450. Word from the test tracks is that he's going very fast and looks very smooth on the bit Honda, and he doesn't want to move back down to the 250cc class for 2011. He's looking to land a 450cc ride next year, and to do that, he will have to put in some results. Betting that he will do that is one of the safest bets in the AMA pits, though.

TLD/Lucas Oil Honda
Once an all-250cc team, the Troy Lee squad jumped at an opportunity this off-season, and it's quite an opportunity, to get into the 450cc class. Their opportunity comes from New Zealand.
101 Ben Townley
This former world champ and Lites SX champ was expected to be the "next big thing" in American motocross when he moved to 450s a couple of years ago after battling tooth-and-nail with Ryan Villopoto for the 2007 250cc MX title. In 2005, at the Motocross des Nations in France, Townley gave Ricky Carmichael all he could handle while riding a KTM 450 SX/F. On 450s, though, Townley was plagued with injuries and pledged that he wouldn't come back until he could ride to his full ability, and lucky for us, that's now. It's hard to say how he will do in the outdoors since he hasn't been racing much in the past couple of years, but if this BT101 is like the one we had here a couple years ago, he has the potential to not only win races, but the title.

Jagermeister KTM
This is the official 450cc factory squad for KTM... Or should we say 350cc?
800 Mike Alessi
Throughout his pro career thus far, there are two things you can count on from Mike Alessi: 1) He will get good starts and be fast, and 2) there will be some sort of extracurricular drama that takes everyone's attention away from his on-track accomplishments. He was leading the 2009 series when he crashed and broke his kneecap, then returned less than two weeks later believing that it was healed and broke it even worse. He will be riding KTM's new 350 SX/F with linkage, and if anyone can still get a holeshot with 100 less cubic centimeters of displacement, it's Alessi. The determining factor for him may be what happens off the track, not on it.

Muscle Milk/Toyota JGR Yamaha
There is little doubt that this team knows what's going on with the technical side of motocross and that it should be contending for wins outdoors. With one rider coming in injured, and another coming off an injury, this contention is in question coming into round one.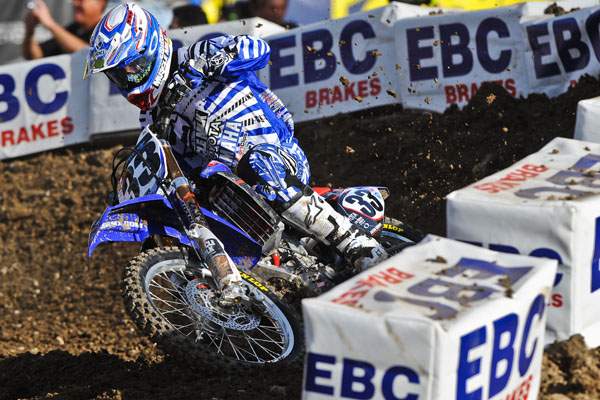 Steve Cox Photo
33 Josh Grant
Grant is a proven winner in both classes, indoors and out. Last year, he won the RedBud 450cc National for the team, but this year he was forced out of the supercross championship with a shoulder injury. He is reportedly healthy now and more motivated than ever to make a dent in the nationals. In terms of raw speed, there's no doubt he has what it takes, but we won't know what we've got until the gate drops at Hangtown.
23 Justin Brayton
Brayton is coming off of a very strong supercross championship, but he went down hard yesterday and reportedly is faced with some broken ribs and other internal injuries, making his status for Hangtown doubtful. However, once he's healthy, he should be in the mix somewhere up front.

Valli Motorsports Yamaha
The Valli team is heading into its second year in the Nationals. Last year, with Jimmy Albertson and various WORCS riders racing for the team, they had some top finishes. This year should be even better, with one fill-in rider from Texas and a couple more from Australia.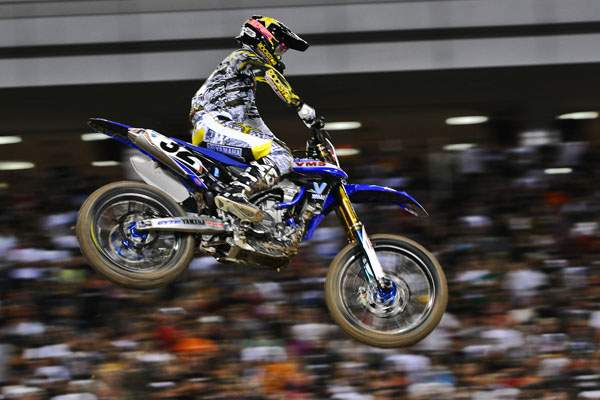 Steve Cox Photo
9 Ivan Tedesco
Tedesco was one of the two riders injured at the St. Louis Supercross, and although he has been at the races recently signing autographs, the timeline for his return to action is still questionable. He likely doesn't even know yet.
32 Kyle Cunningham
Cunningham has long been a strong rider in the Lites class, but he may have found his calling when he moved up to fill in on Tedesco's vacated 450 in supercross after Tedesco was hurt. Cunningham came from behind to pass both of Team Honda's riders at Vegas to finish a strong fourth in the 450cc main, and he's staying on a 450 outdoors. He could raise some eyebrows.
26 Michael Byrne
Byrner rode most of the supercross championship for JGR, filling in for Josh Grant, but they didn't have budget to keep him on the team outdoors, despite the last two years being his best ever with multiple podium finishes. Their loss is Valli's gain, though, as Byrne will be jumping on a 450 for the squad for the Nationals and should put the team on the box a few times if history repeats itself.
122 Dan Reardon
Reardon missed most of the AMA Supercross Championship under contract for the Motoconcepts Racing Yamaha team. The two parted ways after supercross and Reardon will be moving over to the Valli team to take on the outdoors. Last year, riding a 450 for the GEICO team, Reardon was putting in top finishes before separating his shoulder at High Point. If that same Dan Reardon shows up this year, he will be up front somewhere.

J-Law Racing

J-Law
Racing, and whether it's going out of business or continuing on, but the word we have is that the team is continuing on.
8 Grant Langston
Langston is a proven championship contender, and with him staying on the J-Law Racing team for the outdoors, rumor is that he's getting a bit more Yamaha factory support than he was getting before. Yamaha obviously loves GL in part because of his 2007 450cc National Championship won on the YZ450F. If he is healthy and his setup is good, Langston is a bulldog.
338 Jason Lawrence
With his results not being what he wants them to be, Lawrence is taking some time off to find his former magic, but we should see him on the track at least toward the end of the Nationals.

Suzuki City/Nitro Circus
As mentioned under the 250cc section, the Suzuki City team will be fielding a rider in each class, but there may be a surprise rider showing up toward the end of the Nationals to ride for the squad in the 450cc class as well.
34 Steven Clarke
Clarke is a really good rider from England, and rumor has it he really likes riding a 450 and thinks he can go fast on it, so he's going to get his chance this summer.

Motoconcepts Racing Yamaha
In its second year of racing, the Motoconcepts Racing team has had lots of riders come and go. Reardon is gone for the outdoors. However, they will have some proven talent taking to the track.
46 Ryan Sipes
Many expected Sipes to win a Lites East main event in 2010 with the way he was riding, but it wasn't to be. Outdoors, though, Sipes will be moving up to the 450cc class for the first time since he turned pro.
55 Kyle Chisholm
Chisholm rode really well all year in supercross, and since he was on the San Manuel team last year, he didn't get the opportunity to race outdoors. This year, he will. It will be his first year outdoors on a 450.
34 Matt Goerke
The Southwick MX National winner from last season, Goerke has been off with a broken leg all year, but he should be back this weekend at Hangtown.

San Manuel Yamaha
Although nothing has been officially announced, James Stewart has indicated via Twitter that we may see him outdoors, which means we will probably see his team outdoors as well.
7 James Stewart
Stewart is a multi-time outdoor champ and is one of two guys who have achieved the "perfect season" of winning all 24 motos run in the 450cc class. Although he says he hasn't gotten clearance to start riding yet, he has indicated that he will race some outdoor races. Rumor has it that his reality show really wants to see him picked to race for the Motocross des Nations team this year in Colorado, but in order for that to happen, Stewart knows he has to go out and put in some results. The extent of his racing is still unknown, but it seems safe to say we will see him out there.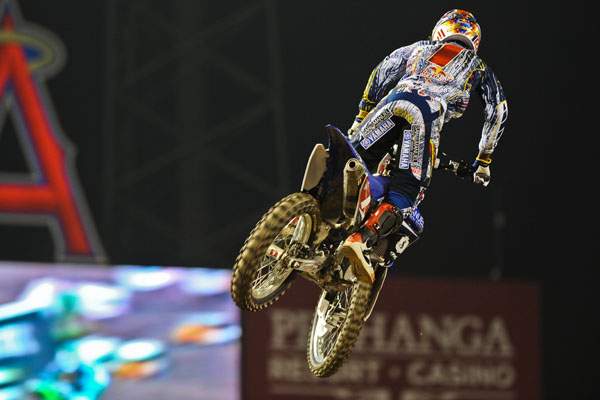 Steve Cox Photo
75 Josh Hill
With Stewart taking part, chances are pretty good that Hill will want to go on out and give it a shot, too. He started off the supercross season solid with a string of podiums and got up to a tie in the points standings, but injuries nagged him for the rest of the season. He's definitely the type of guy who would want to heal up and put in some really good rides outdoors to let his team, and any other prospective teams, see that his results suffered purely because of injuries, and not any other reasons.