Racer X ReduX: Salt Lake City
Welcome to Racer X Redux presented by Renthal. Good luck predicting this sport.

In a year that started stacked with so many contenders - Stewart, Reed, Dungey, Villopoto, Grant, Hill - Kevin Windham is the man ending the season on a win streak. And the most surprising thing is that at this point in the season, this isn't even surprising! Kevin was the odds-on favorite to win these last two races, and he'll be the favorite again this weekend in Las Vegas. Kevin Windham! This dude was supposed to be done!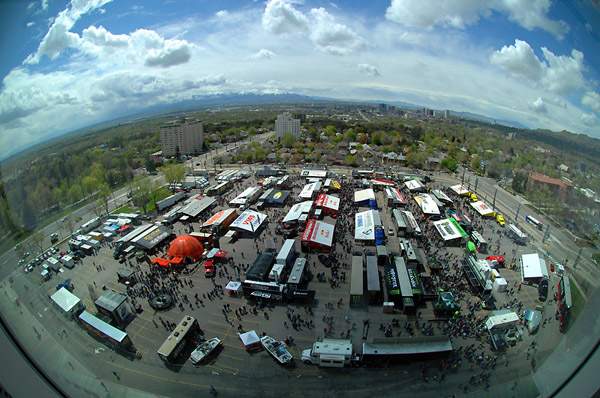 The weather and pits actually looked good for most of the day. Sorry about the rain.
Carl Stone photo
After a sluggish 2007 season, I remember was Windham not part of the 2008 SX preseason press conference, since he was no longer identified as a contender. Then he logged a phenomenal '08 supercross tour with four wins and a close second in the championship. That made him a preseason fave again in 2009, but the all-new Honda CRF450R didn't seem to agree with him, and he landed on the podium just twice all season. At the X Games, he led the Super X race early before getting eaten up by Josh Hansen. He raced Unadilla on a 250F and went 12-21. He switched to a 450 the next weekend at Budds Creek and called it a day after a bad first moto. Through all the off-season chatter about team budget cuts, Kevin sounded like the odd (and old) man out. This made no sense to me, since he had supposedly signed a three-year deal, but rumors circulated that he was out at Honda and in as Stewart's teammate at L&M. Lo and behold he was back at GEICO Powersports Honda again, and he was once again not part of the preseason press conference. But this time he was happy with his bike, and he podiumed A1.

That's how little the top bikes have in common with what you buy at a dealership. The 2010 Honda 450 isn't vastly different than the 2009—Honda's website lists EFI mapping and rear shock revisions as the major changes, both of which would be changed on KW's bike anyway. A year of testing had made the bike better for KW—when you race for a team with an army of technicians and parts to test, you can get what you want, eventually. The lesson here? Riders should just go ahead and tell the media about the changes they made to their bikes because it has nothing to do with what you buy. Same reason Jimmie Johnson can talk about his car being tight in corners—no one actually equates JJ's racecar with the ones you buy.

After the race on Saturday, Kevin told us that he actually came up with some 450 setup ideas when he was testing that 250F for Unadilla. That's crazy, since the 2009 Honda 250F was a previous generation machine, based more on the pre-2009 450. But KW learned something from it, and then Ziggy from Factory Connection suggested that the race team use production suspension components this season instead of the big works stuff. That, apparently, worked. So now Kevin is happy with the bike, making him a 32-year-old hero instead of a 31-year-old with his best days behind him.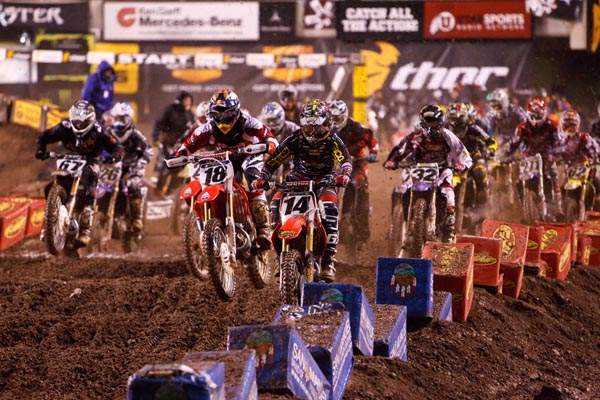 Windham battled Millsaps for a half lap before deciding "I'm done with this."
Simon Cudby photo

Kevin last won two in a row at St. Louis and Seattle in 2008. But these last two wins were maybe his most dominant ever. Granted, we're missing Stewart, Reed, and Villopoto, and Ryan Dungey is just going through the motions right now. But you know you're killing it when officials throw the checkered at lap fifteen of a twenty-lap main because you're crushing everyone so badly! (Okay, they actually decided to cut the race down to fifteen laps before it started, but c'mon, just go with it and say Windham caused a mercy rule).

So Windham's latest surge is a bit of a surprise. Jake Weimer winning the West Region Lites title was probably easier to predict, since he kept the heat on Dungey for the crown all year last year. But still, go back to, say, 2007, and you wouldn't have found many people saying "We gotta sign that Jake Weimer kid. He's going to be the man to beat!" Not many riders make the leap from good, solid rider to champion, and none of them do it without a whole bunch of hard work. So Jake earned this one. Better yet, he can use the "Dungey/Canard 450 SX performance" coupon while shopping for a 450 spot next year. Indeed, rookie 450 stock has never been higher. Weimer's championship is a real victory for underdogs everywhere. It's one thing to be a Windham/Stewart/Carmichael amateur phenom and just continue to win when you turn pro. It's another to build brick by brick into a champion.

Weimer's ascension reminds me of Ivan Tedesco's Lites run in '04 and '05. I asked Mitch Payton about that a few months ago for a magazine story, and he also brought up Nathan Ramsey, another rider who rose from obscurity to land a Lites crown for him. At this level, everyone says the riders are close in talent and confidence separates the pack. I'm always skeptical of that, but the PC bikes are confidence machines. The bike gets you better results than you had before, then you get confidence, and suddenly you're one of "the guys." No way people were banking on Ramsey when he was a Suzuki privateer in the mid-'90s, and no way were people banking on Tedesco in 2000 when he holeshot the Steel City National and crashed right in front of Travis Pastrana, who was going for the championship at the time. And I remember watching Weimer ride his heart out at RedBud in 2007, running fourth in the second moto and trying, digging, scratching, clawing his way to try to pass his teammate Josh Grant for third. He just wanted to get one darned podium in one moto, but alas, he earned fourth-place finish that no one remembers. Last year he won three races and made the des Nations team.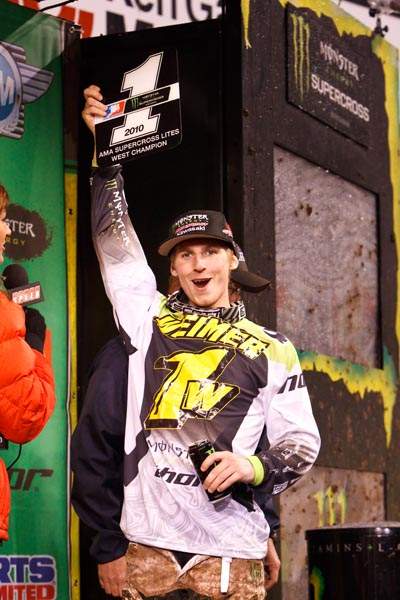 Now that's the look of a champion!
Simon Cudby photo

And good news for Jake: the PC magic doesn't automatically wear off. Tedesco signed with Suzuki for '06 and had a great rookie campaign in supercross. He was on the verge of becoming one of "the guys" in the big class before injuries derailed him. Same with Ramsey, who even delivered a SX win for Honda in 2003 and logged several more solid seasons for Yamaha of Troy and KTM as well. They never went back to their old level. And while Weimer wasn't a dominant amateur, he was much further ahead of where Ramsey and Tedesco were at that stage. His ceiling could be even higher.

You know what I wish? I wish we could freeze the riders who are starting to surge right now (Windham, Tommy Hahn, and Chisholm are riding really well and just continue to build confidence) and bring them to Anaheim 1 next year. Just Walt Disney them in their current state and drop the gate. In SLC, T-Hahn started way back, crashed back to eighteenth, and charged back to eighth in the shortened main, logging the third-fastest lap while in traffic. Chisholm has been getting better starts and is starting to build toward solid top-fives or even podiums. Last year Chizz was struggling just to make main events (and was, um, getting lapped at Salt Lake City, you might recall). Anyway, Chizz and T-Hahn are really getting their 450 SX legs underneath them, but next season they'll have to deal with the return of Stewart, Reed, and Villopoto, as well as the Pourcel/Weimer/Canard graduate class. Keep fighting, guys!

For years, I've been hearing "Josh Hansen has the speed and talent to run with anyone." Which sounds cool, except I've never really seen him be quite that fast in an actual race. Maybe it happens at the test track … or maybe there's just a little too much hype on him. I mean, if Jason Lawrence doesn't get it back together, five years from now you'll probably hear people say he was faster than Stewart. Underachiever stories can get that out of hand sometimes. Take the wild card X Games out of the formula (which, as Windham is proving, you can) and I've still never seen Hansen deliver that crazy Robbie Reynard-once-a-year mind-blowing performance.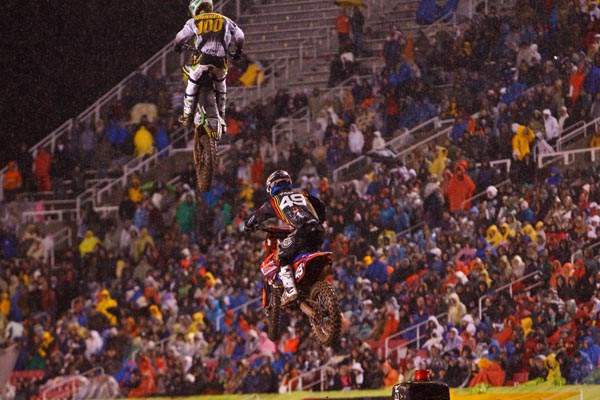 Hanny just kept jumping this big triple--which was hard enough for a 250 in perfect conditions--in the rain.
Simon Cudby photo
But I think it's coming. Hanny had it all working in Salt Lake, combining speed with a good start and smart riding to take his first win since Pontiac in 2005. Next week is the East-West Shootout, and if any race is tailor-made for Hanny to just dominate, it's that one. A one-off race in Vegas? Sounds about right. And he's keyed up for it too. I have a feeling most of the riders will treat it as a fun race while they're working on outdoor testing (you just know, for example, that Pourcel is working hard to show how much he doesn't care) while Hanny is treating it like the biggest race of the year. He could blow everyone away and finally I will see that mind-blowing talent everyone talks about. I'm rooting for it, because the sport can never have too many talented riders up front.

Wil Hahn gutted out a great ride on Saturday despite riding with a separated shoulder. Mechanics are always telling their riders to race forward, and that's what Wil did—instead of focusing on the injury, he came in looking to win. For the first half of the race, he rode as hard as he could and tried to beat Hansen. When the shoulder gave out halfway through the race, he had built up a giant lead on the field and was able to hang on for third, enough to take second in the final West points. With Weimer moving up, that's big confidence for next year.

I'm sure you're all well aware of Wharton/Coxgate from last week, when our own Steve Cox grilled Blake a little too hard about running into Trey Canard. Here's a link to the interview - make sure to check the comments if you're a fan of creative writing.


Then DC did his own 5 minutes with Cox on Thursday, and then Cox and I did this spoof video with Canard and Wharton this weekend

It was a pretty funny, but on a serious note, what happened to Wharton this year? One podium? I expected him to come out strong in these last two races, but he couldn't turn an early lead into a win in Seattle and took twelfth in SLC. Maybe the gnarly track conditions didn't suit him. Whatever it was, I hope he bounces back outdoors.

It's not a fair column if you don't write something about the guys who made the podium. Davi Millsaps crashed in the whoops about 10 feet into practice and then crashed again a few minutes later. He looked like an 80-year-old man walking to his bike during opening ceremonies. I think Davi is like Kobe Bryant—a lot of people are buzzing about Kobe seeming older than he actually is, because he started out so young. Millsaps is only 22 but everyone seems to think he's 25. Dude's piled up a lot of racing mileage.

Anyway, Millsaps, like most good motocrossers, rode better than he could walk. He dominated his heat race, then battled Windham for the holeshot in the main. Windham once mentioned that Millsaps doesn't play nice with him, but Davi went out of his way to stay clean this time. Then, after a half lap of battling, Windham just said, "I'm ending this right now," blocked Millsaps, and checked out. Davi later admitted that Kevin was straight-up faster. People bag on Millsaps, but at least he's never a bad guy.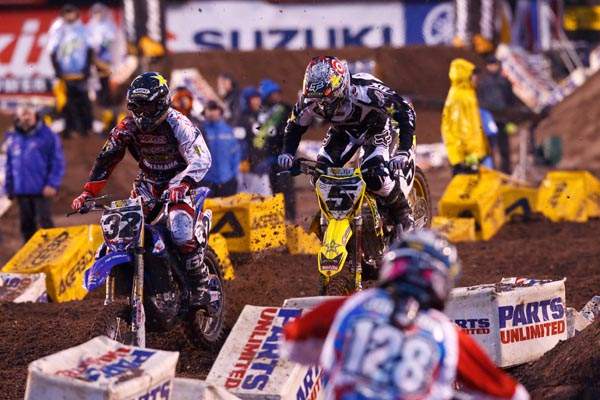 Dungey was either going to ride like he had nothing to gain, or ride like he still had to prove why he's the new champ. I think he selected the first one. Kyle Cunningham (32) rode pretty good on the 450. Size doesn't matter!
Simon Cudby photo
Andrew Short finished third the Andrew Short way—solid the whole way. He only had the ninth-fastest time in the main. Trey Canard finished second in the Lites race, and that's really about all there is to say about that. I guess I could mention how the first triple was really tough for the Lites guys, and Canard managed to smash his crossbar, tank, and seat with his body all at once when he cased it.

Last week Ping mentioned in his column that Broc Tickle should have been a little more excited about his first Lites win, because you never know if you'll get another. SLC served up some proof, because Broc said he did the same routine during the week, and this time he got sixth.

Phil Nicoletti is part of the Alessi Racing training program. He and Jeff Alessi had identical fast lap times in the main event. Identical 54.871 laps! That's the kind of quality control they crank out on the Alessi moto assembly line.

You may have heard that the weather was bad. It was so bad that a bunch of the Lites guys were just throwing in the towel - the Lites LCQ had just four riders in it. Then Kramer Patterson crashed and pulled off, leaving just three riders on the track. That makes Josh Jackson the first rider to ever cross the finish last but get a reward for it—the $250 Asterisk Card for third place. And he earned it, because that track was really, really tough for a newcomer to SX riding a 250F.

That's about all I have to report on from Salt Lake. Next week's column is going to be a real challenge, seeing as how whatever happens in Vegas is supposed to stay there.

Email me at jasonw@racerxonline.com and follow my Twitter @jasonweigandt if you have dumb things you want to talk about. I know I do.
And finally, RIP, Andrew McFarlane. I didn't know him too well be he seemed like a good guy and a no-nonsense competitor on the track. Things like this don't happen very often. I hope we can keep saying that.