5 Minutes with... Blake Wharton
GEICO Powersports Honda's Blake Wharton made headlines this past weekend in Seattle, but not in the way any rider would want to make them. At the start of the Lites main event, he was running second behind his teammate Trey Canard, who was trying to make up points on Jake Weimer for the championship with two rounds left to run, and in the second turn of the race, Wharton dived to the inside of Canard and took out his front wheel, knocking Canard down. Canard ended up losing a further 10 points to Weimer in part because of the move, and his championship hopes are over. We talked to Wharton last night to get his take on the incident.
Racer X: You obviously had a bit of controversy surrounding you this past weekend with you taking out your teammate Trey Canard in the second turn for the lead when he's going for a championship, so tell us from your point of view what actually happened.
Blake Wharton
: You know, I got a good start – I was right next to Trey – and we both went through the first turn good, and when we got to the second turn, I figured I was going to go to the inside, but I felt like I went so to the right on that straightaway that I made a really sharp turn for myself in the next turn. I went into the turn really sharp, and I carried so much speed into it that, on my way out of the turn, I just didn't get the turn made, and I kind of drifted into Trey's line. I didn't know at the time, when I was racing, if I was even close [to Canard]. It was one of those things where it was on the start, and your adrenaline is going... It definitely wasn't on purpose, but I don't know, it was just a bad deal.
I don't think very many people think it was intentional, but the question is, why even dive to the inside of Canard in the second turn knowing his championship is on the line? Why not just jump in behind him and follow him around for a bit, because he won his heat race, and he was going fast...
Yeah, he was going good, but that's one of those things where, when you're racing, I can't... I mean, looking back, that would've been the ideal thing to do, for sure. I didn't even know if I was going to pass Trey, but I knew that was a tough turn, and if I didn't go to the inside, someone else might have gone to the inside of me, so I didn't want to go up all high on the berm like he did. My plan was to go to the inside no matter what, but I would've liked to have made the turn better. I did the first half good, but I was a little off-balance, so I just shot off to the other side – definitely too close – and we hit, and he got the bad end of the deal...
Did you feel him hit you?
I felt it, but I didn't know if he fell or what was going on. When you've got all that adrenaline going, it's hard to tell. I did feel something, and I thought, "I really hope that that didn't just happen," but it did. It's unbelievable. We've never really hit before. Me and Trey never hit. My intentions weren't to take him out, certainly, and I don't think it's his intention to do it to me, either, so for it to happen like this on a night like that, it was just terrible timing. But I think any racer, if they're not trying to go to the front, then they shouldn't be out there.
I don't question that, but the timing of your move couldn't have been worse.
The timing was all bad. If I could do it differently, I would do it differently now, but it's just one of those deals where I guess you've got to live and learn, and unfortunately that's a tough one to learn from, because it was such an important race.
The thing is, Trey had 14 points to make up on Jake Weimer, and although we can't say what would've happened in the ensuing 15 laps on a track like that, if Trey could've went ahead and won the race, which he was in a position to do, and everything else went exactly the same, Weimer would've been fourth, and you would've been fifth, and Trey would've made up half of the points deficit on Weimer. So, if you're Trey, you can understand why he's pissed off, right?
I know he's going to be angry, and I'd be angry, too. I don't like it when I fall at all, and if I get knocked down, I don't like it either. I know he's going to be mad, and I'd be mad, too; and I'm mad that the situation turned out how it did, because it makes me look bad, and people can assume things about what happened. I definitely understand where he's coming from, because I can't even imagine being in his position and that happening to me. I'd be frustrated, too!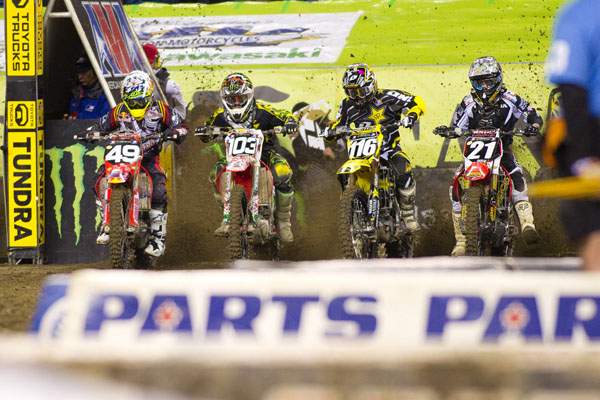 Blake Wharton (right) comes off the line in Seattle.
Fred photo
I'm sure Trey knew it was a bit of a longshot to be able to win this championship, but he still had the shot! The shot was there...
Yeah, and it could've gone both ways. He was riding good that night, and who knows how it would've turned out? The track was tough, and I don't know if that had something to do with how I got into that turn and maybe got a little whiskey throttle and drifted too much. Obviously, I did something wrong. It's easy to say this, but maybe if it was a different turn, it would've panned out better, but I don't know, because it couldn't have gotten much worse than that.
Just watching the replay, it almost seems like Trey knew you were behind him, and of all people he wasn't concerned about you running into him, so he didn't bother protecting his line in that turn, and it almost looked like it caught him by surprise completely.
I don't even know what to say about it. It's just one of those things where you can't turn back the clock, but there's definitely a better way to do it, and I had to learn from that.
It's a tough way to learn, but what did you learn?
It's not how you want to learn, and it's not the round you want to learn that in, but even still, any round isn't a good round to learn that. But on my part, all I can say is I should've been more aware, I guess you can say. I got a good start, and I was just trying to make the most out of it, so that's what was going on with me.
Right, it's that simple to you, but not so simple to Trey... Have you and Trey actually talked about it yet?
He was gone when I got back to the truck, and after the race, I didn't know what all had gone down. I didn't know. [I sat in the stands for the 450cc race and] when I got back to the truck, I could tell that there was some frustration there. We haven't talked, no, but we've always been pretty good, and we used to travel together when we were younger, so we've always raced each other, but nothing like this has ever really happened. I know he's going to be mad, but it's just one of those deals where I guess I've got to live and learn, and hopefully he doesn't think it was on purpose. It was just a pure racing accident on my part, so I hope he understands that, and even still, I'm sure it will take some time for things to cool off.
What did the team have to say when you got back to the pits?
I got back to the pits, and [Kevin] Windham had just won his race, so that was good for him, and I got undressed, then they [the team] got to the pits, and that's what kind of surprised me, because like I said, I was unaware of all that stuff. I didn't even know for sure if we hit. But I did know that something happened, because I noticed that he was down, but I didn't know if it was all my fault or what. They were obviously disappointed in how it turned out. You couldn't ask for a worse thing than having two of your riders hit and one go down, especially when there are points on the line...
And especially when it's at the very front of the pack!
Oh, I know, it's embarrassing. It made me look like a buffoon. It was one of those deals where no one's going to be happy – I don't expect anyone to be happy; I'm not even happy. But I can't do anything about it now. That's what's really frustrating, going into this last round, because I want to make it right, but I really can't. I mean, I just want to make it known that that was a pure racing mistake on my part. That much I'm sure of.
Thanks for calling, Blake.
Thanks for taking the call.