If you had Tucker Hibbert on your fantasy league supercross team, you've gotta be liking your chances for tomorrow night's Salt Lake City race! You've probably seen the photos by now of the track covered in plastic, with some serious snow atop it. Hopefully, SLC won't turn into a Snocross and the weather evens out….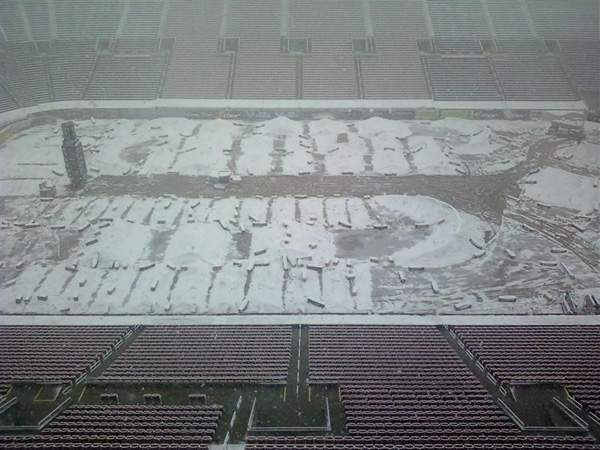 Reminds me of that very cool Fox Racing video of Donny Schmit riding on an ice- and snow-made supercross track!

You've gotta like Windham's chances for two in a row as well! A tip of the virtual visor to Rich Winkler and his Dirt Wurx crew. They've some heat the last couple weeks—and right now they could really use some heat, or heaters, anyway—but knowing the snow was on its way, they built this track in sixteen hours! If the weather works out, the track should as well.

Here's an updated weather report: HERE

So what happened last week? While it's not that much of a shocker for Seattle to be the muddiest race of the year, it is a shocker when it doesn't actually rain and it's still just like a mud race. Turns out that the dirt Winkler and his crew went to see and then order awhile back had been scooped up by someone else, and the contractor replaced it with what appeared to be soil from the side of Mt. St. Helen's—the real one. The volcano. They made do as best as they could, and I personally thought it was really cool to watch. It was the perfect track for Windham, and it would have also been the perfect track for Ryan Villopoto.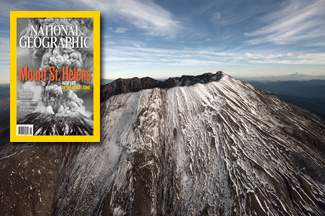 The real Mt. St. Helen's is in the news, as this marks the 30th anniversary


Congratulations to Chad and Ellie Reed on the birth of their first child, Tate Brady Reed. The little racer was born after a 36-hour labor—that's gnarly! Mom and son are doing great, and Chad should be on his way to the Snocross.

Congratulations to Kevin Windham on setting a couple of records over the weekend, including most time between his first AMA Supercross win and his most recent. KW first won back in Charlotte in 1997 as a 125cc West Region rider making a cameo appearance. He surpasses the old standard of 12 years, 11 months, 15 days, set by Mike LaRocco (Las Vegas '91 to Indianapolis '04).

Also, Windham is the first man in AMA Supercross history to win a main event in three different decades ('90s, '00s, '10s). Not bad for a vet rider! And for what it's worth, he's also got more major wins in AMA Motocross/Supercross history than anyone else without winning a major title.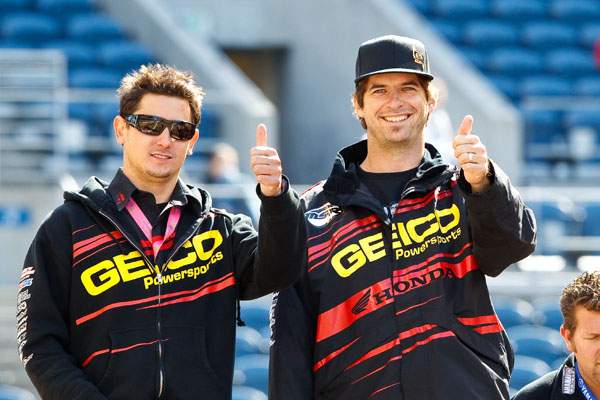 Kevin Windham set himself some longevity records


But of course it was the biggest week of all for Ryan Dungey. The Rockstar/Makita Suzuki rider became only the second rider in series history to win as a rookie to the premier class, joining Jeremy McGrath's epic 1993 breakthrough season as all-time introductions to AMA Supercross. Congratulations to Ryan, his family, his sponsors, and The Man himself, Roger DeCoster. I called Roger to congratulate him, he said thanks, he talked about how hard everyone on his team worked for this, and then he immediately started talking about prep for this summer's AMA Motocross Championship. That's why he's The Man!

One thing Roger wanted to talk about was the fact that the governor of Florida has signed an act that upholds the validity of minor consent forms signed by one or both parents. That was the driving force behind moving the age up from 16 to 18, not the education situation, and certainly could become a topic again if this precedent holds up. Why was Roger asking? He's obviously planning his teams for 2011 and beyond (and so is Mitch Payton, who was fielding inquiries recently from Europe).

We often mention the incredible foresight DeCoster has had over the years—like signing RC when he was out with a knee injury in '04, plucking Dungey out of the B class, etc. —but there is another man in the motocross industry who has had some incredible success in the last 25 years spotting champions. Since 1985, Pete Fox has personally signed this collection of AMA Supercross Champions to the Fox Racing stable:

Ricky Johnson ('86, '88)
Jeremy McGrath ('95, '96, '98)
Jeff Emig ('97, in Shift)
Ricky Carmichael ('01, '02, '03, '05, '06)
James Stewart ('07)
Ryan Dungey ('10)

That's thirteen titles out of the last twenty-five. Can you name the next-highest total for the premier supercross class? The answer is farther down.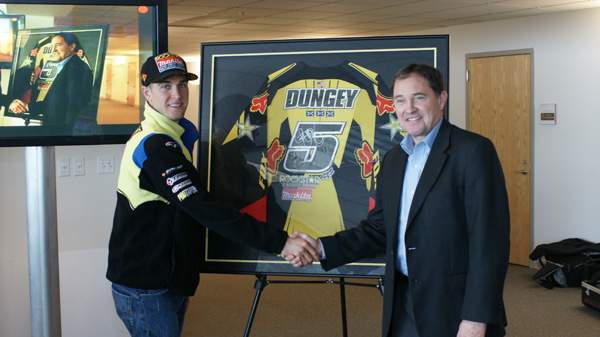 Ryan Dungey is the 13th AMA Supercross Champion in the last 25 years that has been signed by Pete Fox.

"The Dungey deal required a lot of luck and hustle!" Pete told me about this most recent win for the family company's athletes. "I'm really happy for Dungey. He is a good kid. But I wish RV hadn't gotten hurt, because it was getting exciting."

There have been some really cool motocross-related pages showing up on Facebook, and this one is particularly cool: "Team Peak Pro Circuit Honda fans." It's our friend from Argentina Sergio Luis Clot, and he's got all kinds of cool stuff from Mitch Payton's original juggernaut. McGrath, Lamson, Antunez, Mike Brown…. Wow. Check Sergio's page out this weekend if you want to see some of the really cool old-school SX stuff. You can also check out some great wallpapers we posted eariler today from Fran Kuhn of Showtime himself, McGrath. HERE

And speaking of McGrath, he's on everyone's minds this week because of what Ryan Dungey did. One year after leaving Mitch's team—actually, it was just three races—McGrath started to rewrite the SX history book. The memories even inspired our photo editor, Andrew Fredrickson, to post a few wallpapers harking back to MC's 1993 season.

What's the difference between MC's upset win and RD's? I personally think Jeremy was much more of a surprise, he was much more dominant, and he also was such a charismatic showman that he seemed to practically sweep the sport up on his shoulders and carry it forward. Ryan is quieter, more conservative, and almost a throwback to the hardworking yeomen days of supercross, when guys like Jeff Stanton and Jeff Ward were winning. Ryan's got charisma, but in a good-kid-next-door way. Jeremy was an absolute force of nature.

It was also a big week for Tommy Hahn. He turned it on at the end of last summer and won the Steel City National, and he's doing likewise on the 2010 Monster Energy AMA Supercross tour, gaining speed as the series winds down. This was Hahn's first premier-class podium inside a stadium, and he was joined there by his brother Wilbur, who earned another runner-up finish in the Lites class on his Troy Lee Designs/Lucas Oil Honda CRF250R.

And to make Tommy Hahn's week even bigger, he's the first of twelve top riders who will appear on the 2010 Racer X outdoor national stickers! We picked Tommy for Hangtown based on his winning the last round of last year. The stickers will be given out free at every round, and the whole theme this time is U.S. postage stamps. Make sure you grab yours, starting at Hangtown on May 22!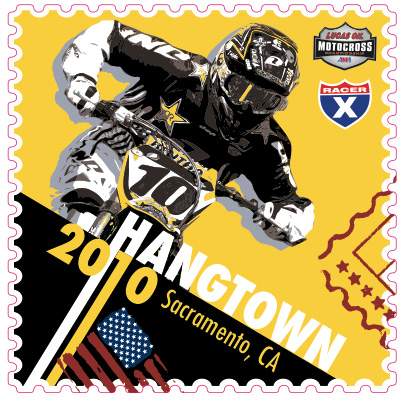 Tommy Hahn is on the first Racer X outdoor national sticker.


Also, here's a nod to Broc Tickle, who got his first win as a professional on Saturday night, as well as the first win for Bobby Regan's DNA Shred Stix/Star Racing Yamaha team. Steve Cox (yes, he's still with us) interviewed Broc for our Monday Conversation: HERE.

Yesterday MX Sports announced the television package for the 2010 Lucas Oil AMA Pro Motocross Championships (HERE).

In a nutshell, the 450 class at three rounds will air live on NBC: High Point, RedBud, and Unadilla (how cool is it that Unadilla is finally on live network TV?). Everything else will air either live, same-day or next-day on Speed, and that includes both classes!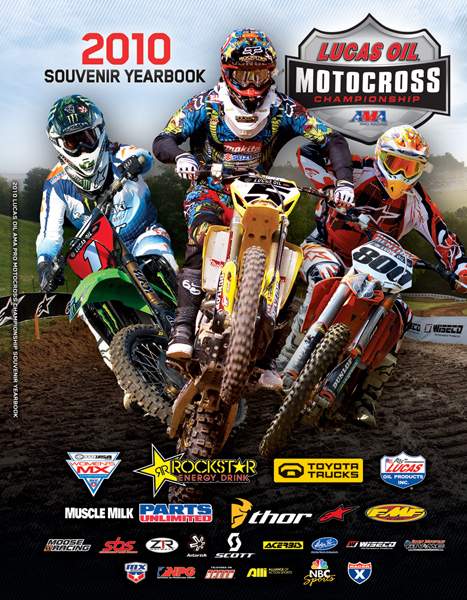 Here's the program cover for the 2010 Lucas Oil AMA Pro Motocross Championships

Now, I've had critics tell me that live TV doesn't matter, nor does same-day, because a lot of people in our demographic (14-to-34-year-old males) are either riding, working, or out on Saturday night. Well, having TV at those times seems to have really helped the NFL. And college football and NASCAR and even AMA Supercross! I think the television package is the single biggest reason Chad Reed got his mind set on the nationals again, and I think it's also why we might see some other folks coming back to the nationals…. You too, Kevin!

Also, YES, the first motos of all twelve races will stream live on www.allisports.com, just like last year. I tried hard to get the networks to let us show both motos live, but we're still not quite big enough for that here in America—the networks still call the shots, and they want as many people watching the races on TV as possible. When Nielsen ratings count page views, then it's on!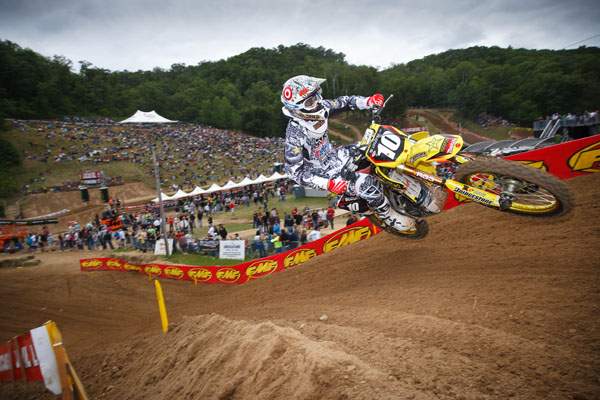 With Spring Creek at Millville airing live on SPEED, it's a big deal for nearby Rochester, MN

How much does the TV deal mean to local communities around the racetracks? Check out this report that showed up in the Rochester Post Bulletin newspaper this morning: HERE


Better get to know Marvin Musquin now. He's the reigning MX2 world champion, he's coming to America for the Glen Helen U.S. Grand Prix next month, and then he's moving here for 2011 and 2012, which will be full-season campaigns on the AMA circuit as KTM tries to revamp its U.S. racing presence. Check the video out right HERE.

More on McGrath: In last week's edition of Racerhead, Racer X reader Dane Hatfield asked, besides Blake Baggett this year, has there ever been any other rider to win a major race while riding the previous year's bike? We then asked you, and most everyone said Jeremy McGrath was the last rider to pull this off back in the early '90s when he used his '93 CR250 frame throughout 1996. We also got an email from a very reliable source on the subject, Rich Taylor, who just happened to be the testing for Honda throughout that period.

"Well, I know McGrath raced a '93 works Honda all the way through most of 96," Rich said. "I was doing the testing for Honda back then and every year MC would say the new frame was too stiff. The '93 chassis were super soft and forgiving. They would stretch out just looking at a big jump. I think they put a new frame on his bike every week."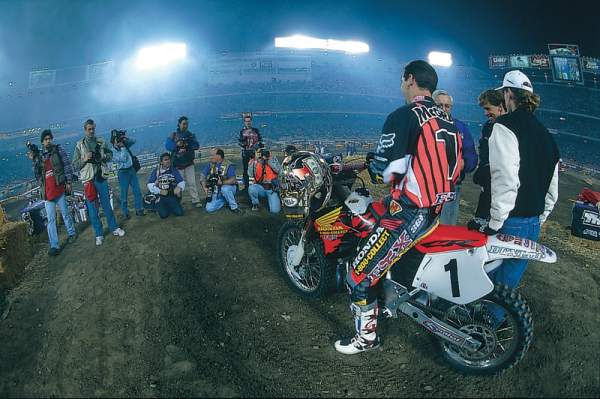 Chances are there's a '93 CR250 under those bold new graphics.

Racer X reader Sid Sidwell asked us to help him settle a debate: "I said to a friend that Kevin Windham was the only rider in SX history to win a big-bike SX main as a full-time contracted Lites (125) rider. This other poster stated that I was wrong and that John Dowd won the 1998 Charlotte 250 (big bike) main as a 125 West pilot. I looked it up, and John Dowd did indeed win the Charlotte main. He also won the 125 West title that year. However, Wikipedia claims that Windham is the only rider in history to ever accomplish the feat. My question is this: I noticed that Dowd raced every race in SX 98 either 125W or 250 on the other coast. Was he contracted to do both, thus eliminating himself from sharing the rare feat with Windham, or is Wikipedia wrong?"

I tried to call John Dowd himself to find out, but I couldn't reach him, so I called the next best thing: Steve Matthes. Believe it or not, my fellow bench racing factory rider did not have the answer either! So next it was Yamaha's Keith McCarty, who wasn't in. So I left a message.

Johnny O'Hannah noticed how similar Windham looked to an iconic SX shot of David Bailey winning the 1983 Anaheim Supercross—his first Anaheim win. Bailey responded with the following note: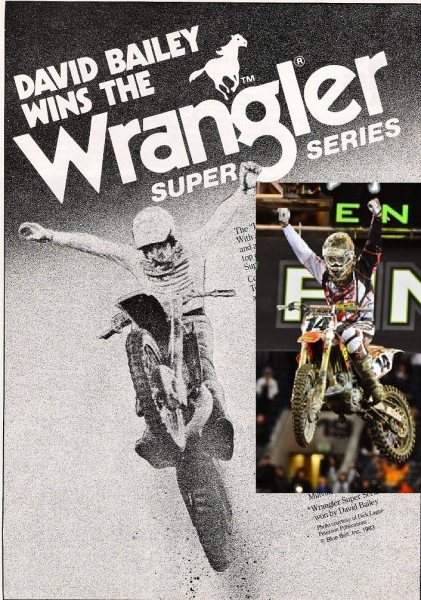 Kevin Windham's win on Saturday saw him strike a familiar pose…

"Stoked for Kevin. I picked him when I heard the track was brownie mix. He's amazing in those conditions. Here's a little story. I had seen Jimmy Weinert do that kind of a no-hander at Daytona and it kind of stuck with me. When I won Anaheim (first time I even raced it) I didn't plan that. I didn't even know what I was going to do as I made the left and headed towards the finish jump! As I went in the air I was just so happy I took both hands off. When I landed and went around the right into the starting line I didn't know what to do or where to go. I was just riding around in the start clueless, but stoked! Then I heard the crowd going nuts and happened to be just on the outside of the final turn and saw Johnny O' stuff Broc (Glover) for second. I was was like "YEAH!" Then he went over the finish jump and did a no-hander too. I couldn't even believe it. I didn't plan it so obviously we didn't talk about it, yet he did the same exact thing. Credit goes to Weinert though for being the first guy I ever saw do that."

Simon Cudby went out to Perris Raceway yesterday (likely the oldest motocross track in America) and found rookie-in-waiting Eli Tomac out there putting in some laps. Tomac is the latest product of the Factory Connection talent factory, where they sign schoolboy riders and bring them along slowly until they are ready to turn professional. Tomac follows in the bootsteps of Trey Canard, Blake Wharton, and Justin Barcia—last year's next big thing, who is definitely coming through on his promise. In the video Simon shot, the well-mannered and mellow Eli said he of his slightly older teammates wants to fill his own shoes, and that he thought top-five at Hangtown was a reasonable expectation, "though winning is always in the back of your mind." Check this kid out, because I think you're going to like seeing him this summer in the AMA Motocross Championships. HERE's a link to the video.

Okay, let me turn it over here to the other guys…

5 things to watch for in Salt Lake City (By Jason Weigandt)

1. Snocross?
DC was joking about Tucker Hibbert jumping back into the game, but wintery conditions earlier in the week have yielded a bit. There's a chance of light snow Friday morning near Rice-Eccles Stadium, but that's about it for the weekend's snow expectations. Could be cold, though!

2. Dungey's back.
The title hoopla is over (in the most anticlimactic form ever) after RD officially clinched the title last week. So now he gets to go back to racing for wins. Some are saying The Dunge didn't earn this one because so many others got hurt. Winning races is always a good way to silence people.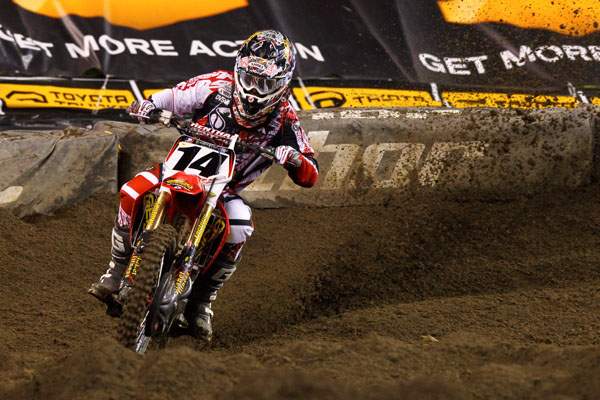 Kevin Windham could end up second in the final rankings

3. Windham again?
But of course Dungey will have to go through Kevin Windham, who dominated last week's race in Seattle.

4. How the west will be won.
With a 19-point lead, Jake Weimer basically needs to finish to win his first professional championship. Hey, at least this one comes down to the last round!

5. Reed Racing for a Record.
Chad and Ellie finally had their baby boy, Tate. That's pretty much all that matters. But if Chad did have his mind on SX racing, he could get motivated by this stat: Jeremy McGrath holds the all-time SX record for winning a race in nine straight seasons. Right now Chad has won for seven straight, but it's not looking good for an eighth at the moment. Can he get one in this season and go for the tie in '11?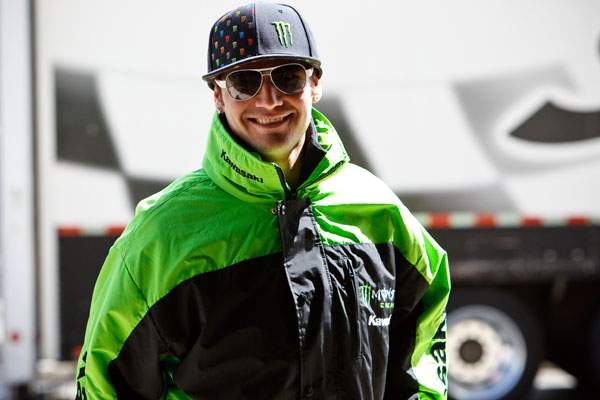 Can Chad Reed keep his annual wins run going? He's got 40 laps left to do it.

Bonus: We could be looking for you next week. Up until last season, my primary job around here was to cover the Can-Am Grand National Cross Country series, producing PR and running the website for that series and also for the AMA Pro ATV MX tour and the Amateur National at Loretta Lynn Ranch. Now I'm a Racer X guy full-time and the other series are covered by Cycle News veteran Shan Moore and Rachel Fluharty, who we found locally at West Virginia University. But now Rachel is heading back to school for graduate studies, which will leave a big void for our staff.

We need someone to help with press releases, website content, and social media for the three series mentioned above. Strong, clean writing skills are a must, and the job would be based here in Morgantown, West Virginia. Think this is your chance? Email me jasonw@racerxonline.com. And I remind everyone of this fact: that job is how I got my start.

Here's Ping:
Is Josh Hill okay? The guy was absolutely on fire early in the season, and after a relatively minor injury, he hasn't been able to pull it together again. And when I saw him last week in Seattle it looked like he hadn't eaten since the opener in Anaheim. I wanted to run out to a Ruth's Chris and buy him a steak. Then he came flying out for opening ceremonies and rode half a lap with no helmet on. Huh? It was all a little weird, and when he pulled out of the main event early, it was just about what I expected at that point. Maybe he just needs to have a good meal and then go back to whatever it was he was doing in January.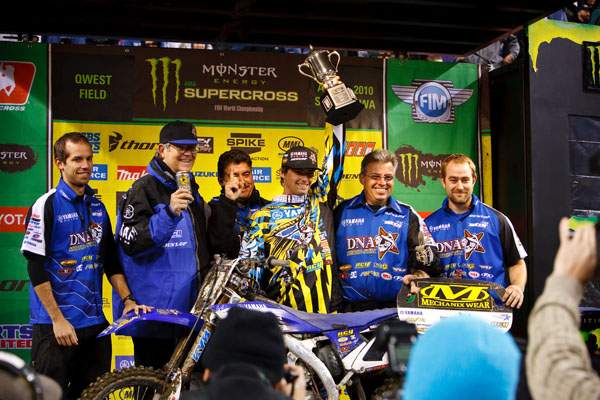 Broc Tickle seemed absolutely stunned by his win.

Broc Tickle needs to drop his lithium dosage. I've never seen a guy so flatlined on the podium. Those are special, Broc (and anyone else who happens to win a race). I know you think you're going to start a streak like Jeremy McGrath in 1993, but the simple fact is that could end up being your only win. ENJOY IT. You should have been doing cartwheels and hugging Erin Bates repeatedly. Instead we got a miniature no-footer as you rolled the finish line and a half-smile on the podium.

By the time you read this, Ben Townley will be in California. He started riding at home again last week after his bizarre accident in New Zealand where a false neutral sent him into the bars and, several hours later, to the ER for surgery. Everything is healed and he will have a very intense three weeks to get ready for Hangtown. Ben is also planning on racing the GP at Glen Helen. Unlike most of the riders on the U.S. tour, Ben is excited about getting a couple additional motos under his belt—it's been awhile for him, you know. He also has a lot of friends in that series, and this is a homecoming of sorts for him. Now we just have to figure out how to get his bike to pass their sound requirements and get it to run on their fuel specs.

Okay, time to grab my extra-fluffy snow jacket and beanie and head to Utah.

Here's Cox:

Yesterday, Alpinestars invited the media to the A-Star U.S. HQ in Torrance, California, for the release of some super-top-secret product, as well as a review of changes and features on current products. The folks at A-Stars reviewed some classic products, such as the Tech 8 MX boot, and the improvements they've made to it over time, but that wasn't the big news.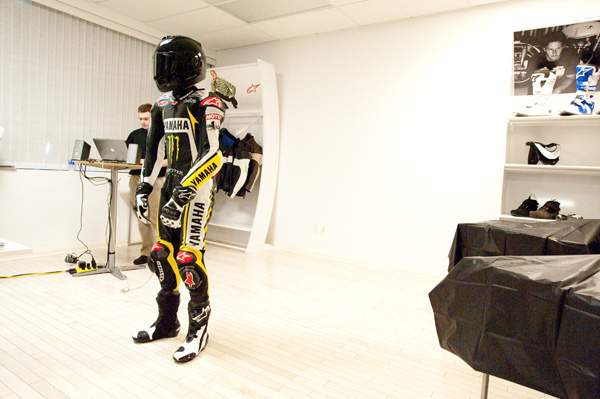 Alpinestars' new Tech Air Race could be coming to an MX track near you.

The big news isn't MX-related (yet); it's an airbag system specifically designed for road race applications called the Tech Air Race. Alpinestars has been working on it since 2001 and has had it being tested in various forms by top-flight road racers since 2003. The result is a system that inflates the shoulders of road racing suits in the event of a crash using a complex algorithm that predicts a crash by spikes in movement (that's a simplified explanation). It will be available by mid-2011 for road racing, and they said there are plans for systems for street motorcyclists as well as off-road applications. So that's where MX comes in: in a few years, there may be a similar system protecting a different (or similar) area on motocross racers.

While Ping is right that Broc Tickle was a bit subdued after his first win, as someone who has spoken to Broc a fair bit, it seems like he was that way because he has expected to get wins for a long time and he didn't think it would take this long to get one. There's definitely something to that whole "half-full" or "half-empty" thing, though. Brighten up, Broc!

The Motorcycle Sport Manufacturer Association (MSMA) shot down a proposal from Youthstream to allow AMA racers to race AMA-spec motorcycles with AMA-spec fuel and AMA-spec sound regulations, so although it didn't seem like many factory riders were planning on racing in the first place, it's unlikely that teams are going to have the time, money, or resources available to test new sound and fuel regs for a one-off race when they're going to be busy testing for the AMA Motocross Nationals. But nevertheless, I am glad they didn't compromise the rulebook for the sake of one race—that would have caused some real heartburn from the teams that already got down under their limits.

One exception is the KTM factory team, with Tommy Searle and Mike Alessi both reportedly intending to race the event. KTM has a bit of an advantage in this regard, though, since their bikes are completely sorted out in Europe already and most of their "works" parts in the USA come from Europe too. It should be easy for the KTM guys to have bikes that fit the FIM specs, but not so much for the other teams…. Good luck, Ping!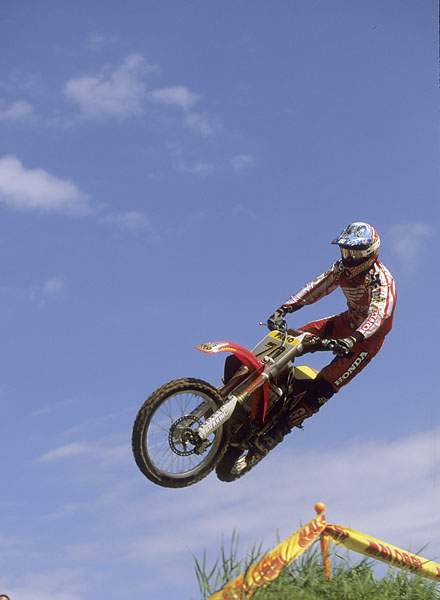 Ryan Hughes might be riding Steve Cox's bike on Monday afternoon.

That's it from Cox. He doesn't know this yet, but we're going to take back his CRF450R that Ryan Clark has been riding and give it to Ryan Hughes to get ready for the GP. Ryno wants to make a one-race return to the tour he raced in 1999 and 2000, but he lacks a bike to practice on. So…. Don't worry, Steve, it's not like Hughes will be hard on your bike or anything!

Another tip of the visor, this time to Yamaha Motor Corp. USA. Here's why: Their employees recently joined members of the Unites States Forest Service (USFS) and the San Bernardino National Forest Association (SBNFA) by volunteering more than 500 hours to improve off-highway vehicle (OHV) trails and staging areas and plant 2,250 trees in the San Bernardino National Forest (SBNF)." Well done!

… So then I got a call back, but not from Keith McCarty - it was John Dowd himself. So I asked Dowdy the Sid Sidwell question: Was he contracted to ride the AMA Supercross races in the East when the West 125 class was on hiatus? "No, I was not contracted," he said. "In fact, I had to talk Keith into it because I didn't want to get rusty while everyone was racing back east, and he finally said, 'Sure, why not?'"

So there you have it, Sid: Wikipedia is wrong!

Here's some other news: Dowd said he's probably going to race the U.S. Grand Prix, but in the Vet +40 class. Why not the MX1 class? He might do pretty well… "I thought about that, to be honest," he said. "I kind of liked Glen Helen, especially when they disked it up really deep. If you could get them to do that, maybe I will." I don't think I have much pull there, but I do know that seeing Dowdy at 44, racing against a slightly older Doug Dubach, will be pretty damn cool. John is also filling in for Destry Abbott at a WORCS race out West in a couple of weeks. And yes, he will definitely be at Southwick, the biggest race of the year for him, by which time he will be 45.

Also check out the Fox Fifty for this week, which features Iowa's five fastest ever . I do regret the fact that we left off the Halstead brothers, who were really fast minicycle and amateurs back in the late seventies. I raced Richard Halstead at the old AMA Minicycle Championships, at Otter Creek, Iowa in 1979, and he was really fast, as was his older brother Robert. Sorry about that guy!

Also, congratulations to Shane Lusk, the younger brother of Ezra, who is graduating from Florida State tonight.

That's it, thanks for reading Racerhead. See you at the races.
But wait, there's more... Late breaking news is that Chad Reed will not be racing this weekend, he'll be at home with Ellie and newborn Tate Reed this weekend.