Monday Conversation: Broc Tickle
DNA Shred Stix/Star Racing Yamaha's Broc Tickle has been on the cusp of a race win for at least the past couple of years in supercross. Last year, he missed much of the season with a broken jaw, but still landed a podium finish in Toronto – his first. This year, he's had two podiums coming into Seattle, with the best finish being a second place at Anaheim 3 right before the break. At Seattle, though, he was dominant on his way to his first ever professional win. We talked to him on the phone Sunday night after letting it sink in for a day...
Racer X: You said before the season started, and even during the season, that you believed you had it in you to win this year in supercross, but it's that age-old story where you can believe it all you want, but you can't know it until you do it, right? How nerve-wracking was it?
Broc Tickle
: Exactly. I mean, to be honest with you, I wasn't nervous or anything coming in off the break. I had a good break, and I did outdoor testing with lots of motos, and then I started riding supercross again two weeks ago, and it was really cool. I felt good on the bike, and it felt kind of new because I had gotten away from supercross a little bit, and then I felt fresh when I got back on a supercross track. I actually felt better after riding outdoors, not worse. And actually, during the break, I kind of knew Seattle was going to be where my first win was going to be, so that's why it might have seemed like I wasn't that happy, but really I kind of knew it was going to happen before I even went up there [to Seattle]. I'm definitely excited about the win, though, and I just want to keep getting more of those and living and racing to be the best; I don't want to be top-five anymore, or even always on the podium, because those aren't my goals; I want to go to each race and try to win. That's what racing's all about anyway. We don't line up on that line to get second or third or fifth or tenth, so that's my outlook on things this year.
Jeff Emig made a comment on TV that you looked like you had won a lot of races before the way you were riding out front, and that's true because you controlled that race. You owned it and charged from the beginning to the end.
I watched it today and I was really surprised with the way I rode, because when I was on the track, I felt like I was in my own world, and that's what it is – being able to have that feeling every weekend. That's what I'm looking for, and after the race, I thought about it, and thought about what I did, and everything I ate, what I did the week before – just everything altogether – and just collected all my thoughts, and I'm going to try to do that over and over again.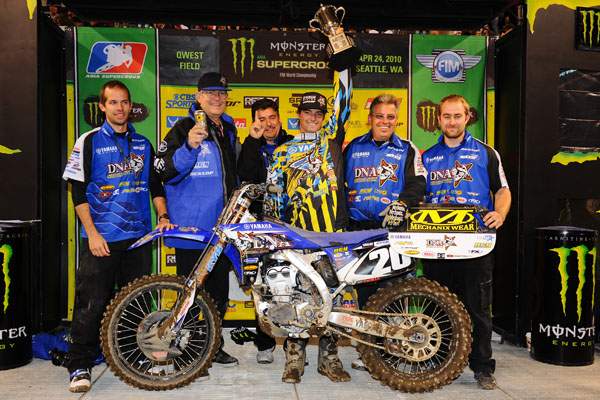 Broc Tickle and his team celebrate his and their first win.
Steve Cox Photo
Talk about the track. Obviously, you struggled less than everyone else in your class, but it was still gnarly, wasn't it?
When I walked the track, I can't explain it, but I just knew that it was my night. I just knew, because I love soft dirt, and I love riding tracks like that. It was good. It wasn't that tough for me, actually. I've been working really hard, and it was actually a lot of fun for me. It might have been a struggle for a lot of the guys, but I just went out there and had fun and rode as hard as I could.
I saw your girlfriend Jess after the race, and she was crying, and you had a lot of friends there who were happy for you, and I'm sure your family backs you as well, so how important is that kind of support for you?
It's really important. It seemed like everybody was real excited, because even some of my fellow riders were happy for me. When I came around and lapped [Travis] Baker, he moved over to the side and gave me a fist pump and yelled, so there were a lot of people who seemed to be happy to see me get my first win. I didn't realize how many people really were behind me and were pumped that I got my first win.
A lot of us just figured it was overdue by now, because you have been fast all year.
Exactly. I think that way, too.
Can you put into words the difference for you between second place and first place?
It's a huge difference, but it's all about knowing you can do it. There's a really big difference between second and first, and now that I've done it, I know I can do it again.
You've got two more chances to take home wins this year, so that's obviously the goal, right?
I definitely think it can be done, but I'm just going to take each day and each race day by day and race by race. I'm just going to keep working at it and hopefully more of this happens.
You said you did outdoor testing, so how did that go? Are you ready for the outdoors now?
All of that stuff is dialed; my outdoor setup is ready to go, and I'm ready to go, so as soon as Vegas is over, I'm ready for
Hangtown
right away.
Thanks, and congratulations, Broc.
No problem. Thanks, Steve.