Welcome to Racerhead, twenty-four hours ahead of the St. Louis Supercross and a little over a month away from the Hangtown Classic. It's a busy time in the motocross world, as the East Region is shutting down for the season, the West will start back up next week, the nationals are shaping up nicely, Glen Helen and friends are in full GP mode, and we've got 12 points separating the Ryans in Monster Energy AMA Supercross.
So who do you have winning the title, Dungey or Villopoto? That's this week's Racer X Online Poll question, and so far, our readers think it's going to go RV's way. Did you vote yet? Here's your chance. Click
HERE
to vote.
You can watch the St. Louis Supercross this Sunday at 2:00 p.m. Eastern time (for the Supercross class) and then a few hours later, at 6:00 (Lites).
I spoke to Dungey's boss this week, Roger DeCoster, and asked him what happened in Houston. DeCoster - winner of five world titles, four Trans-AMA titles, and a even a Daytona Supercross back in the day - didn't go into much detail, other than to say it was just one of those days. I expect Dungey to bounce back quickly, but I also expect Villopoto to be ready for him. Has there been another rider since
Ricky Carmichael
with more killer instinct than RV has shown in the last four years?
Speaking of Carmichael, he will once again be part of every round of the 2010 Lucas Oil AMA Pro Motocross Championship, as the
RC Hard Charger Award
returns beginning at the Rockstar Energy
Hangtown
Classic. The award goes to the rider who passes the most riders in any given moto, and this time we're planning to have a scoring loop right out of the first turn so we can freeze the positions there, rather than waiting until the end of a lap. A lot can happen between a first-turn crash and end-of-first-lap scoring.
Congratulations to
Christophe Pourcel
for his second straight AMA Supercross Lites title - and his first U.S. magazine cover! Pourcel even Twittered that to his followers, which was pretty cool. Can't wait to see him outdoors when he meets up with his Monster Energy/Pro Circuit teammates
Jake Weimer
,
Dean Wilson
, and
Tyla Rattray
at every national, as well as the GEICO Hondas of
Trey Canard
and
Justin Barcia
, the KTM of Tommy "Gun (Optional) Boy" Searle, incoming rookie
Eli Tomac
, all of those Star Racing Yamahas, etc.
There have been whispers over the years that the iconic JT Racing brand, the clothing kings of late-seventies and early-eighties motocross, was making a comeback. Well, the rumors are now picking up steam. Check out
www.thejtracing.com
, which leads you to a countdown clock, which is counting down the days, hours, minutes, and seconds to, well, something! As it stands, it's on 259 days and change, which means we can expect something for 2011 … if that's what this countdown clock really means!
Also, if you're a Facebooker, check out
JT RACING USA
, which is a page based on the company's glory days.
Last week I mentioned some of the suggestions we had received and come up with to keep improving the Lucas Oil AMA Pro Motocross Championship. One of the things we're doing this year is asking the riders and teams to use bigger numbers (5 1/2") on their side panels when they do not have a sponsor to show off (and in that case, 4" is now the minimum height). That way, teams can take care of sponsors if they wish, while others can run bigger numbers for the benefit of fans watching.
It also triggered this email from an old friend, John Slater:
I have made new Slater Skins, these will be able to be used at the races visit
www.srpinternational.com
I cant send you a photo form this site. My whole concept is for sponsorship for team, riders and promoters for TV. I am working on putting a team together and we are selling the Slater Skins concept to the sponsors because they love the idea of the signage and we have been testing with some teams.
Regards,
John Slater
We have our second state up and running in the Fox Fifty, and this time around it's Arizona. Who would you rank as the five fastest riders of all time from that part of these United States? Check out our list of choices
HERE
, and you can vote as well for your five fastest.
Out in Las Vegas, the World Mini GP is in full swing … well, almost. Check this out from
Fox Racing
:
While a majority of the who's who of the amateur racing community are in Mesquite, Nevada for the World Mini GP, one rider notably absent but surely not missed (because he won every moto he entered in Texas) is
Eli Tomac
. The newest member of the Fox MX Team is set to make his professional debut at the
Hangtown
opener in Sacramento, CA on May 22nd. Eli, who's been a part of the Geico Powersports Honda team as an amateur for a couple of years now, is ready for the next step in his career having accumulated 8 Loretta Lynn's Championships. He'll be wearing # 243 in the 250cc class.
Look for an upcoming "Getting To Know
Eli Tomac
" video from Fox soon…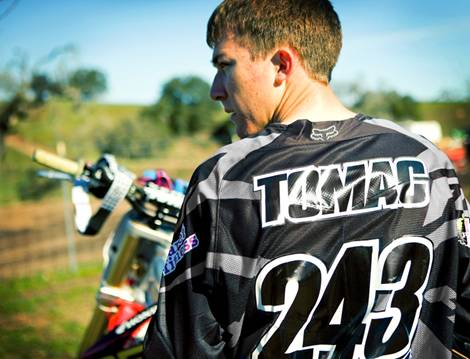 Let's turn it over to
Steve Cox
right here:
A lot of people thought
Chad Reed
was going to win last week in Houston, but perhaps those people didn't think about how hard it is to come off the couch in the middle of a championship and wax everyone. Expect Reed to get better every weekend from here on out, but in hindsight, it was probably foolish for people to assume he would win the first race. It was possible, but people treated it as if it was a given.
It also can't help that every time Reed was on the track in Houston, he couldn't wait to get back to his motor home and check his phone to see if his wife, Ellie, called or texted about their child. Chad said Ellie was having all kinds of labor pains last week but that things have calmed down now, so maybe he'll be a little less distracted this weekend in St. Louis.
And it's nice to see
Ivan Tedesco
back up in the mix at the front of the pack. It's not just that Ivan got third place in Houston, because he's done that once this year already, but it's how he did it. He battled it out with points leader
Ryan Dungey
, passed him, passed
Josh Hill
for third, then fought Dungey off again until Dungey stalled his bike. Ivan was fighting in Houston, and if he keeps it up, he could have a boatload of momentum going by the time
Hangtown
rolls around.
Kevin Windham
is always fast, but in Houston, he's really fast. He flat-out pulled away from everyone third place and back while chasing
Ryan Villopoto
early in the race, and he stayed close enough to Villopoto that he could've capitalized on any big mistakes until about the halfway point. Four more races and K-Dub is on the couch again. And that's too bad.
You've got to love the ride
Dean Wilson
put in at Houston, his first race back since getting stuck in Canuckland. He hounded
Blake Baggett
for the whole main event, fighting over second, and fought of
Justin Barcia
at the same time. It's never easy to be the guy in the middle of a three-rider freight train, but Wilson handled it just fine - until he went down in the whoops on the last lap after he had actually passed Baggett for second through those whoops. He just couldn't hang on. Deano couldn't start his bike after he got up, and he was credited with ninth, since
Christophe Pourcel
lapped tenth place.
Wilson was broken up after the race for giving up a podium finish, but it's good that he didn't give up and wanted that other spot. He put himself out there to get it and almost did. Earlier this year, in Dallas, Baggett could've just taken second place behind
Ryan Sipes
, and it would've been a great finish, but he didn't; instead, he pushed and took the win. That's the same thing Wilson was trying to do, except to improve from third to second. There's nothing wrong with that.
For more on Houston check out Jason Weigandts's column,
Racer X Redux
.
This weekend is going to tell a lot about how this championship may end up. It seems that perhaps
Ryan Dungey
was playing it a bit conservative going into Houston. After the mistake he made, he can't afford to be conservative anymore. He has to beat
Ryan Villopoto
now. If he can't do that, he may be seeing this championship slip away after leading it since round two. But if he can do that, it could be lights out for Villopoto.
And say what you want about
Davi Millsaps
, but the guy had elbow surgery during the break and came back and raced in Houston, even winning his heat race. He ended up seventh in the main event, but twenty laps around a supercross track – and some of the biggest whoops we've ever seen – this soon after elbow surgery, that's pretty good.
By the way, nice job by Speed TV to get the camera photo of Davi's horrifically swollen elbow for the show. Had I not seen it, I would not have believed it was that bad!
Jim Holley and I both have our birthdays this Sunday, and we plan to have a few drinks somewhere Saturday night to celebrate, along with Jason Weigandt, who celebrated his birthday last Monday. Although if I was as old as Hollywood, I think I'd be done celebrating every time I got another year older, but that's just me. See you in St. Louis.
Speaking of
Jason Weigandt
, here's Weege, with 5 Things to Watch in St. Louis:
There's something about the spirit of St. Louis that gets the supercross racers all fired up. This race has been crazy before, and all signs point to it happening again. Here's what to watch for in the STL:
(DUNGEY Can the points leader recover from his so-so Houston ride?)
1. Dungey's response.
While his chief competitors where crashing, getting hurt, and basically losing points,
Ryan Dungey
has played the consistency card very well this year, managing the series from the front. But he finally had a bad night last weekend, which, when combined with
Ryan Villopoto
's win streak, means RD can no longer click off podium finishes and win this title. He needs to get aggressive, and he needs to win—how will he respond?
2. Reed on baby watch.
Chad Reed
rode well for a guy coming off the couch, but based on his own standards, you know he's going to get faster every week. However, he was clear that if his wife goes into labor with yet-to-be-named boy baby #1, he's skipping the race and jetting back home. So what comes first? Chad gets back into the groove and runs with the leaders? Or Chad simply has to run?
3. The typical St. Louis craziness.
Maybe it's in the water. Or the dirt. Or the building. Or the alignment of the planets. St. Louis, more often than not, hosts crazy races. From the very first STLSX in 1996, when Jeff Emig snapped Jeremy McGrath's perfect season, to Ernesto Fonseca landing on Kelly Smith on the last lap of a 125 race, to
James Stewart
and
Ricky Carmichael
taking seventeenth and twentieth in 2006, to the 2007 Reed-Stewart takeout fest (which led to RC's last ever SX win), things seem to happen here. Add the rising championship pressure and we've got quite a recipe developing for this weekend.
4. More good dirt.
Travis Pastrana
calls it "hero dirt" on our Smith Optics track walk. Like Houston, the riders love racing here, and the dirt will allow them to get creative and aggressive and the corners. That kind of dirt could provide the perfect ammo for a last-lap pass in the LCQs. Does
Tevin Tapia
have one coming after a crazy block-pass attempt on Levi Kilbarger? And what about
Nick Wey
getting aggressive with
Jason Lawrence
in the main last week? Don't take your eyes off any of the racing this weekend.
5. Wild Lites nights.
The title is wrapped up and
Christophe Pourcel
will probably go out with his typical understated bang. But oh, those rookies! This is the final East round. Last week's podium fight came down to the last lap, and three of them (Baggett, Wilson, and Barcia) were fighting for two spots. These kids don't care if it's the last round - they're not thinking about saving it for the nationals or the shootout. They're going to race every race like it's their last. And in a way, it is.
Let's go over to
Ping
:
I know I had something to share this week, but all I can think about after reading DC's Twitter is JT Racing USA! I wore the gear for several years as an amateur and my first two years as a pro, and even though the company was certainly past its heyday, it was an incredible group of people to be involved with. That countdown timer is driving me nuts!
I spoke with Randy Lawrence this week and we started talked about
Jason Lawrence
. When the two of them began working together in January, I thought there might be a chance that Jason could really turn things around, keep his nose clean, and reignite his career. Well, Randy explained that they haven't been working together since a little blow-up they had in Daytona. I couldn't figure out why Lawrence wasn't improving and seemed like he was just riding around out there. Now I know. Don't hold your breath waiting for him to come around, folks.
Tommy Searle
fans planning to attend one of the last three West Region rounds of the supercross series will be disappointed when he doesn't show up. KTM brass decided that he should just sit out and wait for the nationals, a discipline he is more comfortable with. His contract is up at the end of the year, so Searle has to have a good summer to keep a job. Casey Lytle told me
Phil Nicoletti
will be taking Searle's place under the KTM tent for the last three rounds. Phil has already been using the team's engines, and he has had a few good rides already this year. Too bad they couldn't get P.J. Larsen back for the next few weeks.
Mitch Payton and Bill Keefe hit me up this week to see if we could haul their race bikes up to Seattle for them. Their trucks have been on the road for months now, and they will go straight from St. Louis to Seattle without stopping here in California. Of course, we agreed to help out, but then I started stressing out about it. Think about it: If our truck gets hijacked or crashes or bursts into flames while heading up the I-5 next week, six of the top contenders in the Lites class - including points leader
Jake Weimer
- will be watching from the stands on Saturday.
Trey Canard
, don't even think about it. I'm already a nervous wreck.
It other news:
Former Pro Circuit and Yamaha of Troy team manager Dave Osterman recently started a new gig. "No one can do more to put you in the winner's circle than Dave 'Ozzy' Osterman," the press release stated. "With over 30 years pro racing/industry experience and success as a championship winning mechanic and team manager, OEM developer/tester and more, Dave's track tested expertise and "secrets to success" are second to none –– and are waiting to give you the edge you've been looking for. You can find Dave on the web at
www.askozzynow.com
. So, if you're in it to win it, ASK OZZY. Dave will be attending selected amateur and pro events throughout the year."
By the way, there is a fantastic article in the new Cycle World magazine about the demise of the Buell project at Harley-Davidson, with mentions of the fact that the dirt bike project Osterman was working on—the Griffin—was pretty much complete. Pick it up on newsstands now - it's an amazing story of how things can wrong in a hurry in the corporate world.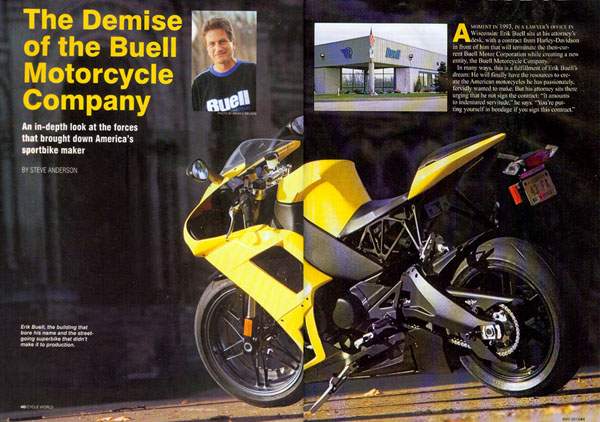 This week's issue of
Sports Illustrated
has a freestyle motocross photo in that pictorial section at the front (their version of Gate Pics). It's a shot of a kid in Australia with a handlebar-mounted camera.
Also, motocross bikes feature heavily in this "Top Ten Jumps" video feature on Huffington Post:
HERE
Former world champ Steve Ramon has launched a new website to keep everyone informed about this season's racing:
www.steveramon.be
.
The annual Day After SX event is scheduled for this Sunday at Arch View MX Park in Washington Park, Illinois. This practice session will run from 10:00 a.m. till 4:00 p.m. Gates will open at 5:00 p.m. on Friday and will remain open until the conclusion of the event on Sunday. There are no gate fees for spectators, and overnight parking is free. The practice fee is $25 for one wristband. Don't forget, the Metro Link train station located across the street offers convenient transportation to the Edward Jones Dome. For more information, check them out online:
http://www.archviewmxpark.com/Home/index.html
We want to send a get well soon message to
Austin Stroupe
, we hope you're ready to race come
Hangtown
, That's it for Racerhead. Thanks for stopping by. See you at the races.