Welcome to Racer X ReduX presented by Renthal. We've got a series now!
Back in December, I spoke to Monster Kawasaki team manager Mike Fisher for a magazine story ("Double or Nothing," RXI February 2010) about pairing up
Ryan Villopoto
and
Chad Reed
in the same truck. Fish said he wasn't worried about showdowns at the Kawi test track, because "Ryan doesn't even really show his super game until he races."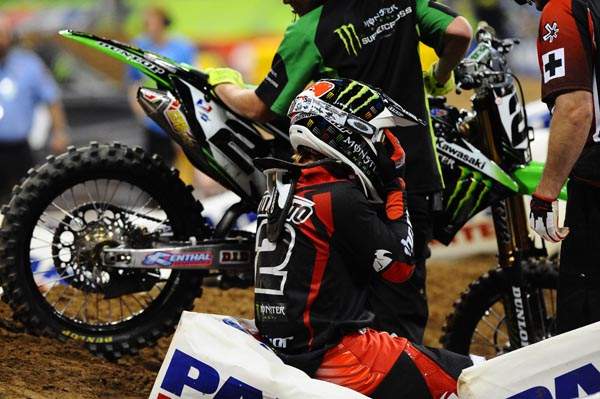 Looked a little shaky at first...
Steve Cox photo
Um, you think? In Houston, Villo turned in another spectacularly clutch performance, just like he did in Jacksonville. What kind of mental strength does this guy have? I mean, 99.9 percent of the racers in the world would have their confidence seriously shaken when they're crashing and banging themselves up in practice, not finding the speed in qualifying, and then struggling in their heat race. And all of this is happening when Ryan's staring down the barrel of a big points deficit. It's the perfect time to feel a little down, but instead he goes to another level and steps up. That start in the main? He wanted that start. He needed that start. He got that start.
It's a shame that RV's public persona doesn't match his riding, because these rides won't get the credit they should. David Bailey always tells me the hardest thing to do is manufacturer speed in the moment, which DB always admits he was never able to do. Rick Johnson could.
Ricky Carmichael
could. Villopoto can. But while RJ can talk for days about finding the tenacity and desire to do that, Villopoto makes it seem like just another race. Good luck learning his secrets—I'm not sure he even knows how he does it.
After the race, Fisher told me he can tell in practice if it will be a good night for Villo or not regardless of the practice times. Fish just watches Ryan's corners. If they look good, he can win, because if he doesn't have all the jumps or whoops figured out, he will do them right when it's race time.
And even better for the Kawi squad, Reed finally came back and made an immediate impact in the championship by holding off Dungey down the stretch.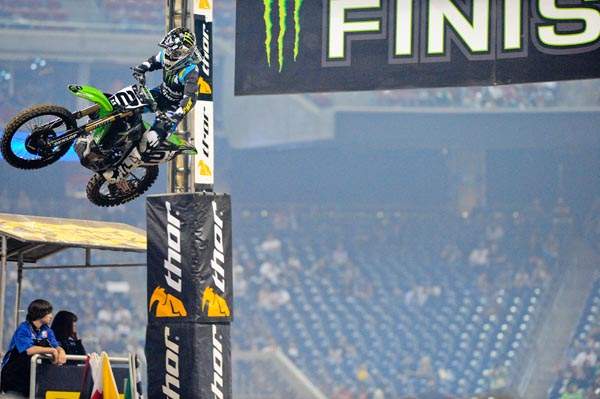 ...but a switch to the blue gear seemed to straighten everything out.
Steve Cox photo
For Kawasaki to be back within reach of this title is impressive. Two years ago they let their franchise player,
James Stewart
, go. Stewart, of course, is a one-in-a-billion talent. It's like the lowly Pittsburgh Pirates, who won three straight NL East division titles behind the skinny version of Barry Bonds. They were on top, but Bonds left after the 1992 season and the Pirates haven't had a winning season since. They've now set the all-time Major League Baseball record for consecutive losing seasons.
Kawi let Stewart go, but it's hard to plug that gap. Last season was tough with both Villopoto and
Tim Ferry
out with injuries. Then this year, that grand experiment with Reed and Villopoto went up in smoke just a few days into the series, with Reed blowing up his wheel and RV showing up looking out of shape and off the pace at Anaheim 1.
But there are now four races left in this series, and if Villopoto wins them all, he's going to be the Monster Energy Supercross Champion. He's not known for showing emotion, but this was clearly the most pumped I've seen RV after a win this year—maybe ever.
Then you have
Ryan Dungey
, who, I hate to say it, looked championship-shaky for the first time all year. I've been flying the "Dungey has learned how to deal with pressure" flag for a year now. Get over the 2008
J-Law
dustup, in 2009 Dungey was up against the wall in every darned race and never threw it away—never had the big mistake, the big crash, the big choke in nine supercrosses, twenty-four national motos, and two more at the Motocross of Nations. And racing with that razor-thin margin every weekend is hard work. Why do you think Carmichael raced only half of a season in 2007? Because waking up at 6:00 every morning to train was easy compared to dealing with championship pressure. Dungey dealt with it all year and won titles in each fight—yeah, I know Pourcel had him outdoors, but Dungey was battling tooth-and-nail, and never had a straight-up bad race where he coughed it up.
He didn't look so good in practice this time, though. He crashed through the toughest whoop section we've seen in a long time, and after that The Dunge was content to jump through them for most of practice. He could turn in a fast lap when needed—he was third in the first session and first overall in the second—but between those laps he looked timid. At one point, I even looked at my webcast producer, Ryan, at one point and said, "Check out Dungey. Something just doesn't look right."
And that's why you have to be careful with counting points before the races are run. After Toronto when people were saying, "If Villo wins the last seven races he'll make up 21 points…." He promptly finished fourth the next weekend. Then people said, "If Dungey finishes second in the last five races…." He promptly finished fifth in Houston. This is why they run the races. But Villo winning four more? It could happen.
And even if Dungey was on fire in Houston, I'm not sure he could have gotten second because
Kevin Windham
was on it. He was doing everything he could to chase Villopoto, and they quickly had a massive lead over everyone else. KW really, really wanted to win in Texas, and he rode awesome, but Villopoto rode awesomer (yup). How many WTFs ran through Kevin's head when he couldn't catch RV, who wasn't even close to him in practice?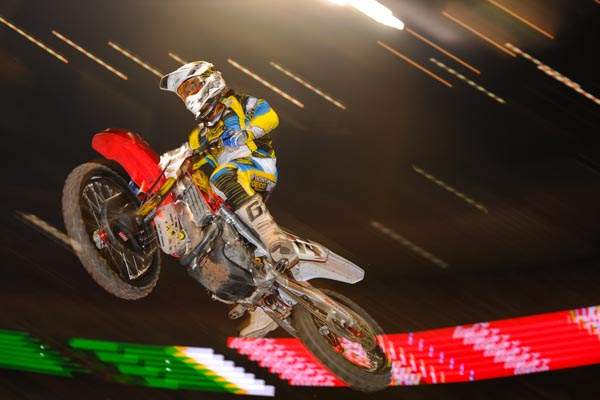 Windham rode really well and pushed to his very limit, but that little redhead was just a little faster. Where have we heard that before?
Steve Cox photo
Behind those guys came the action, with
Davi Millsaps
,
Ivan Tedesco
,
Josh Hill
, Dungey and, eventually,
Chad Reed
. Dude, what is up with Reed's starts on the Kawi? Horrible every time. I read another internet observationist who talked to Reed at the beginning of the year, and Reed explained that the Kawasaki gets traction and transfers weight differently than the Suzuki. He needs some races to get used to that. Seems to work fine for Villopoto.
Anyway, Tedesco fought hard as always and took off with third. Dungey eventually stalled chasing him, but I'm not sure he was going to get him anyway. Also, you knew Hill wanted to give Dungey some trouble. Not take him out, but at least race him hard and make his presence known. He did until his injury troubles seemed to get him again. Basically, everyone was riding for themselves and ignoring their impact on the title, the way they should, and eventually Reed caught that whole group.
Watching Reed in the main event, it's clear the guy is rusty. There was a three-jump combination before the big triple, and riders were wheel tapping and gently casing the landing. Reed messed it up bad at least twice in the main, which is two more times than I've ever seen him make that kind of mistake, ever. There were a few other rough moments, too. But when you have so much freaking confidence and talent in the bank, you can make things happen. Reed pulling out a fourth reminds me of Stewart getting the Anaheim 1 win—he looked off, he looked shaky, but he just used sheer talent to get it done. Now Ellie just needs to have that baby! The will-he-stay-will-he-go drama had me more interested in their due date more than my own. And when June rolls around and it's time for Wee-Weege to come along, I won't have a private jet waiting for me at the airport.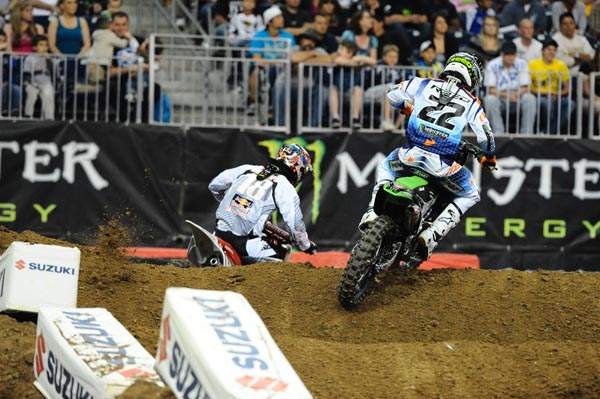 Mr. Consistency blew it! His string of 19ths is over. What's next? A win?
Steve Cox photo
A few other obsver—um, notes from the big class:
New (and old) Arenacross Champ
Josh Demuth
swapped his Monster/Babbitt's Kawasaki for a KTM, riding for Hart and Huntington, which uses Hondas. Got that? Josh's long-time mechanic Jack Yost joked that they just wanted to stick with the letter K. Anyway, Josh was only 23rd fastest in practice, but veterans like him know how to get it done, and he held off
Kyle Chisholm
for the last transfer spot in his heat race.
Way back in San Diego,
Tommy Hahn
tucked in behind Dungey after a first turn crash and followed him all the way through to a seventh. His best ride all year. This time he hooked up with Dungey again and followed him through to finish sixth. It's about time this guy gets it going.
Speaking of,
Jason Lawrence
finished lap one in seventh, his best start of the year. I couldn't wait to see what he could do, but then he and
Nick Wey
came together. Reports are that Wey took him down in revenge for a takeout in J-Ville (with the ghost of
Broc Hepler
giving an approving nod). I didn't see it but it's hard to argue with the evidence.
Andrew Short
wasn't really 100 percent yet, so matching
Trey Canard
's performance wasn't in the cards. He finished eighth, but these last few SX races should have him running with some momentum for the Nationals.
And speaking of that,
Josh Grant
has elected to save his return for the outdoors. Muscle Milk/Toyota team manager J-Bone told me it's better for Josh to test MX four days a week rather than to ride SX for two and MX for two. But Josh being Josh, I wouldn't be surprised if he hopped on the SX track, hauled butt, and decided to come race one of these.
Not much to report in the Lites class.
Austin Stroupe
went down in practice with a separated shoulder (today's ReduX lesson: a separated shoulder is when you separate your collarbone from your shoulder. A dislocated shoulder is when you shoulder pops out of the socket. I learned the difference when I separated mine and kept fighting off the doc, thinking he was going to sneak attack me and jam the shoulder back in. Apparently, he didn't need to. See, you can pass off this column as educational!) Once Stroupe was out,
Christophe Pourcel
was able to cruise to the title, and no one cruises quite like The Crafty One. Here's this week's high-comedy interview with CP:
Jim Holley: There's no truck on the line at the line at the East/West Shootout this year, but you still want to win, right?
CP: Oh there is no truck? Then I do not care.
Holley: But you want to beat everyone anyway, right?
CP: No, I already did that last year.
Pourcel led the battle of the rookies, with Blake Bagget,
Dean Wilson
and
Justin Barcia
in a fight for second. These kids, they is crazy! Bagget and Wilson divebombed those massive whoops on the last lap. Wilson went over the bars while Baggett's feet came off the pegs, with Barcia back there trying to set up a block pass! Gotta love the kids! And Baggett proved his win in Dallas was no fluke, although there really shouldn't have been a doubt because he's been fast all year anyway.
The Lites LCQ was absolutely spectacular. BBMX's
Troy Adams
runs the words "Fatty McCheesburger" on the back of his helmet, because he couldn't get a ride this year and decided to hit to the gym and pump iron all winter. He was up to 230 pounds when Forest Butler offered a ride, so Troy went on a mega diet and got back down to 195 pounds—light for him, but still hefty for a Lites rider. Anyway, Troy has been riding well, but he was stuck in fourth in the LCQ, praying for a miracle. He got it.
Tevin Tapia
, who engaged
Jake Moss
in an LCQ battle to the death in Toronto, was back and gunning for Levi Kilbarger. It's the LCQ, so basically anything goes, but even at that standard Tapia's block-pass attempt was crazy. The result? They both went down and Adams cruised past to take the final transfer spot into the main.
Poor Troy. He's in the one sport where being able to pack on 30 pounds of muscle in a few months is a bad thing. And also a sport where earning #65 in the nation leaves you out of a ride!
All of the Supercross-class craziness leads us to St. Louis, one of the wildest events of the year. Andy Bowyer's Rev-Up is going to be Barcia-level revved this week. I don't even know why that race is wild, but it usually is. Last year we had the
Travis Pastrana
show followed by
Chad Reed
winning when
James Stewart
crashed. In '07, Reed and Stewart exchanged takeouts while Carmichael cruised to the last SX win of his career. And in '06, Reed was struggling all season, but Carmichael and Stewart crashed and took 20th and 17th place finishes, while Reed won and went from third to first in the points. And remember, the first St. Louis SX in 1996 featured Jeff Emig ending Jeremy McGrath's perfect season. Get ready!
That's what I have this week. But next week, look out: Renthal just sent over a massive box of Racer X ReduX T-shirts, and try as I might, I couldn't fit all 100 of them on me at one time. So look for the mother of all giveaway contests soon.
As always, my email is
jasonw@racerxonline.com
and you can follow my Twitter @jasonweigandt or just follow me personally by walking right behind me everywhere I go in St. Louis. See you there.