Practice is all complete here in Houston, and wow did
Ryan Dungey
turn it around. He looked a little off in the first practice session, but got it dialed in session two to log the fastest lap of qualifying with a 46.995—his best time in session one was a 48.333.
But once again the competition is super close, as
Kevin Windham
's best time was thisclose to Dungey's, with a 46.997. That's two thousandths of a second behind! Windham is always fast in Houston and has won here twice in the big class and twice in the Lites class. Will he do it again tonight?
Chad Reed
was next with a 47.274,
Davi Millsaps
fourth with a 47.477 and
Ivan Tedesco
fifth with a 47.693. IT is usually one of those guys who lays low in practice and gets faster in the races, so his top five run here in encouraging. Remember, Tedesco lived in the Houston area a few years ago.
As for Reed, he sure doesn't look like a guy who has two 19th place finishes this year and has missed a whole bunch of races. He was right in the mix each time out. Starts may be the key for Reed, though, as the few starts he has had this year on his new Monster Kawasaki have been terrible. Has he figured that all out now? Also, Reed says he will leave the building and head home if his wife Ellie goes into labor for the birth of their first child (which is due any day now). So far, there have been no emergency texts to Chad's phone.
As for Reed's teammate
Ryan Villopoto
, who is battling for the title, he was a disappointing eighth fastest in practice. But if anyone can pick it up, it's RV, who crashed and skipped most of practice at the last race and still came back to win the main event.
Josh Hill
is also hoping to rebound tonight after fighting injuries, but he was only 12th in practice.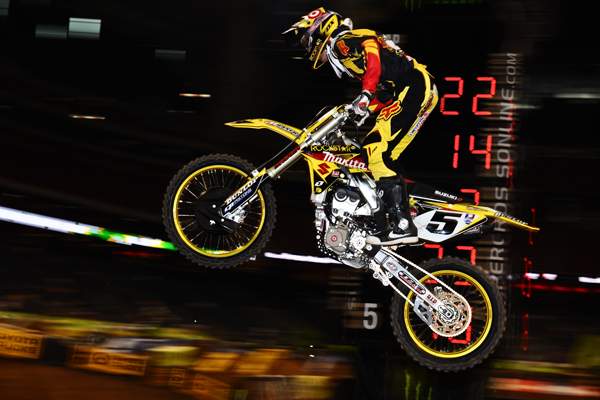 Ryan Dungey
was fastest in qualifying inside Reliant Stadium.
Photo: Cox
In Lites,
Christophe Pourcel
caught a huge break when his main championship competition,
Austin Stroupe
, crashed early in the first timed practice and separated his shoulder. Word is that Stroupe is out for tonight and probably for the rest of supercross. Now with a fourth in the main event, Pourcel will win the championship tonight, as the next closest rider,
Justin Barcia
, is over 30 points behind. Pourcel was also the fastest rider in practice (46.973), and his teammate, Dean "I flew in from Canada and boy are my arms tired" Wilson was a solid second with a 47.547.
Actually, Wilson got back into the states after Jacksonville and has had nearly two weeks back on the bike. Third fastest was
Ryan Sipes
, who is looking to avenge missing the main event last time out. He clocked a 47.642.
Martin Davalos
and
Kyle Cunningham
rounded out the top five.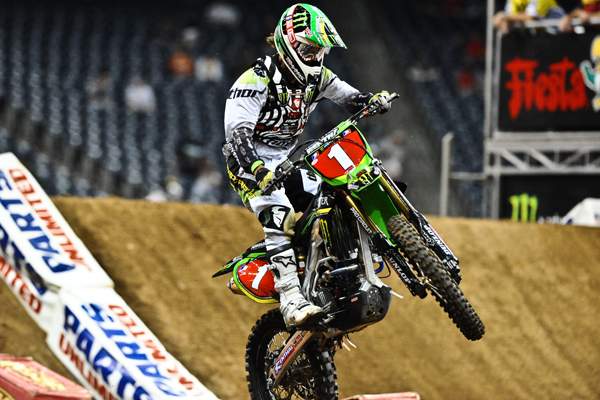 Christophe Pourcel
was fastest in Lites qualifying, and needs a fourth or better to clinch the title tonight.
Photo: Cox
Racing airs on SPEED tomorrow at 3 p.m EST for the Lites class and 5 p.m. EST for the SX class. Why not back to back? There's a little something called the MotoGP opener sandwiched in between at 4 p.m. That's an awesome three-hour block of racing on SPEED. And tomorrow at 9 p.m.
Ryan Villopoto
will guest on Dave Despain's WindTunnel show on SPEED. And if you can't wait that long, there's the Supercross Live! Webcast at www.supercrossonline.com Tonight we'll have interviews with
Chad Reed
,
Andrew Short
,
Dean Wilson
,
Brett Metcalfe
,
Ryan Sipes
and
Josh Hill
. Tune in and join the fun!