DNA Shred Stix/Star Racing Yamaha's
Martin Davalos
was disqualified from tonight's event after an incident with GEICO Powersports Honda's
Justin Barcia
following the first timed qualifying session. From what we can gather, Barcia stuffed it up the inside of Davalos in a turn when Davalos was trying to put in a fast lap for qualifying. Although the two didn't touch, Davalos was angry because he thought Barcia messed up his lap, and Davalos rode alongside Barcia and was yelling at him, and hit Barcia a few times while still rolling side-by-side. After they came to a stop, Davalos grabbed Barcia by the face mask of his helmet and had to be physically removed from Barcia by track officials.
Barcia did nothing to retaliate, which was probably smart considering in the past that normally both riders involved in an incident like that are disqualified.
This is an especially puzzling incident considering both Barcia and Davalos train and live at the Millsaps Training Facility (MTF) here in Georgia, and were reportedly friends prior to this.
Davalos can return to racing next weekend in Daytona, where he led more than half of the main event last year.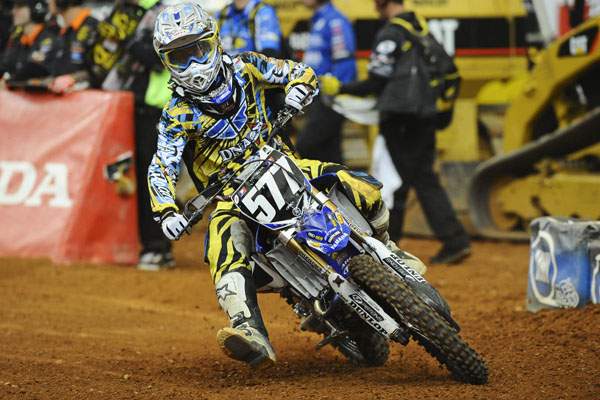 Martin Davalos
was disqualified after getting into it with fellow MTF rider
Justin Barcia
in practice.
Photo: Cox