Racerhead is on the move today, coming to you first from a hotel in Lake Tahoe, then the Reno airport, a connection in Phoenix, and finally home—just in time not to go to the Atlanta Supercross. Fortunately, this weekend's eighth round of the Monster Energy AMA Supercross Series will be shown on live television, with a start time of 7:30 Eastern.

If you can, try syncing the show to the webcast call of Supercross Live's Jason Weigandt and Jim "Hollywood" Holley, which begins around 7 p.m. EST on www.supercrossonline.com. The laps can be counted down on www.amasupercross.com, so Feld Motor Sports and the crew have this race covered all over the place.


Here's a preview
of the Georgia Dome track, with
Stephane Roncada
as your guide…. Wonder if he mentioned the part of the stadium where he and
David Vuillemin
got into that catfight back a few years ago?
A glance at the points would indicate a fantastic title bout for the AMA Supercross Championship, with
James Stewart
and
Chad Reed
now neck-and-neck, which is a fantastic development for the series—the crowds have been excellent in an otherwise tough economic market. Atlanta should be huge, by the way, and from what I understand, the fantastic and brand new Lucas Oil Stadium in Indianapolis, which makes its debut on the Supercross tour next week, is also going to be jam-packed.
However, a closer look shows that the San Manuel Yamaha-backed Stewart is on a roll, reeling off the last six in a row after his crash-caused 19th in the Anaheim opener. Reed has been second every time, though he's been farther and farther back from Stewart as the series raced up and down the California coast. The Rockstar/Makita Suzuki rider is in need of a win—badly—or he risks losing momentum completely here.
We caught up with Stewart earlier this week for
Five Minutes With
the streaking Yamaha pilot.
It will be good to see the East Region Lites riders back on the track too. When we last them in Houston, Monster Energy/Pro Circuit Kawasaki's
Christophe Pourcel
was a convincing winner at Houston's Reliant Stadium, though GEICO/Factory Connection Honda rider
Brett Metcalfe
wasn't far behind. Then came
Nico Izzi
,
Austin Stroupe
, and supercross rookie
Blake Wharton
. To get an idea of where our panel of voters pegged the East Region guys to be compared to their counterparts in the West, as well as the premier class riders, check out this week's
Toyota Power Rankings.
So why Lake Tahoe? The MX Sports Pro Motocross crew of myself, my sister
Carrie
,
John Ayers
and marketing/advertising directors
Nick McCabe
and
Kristen Young
were invited to take part in the Alliance of Action Sports' annual summit. It's a workshop of sorts that took place even while the Winter Dew Tour was taking place on the mountain above us. Alli's
Wade Martin
was the host, and the visitors included Toyota, Monster Energy, Lucas Oil, Ogio, the folks from NBC Sports, MTV, Fuel TV, the Camp Woodward people, and many other big companies and players in action sports. There were also lots of top athletes from the Summer Dew Tour, like
Jamie Bestwick
,
Chad Kagy
,
Anthony Napolitan
,
Steve McCann
and more.
The unfortunate death of
Jeremy Lusk
last week in Costa Rica was also on everyone's minds, and
Aaron Cooke
, the son of former Kawasaki factory rider Jim Cooke, gave a great presentation about the Athlete Recovery Fund he's been working on ever since the tragic accident to
Stephen Murray
two years ago. Like our man
Bob Moore
and the things he's helped put together with the Road 2 Recovery, Cooke is a good man who knows the dangers of action sports, as well as the extreme financial burdens that can come with any accident on the ramps, the skate parks, the mountains and more. Check out the foundation here:
www.athleterecoveryfund.com
.
Lusk was buried earlier this week (the service was actually simulcast) but his family's needs will continue for years to come. The Metal Mulisha has come up with four ways for you to help them, so
check it out
.
Keep an eye on NBC over the weekend for some Dew Tour events, and you can also follow the action at
www.allisport.com
.
Of course, everyone at the summit also wanted to talk about the ridiculous CPSIA "lead law" that is hurting just about everyone. As we mentioned here last week, the problems with the law are killing our beloved sport at its roots, basically making it illegal to sell any minicycle or minicycle part meant for a child. The BMX people are furious, the fishing industry is furious, everyone is furious. Hell, even
Rush Limbaugh
, the notorious and popular radio show host, discussed it in depth a few times this week, including a call-in interview with Cobra's
Sean Hilbert
, whose company in Michigan employs nearly 50 people, all of whom could be out of a job if this broadly written law isn't changed soon. And so will thousands of people who work in motorcycle dealerships, as minicycles are about 20% of the market. If the bikes stay off the floor, as mandated by law, the effect will be at least 20% of the jobs in those shops will be lost, and probably 20% of the shops themselves!
"I guess like a lot of people, I've had to become a student of this law and how it all works pretty quickly," said Cobra's Hilbert. That was moments after he showed up in a featured segment of the
Rush Limbaugh Show
, the single largest radio show in America, with approximately 14 million listeners every day. "We saw on one of the message boards that he might be talking about this thing so we took a chance and picked up the phone and called." Hilbert got through, and ended up speaking out about the lead law and its devastating effects on our entire industry with the talk show for an entire 15-minute segment.
"We all have to do whatever we can to just keep the ball rolling and keep educating people on the adverse effect this is going to have with thousands of jobs in this country, not to mention an entire sport," said Hilbert.
Hats off to
Matt Wozney
of
www.mxptv.com
, who built a "Let The Kids Ride" video to battle the lead laws and posted it online. The video
was picked up by GrindTV
, an action-sports video site associated with Yahoo! Sports. According to Matt, "The video on their home page and on their Moto page as well to help put the word out there about this lead ban issue."
Here's the response reader
Reese Dengler
got from Senator Murray on his CPSIA/MC industry letter.
Dear Mr. Dengler :
Thank you for contacting me regarding H.R. 4040, the Consumer Product Safety Improvement Act of 2008, sponsored by Rep. Bobby Rush (D-IL-1), which became public law on August 14, 2008. I appreciate hearing from you about this important issue.
As you know, the Consumer Product Safety Improvement Act (CPSIA) strengthened safety regulations on children' s products, particularly regarding the amount of lead and certain phthalates they are allowed to contain. CPSIA mandate s that children's products containing more than 600 parts per million (ppm) total lead cannot be sold on or after February 10, 2009, even if they were manufactured before that date. On August 14, 2009, the total amount of allowable lead content per product drops to 300 ppm.
CPSIA requires that domestic manufacturers and importers certify that children's products made after February 10, 2009 meet all new safety standards, including the lead restriction. Sellers of used children's products, such as thrift or consignment stores or "resellers", do not have to certify that those products meet the new lead limits or toy standards.
Although resellers are not required to test children's products for compliance with the new lead limits, H.R. 4040 prohibits resellers from selling children's products that exceed the lead limits. Therefore, resellers are avoiding selling products that are likely to have lead content, unless they have testing or other information to indicate those products contain less lead than the new limit allows.
I understand that the regulations enacted in CPSIA will require sellers of children's products to meet high standards of safety and certification. As we move forward in the 111 th Congress, I will closely monitor this situation and b e in touch with the CPS C regarding the feedback you provided and concerns from businesses about the new regulations. I share your concerns that these regulations could put hard-working business owners out of business, and I will continue to talk to the CPSC and my Senate colleagues about your concerns. Thank you for contacting me, and please feel free to contact me again in the future.
I hope all is well in Kent.
For even more on the CPSIA-lead-in-motorcycles issue, check out
this interview
that motorcycle show spokesman
Robert Pandya
did with the MIC's
Paul Vitrano
on the topic at the Dealernews International Powersports Expo. In it, Vitrano spells out exactly what the problem is and explains exactly what you need to do. It's definitely worth four minutes.
Tyla Rattray
at the Indianapolis Trade Show, where he was signing autographs at the Thor/Parts Unlimited booth. I asked Tyla what number he was going to wear this summer on his Monster Energy/Pro Circuit Kawasaki and he really wasn't sure, though the posters he was signing had him with #411, which actually belongs to privateer
Hugo Dagod
. Tyla said he's adjusting well to the States and really looking forward to this summer. He's living in Murietta, California, and plans on delving more into supercross once the nationals are over.
Mike Metzger
, the Godfather of Freestyle Motocross, was on hand at Indy doing some live painting—he's very good—and so was
Carey Hart
, who was hanging out at the One Industries display.
Robbie Maddison
was also signing autographs at Thor, and the whole
MXA
crew—
Jody, Zap, Basher
—was there, as were
Transworld
guys,
Cycle News
(which has a great new website you should
check out
), and even
Guy B.
from Vital MX, which raised the question: Who exactly was covering the supercross race back in San Diego?
Cox
told me it was him and
Garth Milan
,
Jeff Kardas
,
Carlos Aguirre
and
Brian Robinette
.
By the way,
Chad Reed
made three different covers this month:
Racer X
(alongside
Josh Grant
),
Dirt Rider
and
Motocross Action
(and I told Zap I thought this month's
MXA
cover was the best I've seen in years).
One other thing from Indy: Six-time AMA Motocross Champ
Broc Glover
was there with Dunlop, but he also unveiled a stunning new Yamaha cruiser that is being raffled off to support his 2nd Annual Breathe Easy Ride Against Cystic Fibrosis, a celebrity motorcycle event that will take place on March 29 supporting CF research. To learn more please visit:
www.BreatheEasyRide.com
.
Leticia Cline
spotting, plus a few of the top-shelf Rockstar girls, and more local spokesmodels than you could handle in a season's worth of 30-second boards. The show was well attended, though probably down some 20%. And that new Lucas Oil Stadium? Absolutely stunning.
By now you probably know that
Jason Lawrence
is off his two-week suspension, but he has yet to pick a race to join the 450 class. But his manager
Scott Sepkovic
told me he was bummed he couldn't ride San Diego, because he had a helmet painted just for the event—an Oakland Raiders helmet! That would have gone over great in Charger Town.
So when will
J-Law
be back? It's still up in the air, but likely Indianapolis and definitely Daytona. Has he learned anything? Guess we'll know soon enough.
I ran into
Jeff Alessi
in the Phoenix airport, and he's also stepping up to ride the 450 class in Atlanta. Last week he got ninth, so he's been on a pretty good role lately.
Here's a shout-out to the Atlanta Racer X Gas Card sponsors,
John Frisby
and
Ben Bridges
. We also made an exception for the Atlanta round and are letting Georgia native
Matt Walker
step up to sponsor the Gas Card as well. Matt is currently teaching motocross schools and figured this would be a good way to help spread the word. Walker is a former Lites supercross winner, and if you're interested in getting some instruction from him, drop him a line at
mdub122@yahoo.com
.
So what else is new in our sport this week, let me turn it over here to the rest of the gang—I've got to hop on another plane.
Here's
Steve Cox.
The series heads east this weekend! Living in California, it's certainly nice to have so many rounds close to home, but the change of scenery is good for the series. The consistent weather is nice, too, with all of the domed stadiums back east.
Jake Weimer
's poor mud-riding ability, but that's not exactly true. Even though he has had some bad mud races, he also got his first SX podium in the mud – at San Francisco a couple years ago. At San Diego, he came in with the points lead, but a poor start, coupled with a good start by both his teammate
Ryan Morais
and Rockstar/Makita Suzuki's
Ryan Dungey
, led to a third-place finish for Weimer. Weimer set the fastest lap time of the race, but on the podium, he wasn't smiling.
[photo of the Lites podium]
He said coming into the year that his goal was to be on the podium, but obviously, after three wins, his standards have changed a bit.
"Well, I mean, tell me about something bad that happened to you, or something you were disappointed with," Weimer told me, trying to explain why he wasn't smiling after third in San Diego. "Did you ever take a crappy picture and you didn't really smile about it?"
It's great to see a new rider get a taste for victory like that.
Not to toot my own horn, but I'm feeling a bit psychic right now, as I wrote this in
Racerhead #25
last year about Weimer:
Speaking of the GEICO team, Matthes has been reporting for a while that Jake Weimer is going to Monster Energy/Pro Circuit Kawasaki, and it's looking more and more certain all the time. With Randy Lawrence as a trainer, it's probably a bug in his ear every day about how good the PC team is, but you really have to feel for the Factory Connection squad. Think about it: You bring a guy up and give him a shot, then hang onto him for three years as he works on becoming a winner, and just when it looks like he's about to break through, he moves to the Yankees. Now, of course, a contract is a contract, so it's not as if Weimer's doing anything wrong if he does make the move, but it's a tough situation to be in for both Weimer and the team. The team supported Weimer up to the point of winning his first-ever main event this year, and wanted to keep him despite actually missing two main events, and in all likelihood, Weimer is on the verge of a breakthrough year. If he switches teams, the PC squad will get the credit, when most of the credit probably rightfully belongs to the FC team.
That's awfully prophetic, if I may say so myself. That's almost exactly what has happened, but as I said last year, I think Weimer was due. He was going to win regardless of the team, and being on the PC team certainly didn't hinder that effort.
In the upcoming weeks, most of the West riders will be getting ready for outdoors while the East riders get going, including Morais. "I'll still be riding supercross every week and just mixing in outdoors with it," said Morais, who hasn't been known for his outdoor prowess in the past. "I'm just going to work hard at both of them and really try to get that first win in those last two supercross races – or three, if you count Vegas – and I'm going to work on my outdoors and try to carry this momentum there so that I can run up front with the guys there, too."
After being perfect on the year with top-five finishes at every race, which was his stated goal coming into the season, JGR/Toyota Yamaha's
Josh Grant
got caught up in a first-turn crash with
Timmy Ferry
before getting up and charging through the pack, only to go down hard when he went over a berm at the end of one of the track's tricky rhythm sections. He was down for a long time, but according to a source on his team, he just hit his throat pretty hard and went to the hospital for observations. He should be back in Atlanta.
Broc Hepler
. Hepler was running up front before getting taken out by
Andrew Short
early on, then was charging back up through the pack when he overjumped a set of jumps in a rhythm section and went down hard, jamming his wrist on the impact from overjumping the jumps. He dropped out of the race, but X-rays were negative, and he'll be back up and running in Atlanta this weekend, if a little sore.
I got a hotel in San Diego the night of the race in order to play in the second-annual Industry Flag Football Tournament, held at a nearby artificial-turf football field and hosted by Red Bull. When I showed up, I was the only guy there from the
Racer X
team, while all three of the other teams were there in full force, including the Team Fun Center Suzuki team (with captain
Michael Lapaglia
, who has game), the returning One Industries team, and last year's champs, the Anaheim Raiders, made up of team captain/QB
Jimmie McGuire
. Eventually, Thor's
Victor Sheldon
showed up with a friend to form half of the six-man team
Racer X
needed, and then we borrowed players from other teams, and walk-ons, on our way to winning one game and losing the other.
But the big news this year was the defeat of the Raiders by One Industries in the finals, which I don't think anyone saw coming. The Raiders play together all the time – to the extent that they have a playbook and everything.
went up on Facebook
showing off some of our mad skills. We will definitely be doing it again. There was even talk about doing it again as soon as the Sunday after the Vegas supercross this May, if we can find a place to play. Heck, I'm almost done limping already. I'm ready to go!
Now on to
David Pingree
.
This weekend in San Diego I watched
James Stewart
go around a supercross track faster than any man ever has. That might sound like an overstatement, but I really believe it's true. Whatever handling issues he had early in the series are dealt with, and if he rides like he did last weekend, I don't see James losing another race this year. He was jumping things that nobody else was, skimming the dragon's back section wide open in a drift and carving whatever line he wanted to take like he was on a rail. If you missed the race you should try to catch it on TV. It was mostly boring from a racing standpoint but it was a thing of beauty to watch that guy ride.
I know this might lack credibility coming from the kid's team manager, but how about
Jake Moss
? The guy breaks his T5 vertebra in late October, doesn't even ride a bike until the second week of January, and then goes 14-8 at Anaheim 3 and San Diego. I've said it a few times already, but these Aussie guys are nuts. Jake is going to have two months now to train, ride, and do some testing (he hasn't had one day of testing yet) before he races again in Seattle. I'm just throwing this out there: keep an eye on #42 during the last three rounds of the supercross series.
There hasn't been a whole lot of talk about the AMA Arenacross series this year. I honestly couldn't even tell you who is leading the series right now. That's sad. I do know that the only two West Coast rounds are this weekend in Sacramento and next weekend in Reno. So if you live in one of those places, go check out the racing; it's more entertaining then you could imagine.
I just checked!
Jeff Gibson
is leading the series. Nice work, Jeff.
Danny Brault
is probably going to get all excited and wet his pants when he reads this, but I ran into a few Canadian motocross contenders recently.
Nick Evennou
,
Ryan Lockhart
and
Jeff Northrop
were out preparing for the start of the Canadian series. Evennou looked particularly good and he will certainly be a title threat when the series gets underway. Northrop is coming off of a bad leg injury but says that everything has healed up and he feels good. His KTM 450 is so fast, it looks like "Jeffey" is hanging on for dear life when he opens the thing up. Ryan Lockhart is also singed up on a KTM team for the series this summer.
Speaking of
Danny Brault….
By now, I'm sure everyone is dying to know who won the epic Racer X Hockey Tournament at the Indy Dealer Expo last weekend. Well, to no one's surprise, Team Canada kicked Team USA's butt for the umpteenth year. There's no doubt "aboot" it; whether it's our World Juniors, Olympians, or a bunch of out-of-shape motorcycle industry folk, we know how to score goals and drink beer.
The game actually started out pretty evenly matched, as Team USA goalie
Danny Walker
kept things tight for the first 30 minutes. Unfortunately, their bench was a little empty this year (Team Captain
Scott Wallenberg
was on the sidelines with a knee injury) and they couldn't keep up with the Canadians' legs or the HGH-fueled
Rob McCullough
in the second half. I believe the final score read 9-3. On Sunday evening, the teams were mix-matched to create an All-Star Game of sorts. It was obvious that two nights at Indy had taken their toll on the players, as everyone moved a little slower and numbers were nearly cut in half. Team Red won, as McCullough led the way with two hat tricks, 14 assists, and a flock of "cougars" chasing him around the arena. Good times.
Honestly, even though the Indy Expo itself is a worthwhile event, it's the hockey tournament that draws many of us Canadians down south for that weekend. Thanks again to Tsubaki's
Greg Brannick
for arranging ice times, jerseys, and cold beers. You're da man, Greg!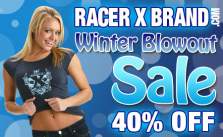 This Sunday is Round 2 of the Ontario Indoor Championships. This five-round series started two weeks ago, and all five events take place at Wallaceburg Indoor MX in Wallaceburg, Ontario. It's only a stone's throw from the Michigan border, so I suggest that anyone living close sign up. Promoter Mark Perrin was very happy with how things went at the first round, and pro rider Jason Burke said the track and organization was top-notch. Burke was probably just happy because he won the pro classes handily. That won't be the case this Sunday, however, as Blackfoot Yamaha's 2008 MX1 champ Colton Facciotti and OTSFF Suzuki's Kyle Keast are set to line up. Stay tuned to supercrosscanada.com and wallaceburgmx.com for race info and directions.


Eric Nye
is returning to defend his MX2 title;
Jeff Northrop
and Kiwi
Mason Phillips
are signed up for MX1; Canadian young guns
Ryan Millar
and
Kyle McGlynn
will compete in the MX1 and MX2 classes, respectively; and "J-Roc"
Jacqueline Ross
is back to defend her Women's National #1 plate. Team Orange is looking good.
Finally, congrats to Kemptville, Ontario's
Tyler Medaglia
, who won his second AX Lites main event last Saturday in Fresno! Medaglia continues to race for the GPF/BabbittsOnline Kawasaki Team, and may even race a 450 supercross round when he's ready. As always, stay tuned to directmotocross.com for your Canadian news updates!
Check out this site
.
Remember
David Vuillemin
? Well, you better, and you better be watching this weekend's results from Valance, France, as Le Cobra lines up against other GP guys for this preseason race.
You visit
the track's website
for more info. Looks pretty good!
That's it, thanks for reading Racerhead. Tune it tomorrow to the Atlanta Supercross LIVE on SPEED at 7:30 p.m. ET!