I was hoping to manage this whole edition of Racerhead, but a long weekend at High Point carried over into another magazine deadline, and now I am flying to San Jose on a 24-hour trip to my friend Pete Fox's wedding tonight. I want to thank all of the fans and riders—from James Stewart to Mike Alessi, from Sean Hamblin and Michael Willard to Ryan Dungey and more—who all said real nice things about the overhauled racetrack out at Mt. Morris, PA. It was a lot of hard work, and thank goodness a lot of friends and families pitched in.
Looking back at the 32nd Annual High Point National, the weekend actually started many months ago. It was at Steel City '07 back in August, when it rained for about nine days in a row leading up to the race. The track was sub-prime, to be honest, and it was time to make some changes with both that race and High Point, which would be moved to mid-June on the schedule after three decades on Memorial Day.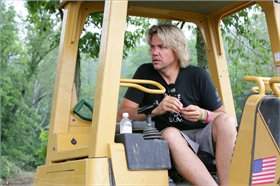 Marc Peters was the point man with the High Point redesign
photo: Simon Cudby
The first thing I did was call
Marc Peters
of Petersbuilt MX tracks and ask him to fly back east to check out
High Point
. We wanted a consultation on a track that had been laid out by a traveling team of Maico riders—
Adolf Weil
,
Sylvain Geboers
and
Hans Maisch
—back in the fall of 1976, and still clung to much of the design they originally came up with. It had been nipped and tucked here and there, but laps times seemed to drop by seconds at a time with every passing year, as the racers got faster and the bikes grew into state-of-the-art 450 four-strokes. Peters flew up, marched up and down the hills for a few days, and said "Okay, I got some ideas. I will be back."
A few weeks later, Marc and his fellow dirt sculptor Chad flew back and went to work. They were given free rein to do whatever they thought the track might need, because after so many years of being so close to the course, it was time for some new eyes to see it and come up with new ideas. I left them to the track and started mowing grass and moving fences and just trying to do what my injured brother has been doing for years: trying to make it look like Red Bud!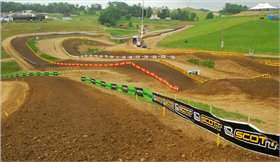 The new High Point layout was a hit with both the riders and fans
photo: Kevin Golier
The place was fantastic on Friday for amateur day, with new hills and off-cambers, plus some cool jump combinations that the amateur-day participants found challenging and fun. But after the race, the NPG's director of operations,
John Ayers
, realized that the track times were still going to be around two minutes flat, which is something series points leader
James Stewart
complained about at
Freestone
in Texas: the tracks were getting shorter and shorter (and he was getting faster and faster). So once again it was Peters to the rescue, as he and Ayers and my brother-in-law
Jeff Russell
went into the amateur section of the racetrack, pulled up some fences, moved some campers, and added a whole new section to the racetrack.
Saturday morning looked like it was going to be perfect, but then the rainstorms we hoped we would avoid by moving three weeks back into summer found us anyway. It rained as hard as it did at Daytona, and pretty much only let up for brief periods of time well into the night.
Sunday morning dawned cloudy and overcast, yet everyone was out there before dawn doing what they could to salvage the track. Like the MXoN back in September, we were lucky to have a lot of our fellow NPG promoters step forward to help out: Amy Ritchie of Red Bud was there helping out, as was Greg Robinson of Unadilla, and of course Jonathan Beasley, who went around doing what he could to make the place look presentable. Longtime Ohio promoter Drew Wolfe was on a tractor, and so was Peters, leading Jeff and his dad, plus the Holberts on the equipment, plus the tireless Ayers and his crew.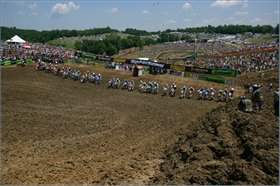 The track was perfect for the start of the motos on Sunday
photo: Simon Cudby
By the time they were done, the sun came out, a huge crowd rolled in, and the riders looked like they were having fun on the made-over track. If you saw the
Racer X Post-Race Show on Motocross.com
, you saw a racetrack that looked way different than it did just a few hours earlier when everyone was planning for a big mud race.
I just want to thank everyone who helped out so much in getting High Point through a difficult weekend and helping make the AMA Toyota Motocross Championship even better. Now I've got to get Marc to Loretta Lynn's and then Steel City so we can do it all over again. Marc, a former pro rider who is the son of CMC founder Stu Peters and the brother of Sondra Peters, one of my favorite people in motocross, was as impressive on those tractors as James and RV were on those green machines.
Check out the Speed TV broadcast of the 2008 High Point National—the first round of the Monster Energy/Kawasaki Triple Crown of Motocross—tomorrow (June 21) at 10:00 p.m. ET on SPEED; the Lites class will air on Sunday, June 29, at 2:00 p.m. ET on SPEED. For the complete TV schedule, click here.
Looking ahead to next week, we've got a big treat for everyone: With David Clabaugh taking the extraordinary step of bringing in world-renowned Musco Lighting to illuminate Thunder Valley Raceway, the second set of motos from Colorado will air live on Speed TV. So with the satellite truck there and the camera crews in place, Racer X and Toyota will be presenting the telecast of the first set of motos as well as the WMA moto live on Motocross.com, beginning at 6 p.m. Mountain Time (8 back east and 5 on the West Coast). It's free to watch; you just need to sign up over at www.motocross.com, and when you do, we will also hook you up with a free digital edition of the August '08 digital issue of Racer X Illustrated. What a deal!
And later on, we will also be airing the first motos of both Budds Creek and Southwick on Motocross.com, so make sure you check it out. And yes, there is a Racer X Off-Weekend Show going up later today on Motocross.com, filmed from the back of my pickup truck and featuring highlights from the first four rounds, plus Ryan Dungey's "unplugged" full-length conversation from the volatile High Point press conference. Stay tuned and we will post a Breaking News when it's live.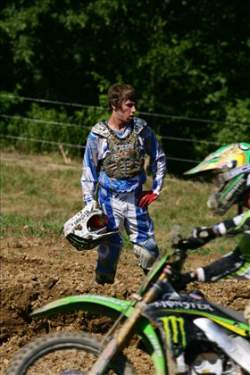 J-Law was absolutely flying in Moto 2 until his bike broke
photo: Simon Cudby
Beyond that, I am sure the rest of the guys who pitch in on Racerhead each week will fill you in about
Josh Hill
's comeback ride (he took the RC Hard Charger Award in one moto),
Jason Lawrence
's rebound (he was fast in both motos but a DNF cost him a likely second overall), the growing confidence of
Mike Alessi
, the continued dominance of
James
and
Ryan
, and what's going on with
Mike Brown
coming home (to Yamaha of Troy, likely) and
Steve Boniface
going home (he got hooked up with Brownie's old
CAS Honda
gig on the GP tour).
Also, I was hoping that the brand-new 2009 Monster Energy AMA Supercross Series, an FIM World Championship, schedule would come out today, but now that's looking like Monday. From what I am hearing, there are several changes, some new stops added/returned to the schedule, and also some surprises. But until its official, it's all just speculation and guesswork.
And finally, before I have to get my wedding attire on, I want to thank David Bailey for making the long trip out to High Point to work alongside Jason Weigandt on the Racer X Pre- and Post-Race Shows, as well as the live webcast. Bailey is a badass in everything he does, and I know flying across the country with a wheelchair is no easy feat. He wanted to be a part of things, and I think he and Jason make such a great pair that we might be seeing a lot more of them working together in the future. Bailey enjoyed coming back east, taking that honorary lap to start thing off with Jeff Stanton, Mike Fisher, Steve Lamson, Gary Semics, Tom Carson and more, and I just wanted to say thanks for helping us all out just by being there.
That's it. Enjoy the off-weekend. Back to Bad Billy.
For the first time ever, we had to go to work on the Monday following the
High Point
National. It was definitely a weird feeling, but it was to get back to work. So what about
High Point
? I could just direct you over to the Racer X Canada website and tell you to read
Steve Matthes's Observations
, as it contains everything you need to know about what happened in Mt. Morris, but that would be way too easy.
James Stewart and Ryan Villopoto both took steps toward becoming Monster Energy/Kawasaki Triple Crown winners for the year. If they can notch wins at Red Bud and Steel City to match their High Point triumphs, they will each take down $25,000. The Triple Crown Series also includes big privateer bonus money. Congratulations to Sean Hamblin and Michael Willard, who were the top privateers at High Point. They each grabbed $2000 of Monster loot for their efforts.
A great thing about High Point is that all of our industry friends come to town and get to see our neck of the woods here in Morgantown, West Virginia—which is only about a 15-minute drive from the High Point race track. It was Steve Cox's first time here as an actually employee of Racer X, and I got to spend a lot of time with him, Matthes, and Giberson—three Steves! Thanks for good times and the laughter. Cox is a pretty funny guy. Anyway, let me turn this over to him:
The High Point National is now behind us, and it's interesting to note that although it's sort of infamous for raining at the High Point race, it's also usually on Memorial Day weekend. This year, that weekend was Glen Helen, and it wasn't raining in Mt. Morris, Pennsylvania, that weekend. However, it did rain on Saturday at High Point and pretty much killed practice. But by race time on Sunday, many of the riders commented that the track was as good as it had ever been, thanks to Marc Peters and the local High Point crew. I was in Morgantown from Thursday on for open house at the Racer X office, and then a bit of karaoke on Friday night, and Davey Coombs was almost never around. Instead, he was at the track busting his butt. It paid off, as the riders were way into it, despite Mother Nature's best efforts.
In the first Lites moto, Rockstar/Makita Suzuki's
Ryan Dungey
had another run-in with Boost Mobile/Yamaha of Troy's
Jason Lawrence
, and he was pretty upset about it. Lawrence apparently took Dungey out, and the two definitely still have some bad blood left over from their heated Lites West SX championship. When I asked Dungey about the get-together in the press conference, he surprised me with quite a commentary on Lawrence.
"Yeah, it was dumb," Dungey said. "I mean, what happened, I should've seen it coming. Like, I knew he was already brake-checking me before I got around him, and then I got around him… I put on a charge to get away from to get away from this guy, because he's a dirty rider, and it came up to an awkward position right before the turning rollers, and he just came in and cleaned me out. I was just over it. I wanted to go over there [to Lawrence's hauler], but I mean, I'm not going to lower myself to that. The guy's an idiot. I mean, look at him, he's getting drunk before the race, and he's an embarrassment to our sport, I think… He's going to learn his lesson one day – it'll come. I don't know when, but I'm not a trash-talker guy, but I'm not going to be nice about it. It's just, I'm kind of over it – what happened in supercross, and the way he went about things. Any chance I get, I'll clear his ass out. [Cheers and applause from the back of the room.]"
For the first time this outdoor season, the GEICO Powersports Honda team will be out in full force in Colorado. Trey Canard missed Mt. Morris after hitting his head in the first moto in Texas, but he'll be back by Colorado, and Josh Grant has been out since taking a nap on the track during practice at the Las Vegas Supercross, but he'll be returning in Colorado as well. And, yes, he'll be on a CRF250R, just like the rest of his team, despite rumors that had him on a CRF450R.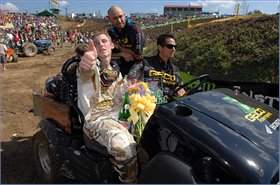 When asked about his High Point performance, Jake replied with a thumbs up.
photo: Carl Stone
Speaking of the GEICO team, Matthes has been reporting for a while that
Jake Weimer
is going to Monster Energy/Pro Circuit Kawasaki, and it's looking more and more certain all the time. With
Randy Lawrence
as a trainer, it's probably a bug in his ear every day about how good the PC team is, but you really have to feel for the Factory Connection squad. Think about it: You bring a guy up and give him a shot, then hang onto him for three years as he works on becoming a winner, and just when it looks like he's about to break through, he moves to the Yankees. Now, of course, a contract is a contract, so it's not as if Weimer's doing anything wrong if he does make the move, but it's a tough situation to be in for both Weimer and the team. The team supported Weimer up to the point of winning his first-ever main event this year, and wanted to keep him despite actually missing two main events, and in all likelihood, Weimer is on the verge of a breakthrough year. If he switches teams, the PC squad will get the credit, when most of the credit probably rightfully belongs to the FC team.
So who is there to get to replace Weimer if you're Factory Connection and he leaves? They will be bringing up Blake Wharton for 2009, but that still leaves them with Dan Reardon, Trey Canard and Wharton, so they need a fourth guy.
It looks like Yamaha's Broc Hepler will be getting the okay to start riding again two or three days before the Colorado National, so he should be back soon, but what about the champ Grant Langston? His eyes are still healing, albeit slowly, so it will still be a while.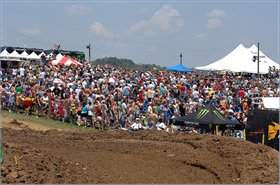 A ton of fans spent Father's Day at the races
photo: Carl Stone
There's a lot of buzz going around in the pits about the first ever nighttime AMA National in Colorado, and it seems most of the riders are skeptical, if my unofficial poll means anything. The main concerns surround the fact that the dirt is pretty dark anyway, and it ruts up, so most of the riders are worried that there will be shadows in the ruts. Some are even worried about trying to pass other riders if the section of track is only lit from one side, as the other rider will surely cast a shadow as well. However, one team manager I spoke to seemed pretty positive on the whole thing and thinks that the company they hired for lighting knows what they're doing and he's not worried at all.
And finally, I know this is going to sound a lot like my Mototalk days, but there has been a lot of talk from people in Europe about how the GP fields are "deeper" even if we have the "one or two" fastest riders in the world racing in the USA. Well, thanks, Steve Boniface, for putting it into perspective for us. Boniface finished just outside the top 10 at Glen Helen, and then went 6-6 for fifth overall at Hangtown on a bike he had been riding all winter – a CRF450R. Then, after Hangtown, he left for France to start testing on a Yamaha YZ450F to race in the GP last weekend. He didn't do too hot in the first moto, as a first-lap crash reportedly cost him, but in the second moto, he finished fifth. Fifth on a relatively unfamiliar bike. So, there has to be a concession that, yes, we do have the fastest couple of riders, for sure, but that the depth is no better in Europe, either. Maybe we can stop the bickering now and get back to enjoying the racing on both sides of the pond.
Thanks, Steve.
From the Racer X Inbox:

Just wanted to e-mail you guys a let you know as a long time fan of our sport I really appreciate you magazine and website. It has been very positive for the sport. I just finished reading your Between the Motos article with Jeff Alessi and you guys have done articles like that hundreds of times and most of the time these guys who are deserving of it usually get help (Gavin Gracyk good example) and your staff's effort play a big part in that. I also feel a swing in the way the true privateer is viewed by the fans ( me included). I appreciate every guy (or girl) on that track and I get pumped to see someone like Gracyk (last year) Hamblin, Alessi, Cooper these guys up front or top ten, and it is because you guys have drawn attention to these guys , along with programs like warthog and such. I have been and will continue to subscribe to your excellent magazine. Good for you guys! Keep up the great job.
Hal Raster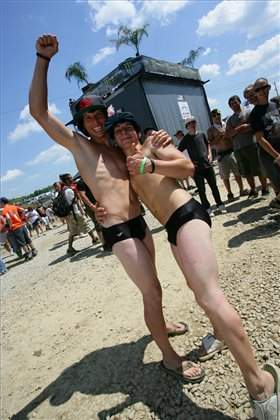 Now that's funny!
photo: Simon Cudby
Speaking of letters, we have had a few confused readers write and complain about the discomfort they felt when they noticed that this week's Answer Racing Fan of the Week included two "Monster boys" in their Speedos, posing with the requisite Monster Girls at
High Point
. They were not flaming flakes, but rather funny (and very fast) motocross riders
Shane Durham
(
Darryn Durham
's younger brother) and
Matt McKeown
. What readers could not see from the photos was the fact that they had painted #187 and #594 on their backs, as they were there to root on their friends
Sean Borkenhagen
and
Chad Sanner
. Did they lose a bet? Probably. Did a lot of people laugh and point at them and take pictures? Definitely. Personally, I have seen something that funny since the time
Bob Hannah
dressed up in drag for the talent show at Loretta Lynn's and a confused
Bill West
tried to buy him a drink!
There were a lot of people rooting and cheering for Sanner aside from this week's Fans of the Week. Chad definitely deserves some credit as he came out and qualified for the AMA Motocross class this past weekend in front of tons of family and friends at High Point. Sanner is a pro racer-turned-factory mechanic-turned-racer again, and he's been through a lot. In fact, back in 2000 Sanner actually suffered a broken back and it was questionable if he'd ever walk again, let alone ride a dirt bike. He then decided to focus on becoming a factory mechanic and spent time spinning wrenches for Yamaha of Troy and the Factory Connection Honda team. After a few years of life on the road, he decided he missed racing too much and is back at it, concentrating on mostly amateur stuff with support from Mosites Motosports and Fly. Aside from racing, he also started his own business called Eleven10Mods and he's located in Connellsville, PA. He does some really good work, so if you want to get in touch with him, give him a call at 724-562-8877.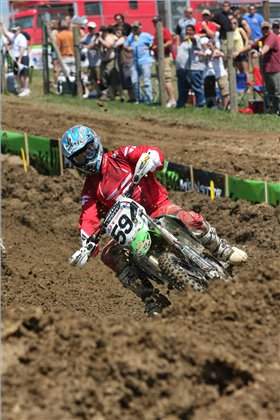 Chad Sanner qualified to the delight of his hometown fans.
photo: Zak Lowery
Here's a few injury updates:
Yamaha's Broc Tickle is okay after a hard last-lap, second-moto get-off right in front of DC, who got a thank-you note from Broc's girlfriend Jessica Brewer for helping get him and his bike off the track. She said that Broc's dinged up, but he should be okay for next week.
We also got word that JGR/Yamaha/Toyota/Spike Energy rider Josh "Charles" Summey is all right also after a hard get-off in the second moto at High Point. And regarding Summey, check out today's Toyota All-Access film, which shows the Gibbs Racing team's transition from AMA Supercross to AMA Motocross. Check it out.
People were wondering if Brett Metcalfe is okay after he apparently took a hard fall while practicing at a local SoCal track. Steve Matthes got a message confirming he did crash but that he's okay. He did earn himself a hospital trip but got checked out and released. He has some shoulder pain and is getting a second opinion on it. By all accounts, he should be at Lakewood.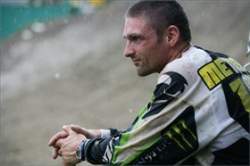 Metty is OK
photo: Matt Ware
I guess it's old news, but MX1 World Championship contender
Marc de Reuver
is going to be racing the AMA Motocross class at
Southwick
later this summer. We emailed "Calimero" to get a quote, and he responded:
Yeah I will race Southwick. I already have my tickets! I don't know what quote you want me to give? I will beat Stewart??? hahahaha…. Don't think so! For sure I wanna do better than I did in 2001, I was a little unprepared that time. No I know I have to be ready for the heat. I will come one week early so I can do some training and testing! I also hope they won't flat the track the whole weekend, the heavier it is the more I will like it!
A note from our friend and sometimes contributor Warren Price down in Texas:
Andrew Short was practicing at Austin Del Valley MX track on Wednesday night—under the lights. He does that fairly often, but with Colorado coming up… Night riding in Colorado could result in a major shakeup in both classes. Should be interesting!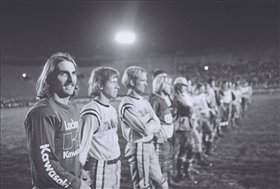 1973 Philadelphia Trans-AMA. Read more about it in today's Motosport Outlet Bench Racing Ammo
photo: Dick Miller Archives
Something else interesting that I just learned this week is that next week's
Thunder Valley
National isn't the first time an AMA motocross event has been under the lights. DC recently found some old slides from the 1973 Trans-AMA, which was held inside Philadelphia's JFK Stadium. We scanned some slides in and that is the subject of today's Motosport Outlet Bench Racing Ammo. Check it out
here
.
One of our favorite all-around riders in the world, Destry Abbott, is trying to raise some greenbacks for his return to the ISDE:
As many of you know I was selected to represent USA on the ISDE Trophy Team. A lot of effort has been put into this year's team and we're all really excited to head to Greece in August. Due to the high cost of traveling, each team member has to raise our own money to do this and it's getting pricey. To offset some of my expenses, I'm selling t-shirts on my site to help raise some money. Below is the link if you're interested in picking one up (or more: http://www.destryabbott.com/isde.html).
Main page: www.destryabbott.com
Thanks for everyone's support and I know we're going to do great!

SUBSCRIBE OR RENEW NOW AND GET
A FREE RACER X TRAVEL MUG!
Keep your coffee hot while reading your favorite MX magazine with our new Racer X travel mug, free with your subscription or renewal. Pay only $19.98 USD for 12 print issues or $14.98 USD for 12 digital issues and Racer X will hook you up! Don't miss out, subscribe now!
P.S. If you're one of the lucky subscribers who signed up during our Smooth Industries sunshade promotion, don't worry, we didn't forget about you! The sunshades have finally arrived to the port and we expect to ship them in by the end of July. Sorry for the delay.
So with a weekend off, most riders and industry workers will probably be getting some much-needed rest, but not
Jason "Blogandt" Weigandt
, who is on the road to North Carolina for Round 8 of the
Can-Am GNCC Series
, so let's turn it over to him:
The Can-Am GNCC Series returns to action this weekend after a three-week break. Defending GNCC Champion David Knight is dealing with a new challenger in New Zealand's Paul Whibley. Whibs has won the last two GNCCs, and followed those wins with victories in other series during the break. Whibley has won in the mud, the heat, the tight stuff and the open terrain. Most pundits will tell you that Whibley doesn't have the most talent, but he's carved a reputation as the hardest trainer on the tour. In fact, his FMF Suzuki teammates now call him "The Badger" because once he gets behind you he never, ever, gives up or goes away. If Whibley can start the race up front and avoid the arm pump that normally plagues him early, he'll be hard to stop. Although Knight surely won't be happy if he has to take another loss.

Whibley's Australian teammate Joshua Strang isn't far behind, either. The 20-year-old has landed on the podium at the last three races and has led laps each time. It's beginning to look like a matter of time before Strang gets a win, and once he gets one, look out. Same for Aussie veteran Glenn Kearney, who is flying right now on his factory Husky. Yes, they're making the Husky work out there.

There's a lot of other talent to watch, including Charlie Mullins, Nathan Kanney, Jason Raines and Jimmy Jarrett. The XC2 Lites Class has been a Thad DuVall show this year, but the Am-Pro FMF Yamaha kid will have to hold back a pile of challengers, including Kailub Russell, who won the last GNCC three weeks ago. Don't count out Monster Energy/Andrews Yamaha riders Dustin Gibson and Josh Weisenfels, or Monster Energy/Kawasaki riders Andrew Matusek and Scott Watkins.

Stay tuned to GNCCRacing.com all weekend for live timing and scoring. The pro bike race runs at 1 p.m. on Sunday.

Here's something from Mike Farber:

Racer X Brand model Ali Sonoma is a contestant on ABC's The Mole. It's the fifth season of the "smartest reality show ever." The contestants are trying to win up to $500,000 by avoiding the machinations of a saboteur in their midst. If you would like to see Ali check out ABC at 10:00 on Monday nights. Good Luck Ali!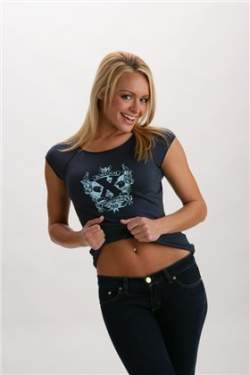 Check out Ali on The Mole on ABC!
Check out this
epic High Point video
that was posted on YouTube. That same guy also shot
these
!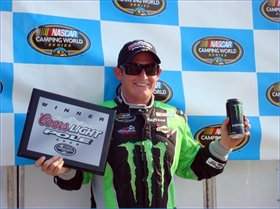 GOAT Update below:

photo: Scott Taylor

GOAT Update: Pts. Races Wins Top 5 Top 10 Earnings
1. Austin Dillon 647 4 1 2 3 $19,480
2. Brian Ickler 592 4 2 2 2 $22,700
3. Steve Park 590 4 0 1 4 $10,050
4. Matt Kobyluck 584 4 1 2 3 $16,875
5. Jeffrey Earnhardt 570 4 0 2 3 $16,225
6. Trevor Bayne * 556 4 0 2 3 $15,430
7. Marc Davis 552 4 0 1 2 $11,675
8. Jesus Hernandez 545 4 0 2 2 $10,350
9. Rogelio Lopez 520 4 0 0 2 $9,475
10. Eddie MacDonald 505 4 0 2 2 $10,135
11. Jody Lavender 503 3 0 0 2 $6,550
12. Ricky Carmichael 499 4 0 1 2 $9,985
The Champfactory MX School conducted by multi-time champions Rick Johnson and Sebastien Tortelli will host a special school over July Fourth weekend. It is a three-day clinic (July 1-3) and tuition costs $650 (instead of $750). There will be a minimum of 10 riders. Sign up on www.perrisraceway.com - click on Champfactory.

Robert Remund of Birds Eye Media came to High Point with his remote control helicopter and shot some extraordinary 360-degree images of the national track, including the full pan here that was taken around 11:30 p.m. (when the track and infield section was still empty around him). The cool thing is you can use your cursor to move around the track panorama and the facility. Look for more for Birds Eye Media in the near future!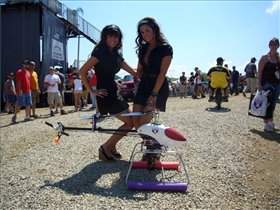 BirdsEyeMedia got some cool aerial shots at Mt. Morris.
"Beckermoto, manufacturer of patent pending skid plates is for sale. Owner is running two other businesses and is not able to dedicate adequate time. The slide plate is the only plate to protect linkage as well as rest of undercarriage at only seven ounces. Please contact
Chris Becker
directly at: 303-921-1868. See at Beckermoto.com"
Looking for a yellow Honda? This may be the bike for you.

It's time for some Racer X Flash Trivia! This installment is brought to you by Gary Semics MX School, and one lucky winner will get a new Private MX Lesson DVD with Gary Semics.

Here it goes: What year did Gary Semics win the 500cc AMA Supercross championship? E-mail your answer (along with your name and address) to online@racerxill.com. Good luck!
We got an email this week from Jessie "McGuyver" Black, who is the head technical advisor for the Brawndo/Solitaire team, about their interesting day at Hight Point. First off, Ryan Clark was hauling in the first moto, and finished a strong 11th. After that they realized they had a hole in the engine case, and fixed it with a cork from a bottle of whiskey and a small wire brush! Here are a few photos:
Finally, on Mototalk today we spotted
a post by Rupert X
about an all-new Two-Stroke Challenge!
And speaking of Rupert, be sure to check out www.therupertxshow.com. Episode 3 is up, and you don't want to miss it!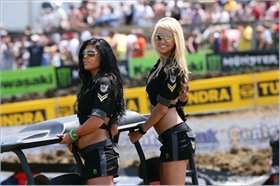 They tune in to the Rupert X Show
photo: Simon Cudby