Toyota/Racer X Power Rankings - Week 7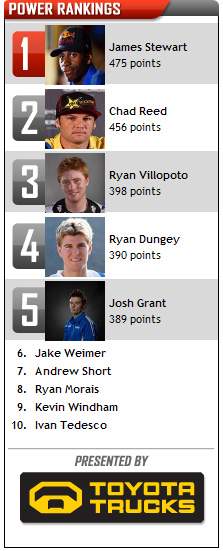 1.
James Stewart
- James increased his lead in the Power Rankings and is now in a dead heat with Reed. The series starts now.
2.
Chad Reed
- Reed likes being back home in Florida. Only trouble with that is Stewart does too.
3.
Ryan Villopoto
- Jumps three spots in the rankings due to his fourth in Diego. Hey voters, what about Short?
4.
Ryan Dungey
- After one week of being behind Weimer, The Dunge jumps one sport in the rankings and into the points lead. The long wait starts now.
5.
Josh Grant
- Didn't fall too hard after his DNF. He was good but now trails Short in the standings. Hey voters, what about Short?
6.
Jake Weimer
- Jake went from fourth to sixth in the rankings. The long wait begins for him too.
7.
Andrew Short
- Here he is! Third last weekend and now third in the points. Shhhhhh, nobody talk about him.
8.
Ryan Morais
- Eight career podiums in the 250 class with zero wins. Will he do it in one of the last two races?
9.
Kevin Windham
- KW drops one spot after his seventh. We're tired of saying it but we think he can do better.
10.
Ivan Tedesco
- Hot Sauce has been a surprise this year but after looking at his 2006 results on a Suzuki 450, maybe he shouldn't be.
11.
Christophe Pourcel
- The East series begins now and CP is a great comeback story.
12.
Davi Millsaps
- Davi went to the LCQ again but finished strong in the main. Moved up one spot in the rankings also.
13.
Justin Brayton
- Quietly had a great ride in San Diego but was buried off the start. We will see him on a 450 sometime soon.
14.
Tim Ferry
- Wore the Scott boots but they didn't change his luck as he went down in the first turn; the voters didn't punish him as he stays the same.
15.
Trey Canard
- The Duck was good in Diego but a tick off the top three guys. He also moves up one spot from last week.
16.
Mike Alessi
- He got another holeshot and his best finish of the season in Diego. Mike's a racer.
17.
Brett Metcalfe
- "Brettcalfe" will win a SX this season. You heard it here first.
18.
Austin Stroupe
- "Stroupealoop" was fast and aggressive in Houston, will there be payback from some other riders?
19.
Nico Izzi
- Izzi can win this thing. But so can five other guys, who will be there in the end?
20.
Chris Blose
- 4-5-5 first three races, 15-9-7 the last three. Blose is still having a great season.
21.
Ryan Sipes
- Ryan stays the same in our rankings and will get fifth or sixth in the final standings, barring disaster.
22.
Josh Hill
- Josh DNQ'd last weekend but stayed the same in the rankings. The voters realize that making the main is tougher than ever before. Ask RV and Ferry.
23.
Nick Wey
- NYK makes a return to the rankings and he makes a return to the top ten in San Diego. Coincidence? We think not.
24.
Dan Reardon
-: Have you seen Les Miserables? It's the story of Reardon's SX season. He's fast and has had some good rides but can't seem to stay there.
25.
Jeff Alessi
- El Jefe holds onto the last spot after his ninth last race. Jeff will be on a 450 in the East.