The 2008 AMA Toyota Motocross Championship is up and running after a spectacular start at Glen Helen. The track was huge — nearly three-minute lap times and some really, really big jumps that thrilled the fans and probably put a scare into a rider or two. The Lites (or MX2) class was quite a show, with five guys vying for the overall right down to the last laps of Moto 2, and the 450 class (MX1 soon?) was a revelation in two regards: James Stewart is the baddest man on the planet on a motocross track, and Mike Alessi is much better on his Rockstar/Makita Suzuki outdoors than he was on his Red Bull KTM. He may not have had anything for Stewart, but he never quit trying, and he was clearly the second-best man in the class at Glen Helen.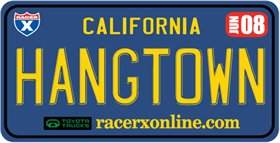 Stop by the Racer X trailer or the Toyota Zone to get your FREE Hangtown sticker!
Beyond that, there were a few little hiccups here and there—the
Racer X Motocross Show on Motocross.com Presented by Toyota Trucks
will not suffer the same inconsistencies you saw last weekend, I promise—and the weather, combined with a everyone-in-SoCal-goes-to-river-on-Memorial-Day mentality, made for a slightly smaller crowd than what everyone expected. But then again,
Glen Helen
is a big track, with lots of added infield space, so maybe everyone was just a little more spread out.…
Hangtown this weekend—round 2 of the 12-race series—will not have those problems. Weather looks to be spectacular; mid-high 70s for Saturday and Sunday (we're usually a good bet to start seeing the 100s regularly this time of year). If the Dirt Diggers put together a track as groomed and imaginative as the one Jody Weisel and his regular track staff offered up last Sunday, it should be epic.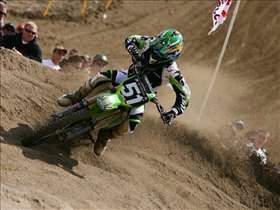 Austin Stroupe now got his name in the AMA record book.

photo: Simon Cudby

Austin Stroupe joined a long line of riders who won their first-ever nationals at Glen Helen: Pichon, Tortelli, Roncada, Langston, Stewart… The kid looked really good and also really familiar in his #51 Monster Energy/Pro Circuit Kawasaki, in the black/green/white/yellow Thor gear. What's funny is he was battling a bunch with Ryan Villopoto—the man he clearly resembles in that getup—for much of the second moto!
Check out Simon Cudby's midweek practice film from the Milestone track in Southern California. He interviews a ton of riders, including Nick Wey, Jake Weimer, Trey Canard, Jake Moss, Nico Izzi, race winner Austin Stroupe, and more. (By the way, when did Adam Chatfield lose his English accent?) Check it out right here.
You know who went really fast at
Glen Helen
but was overlooked for the most part?
Broc Tickle
. The Division 7/Star Racing Yamaha rider crashed in the second corner with
Trey Canard
and got up in 39th. He passed up to 21st, progress only outmatched by Canard's passing of 22 guys in the same moto. In the second moto, Tickle came around in 15th on the first lap and then fought his way up to eighth. Not bad at all.
And did you happen to check out the Privateer Profile we ran with top 450 independent rider Sean Hamblin earlier this week? It was a great read, especially the part about Hamblin saying that Jason Lawrence is footing the bill for all of his flights this year! That's pretty cool, J-Law!
Also, between guys like Simon Cudby, Steve Cox, Kinney Jones, Guy B., Brendan Lutes, Carlos Aguirre, Michael Stusiak, Andy Trecki, Frank Hoppen and friends and many more, the event was covered from top to bottom by the American motocross media—all of whom seemed to appreciate the new NPG Media Center set up by Tony Gardea and Brandon Short, though when the gas ran out of the generator Sunday evening, it was a bummer.
One reporter who made it over from Europe to give AMA Toyota Motocross a first-hand look was none other than Plons, who's so big in Europe he can go by one name, kind of like Madonna or Borat or maybe Snoopy… Anyway, Plons is usually on the GP beat with guys like Ray Archer, MX Geoff, Massimo Zanzani, Max Ludwig, Adam Wheeler, Pascal Haudiquert, Alek Hodginson, Miquel A. Queralt and his partner Sarah Gutierrez and more. But he didn't want to miss GH (it was a GP off-weekend) and he offered us up in return his slideshow to share with everyone:
The Plonsdock File on my first national visit, called 101 Reasons to Visit a National (if they are not too spicy!)

Let's dig into the
Racer X
inbox:
Racer X:
I just unsuccessfully tried to find a web page for Daytona Motorsports Group so I could let them now how disappointed I was to see that the AMA denied the Husqvarna entry from racing at Glen Helen. This is the kind short sighted, inside the box thinking that has kept our sport in the shadows for years. This idiots at the AMA not allowing a Husqvarna at a national is like not allowing a reincarnated Elvis to play in Vegas. How great would it have been to see highlight photos of a Husky flying up the step-up in stead of parked in the pits. God forbid we have a whole new manufacturer infuse life into our sport, and validate some of the old stories from "back in the day". Look at the infusion Nascar got when Dodge came back, and later by adding Toyota.
AMA, see ya… Hello DMG, do the right thing!
Thanks, Mike
Weege responds:
"This letter makes me think we need to set the record straight on who is running the show at the races right now. Some fans seem to the think the DMG/NPG deal has taken immediate hold, which isn't the case. Jeff Canfield/Holliday/Mitrowitz are still running the AMA rules just like always. DMG has nothing to do with Husky not racing. Similarly, there was a post on Motodrive last weekend about the new qualifying procedure, saying that it proves the NPG has no clue how to run races. The NPG isn't running the races right now—the qualifying procedure is still an AMA deal."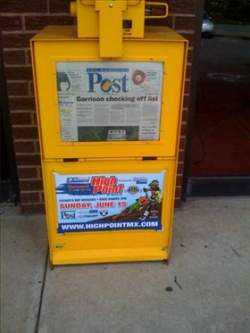 Morgantown, West Virginia is already ramping up for the 32nd Annual High Point National
photo: DC
And let me respond too: The Husky was not homologated because the man behind the team did not put in the paperwork that homologated the motorcycle, as per AMA rules. But he was desperate and a little embarrassed and repeatedly asked AMA officials to look the other way and let his guy ride. He told me, "I have my checkbook right here, let's just pay what we have to to race now and get the bike homologated next week." When I asked if there were 400 of the Husqvarnas in the country right now—the number needed to be homologated—he admitted that, no, there probably weren't. What the AMA did here in following their own rules was correct.
As for the guy saying the NPG was responsible for the qualifying procedure, that was wrong too. It's the AMA's deal, and while many disagreed with the idea of taking 12 and 12 out of two evenly divided groups, I can understand the thinking there. Sometimes a rider goes down and brings out caution flags or requires medical attention that lasts the rest of the practice. That happened in one of the Saturday practices when two riders collided over a big downhill jump and were left on the track for some time. Fortunately, it was the open practice, so the times—much slower in the other practice that went off without any extended flags that held down speeds in one entire section.
The system is not perfect—Kyle Lewis was faster than the 12th-place rider in the other practice but still had to go in the consi race (which he fortunately made it through, then he scored a point in the second moto to hold on to #23 for the foreseeable future), and I think it's ridiculous that they won't post the seeded riders' times—and it is up for discussion and tweaks as I type this.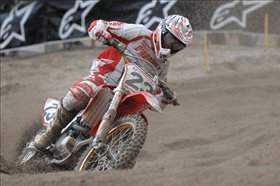 Kyle Lewis came out of retirement and scored a point in the second 450 moto, enough to hold on to his #23 for 2009.
photo: Steve Cox
Next year, I would personally like to see us go back to heat races for qualifying; that way it's pretty cut and dry, and I don't think the timed thing has worked out as well as many hoped. It's confusing without a giant electronic scoreboard to follow, and racing is what the fans came to see, not one guy going as fast as he can by himself. It may work in Europe, but the fans have come to be used to it over the years.
As I touched on above, the Racer X Motocross Show on Motocross.com presented by Toyota Trucks will be back with much more with this weekend—and don't forget to check out Steve Matthes' Bottom Line, the BTOSports.com Holeshot reports, and a preview of GH with Ben Townley by Wes Williams & Rob Swiatek. We were very proud to have David Bailey on last week's show, and it looks like he'll be back for the High Point National in two weeks. As for the co-host with Jason Weigandt on this week's show, we're hoping to get Grant Langston up there!
The live, free audio webcast of Sunday's race will begin around 12:30 California time, (3:30 p.m. in the East) and can be found at www.motocross.com. Also look for the live AMA timing and scoring as well.
Another photographer making the rounds at Glen Helen was the legendary Naoyuki Shibata of Dirt Cool fame. He told me he has started a new website just to share his artsy photos of motocross with fans all over the world. I highly suggest you bookmark www.shibaphoto.com and check it out this summer for regular photo features from all over the world.
And you know you're having a good weekend when an old friend comes up and hands you a present: an uncut sheet of the 1988 SC Trading Cards featuring all of the era's great American riders: RJ, Glover, Wardy, Dymond, Bailey, Johnny O', Dogger and many, many more. Thanks again, it's getting framed for my office!
Speaking of all those greats, we had quite a list of visitors on the Racer X webcast on Sunday. Besides co-host Bailey, Ron Lechien stopped in, along with Weege's usual partner Jim Holley, Denny Stephenson, the sidelined Josh Grant, Cox and Matthes and Sean Beaucar, Tom White and just a bunch of motocross friends. We'll do our best this week to match it, but it will be tougher in Northern California than it was in SoCal!
Chris Carnicella sent us this note regarding this week's Sign of the (Lap) Times:
I can't believe that the Nationals are finally back! I read the Sign of the Lap Times article and to see a fast lap of 2:43 is really riding. You have got to be in incredible shape to do both motos and in another article Stewart claimed that he didn't even break a sweat. I would have needed emergency care right away. This makes SX look really easy but I know it's not. I wonder what Reed would be able to do against Stewart outdoors. I think he would probably get scrubbed but still finish on the podium. Take care and keep putting out these great online features. See you at High Point.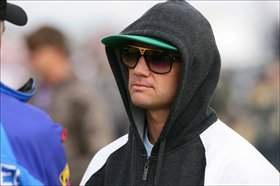 That's the 2008 Monster Energy AMA Supercross Champ

photo: Simon Cudby

Chad Reed of course was there at the track last weekend, smiling and talking to fans and friends in the pits. I think a lot of people wish he and Kevin Windham were out there, but that 450 class is packed with talent as it is, though a few top stars like that never hurt to see in the lineup!
Also, the WMA Championships, presented by Kawasaki, will take off this weekend, with Jessica Patterson returning to go for another title while younger star Ashley Fiolek returns from her first two races in Europe to see where she stands with her WMA counterparts. Throw in Tarah Gieger, Alisa Nix, Ashley Boham, Lindsey Jelitto, Penni Cyrus, Elizabeth Bash, Vanessa Florentino, Tatum Sik and more, and it should be an excellent kickoff to series that continues to grow, and we will have updates all weekend long from the track and on the Racer X Motocross Show on Motocross.com.
If you want to catch the Speed TV coverage of the Glen Helen National opener, it airs on Saturday evening in prime time. You can check it out at 9 p.m. Eastern. The regular booth of Ralph Sheheen and Jeff Emig will make the call, with the lovely Erin Bates down in the pits.
From Steve Cox:
Boy, oh boy, do I love the AMA Toyota Motocross Nationals! As a guy that goes to every single race of the year, the nationals are such a breath of fresh air – so to speak. For me, as a fan, the Nationals are what it's all about. It's racing at its most hard-core, where instead of being just a show of skill and grace in the face of gravity, outdoor motocross is a gut-check; all about who has the balls to hold it on a little longer into the turns, over the braking bumps, and get back on it quicker coming out of the turns – and who can do it the longest. It's racing in its purest form. And as a photographer and journalist, the nationals mean freedom to be a professional and find the shots I want, as well as talk to who I want to talk to in the pits, as even though the racing can be much more intense, the atmosphere around the racing is much more relaxed. I'm a happy guy right now.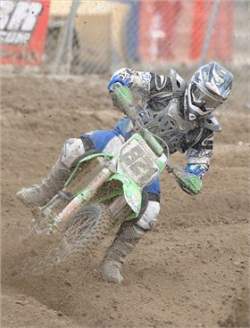 Props to WORCS regular Bobby Bonds for going 15-17 in the 450 class
photo: Steve Cox
Wisely, it should be noted, after seeing how angry the photographers were with the "all-red" track map at Las Vegas that caused some hard feelings, the NPG pulled out a map that was green (or full access) all the way around the side of the track for us beat reporters. That's why you're seeing so many great photos of
Glen Helen
all over the web (and certainly all over the magazines to come).
However, just like every year, probably around round 10 or so, I'm sure I'll be thinking fondly again about the upcoming U.S. Open and Monster Energy AMA Supercross Championship, so what do I know? I'm just enthusiastic right now!
However, with the higher speeds come higher penalties when you fall. At Glen Helen, one of the favorites in the championship (at least for Top Privateer honors, even though technically there's no such thing), Paul Carpenter, went down in the second moto when Juss Laansoo reportedly cleaned him out big-time. The popular and respected Carpenter hurt his knee in the crash, but fortunately, the supercross series' top privateer got an MRI and there is no ligament damage or anything like that. However, he's still going to miss Hangtown and possibly Texas with a severe bone contusion on his tibia and a huge hematoma on his calf. He says his calf is about double its normal size.
"It sucks because I've only missed one race in the last nine years," Atomic Racing's Carpenter said over the phone yesterday. "Between Four-Stroke Nationals, Canadian Nationals, or whatever, I always have been able to make it to the race I was planning on racing, but not this weekend."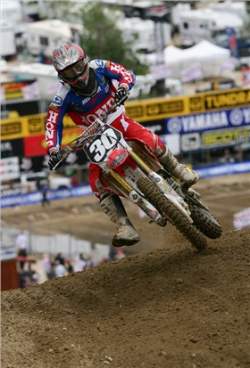 Jake Weimer is teaming up with trainer Randy Lawrence
photo: Simon Cudby
As I reported last week in Racerhead, GEICO Powersports Honda's
Jake Weimer
has hired
Randy Lawrence
as his trainer – the man who trains
Ryan Villopoto
and
Nick Wey
. I talked to him this week about what kind of a difference Lawrence makes to him. "He's really good at making you feel uncomfortable," Weimer (7-7 at GH) said. "Whether we're on a road bike or we're riding, he's good at making me push to where I'm uncomfortable, and that's good for me, because I'm the kind of guy that would rather do something for four hours and be comfortable instead of doing something for a half hour and being uncomfortable. It's good for me, because it gets me out of my shell."
Which reminds me: John Hill broke up with Ryan Hughes as his trainer, and I really think it showed at Glen Helen (though the opposite could be said for the surprisingly fit J-Law, another former Hughes client). And as you probably saw by now, Hill lost his pants again halfway through one of the motos. Apparently, he's running 32s, but he really ought to try 34s now, as he keeps blasting the buckle out.
We all remember Ben Townley's first (and only?) race against Ricky Carmichael at the 2005 Motocross of Nations in France. In the three motos that day, Townley bet me 10 euros each race. In his two motos, he bet on himself, while I bet on Kevin Windham in the MX2/MX3 event and Ricky Carmichael in the MX1/MX3 event, and in MX1/MX2 event, I remember I bet on Carmichael, while he bet on someone else – I honestly don't remember if it was Josh Coppins, Mickael Pichon or Stefan Everts. Anyway, I won two out of three, thanks to Carmichael, while in the MX2/MX3 event, he won the bet, betting on himself, after K-Dub bounced off the track and bent his bike up really badly.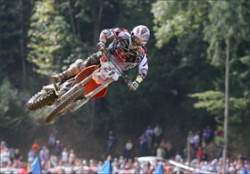 That's Ben Townley at the 2005 MXoN
photo: Simon Cudby
However, even though that's a fond memory for me, it was Townley's last 450cc race, and in that race, he won one moto and got second in the other--not too far behind Carmichael. In the press conference after the race, Carmichael made no secret of his amazement at Townley's speed, saying so to Mitch Payton, who was bringing him to the U.S. the following year.
Fast-forward nearly three years, and Townley had a year of injury, a year of winning (one SX title and second place in the MX Nationals), and then another supercross season ended before it started because of injury. Now, Townley is back on the 450, and he loves it.
"It's really good," Townley said after the race last Sunday. "It's definitely different on an American track, I've got to say that. Just the style of the track over here, they're a lot loamier and they get much rougher going into the turns, so the bike setup is much more key to going fast on a 450. I just need to work with the guys and get a bit better setup, and more time on the bike."
Despite nagging injuries to his wrist, shoulder and ankle, Townley was catching Timmy Ferry for third in the first moto before falling and ending up sixth. In the second moto, he was running fourth early before dropping out with a technical problem with his bike. I asked Townley if he thought he could run with James Stewart this year. "Yeah, I do," Townley said. "I'm nowhere near that right now, because I need more time racing and getting my bike setup better, but I don't see why I can't do that. He puts his pants on the same way I do."
Townley also has a new trainer. Previously, he was sharing Aldon Baker with Ricky Carmichael and Nicky Hayden, but when Baker took on Stewart, Townley had to find a new trainer. However, it seems he couldn't be happier on that front, either, as he hired mountain-biking legend John Tomac, the father of top 85cc prospect Eli Tomac. "I'm super stoked with that side of things," Townley said. "That's one of the things that's gone really well in the last six months. Working with John has been a blessing in disguise for me, and it's really worked out well. We've connected really well together, and it's something that's going to work into my favor, for sure."
That's it from Steve, who was pulling double duty on Sunday by working as track reporter for the Racer X Motocross Show on Motocross.com presented by Toyota Trucks while also shooting photos and the like around the racetrack. Now he wants one of those headsets like Madonna and Justin Timberlake wear so he can do both shooting and bench-racing out there…. And maybe vogue.
From Ping:
Now that I don't have to suffer through the long motos and brutal tracks, I have to say it's good to be at the outdoor nationals. From the top of a hill or trailer I can watch the action with a sno cone in one hand and, well, anything else, really, in the other. I spent the weekend working as a team manager for the Richardson's RV Suzuki team since their former team manager found a new job with the NPG. I'll be continuing with them this weekend in Sacramento and then hanging up my headset. Until then, watch out for my boys Adam Chatfield and Michael LaPaglia. Any riders that get in their way will be beaten to a pulp, or at least bruised significantly, with a T-Handle or a broom or whatever else we have in the truck that could be used as a blunt weapon. That's how I roll.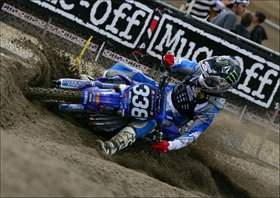 J Law Inc.
photo: Simon Cudby
I guess I should just stop trying to figure
Jason Lawrence
out and just enjoy the ride. He wins a few supercross races, gets arrested, wins the title, doesn't show at the banquet to accept it, is noticeably absent in preseason testing with his team and then blows the doors off the field in the opening 250F moto. Then he hangs on in moto two for a fifth and was even in position for the overall at one point. On top of that, he's helping out one of his homies,
Sean Hamblin
, by covering all of his airfare to the races this summer.
J-Law
the philanthropist? What?
Austin Stroupe-Dogg was also impressive, obviously, winning his first national. His second moto ride was championship-caliber. Do you have any idea how hard it is to lead a race with RV all up on your donkey door, crash, remount and then pass a guy like Brett Metcalfe late in the race for the overall? That is gnarly. Some were saying that he was out of control but, hey, they said that about RC and RV too. I was impressed.
What was going on with Ryan Villopoto? His first few laps in moto one were slow (for him). He was six seconds per lap slower than he was in practice and his mechanic, trainer, boss, dad, etc., were not happy. I wouldn't read too much into it. The track was really difficult to pass on and I think once Ryan finds his rhythm he is going to be tough to beat again. Still, guys like Stroupe, Metcalfe, Canard, Dungey, Weimer, and Lawrence aren't going to make it easy.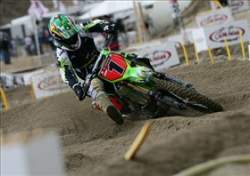 What's up with RV?
photo: Simon Cudby
Yamaha of Troy's
Zach Osborne
broke his arm late in moto one. This poor kid can't get a break. Sorry, bad choice of words there…. He was flying in January and then messed his shoulder up at Anaheim 1 and now he does a wrist at
Glen Helen
. He's quick if he can just stay healthy.
Also, good news from Steve Cox about Paul Carpenter not having any major damage in his knee. When he rolled by the mechanics area he was in a lot of pain. Heal up quick, boys.
Ryan Morais sat out the weekend with what appears to be a form of exhaustion. He is taking it day-to-day right now but should be back in the fray in the next couple weeks.
The AMA's Jay Mitrowitz made an interesting comment to me after the races on Sunday. He said we should make the Lites class the premier class. While that is a ridiculous idea and he wasn't serious about it, it might be an indicator as to which class will be more fun to watch this summer. Townley can't run with Bubba when he isn't 100% and I'm just not sure anyone else has the speed to do it, though Alessi gave it a great effort. At this point, it is fair to say that this 450 title is Stewart's to lose. Yes, I said that after round one and you would too if you saw how badly he stomped everyone last Sunday. Just like last year though, the race for second will be good. Alessi, Millsaps, Short, Townley, Ferry and Tedesco are close and Cody Cooper, Byrne, Wey and Hamblin are right behind them.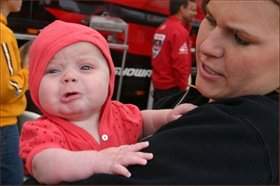 Emma Short was really upset that her dad's bike broke in moto two.
photo: Ping
The L.A. Sleeve Two-Stroke Challenge blasted off on Saturday morning before national practice and things were a little more competitive than I thought they would be. I assumed everyone would round up whatever bike they could find, lube their chain, find someone that still has pre-mix they can borrow, and show up on the gate. I should have known that a $2,000 purse and a $500 holeshot award would change all that. Several riders found Service Honda 500s to ride, thinking they would at least get the $500 holeshot prize. What they didn't anticipate was that former AMA and world champ
Greg Albertyn
would show up on one of RC's old race bikes, pull the holeshot and motor away for the win (though
Richie Owens
gave him some good chase early.
Phil Lawrence
kept him honest and Owens (one of the 500cc-mounted riders) finished third. The track was a little sloppy from all the rain but the event itself was a blast. Here's hoping they do it again next year.
Ed Santin, one of our all-time favorite Dirt Diggers, sent over some awesome photos from Hangtown back in the day.
Steve Matthes pointed out this blog by RXI reader Giovanni Bartoletti, who was at the track as well as the Moto Bowl on Thursday night. Here's an excerpt: "I know so much about the sport both in Europe and the US that only insiders such as the Racer X Trio (Davey Coombs, Jason Weigandt and Steve Matthes) have proven to be as knowledgeable and passionate about motocross as I am. But they are insiders, so they are big time ahead of me when it comes to having access to the latest news." What, no love for Ping? Just kidding. Gio's got a good blog, so check it out when you can.

Speaking of Matthes, check out his always entertaining "Observations" column over at www.racerxcanada.com.
Steve Wise, the former Honda factory motocrosser and Superbiker, sent us a link to an online radio show he did recently that also included Trey Canard. Check it out if you have time over the weekend.
From our Virtual Trainer Tim Crytser: Six months ago when James Stewart hired trainer Aldon Baker, I'm not sure even he had any idea just how important a trainer can be to a rider's overall success. After sitting out most of the supercross season with a knee injury, James' return to racing at Glen Helen would be the true test of the pair's efforts during the unplanned off-season. With Aldon guiding him through the rehab process and fully implementing the "Aldon Program," we all waited for the gate to drop to see if he was able to work the same magic with James as he had for years while training Ricky Carmichael. The Glen Helen results speak for themselves and yesterday we caught up with Aldon as he sat on a delayed airplane that was headed to Italy in support of his other rider, MotoGP contender Nicky Hayden. Exhausted from his never ending travel schedule, Aldon still talked for over an hour as I asked him about James' rehab, his fears heading into the Glen Helen national, the current state of James' knee and on a lighter side, whether he has ever slipped up and called James, Ricky! Go to www.racerxvt.com to read the complete interview.
In Racerhead last week we threw out some trivia, awarding five people with some swag from Imperial Motion. We asked: What were Ryan Villopoto's moto scores in his first professional motocross race at Glen Helen?
Well, the answer is 3-2 for second overall, and the year was 2005. He was wearing #207 on a Pro Circuit Kawasaki, and the five winners were Stuart Cargill, Jerry Hartman, Rob Biddle, Gar DeSormeau, and Chris Baird. The swag will be on its way soon, guys!
Here's something from Bad Billy, who is headed to Colorado this weekend for a stop of the Oakley Factory Pilot Tour: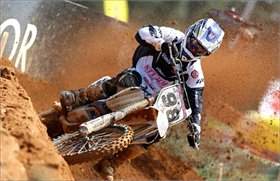 Jacob Saylor is gaining speed and confidence across the pond
photo: Sarah Gutierrez
Remember
Jacob Saylor
? Well, the Kentucky resident has been in Europe and is competing in the FIM World Motocross Championships for Sturm Kawasaki. This past weekend, Jacob did pretty well in a race in Germany, so I emailed him for an update:
I finally had a breakthrough race at the Reutlingen German Master. I finished 11th overall with two hard fought races. The 2nd moto I was able to put together one of my more memorable rides to date. I got a mid-pack start and was able to move my way up to 6th behind Steve Ramon. It was good to see his lines and I learned a lot riding up front. I ran out of steam at the end of the 40 minutes but I was able to stay in 6th place at the finish.
It was good for my confidence to put together a solid race because I've been struggling to get accustomed and comfortable in Europe. It was great for my team whom are based out of Germany. I couldn't have done it without my sponsors Sturm Racing, Pro-Circuit, Thor, One Industries, Asterick, Scott, Bel-Ray, TCX Boots, Mask Energy, Ogio, Kicker, Fuel Clothing, DeNyse Signs, UFO, Engine Ice.
On Wednesday we ran a Between the Motos interview with former pro privateer Rich Taylor. Remember Rich? Anyway, we ran an old photo of Rich almost nailing the holeshot back in the day and asked you all to identify the track that he was at, and the first five correct answers would receive a pair of X Brand goggles, the company Taylor started. Well, the answer to that question is Red Bud, and the five winners are: Jeremy Marinier, Alan Beshore, Justin Vanderwerff, Greg Hazdra, and Chris Galloway. The goggles will be on the way soon, guys, and thanks for participating! For more information on X Brand Goggles, check them out online at www.xbrandgoggles.com.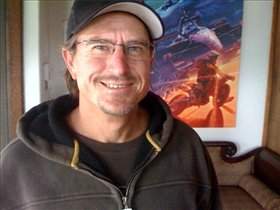 That's Flyin' Brian Myerscough
photo: DC
Last Friday in California, I walked in to Troy Lee Designs early in the morning to visit my friend
Sean Beaucar
. While I was opening the front door, another man walked in and stood by the front counter. We both did double-takes, and I knew I recognized him. He held his hand out and introduced himself: "I'm
Brian Myerscough
." I have not seen Brian in years! Once up a time he was the fastest young rider in the country. Winning 125 Nationals for Team Suzuki before a problem with hypoglycemia ruined the best years of his career. Anyway, he works at Troy Lee, doing odd-jobs around the shop to help out. It was good to see one of my all-time favorite riders, and we may even write up the epic, brutally honest tale
Eric Johnson
wrote about the star-crossed Myerscough in the old newspaper days, entitled, "The Other Side of Midnight."
Now it sounds like Gavin Gracyk will be back for the Joe Gibbs Racing MX/Toyota Yamaha team, while the concussed Eric Sorby sits a week or two out. I saw something after the race with Sorby that really impressed me. He was walked over to the Asterisk Mobile Medics rig by his team owner, Coy Gibbs, who went inside with him to see the doctors. It showed to me that Gibbs thinks a great deal of his riders, and he really is approaching this sport like a football team, where coaches and owners always seem to take a very active role in their riders' well-being when they are injured or carried off the field.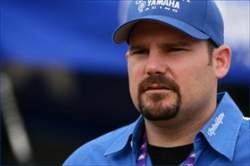 Coy Gibbs is a team owner who cares a bunch about his riders—even the temps.
photo: Simon Cudby
I also got to spend a lot of time following
Jody Weisel
around out on the racetrack and was really impressed with the pride, care and thought and work he put into the national track. Ever since the
MXA
editor start helping
Bud Feldkamp
and
Lori Bryant
with their event, it has grown in quality and prestige, and I heard more than a few people say that was the best they had ever seen
Glen Helen
—including
David Bailey
. Jody set the bar high for the rest of the NPG promoters to reach.
I also noticed that while Jody and I have moved well past our old differences, Dirt Rider's Jimmy Lewis and Transworld's Donn Maeda—both friendly fellow editors—had taken their squabble over helmet-quality and safety issues to a new level. From the outside looking in, I'm glad I'm Switzerland in that one.
The BTOSports.com Holeshot Awards were quite a surprise this weekend. I would have just handed Mike Alessi the $500 checks for each 450 holeshot before the race began, but Stewart almost nipped him in the first moto (and did make the pass before the second turn) and cut right under him to take away the holeshot in Moto 2. And in the Lites race, I would have bet anything that a Monster Energy/Pro Circuit guy would get at least one of the starts, but instead it was Boost Mobile/Yamaha of Troy's Jason Lawrence and Rockstar/Makita Suzuki's Ryan Dungey grabbing the BTOSports.com checks.
But I did peg Trey Canard for the Ricky Carmichael Hard-Charger Award when he was down on the mat in the second turn of the first moto and got up dusting himself and his GEICO Powersports Honda off. Canard went from 36th to 14th on a track that was not so easy to pass on, given the fact that it didn't get as rough as usual and a lot of folks were going the exact same speed. The award is meant to reward the rider who passes the most in one moto on the day, muc