Between the Motos: Rich Taylor
I've known Rich Taylor (or RT, which is clearly last in the creative nickname contest) for a long time – since he was racing SX/MX and I was living up in Simi Valley. RT would come ride the practice track right by where I lived at the Staben Ranch. Rich has always been a friendly guy and a great rider and he took what him and his dad (Hook Taylor, president of Smith Goggles for a long time) learned in the goggle business and tried to design a BBG (bigger, better goggle.) I ran into Rich in the pits at Glen Helen, and as I was talking to him, I thought, "Hey…RT would make a good Between the Motos guy."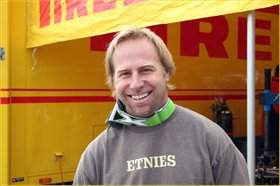 Rich "RT" Taylor

photo: Steve Matthes

Racer X: Rich, what have you been up to the last few years?

Rich Taylor: A bunch of things, really. I've been testing with Suzuki. I'm a R&D rider for the production bikes and help them develop the RMs. And I've been selling and plugging my new company, X Brand goggles.
Well, I guess that's a natural progression for you, since your dad worked at Smith, right?

Yes, my dad, Hook, was president of the motorcycling division at Smith for eighteen years.
So, with you being a fast ex-pro rider, you have a lot of experience with goggles. What do your X Brand goggles have for features?

You know, I looked at what was out there and took what I thought were the best ideas. We have a four-layer face foam on our goggles, which is just incredible for sweat absorption. All our lenses are anti-fog and it's really just a basic goggle that fits really great and for a good price. Forty-five dollars retail will get you the goggle, the anti-fog lens, a spare clear and mirrored lens, also. It's kind of a package deal and is a great value.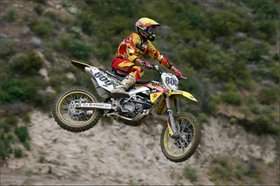 Rich Taylor helped develop the bike that Mike Alessi raced to second overall at Glen Helen.

photo: Simon Cudby

So, in your job as a test rider for Suzuki, I have to ask you what the deal is with the 2008 RM-Z450?

I had a lot do with the development of that bike. I helped out a ton with getting it good. You know, it's kind of a sore subject! [
Laughs
] All I can say is that we never had any problems in all of our testing and time on the bike. It kind of came about after it was released. When we got the pre-production bike, we had some problems, but those were fixed. We got another bike and had some different issues but I think Suzuki has a handle on it now and is getting the bikes out to everybody.
The sad part is that, as you know, it's the first year of the EFI and the failures have nothing to do with this system. I hear that every now and then and I just want to set the record straight. The failures have nothing to do the EFI system. Suzuki is the first to bring EFI to a production moto bike and we're on the leading edge for technology.
What was your lowest number as a pro and what's your career highlight?

I was #30 one year, which was my lowest. I had a national number for ten years and one highlight would be finishing seventh in the points in the 500cc class one year. I had some top fives in my career and those stand out for me. I'm happy the way my career went. I thought I was a good rider! I have no regrets; it's funny that after my racing career was over I started training harder than I did when I raced. It's kind of silly, I know, but I did it anyway. Once I started training really hard, I thought about how fast I could've been if I'd only trained that hard! [
Laughs
] I could've done way more with my career.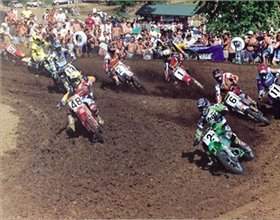 That's Rich (48) almost banging the holeshot over Jeff Emig (2). Here's some trivia: The first five people to tell us what track this is will get a free pair of X Brand goggles. Email your answer to online@racerxill.com.

photo: Racer X Archives

Yeah RT, you just missed the gravy days. If you had national number 30 today, you'd be in a truck with a salary.

I know, man, I'm happy for these guys, but when I see some riders getting these salaries and not even making mains, I think, "Man, what could've, should've, would've been!"
What about your holeshot at Washougal back in the day?

Yeah, 1996 I holeshot and led for a lap, I think. I was hanging it out right at the front that day. It's funny, I'll be walking around the pits here at
Glen Helen
or somewhere and someone will bring that up to me that they were there that day. What, it's been like 12 years? People remember that for sure. Unfortunately, I knocked myself out around halfway and don't remember much about it. People tell me that I was flying though!
Where can people find X Brand goggles?

MTA here in California is my main distributor. If you go to
www.xbrandgoggles.com
you can find all the information you need to buy them.
What riders do you have?

I got the Butler Brothers MX team wearing them, Tyler Evans when he's around wears them, Ty Davis's of road team wears them, and Sarah Whitmore,
Billy Payne
and Timmy Weigand are my guys, and girl!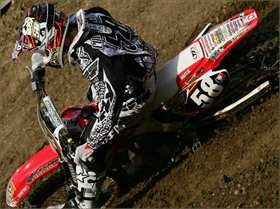 Kyle Cunningham and the BBMX team endorse X Brand goggles
photo: Simon Cudby