Privateer Profile: Sean Hamblin
It was the summer of 2006 and I was out riding at Competitive Edge in southern California when I saw Sean Hamblin, then of the ill fated Bill's Pipes/Rockstar Suzuki team, pull up and pound some laps. In talking to him later that day he told me that the team had fallen apart and that the other riders had quit and given up on the ongoing AMA Nationals. He needed to keep riding to try to get another job for the 2007 season. Well, that plan didn't work out so well. Sean was out of options in America and forced to go to Europe to ply his craft. That whole GP thing went over about as good as his 2006 year and Sean came home and sat out supercross hoping to get back on the track for the motocross season. I caught up to him on Saturday after practice and before his first race in almost a year. (And then Steve Cox caught up with him after Glen Helen, which is further below.)

Racer X: Sean, what's your program for the nationals and what have you been doing?
Sean Hamblin (before Glen Helen): Just trying to eat as much junk food as possible and eat as bad as I can, also very little riding during the week and I'll see how that works out! [Laughs]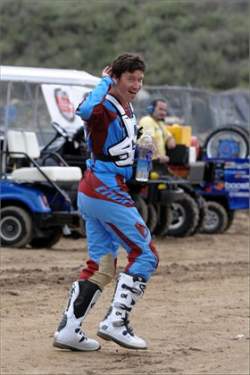 Sean Hamblin waves to Steve.

photo: Steve Cox

So, in 2002, you came from pretty much nowhere to be the surprise rider that summer: Have you thought back to that season and tried to duplicate whatever it was that worked for you?
Back in '02, it was a different me, I think. It was a me that was undiscovered, I guess. At least that's what people want to say, anyways. I really didn't do anything special back then that I can think of. I'm the same guy. Nobody knew who I was back then and I suppose more people know who I am now, but like I said, I really didn't do anything special back then and I'm not doing anything special this time around, just lots of riding like before. I think it's just a frame of mind you're in and the mindset that you have.
I feel good on the bike and I'm riding well with the guys I'm riding against during the week so I think it's going to be good. Hopefully, I can just transfer that to this weekend and do something.

What are your expectations for tomorrow?
I've been asked that, like, a gazillion times, but honestly, I'm just going out there to have fun and try to top ten. If top five is there, I'd be stoked. I just want to get through this weekend and go to Hangtown where I know I'm capable of doing more. I definitely want to get the confidence going here. It's a hometown race for me, kind of, so I think I'll have an extra bit of energy in the tank in front of my family and friends. I hope I can give them something to cheer for!

Were you nervous before that first practice today?
Yeah, I was nervous for sure. A lot of people are making me nervous by asking me if I'm nervous! It's my first race in eight months. It's been so long since I raced. Being on the same track as all these guys is amazing and that's too bad it's been that long for me.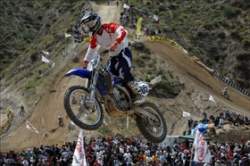 Hamblin carded 8-8 scores for seventh overall

photo: Steve Cox

On another note, as a former 125 Canadian National Champion, are you aware that the first Canadian National is this weekend?
Oh yeah, for sure. My guy Newf [Ryan Lockhart] is up there getting ready. B. Sheren, also. I'll be keeping tabs on everybody. I think Cookie [Mitch Cooke] will get the job done up there. He went good there last year. And in MX2, I think Beets is going to be fast, obviously, but I have faith in my guy Newf; he's been working hard and putting in the laps and I can't not support a guy that's lived at my house for the last 30 years or so.

Are you hoping that if you put some good rides in this summer that someone will pick you up midseason?
If the opportunity arises for sure, I would like to do it. My sponsor Andy Stacey at TUF Powersports is more than willing to let everything go and help get me to a full-on team. That's really cool of him and it's something we talked about before we did the deal. Andy just wants to help in any way he can. The help he's given me has been tremendous so far and if something better comes along, he's not going to hold me back from going there. That's a great guy to have in my corner, for sure. I'm really thankful to him for helping me and to you for putting us in touch with each other.

I just did that because your wife is Canadian. No, Andy told me he wanted to help a privateer out with some support and I thought of you. Andy just wanted to know if you were a good guy and whether or not you would steal the bikes.
Yeah, I'm not going to do that, I think I'm a pretty good guy!

Did you have any offers for any other rides?
No, not really. Everybody kind of wants to see what I can do first, I guess. I was thinking of maybe going back to Canada but didn't get anything up there, either. But I'm here, I'm healthy, and I'm ready to race at Glen Helen.

Are you going to base yourself in Florida?
I don't know yet. We'll see, I guess. With Grant Langston's eye problem and him not riding right now, I'm not sure what I'll do. There's Wil Hahn and Josh Grant down there also, so there are some guys to ride with. I'd like to have someone else with me for sure, so we'll see how it goes. This isn't such a bad place to be, either, just a little more distractions and things like that. I'll just have to keep my head on straight.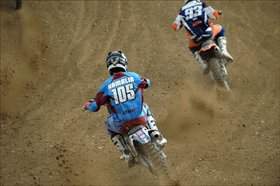 A bad start in the second moto forced Sean to climb through the pack

photo: Steve Cox

Do you think this is your last kick at the can for becoming a successful motocross racer?
I don't think it's my last kick at the can, but it's really close to it! [Laughs] I just can't screw around with it anymore, that's for damned sure. I know what I have to do to be successful and it's not the first time my back has been against the wall, so obviously I do well with this and we'll see what happens at the end of the year.

Are you a smarter Sean Hamblin now then you were in say, 2004?
I wouldn't say I'm smarter; maybe older and wiser. Overall, probably, I guess. Everybody hears all these stories about me back in the day but I swear I never partied during the season. Did I host some parties? Yes. Was I drinking during those parties? Can I get a no? There's a lot of things that everybody wants to speculate on and a lot of things that people think are the truth. But this is true life and you don't know... unless you know. [Laughs]
I'm married now and have a new set of responsibilities and there's a lot of things to look forward to in life besides going out and drinking. Those days are numbered for me for sure. But there's nothing wrong with having a beer every now and then.

A lot of people that I speak to want you to do well; they are looking at you to be the Gavin Gracyk of last summer or better yet, the Sean Hamblin of 2002!
Yeah, I feel that and get it. Unfortunately for Gavin he's hurt and not racing. I feel good on the bike, my speed's there and I had a not-so-good first practice and a good second practice. That was a lot better for me and more like the way that I can ride.

Who's helping you out this year?
Well like we spoke about, Andy Stacey at TUF Powersports. The guy has gone above and beyond for me. I can't say enough about the guy. All the guys back in the shop, I call my team. So my team is helping me out a ton. John Franco and Brian Berry at Active8 for taking my bike to all the Nationals. Thor, One Industries, Spy goggles, Monster Energy, Alpinestars and J-Law Racing Incorporated. And Pirelli has been huge help as well.

Did I just hear you say J-Law Inc.?
Yeah, for sure. Jason is paying for all my flights to the nationals and that's a huge help. Honest to God, Jason is helping me out...

See, that's a good thing to put in this interview because a lot of people wouldn't think he could do anything nice for mankind.
There's a lot of sides to Jason that people don't see. Everybody wants to assume the worst when it comes to him, but he's been a big help to me and my program. Also my agent Scott Sepkovic has been great to me.

(The preceding conversation took place before the National at Glen Helen. The following conversation took place afterward, as Steve Cox talked to Hamblin on Wednesday.)

Racer X: You got the same result both motos, but you did it two different ways last Sunday. Take us through your day.
Sean Hamblin (after Glen Helen): Well, obviously the first moto was pretty uneventful. I sort of started where I finished. I didn't press the issue, I guess you could say. I rode at a comfortable pace and was able to finish in the top 10, which was a really good start for me – especially with all of the bad things that have happened the last few years. I didn't want to screw that up, and I wanted to save a little bit of energy for the second moto. Obviously, that didn't go as planned, though. I had a horrible start, and like you said, it was two different ways – I had to get up there from the back that time. A buddy of mine got a picture of me, and I counted myself like 32nd going up that first uphill in that moto, so it was pretty good... I had to start picking guys off, obviously, and I just kept my head down the whole time. The funny thing was that I didn't feel that great in the first few laps that moto. I don't know what my deal was; I was still making passes and everything, but I didn't feel comfortable. I started getting arm-pump, but then settled into a good rhythm and started clicking off laps. On lap 11, I laid down a really good one, so that was my best lap of the moto, which shows that I am in shape. I even surprised myself! I'll take it from there and we'll move on to this weekend.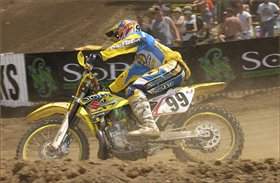 In 2002 Hamblin was picked up by the SoBe Suzuki team

photo: Simon Cudby

It's pretty normal to get out of rhythm when you're trying to work your way through the pack.
You've got to ride a little bit more defensive, too. You've got to make sure your leg's up in all inside corners, and things like that. You've got to have eyes in the back of your head, in a sense. Whatever works.

You talked a little bit before the race about Andy Stacey at TUF being willing to let you go to a factory effort or whatever if the opportunity arises. Have you gotten any calls? Or is it still a sort of holding pattern to see if you continue to be you?
Obviously, there's always hearsay and stuff, but right now, I think we've got a pretty good program going, and with the sponsors that I've put together, it's not like I can just up and take them anywhere I want. For example, with the Gibbs effort, their new title sponsor conflicts with my Monster sponsorship. Obviously, Andy was very understanding and very forward with a lot of things, and obviously he knows how this game's played, so it's awesome for him to do what he's done. He just wants to see me get to the front, and that goes to show how many good people we have in our sport. And obviously with Grant Langston buying me a bike and everything in the beginning, without that, Andy would've never been able to see what I have, so Grant was really the number-one guy that got me out riding again. He deserves a lot of credit, because not only are we competitors, but everybody definitely has good friends out on the track as well, you know? It's great to have somebody like that behind you.

If he gets back racing again late in the season, and you have to put him over a berm for a podium or a win or something, what are you going to do?
[Laughs] Oh, well, we'll see what happens. I doubt those circumstances will come up, but obviously racing's racing, and we both understand that. We've been on both sides of the spectrum even just with each other. If you remember, at the World Cup in '02, we came together twice in two motos, so if we're still friends after that, I guess we can be friends after anything.

The other thing I wanted you to comment on is that Andy Stacey is a racer, so that might help him understand what kind of opportunities may arise for you this season.
Definitely. That's where it comes from. He understands where everything is from and how everything works in this business. It's not like Andy Stacey is some goon, either. The guy's pretty frickin' fast. If you don't know of him or you haven't seen him riding lately, I think he could still qualify for a National. I tried making him a bet to do at least race Millville or something, but he won't do it. I'd like to see him go out there and try. The guy still hauls the mail.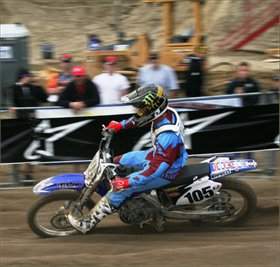 Keep your eye on #105 at Hangtown this weekend

photo: Steve Matthes

With this race out of the way, what does this do for your expectations in the upcoming 11 rounds?
It's a good base to start at. I can't put too many high expectations out there, but with the way that I felt I rode this weekend, and the way that some things played out later in the motos, I think I can only get stronger from here, and obviously better starts and better times will help. It had been eight months since I raced last, so that played a big part of it as well. There were a lot of nerves and a lot of everything going around, really – not knowing where I'd be, or where everything was going to happen. Now, we've got the first one out of the way, and we can focus on doing the things we need to do, get better results, and put in more solid rides. On the weekend, we were solid, and I'm happy, but I'm still moving forward.

Your favorite track isn't on the schedule anymore, though...
No, it's not. Binghamton is not there, but I guess I'll have to have a new favorite. Glen Helen is a good local track for me, and a lot of people think that we get to ride on that track day-in and day-out, so it's exactly the same, but the racers know that the track isn't nearly the same from practice days to the National weekend. They're two totally different tracks. It's not like it's just an ordinary day out there riding. It's ordinary as far as having friends and fans around, but nothing more than that. Obvoiusly, we've got Lakewood coming up, and that's a night race, and I like that track. Also, we have Mt. Morris, which I like, so we'll see what happens from here.