On Sunday afternoon, my big brother Tim crashed on a downhill at Steel City and broke his neck. He suffered a fracture of C6 and C7, with an exploded disk in between. Fortunately, he did not suffer any spinal cord damage. He was immediately taken by ambulance to UPMC in Pittsburgh, and on Wednesday the doctors operated on him, taking a bone from his hip and using it to fuse the two injured disks. On behalf of his wife, Jessica, my mother, Rita, and our whole family, thanks for all of the kind words, notes, and flowers that everyone sent. There were even a few inquiries as to whether or not he needed money for what will be astronomical hospital bills. Fortunately again, he had full insurance coverage, so that is not necessary.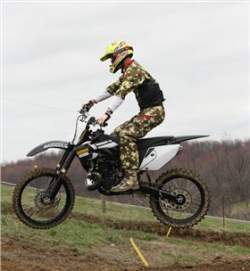 Get well soon, Tim.

photo: Zak Lowery

What was necessary, but sadly absent, was a Leatt-Brace, or an EVS Race Collar, or an Alpinestars Neck Brace…. My brother was not wearing one, and he came within four millimeters of a catastrophic injury, according to the doctors. His wife, Jessica, a lifelong racer, and his son, Tanner, both have and wear Leatts, but for some reason Tim had not gotten around to getting one for himself. He has one now—I had a new one shipped here (thanks to Robert Roon for that) so I could take it to the hospital and hand it to him.

One of the first people who sent me a note about Tim was David Bailey. If you haven't watched David's message about the necessity of neck braces that was posted on VitalMX.com last year, or need a reminder, here it is.

My brother's reminder will be the scar across his throat where the doctors had to go in to work on his broken neck. He will never go out on a track again without his neck brace.

Next, before we get into a whole bunch of interesting events from last weekend, I would like to squash the rumor that started on DMXS Radio when David Bailey inadvertently mentioned something about the outdoor nationals going to a one-moto format in 2009. That is absolutely not true; it was just one of many, many things thrown out there in discussions about the future of the series, live TV, etc. Rest assured the AMA Toyota Motocross Championship will be running two motos in 2009, and likely for a long time to come.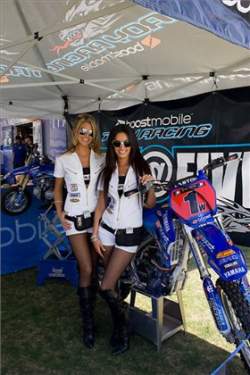 Boost Mobile girls

photo: Carlos Aguirre

Last Sunday evening, after I heard Chad Reed's championship speech at Planet Hollywood, I could only think of doing one thing: finding the man so I could shake his hand. If you were there to hear it, you probably know exactly what I mean. He spoke about the sacrifices he had to make to get up there, the cost of what it meant to him and his family, the difficulties of leaving your home with a couple of suitcases and a dream, and how difficult it is to hear others go up to the podium and thank their parents when his are always on the other side of the world. It was unscripted, deeply personal and straight from his heart, something we don't always get to see of Chad. Needless to say, I was absolutely impressed.

I think it's safe to say that Jeff Ward was not there. The man is a bona fide legend in our sport, and I have always looked up to him, but I was surprised and disappointed when I read his comments to Ping in their interview. Wardy let Chad have it because for a variety of reasons, from his SX-only deal to the fact that he still represents Australia at the MXoN, whereas Ward, who was born in Scotland, was always proud to represent the USA.… What's not fair about that is the fact that Ward left Scotland at age 3 with his family, whereas Reed left home at 18, away from his family. That is a HUGE difference.

And then there was the Jack Daniel's bottle thing. Apparently someone snapped a photo of Chad taking a sip off the bottle on Sunday night and posted it online. Ward, a parent of a promising young racer who looks up to Chad, found "that crap" disappointing. I respect Jeff's opinions as a parent and as Chad's fellow SX champion, but I think it's unfair to take umbrage with a 26-year-old man who is celebrating the fact that he just won the biggest championship in our sport, with some huge physical and personal turmoil along the way. It was Las Vegas, it was a banquet serving free beverages, his parents were there for the first time in who knows when, and he sure as hell wasn't the only one celebrating….

Maybe Jeff was thinking of some of the other things going on out there—there have been more arrests, fights, and sudden absences this season than I can ever remember—but to single out Chad Reed just wasn't fair. Chad did not deserve that, not for wanting to go home in the summer, not for riding for Australia and not for celebrating his victory.

In closing on this matter, I wish Jeff had been there to hear Chad's speech to get a feel for exactly what he's been through. He has said from Day One that he was here to be the supercross champion, not the outdoor champion, and if he wants to go home the rest of the year, I say more power to him. Jeremy McGrath did it and the sport survived. The sport will survive this too.

My colleague Steve Cox felt the same way when he read Ward's comments: "It sounds like this was partially pointed at some other party animals on the circuit, not necessarily Reed, but I just wanted to clear something up: First off, I don't think there's a problem when a 26-year-old grown man is drinking a perfectly legal product in celebration of his championship. While it's true that he is a role model to some, I don't think that he should be more of a role model to children than the children's parents. I used to idolize John Wayne as a kid, and in his movies he smoked, he drank, and he killed people. That didn't make me smoke, drink, or kill people.

"That's the first point. But the second, and most important, one is that it wasn't his idea. Live Nation's Todd Jendro, one of the hardest-working men in the entire sport, brings Jack to every banquet as a tradition, and he has people drink from the bottle to end the season. I think that puts it in quite a bit different perspective. Ultimately, as I said, though, he's an adult. He can drink if he wants to. Children can't. I respect Wardy for who he is and everything he's done, and honestly he's a really great guy, but I just think he was being a little too unreasonable with our new AMA Supercross Champion."

We'll have more from Steve Cox in a minute. One last thing about Reed and those sacrifices and all: KJS posted this story about Chad and his family from an Australian newspaper on the Mototalk message board. Take a moment over the weekend and read it and you'll get a feel from just some of the drama he's been through. I know it's not like he's been over in Iraq or working in the coal mine or whatever, but it's still a lot of sacrifice as far as family goes…

Okay, here's the rest of Steve Cox's weekly input: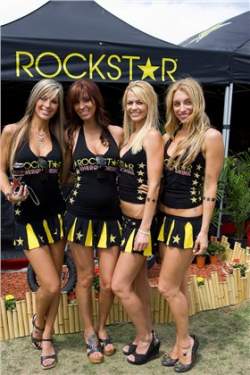 Rockstar Energy Drink was well represented

photo: Carlos Aguirre

Did anyone catch Honda Red Bull Racing's Andrew Short's remarks regarding Chad Reed in the press conference on Supercross Live! last Saturday night? Reed was angry at Short after the Seattle main event for "team tactics" and Short's explanation was pretty straightforward.

"I just raced him," Short said. "I'm not going to put a blinker on and wave him by, like I feel like some of the other guys did. I'm never going to beat Chad if I don't try to race him, and I feel I raced him the same way that he races me, and the same way that I want to be raced. I've been taken out by him – U.S. Open – and I don't know if he made a mistake or what, but I don't want to take people out – but that doesn't mean I don't want to race. Last I checked, rubbin' was racin', and back in the day, those guys were gnarly – Bob Hannah and all those guys – and it seems like today's racers, it's really frowned upon. But I'm not here to make friends. I respect him and his side of the story, which is cool, and I've got to respect that, but the fans don't come to the race to watch riders let somebody go. He's a great racer, and I'd love to beat him. That's my goal, so I'm not going to put a blinker out and show him the way. That's my side."

After the championship was decided, it hit me that I've never seen Kevin Windham that upset after finishing second place in my life. Windham has always been known as one of the most gifted racers on the planet, but some have questioned his drive in the past. It's almost ironic that a year after one of his worst years of racing (even though he won an AMA National at Unadilla and the final moto of the year at Glen Helen), he came out with more drive and determination than ever. It's a testament to Windham that he doesn't like second place anymore, and it will be interesting to see how he tackles the series next year after taking this summer mostly off. After all, it seemed to rejuvenate Chad Reed.

Reed's speech at the Supercross Awards Banquet was honestly my favorite part of the night. Reed has been given a lot of crap by internet folks and others, but the fact of the matter is that he's among the greatest supercross racers in the history of the sport. In the introduction he had, it was noted that he has raced 97 consecutive supercross races (meaning he hasn't missed any since his 2003 debut) and has been on the podium for 87 of them! That's almost unfathomable. And people somehow have the balls to call him a whiner and other such nonsense? It's unbelievable. I can't think of anyone else that has had that many consecutive starts, at least among the frontrunners, and it's not as if he hasn't been injured. Add to that that Detroit, when he broke his scapula near the end of the series, marked the first time that he had ever used a provisional, and the fact that he had four finishes off of the podium just this year, and it's even more amazing. That means, coming into this season, he basically averaged just 1.2 finishes off of the podium per year.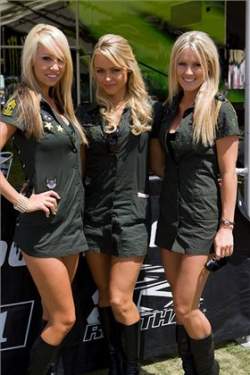 We're not done yet...

photo: Carlos Aguirre

It's also easy to forget that he flew his parents out to Salt Lake City in 2004 to watch him clinch his first-ever AMA Supercross Championship before getting hosed on the fuel ruling that year, which cost him 25 points and meant he couldn't clinch the championship until a week later in Vegas, after his parents had gone home. Of course, years later it was figured out that Reedy wasn't cheating (meaning intentionally trying to gain an unfair advantage) but rather the fuel he was using had basically a trace amount of lead in it from a source that I don't think was ever determined. Considering that the penalty was created that day (25 points) on the basis of the race manager believing that Yamaha was "cheating", it's easy to see how Reedy was screwed out of an experience with his family by a bad technical ruling. This year, though, Reed's family was able to make it, and he got to celebrate a huge achievement with his mom and dad – only four years late.

But back to his speech: It was moving. At one point, Reed choked up as he spoke about the sacrifices he made, leaving home for Europe at 18 by himself (with his high-school sweetheart Ellie, but without his parents) to chase a dream. Eventually he found his way to the U.S., where he wanted to be the whole time, and now he's the third-winningest rider in the history of the sport behind a couple of giants – Ricky Carmichael (48) and Jeremy McGrath (72).

But supercross is over! Bring on the outdoors! The Thursday after the Las Vegas Supercross at Glen Helen is normally like a miniature National, and this week was no exception, as seemingly everyone who was anyone was out there shaking down their race bikes yesterday. Notable exceptions included James Stewart and a lot of Honda riders, and there's a reason for that: Honda Red Bull Racing rented the track on Tuesday and Wednesday, so all the Red Riders were out there on those days. Geico Powersports Honda's Trey Canard and Jake Weimer were out there on Thursday as well.

We got to see Yamaha's Broc Hepler riding his YZ450F that he's going to race in the Nationals. He still had black backgrounds on his number plates, but that's because they hadn't printed the white backgrounds yet, as they just decided on his 450cc racing two days previous. He seemed really excited about the prospect of moving up and said that he liked riding the 450 and was looking forward to the Nationals – especially since his teammate (and defending AMA National Champion) Grant Langston will likely be missing a few.

Langston was there hanging around with a nice, big pad on his right shoulder over his recently repaired collarbone. He said that he doesn't remember the crash from a week ago at Glen Helen, but that he woke up in the ambulance. He said it's likely that he'll miss anywhere from two to four of the first few Nationals, and that with the concussions he's had recently, and the eye problem that put him out of the supercross championship, he wants to take his time to make sure he's ready before he returns. He also said that Sean Hamblin filmed his collarbone surgery.

Hamblin was out at Glen Helen on a YZ450F, and he looked plenty fast, even battling it out with David Vuillemin for a while. Langston said that his brother is doing some mods to Hamblin's engine, and so far, Hamblin is enjoying it. But he has yet to get a real solid outdoor chassis setup. Still, he looked solid at Glen Helen yesterday. Also, Josh Hill was ripping on his 450. Considering his results on short notice at the end of last year, he's going to be a threat outdoors this year.

Joining Vuillemin on a Suzuki RM-Z450 on the day was Aussie Michael Byrne. Byrne is finally returning from the gnarly knee injury he suffered last year, when he tore his ACL and LCL, so it took a very long time for him to get back. He says it is still in the back of his head as of now, not to put his left leg down awkwardly in corners or things like that, but he's planning on being ready to go for the Glen Helen AMA Toyota Motocross opener.

Last weekend's Shootout winner Ryan Dungey looked solid and in shape at Glen Helen on his RM-Z250, and he was testing alongside Lites teammate Nico Izzi. Dungey in particular looked really on the gas, and he was among the most aggressive going through the sand section lap after lap.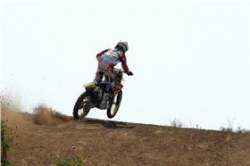 RD28

photo: Steve Cox

The Yamaha of Troy team was out en force at Glen Helen, and team manager Chris McAvoy said that even Jason Lawrence, who was famously MIA from the Awards Banquet last Sunday, was out there, although I didn't see him. I did see Ryan Morais, though.

The MDK KTM squad had basically everyone out testing, with Nick Wey on the 450, and Justin Brayton, Matt Goerke and Ryan Sipes on 250Fs. They all looked good, and Wey especially seemed to be testing a pretty wide variety of parts on his 450.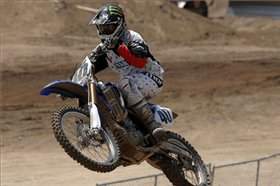 photo: Steve Cox

The entire Monster Energy/Pro Circuit Kawasaki squad was at Glen Helen, with defending champ Ryan Villopoto looking fast, as usual, on a bike with only one number-one plate. Austin Stroupe was definitely on the gas too, and it's hard not to notice how much he looks like Villopoto, not only because of his number, but his riding style. Branden Jesseman was putting in laps as well, and Brett Metcalfe actually spent the first half of the day riding a KX450F for training purposes before switching to his Lites-class test bike.

And one last thing: While I was at Glen Helen yesterday, I heard a rumor that Chad Reed was out at Perris Raceway on Wednesday riding a Suzuki RM-Z450. Hmmm…

That's it from Cox. Did you happen to check out yesterday's Bench Racing Ammo? Well, check out this addition by reader Geoff Zerbe of Oregon:

I came up with an unscientific method to declare an overall Lites winner. I added the riders' results from Vegas to their overall points for the season and came up with the top 10:

Dungey: 154 + 25 = 179
Canard: 147 + 20 = 167
Villopoto: 137 + 22 = 159
Lawrence: 157 + 0 = 157
Stroupe: 131 + 11 = 142
Metcalfe: 126 + 14 = 140
Brayton: 100 + 15 = 115
Reardon: 95 + 18 = 113
Morais: 84 + 16 = 100
Hepler: 79 + 12 + 91

The strangest thing about this is, with the sole exception of Lawrence, the overall points order did not change due to Vegas. For example: Stroupe had the fifth most points going into Vegas and he ends up fifth overall in my unscientific ranking. Bizarre!

Here's Weege, who I thought did a fantastic job of hosting a very funny banquet. Maybe we can get him to post some of his stand-up routine here next week….

A few records were created or broken at the conclusion of this year's supercross tour. First, it's well-publicized that Chad Reed became the first rider to ever go four years between AMA Supercross titles. He also finished a close second in 2003, which means he's been in top-contender form for six consecutive years, which is almost unheard of in this sport. Ricky Carmichael, Jeremy McGrath and Jeff Ward were winning for that long, but that's about it—and even Ricky took a year off, and even Wardy wasn't always as close to the title as Reed.

At the banquet, Chad had a #1 plate and a big championship check in his hands, and he said that the #1 plate, compared to big fat check, "This is what it's all about. The money just causes problems." As a fan, you have to appreciate that.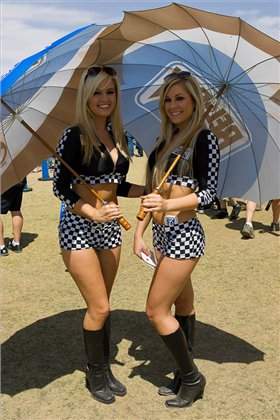 Bel-Ray girls

photo: Carlos Aguirre

Another new record comes from Kevin Windham, although we're not sure if it's one K-Dub wants to celebrate: He's now passed Damon Bradshaw in career AMA wins, which makes him the winningest rider to never win an AMA Supercross or AMA National Motocross title. He sure did come close, though (and 125 SX titles are considered regional championships).


And finally, Ryan Dungey's East-West Shootout win makes him the first back-to-back shootout winner, but only the modern era of the event. The current Shootout history dates back to Las Vegas in 1997, when Windham and Tim Ferry were out there running the 1W and 1E and Ricky Carmichael ate it in the whoops trying to chase Windham. But the 125 guys did have East-West shootout races back in the late 80's and early 90's, although it seems like most of those races never get mentioned—likely because they were mid-season races (sometimes two or three per season) in centrally located places like Houston, Dallas, and Oklahoma City, and they just meant points for both series.

So that Shootout was a little less hyped, but it still existed. And in 1990 and 1991, Jeff Emig won it, so there's your back-to-back (and 'Fro made sure to remind me of this at the Supercross Awards Ceremony. Good job, Jeff).


Speaking of the Supercross Awards Ceremony, I thank Live Nation for giving me the chance to host it, and I hope I didn't piss too many people off with the jokes. Friars Club? Hey, if you could have seen the jokes the Racer X staff came up with that we didn't run, well, then it would have been a true roast. Still, for some reason, I heard more hisses than laughs when I said, "At Seattle, next thing you know, Shorty got low, low, low, low." These are jokes, people. Let's not take it too seriously. Plus, I kept all the remarks about on-track stuff, except for J-Law. But since he didn't show up, I knew that topic was wide open. So again, what a phenomenal rookie performance in Vegas for the newly turned 21-year-old.

Thanks Weege, don't let the bastards get you down….

And for more on Las Vegas, you should definitely check out Steve Matthes's Observations from Sin City.

Here's a funny tribute to Evel Knievel, sent over by Mike Kidd.

We just got our hands on the May 5 issue of ESPN the Magazine, and the cover story is a really interesting piece on bionic athletes. Prosthetic limbs have become so good that, in some cases, athletes are able to challenge for places in professional sports. Insanely, in some cases, people who have amputations are banned from competition because their prosthetic limb replacements are deemed to give them an advantage. (Case in point: Oscar Pistorius), who was banned by the IAAF from sprinting because, according to ESPN, "tests found that his Cheetah Flex-Foot legs, which look like J-shape spatulas, give him an advantage over runners with human legs."

It's an interesting story and debate for many reasons, but the thing that really turned our heads what the short piece on p. 60 that features rugby star, kayaker and mountain-biker Willie Stewart.

Stewart lost his arm in a construction accident, but he didn't let it slow him down any, choosing instead to stay as active in athletics as he always was. Notably, he also helped develop a bike arm with a rigid wrist that rotates when attached to a handlebar. According the piece, "It's so good that Stewart can ride using just the metal limb, giving his right arm a long-needed rest."

The entire article on the future of bionics and athletes can be read online here.

And here's a YouTube video of an impressive one-armed motocross racer.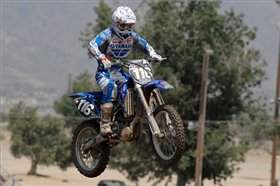 Ryan Morais working on his outdoor set-up.

photo: Steve Cox

Ze Germans are coming! MX Sports's Andy Bowyer says, "The word on the streets is, Germany's Ken Roczen will be heading to Actiontown Raceway in Dillwyn, VA, this weekend for his area qualifier. Who is this kid? We don't really know, but we've seen some amazing scrub photos of him in Germany's Moto-X magazine. Fox Racing's Todd Hicks gave the MX Sports office a call to tell us that we may want to keep an eye out for this Suzuki mounted Lites B rider. When a guy that has scouted names like Ricky Carmichael, James Stewart, Travis Pastrana, Tommy Hahn, and Ian Trettel tells you someone is fast – it's a good idea to listen."

Vurbmoto.com's Wes Williams had this to add about Roczen: "He has come over and raced a few times at the Mini O's in 2005 and 2006. He had the speed and battled it out with Jason Anderson, the top guy in his classes. Inconsistency and untimely crashes left him without any championships both years, which was a pretty big surprise as he brought a lot of hype with him. He trained in California for much of this winter, and looks to have his mind and speed on the right track. He's also one of the elite Red Bull Amateur Athletes. Needless to say, he should make quite an impact come Loretta's."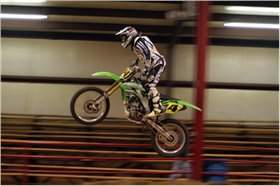 Brian Devillo was the first Air Nautiques/MX Sports Scholarship Winner

photo: Courtesy of Devillo

In other Loretta Lynn's news, a few years back a kid named Brien DeVillo from Hartselle, AL, was the first recipient of the Air Nautiques/MX Sports Scholarship for good grades in school and good results on the track. Unfortunately, he's been on a run of bad luck ever since. He's suffered a rash of injuries, including recent knee damage that required surgery, which means he won't be at the ranch this year. Well, everyone here at Racer X just wanted to wish the fast, smart DeVillo a speedy recovery and best wishes on next season.

Check out this video (Windows Media format) from this past weekend's Loretta Lynn's Qualifier at Dutch Sports Park by the boys at MXReplay.com.

One more piece of Loretta Lynn's news: Colorado's Thunder Valley will host an Area Qualifier this weekend on their national track (with the lights on, of course) and so promoter David Clabaugh had Mark Barnett come visit and spend three days tightening things up on and around the track. Clabaugh also found out that a kind named Sean Bailey is coming to participate, under the watchful eye of his father, David Bailey!

Stephan LeGrand has a very cool SX Banquet "Red Carpet" video up online (and I am proud to say that my little girl Sloane is there making her SX debut. Check it out right here.

Also, there is a longer version available on another site, this one all English.

Okay, here's a general call-out to the motocross world: Does anyone out there know where the gang from Toyota can secure use of a 22' trailer for the AMA Motocross series? The trailer they were planning on using for the privateers fell through at the last moment. They have Maritz to transport it to all of the 12 rounds, they just need a trailer suddenly! Anyone out there that can help Toyota to help out the privateers with equipment, let us know: letters@Racerxill.com.

Something very similar to this happened at the 18th hole of the Road 2 Recovery Golf Tournament. That's all I'm going to say about it.

Okay, here's Ping….

I'm sure the Las Vegas Supercross finale weekend has been rehashed to death so I'm just going to give a quick recap that should pretty much cover all the pertinent facts. Here goes: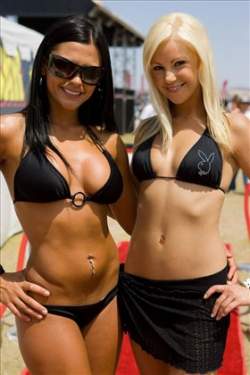 Did you see this week's Fan of the Week? If not, here they are again.

photo: Carlos Aguirre

The MiniMoto SX kicked off the weekend and it was lacking a little bit of star power since Jeremy McGrath had to pull out with his hip injury. Still, the racing was as good as always. In every race there was a crash about every fifteen seconds and everyone looked ridiculous riding bikes that are way too small for them. For such a silly concept it is an entertaining event. The highlight (or lowlight, depending on your opinion) of the evening was probably when some of the Nitro Circus crew showed up and did what they do best: act stupid. Ronnie Renner was involved as were a guy in a hockey uniform, a skinny guy in his underwear and someone wearing cover-alls like that French Fry-eating weirdo in Sling Blade. Derek Costella won both pro mains and took home $8,000 in purse money. If there were a 16-round series of mini races like this Derek would make himself a great living. Sadly, there isn't.

Saturday went about as everyone thought. Villopoto and Dungey had the most to prove and rode away from everyone else. Dungey put in his best ride of the year and won, passing RV on the last lap. Canard was third and Lawrence was undressed and back at his hotel bar by lap 12.

Windham looked like he would get another win in Vegas but it wasn't happening. Reed caught up to him and breezed by for a relatively easy win. Andrew Short continued to race with Reed … what a jerk. How dare that guy try to keep another rider behind him like that in a race? What's next, Shorty? Are you going to try to pass him back and beat him? You are unbelievable.

Anyway, Carpenter smashed his way to top privateer, KW ended his season with a podium while Reed celebrated his second title.

So, it's all about the AMA Toyota Motocross Nationals from here on out. Local SoCal tracks have been packed with pro riders and teams preparing for the Glen Helen opener in a couple weeks. One track that is going out of its way to help pro and intermediate riders is Milestone Raceway in Riverside. Every Wednesday from now until the end of summer they are going to be combining two of their tracks, making a lap time at close to the three-minute mark, ripping the track deep and putting down plenty of water. I was there this week and when I started riding it was like going out for practice at Red Bud on Sunday. If you've ever been to Red Bud then you know what I mean. Villopoto, Stroupe, Metcalfe and others have been showing up regularly and for good reason. To get directions and info go to www.milestonemx.com .

Here's another reminder to anyone with a two stroke that the LA Sleeve Two-Stroke Challenge is coming up. Saturday morning, the weekend of the season opener at Glen Helen, there is a two-stroke-only purse race before pro practice. Make sure you contact Lori at Glen Helen to get on the list ASAP.

That's it from Ping … or at least all we would let in here.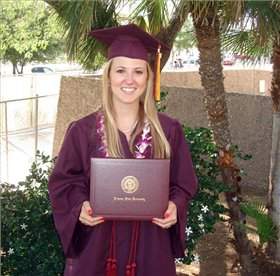 Katie Wallenberg graduated! Congrats!

photo: Courtesy of Wallenberg

From the Proud Dad file: Katie Wallenberg receiving her Marketing degree from W.P. Carey School of Business at Arizona State University.

Do you have a question for Joe Gibbs Racing/Toyota/Yamaha's Jeremy Albrecht? He's the subject of next month's 10Qs. E-mail your letter here.

The 2008 AMA Toyota Motocross Championship TV schedule is out. Check it out and print it!

Gork Barrette is the marketing director for Redline Bicycles and