5 Minutes with ... Jeff Ward
One of my favorite racers when I was a short, stocky kid growing up riding a KX60 was Jeff Ward. The "Flying Freckle" made up for his lack of height with a fierce work ethic and an abundance of talent. After winning every single AMA motocross and Supercross title (the only rider to ever do so), Ward jumped into car racing with much success. He went from that to Supermoto and scored two championships in the process. And now he is looking ahead to his next venture. My guess is that he'll be good at it... whatever it is.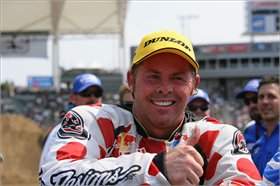 Jeff Ward

photo: Paul Buckley

Racer X: Jeff, I guess the first thing I should do is thank you for letting me ride your bike this summer. Unfortunately, you are having some problems with skin cancer. What's going on there?
Jeff Ward: Did you read the fine print on your contract? I'm a 60 percent owner in that bike so I get 60 percent of all your bonuses. [Laughs] You should have read that closer! No, I have had the skin cancer crap going on for a while. It's been a little more aggressive lately. There have been some different types. I had one by my eye last year that was pretty bad and now I had one taken off yesterday, I have one next week, and another the week after that. I have stitches in my arm and some on my mouth right now. So, I'm a mess. And my knee has been getting worse over the years. I hurt it a little when I was racing motocross but I twisted it pretty bad in 2004 and it hasn't been the same since. It swells up all the time and I just need to get it fixed. I just have a bunch of things going on and it just made sense to step back and get all these things taken care of right now.
You planned on retiring last year at the end of the Supermoto series but then changed your mind. What caused that change during the off season?
Last year, I just don't feel like I put in the effort I should have. We didn't test as much as we should have and I didn't ride as much as I should have. I was sitting around in the off-season and just felt like I wanted one more shot at winning it again. As a racer, you always feel like you can go out and do it. We did some work at the beginning of this season and things were going really well. We had some great times on the pavement, which is where we were falling behind last year. In San Diego, I just got arm pump and then after that the skin cancer thing was just the last straw for me. It's time to get all this stuff taken care of.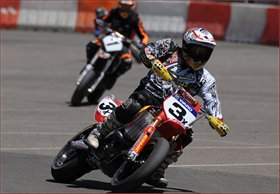 Ward is a two-time AMA Supermoto champion

photo: Steve Cox

You are still going to ride some rounds this year, correct?
Yeah, I'm going to try to ride Mammoth and the X Games this summer. Of course, it all depends on my health, but I want to do those and then maybe a couple more fun ones later in the season. My son Brandon is also going to do some racing in the 250 class so it will be fun to just go and help him.
You have a new venture now, a riding school called Ward's Winning Ways. What prompted that?
I'm always at the track with my kids and I'm always helping kids out. I've been busy riding a lot myself usually but now I feel like I have time to really focus on some other kids. I want to get a couple B class riders and maybe a couple top pro riders to help with riding and weight training. Villopoto contacted me last year about helping with weight training but we just never got together on it. I am going to be at all the big amateur races so I can work with my guys at those as well. I think it's going to be cool. I built a website, www.wardswinningways.com, and guys can email me about schools or training. I want it to be fun for everyone but I think it can also be very productive. I also have a gym by Lake Matthews where I can train with guys or meet up and do some cycling with my riders. I'm excited to get started building programs for guys and working things out. Anyone interested can contact me at wardyracing@aol.com or go to my website and check that out.
I heard you are looking into doing some CORR truck racing?
Yeah, I went out last week to Pomona and checked it out. I have spoken with them before and there is a lot of interest. Of course, with all car racing it is all about sponsorship. Once I committed to Supermoto, I just kind of dropped it but now I am going to get back in touch with them and work on it a little more. I have some people that are interested in helping and I would love to get in there and mix it up. It looks like a blast.
That seems like a perfect fit for you with your car racing experience and your motocross background.
I have the right mindset for it. I drove for Walker Evans back in the Mickey Thompson days. That was a lot of fun. It seems like this would fit me well and hopefully I can get my foot in the door this year. I even looked at running the Indy 500 this year. I have some people out there looking for me. It's always a challenge to find the money to make it happen.
What are your thoughts about the sport of motocross right now? It seems like the hard working, nose-to-the-grindstone days of racing have fallen away again. There have been a few riders getting in trouble with the law lately.
There are a bunch of things that have me pissed off. We are motocross riders and we love the sport; it is our life. We race the outdoors because it is the original form of our racing. Now everyone is just doing Supercross and then taking the summer off. I read Reed's interview where he says motocross isn't his life… it's just something he likes to do. Well, a lot of people like to ride motorcycles. For people who work at the factories and at the gear companies and in the industry, this is their life. For him to say he can live without it is a slap in the face. Go back to Australia and live without it then. He says he's excited to run the Aussie colors at the MXoN against the USA. I still have a Scottish passport but I was always proud to represent the country that made my career what it was. And there's a picture on some website of him pounding a bottle of Jack Daniel's. My son is one of his biggest fans and I don't want him seeing that kind of crap. I understand that you have to have fun but it is certainly disappointing the way a lot of these guys have been acting.
I know I speak for a lot of people when I say good luck with the skin cancer treatments and get back on the track quickly!
Thank you.