Bench Racing Ammo: East vs. West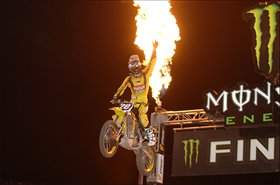 RD28
You got to love it when supercross comes to Vegas. Not only is the Monster Energy AMA Supercross Championship usually decided in the premier class, but you also get to see the top Lites riders duke it out in the Dave Coombs Sr. East/West Shootout. There's no championship or points on the line for these boys, but there is something that is sometimes even more significant: bragging rights. Some riders say they don't place much importance on this event, but deep inside you know they all want to win this race and prove that they're the top Lites rider in the land, if only for this one night.
This year's race was one of the best that I can recall, and in typical fashion, neither champion donning the #1 plate came close to winning. In fact, it was the two runner-ups from each region battling it out, with the West Region's
Ryan Dungey
coming out on top aboard his Rockstar/Makita Suzuki. Both riders, who had the championship within their grasp, went into Vegas on missions of redemption.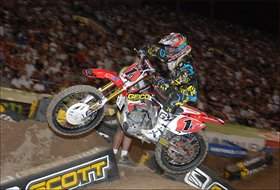 Ice Trey
For today's installment of Motosport Outlet's Bench Racing Ammo, we decided to tally up the points of the riders from each respective region and see which coast won.
Dave Coombs, Sr. East/West Shootout
1. Ryan Dungey West 25
2. Ryan Villopoto East 22
3. Trey Canard East 20
4. Dan Reardon West 18
5. Ryan Morais East 16
6. Justin Brayton West 15
7. Brett Metcalfe West 14
8. Kyle Chisholm East 13
9. Broc Hepler West 12
10. Austin Stroupe West 11
11. Matt Lemoine West 10
12. Robert Kiniry West 9
13. Wil Hahn West 8
14. Justin Keeney West 7
15. Nico Izzi East 6
16. Kyle Cunningham West 5
17. Tyler Bowers East 4
18. Matt Boni East 3
19. Ryan Sipes East 2
20. Ben Coisy East 1
21. Matt Goerke East 0
22. Jason Lawrence West 0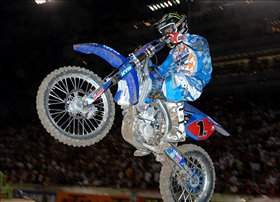 J Law
After some quick calculations, 12 riders in the 22-rider field were from the West, while 10 were from the East. Then we added up the points, and we have the Western Regional riders coming out on top with a total of 134 points, compared to 87 in the East. So let the bragging begin, as this year the West can claim that it was better than the East in this finale. Pretty impressive considering the West Champion,
Jason Lawrence
, didn't even finish the race!
But did the West really win? Of the 22 riders, only three of them can actually claim that they're from the West coast. Check out each riders' home states below:

1. Ryan Dungey Minnesota
2. Ryan Villopoto Washington
3. Trey Canard Oklahoma
4. Dan Reardon Australia
5. Ryan Morais California
6. Justin Brayton Iowa
7. Brett Metcalfe Australia
8. Kyle Chisholm Florida
9. Broc Hepler Pennsylvania
10. Austin Stroupe North Carolina
11. Matt Lemoine Texas
12. Robert Kiniry New York
13. Wil Hahn Kansas
14. Justin Keeney California
15. Nico Izzi Michigan
16. Kyle Cunningham Texas
17. Tyler Bowers Ohio
18. Matt Boni Florida
19. Ryan Sipes Kentucky
20. Ben Coisy France
21. Matt Goerke Florida
22. Jason Lawrence New Jersey