Kawasaki/Racer X Race Report
MacKenzie and Sword peerless at Lyng
Billy MacKenzie and Stephen Sword were in imperious form at Lyng on Sunday - the Scottish duo took a clean sweep of pole, both race wins, and fastest laps in both motos in their respective MX1 and MX2 classes. MacKenzie made it look so easy - the CAS Honda pilot holeshot both races and just motored serenely away into the distance, on a training day whilst everyone else was battling flat-out.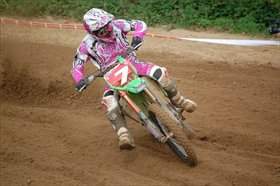 Stephen Sword was flying on a 250F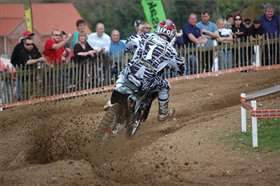 While everyone else was struggling through the soft Cadder's Hill soil, MacKenzie was in a silky-smooth class of his own...
Second overall behind Billy Mac was Brad Anderson, the Swift Suzuki pilot logging second and third place finishes on his comeback from a shoulder injury - the normally-firey North-Easterner had pace, but a lack of race sharpness saw him slow in the second half of moto two. There to take advantage was James Noble, who staged a terrific fight back to fifth in moto one after getting tangled in someone else's incident - moto two saw him gate inside the top ten, and the Yorkshireman just put his head down and charged through to second for third overall on the day. Mark Jones took third in the opener, but a high-speed crash just over halfway through the second rang the Welshman's bell and bent his KXF out of a usable shape - Tom Church was also struck by misfortune, taking fourth in moto one but suffering a mechanical DNF in race two.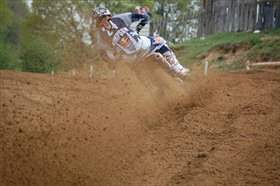 Shaun Simpson was outgunned - but he'll be back...
MX2 looked like it would shape up to be a two-horse race after Swordy and his Championship rival Shaun Simpson were just a third of a second apart after qualifying. But when the gate dropped, Sword fired his Molson Kawasaki out alongside the fast-starting Carl Nunn whilst Simpson was down around sixth, and when Nunn fell early on lap one, the way was clear for Swordy to check out - Simpson made short work of getting into second, but by then Sword was gone. Behind them, Jason Dougan settled in for a lonely ride to third, whilst Elliot Banks-Browne, on the back of two excellent points-scoring rides in Portugal the week before, was running a comfortable fourth - with the two lap board out, however, his Swift Suzuki went bang and locked up.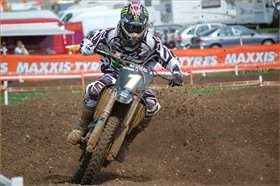 It was a bad day for Mike Brown - the reigning MX2 champion took a vicious tumble early in moto one and withdrew from the meeting. The CAS Honda rider's slim rehopes of retaining his crown must sure
In moto two, Simpson got his KTM UK 250f out ahead of Sword, but the number 7 was right on his tail - four laps in, Simpson made a mistake and Sword made his mover, taking the lead and edging away as Simpson, son of former Scottish GP rider Willie, tried to mount a fight back. But no-one was going to beat Swordy today… Behind them, Carl Nunn made up for his first moto off by engaging in a battle of wills with Banks-Browne - with four laps left, EB-B made a mistake and Nunny was through and away for third. Lewis Gregory would take an excellent debut podium as he continues his recovery from injury, but the man of the match award has to go to Martin Barr - just two weeks after breaking his collarbone in Spain, the Irishman rode two motos of steely determination for sixth overall.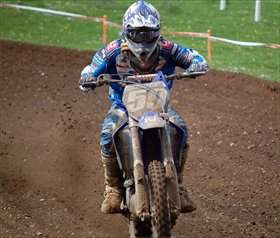 Martin Barr rode like a hero - Lyng is a tough track at the best of times, but riding with a broken collarbone must have been agony.

Maxxis British Motocross Championship
Round 4 - Lyng

MX1
1 Mackenzie 50
2 Anderson 42
3 Noble 38
Championship standings
1 Mackenzie 200
2 Noble 135
3 Anderson 131
MX2
1 Sword 50
2 Simpson 44
3 Gregory 34
Championship standings
1 Sword 179
2 Simpson 157
3 Barr 137