This Racerhead was supposed to be coming to you from Atlanta, where I was all week for the supercross as well as visiting some old friends and new racetracks in the area. But two sick kids and another looming magazine deadline took precedence, and here I am back in West Virginia. I've gone from putting some very long-term plans together to trying to figure out what the hell is going on with a few things out there.
But while I was down there, I took notice of former longtime AMA executive Bill Amick's resignation letter as the AMA's representative on the FIM Motocross Commission, citing ongoing health problems as the reason, though he later wrote that it was not voluntary. Then he railed against the AMA, describing current management as "a handful of small people" trying in vain to "fill a void in leadership with their inflated egos." He also wrote, "I can no longer muster enthusiasm for the task in the light of the association's misdirection by a scandal-ridden board with a track record of ruthless meddling with its human resources and for hiring incompetents."
His resignation letter could not have come at a more volatile time. The AMA is almost at the end of a highly controversial RFP process that has people on both sides of the Atlantic on the edge of their seats, people involved with everything from AMA Superbike to AMA Motocross to AMA Supermoto, waiting for the outcome. Throughout it all, AMA President Rob Dingman has been the brunt of many barbs from all sides, usually after another longtime employee leaves the AMA, or the scandal involving travel expenses by one board member that ended up costing two of them seats.
But for Amick to paint all of the current AMA Board members with the scandal brush is unfair. I was lucky enough to be on the board for a few equally volatile years (Jam Sports, anyone?), and I know how difficult it can be to work through decisions that ultimately involve the sport at every level, from the factory bosses to the first-time spectators. I have butted heads with Roadracing World's John Ulrich and Virginia promoter Carl Reynolds, both longtime board members, and I have come to trust and respect them a great deal; I have watched men like Croft Long and Ken Sutton, who have just ended their tenures, give weeks of their time to serve on the board, never losing their enthusiasm for the sometimes tedious work of the board; and toward the end they've turned over their spots to a few outstanding newcomers like Andy Goldfine and Jon-Erik Burleson, who've stepped in and joined the cause of serving and protecting the rights of their fellow motorcyclists.
None of those men, nor any of the new board members, deserve a departing shot like that from Amick, who I have known for more than 20 years. Bill has long been a fan of the Motocross of Nations and Grand Prix Motocross, and during his tenure he worked hard to try to get events here in the states. He even spoke to me about it a few times, but I felt that the business model would be too much of a risk. But I did my best to help get Team USA back into the Motocross of Nations, even getting Loretta Lynn's to put up $50,000 in 2005 and $55,000 in '06 to sponsor the team when no one else would.
But what I found bothersome was the discovery that Amick's Heartland Media and Events also got a quiet cut of the ticket sales from the '07 Motocross of Nations—one dollar per ticket, which amounted to close to $24,000 (I guess we now finally know the real number of people who paid to be at Budds Creek)—I found it odd. As the AMA's appointed member of the FIM Motocross Commission since 1986, why did he also have a side deal with Youthstream to broker a contract for Jonathan Beasley, who has long been actively campaigning for the event himself? I don't think Amick has never been a race promoter, yet he had the rights to the race in America? How much longer does he hold those rights? Will the promoter of the 2010 race have to pay Amick a dollar a ticket too? How about the 2009 U.S. Grand Prix?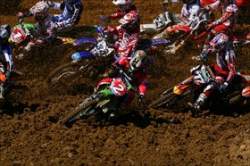 The Motocross of Nations was held in the U.S. for the first time in 20 years.

photo: Simon Cudby

This type of business arrangement may be common practice in Europe, but it seems like a conflict of interest here when an AMA official assigned to work on the FIM commission can get a cut to bring an FIM race to an AMA promoter. In my opinion, when Bill did his deal with Youthstream, he should have resigned his spot as the AMA's man on the FIM Motocross Commission.

In a broader sense, I think this is the kind of stuff that Mr. Dingman and the current board members have dedicated themselves to clearing up. It's a thankless task, and he gets a good thrashing every week on websites and message boards and in the media, but he's doing exactly what he said he was going to—streamlining the association, getting it out of the racing business, and making it more membership oriented.

I am as confused as anyone about what's going on here, and as hopeful as anyone that it all gets resolved soon. But Bill's letter seems timed to cause grief for Dingman and the AMA board at a time when they are trying to make some really big decisions. I know that all things end badly—that's why they end—but the timing of this letter and its nasty tone just doesn't seem appropriate.

With that, I will turn this over to Bill Ursic and the rest of the staff and go deal with some sick kids.…

Since DC has been traveling all week, and probably still recovering from the Indy Trade Show, I decided to take some work off of his plate and help with Racerhead. It's been one of those crazy weeks around here. Another magazine deadline is looming, although it seems like we just finished up our 10th Anniversary issue, which a lot of you probably saw at both the Indy Trade Show and the Houston Supercross. Aside from that, we also have a deadline for The Racing Paper, the area qualifiers are kicking off this weekend for the 2008 Air Nautiques AMA Amateur National Motocross Championships at Loretta Lynn's, and some of our crew is already en route to the Sunshine State for the opening round of the 2008 Can-Am GNCC series…

But let's talk Monster Energy AMA Supercross and turn it over to Jason "Blogandt" Weigandt right here:

It seemed like everyone in Houston wanted Kevin Windham to win (well, everyone besides the 19 other riders on the starting gate). New Orleans hasn't had a supercross race since 2002, so Houston has become the de facto K-Dub home race. I met a massive gang from D&G, a shop in Louisiana, and they said they bought over 350 tickets for the race to see K-Dub win. And after he did win, they celebrated hard. I bet those guys dig these Kevin Windham Wallpapers that Simon Cudby posted up earlier this week.

Jason Lawrence has other people to focus on right now, namely Ryan Dungey. The trash talk has been raging for the last few weeks, and now Lawrence has tempted fate over the two-month West Region break with some more. After finishing second, Lawrence said: "That might be my A game, being smart, which is something Ryan Dungey hasn't been." When asked what he will do for the next two months, he said: "I'm not gonna let it eat at me like it's probably gonna eat at Dungey."

In addition, I heard that Lawrence had some words for Dungey in the mechanic's area during practice and in the tunnel heading down to the main. Best of all, when they lined up on opposite sides of the doghouse in the main, Lawrence was knocking on the house to try to distract his rival. We've seen Lawrence play plenty of games before, but I'd say this Dungey battle is now at the top of the "Best of J-Law" list. Love it or hate it…that's exactly the point.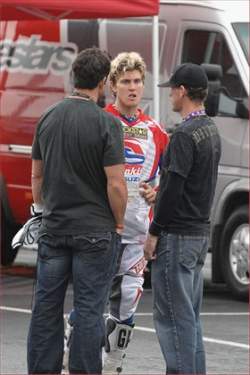 Ryan Dungey has Johnny O'Mara (right) in his corner.

photo: Steve Cox

Dungey had Johnny O'Mara (right) in his corner again in Houston, but for some reason, he once again couldn't keep it together in the main event. It started out great, with Dungey grabbing the lead off the start and then quickly tossing it away while by himself out front. To make matters worse, he crashed a second time less than a lap later, all while rival Lawrence ran up front and rode his fourth-straight flawless race, although it didn't help him beat Austin Stroupe.

The question on everyone's mind, it seems, is what's going on with Dungey? We all know this sport is nearly all mental, but when he went through his issues last year, it was attributed to "rookie mistakes." He's not a rookie anymore, and it's clear that he still has some work to do before he will have the fortitude required to win a championship, regardless of his raw speed. However, it's not over. If he can get this sorted out, he has one last chance of winning the Lites West championship in Seattle in about eight weeks. He's no longer in the driver's seat, but all he can do is what he can do. He has to win the race, and then hope that Lawrence finishes outside the top three. Another variable may come from the consistently bad weather we've had in Seattle the last couple of years. All we can do is wait and see what happens.

Windham's win in the Supercross class may have required a battle with Red Bull Honda's Davi Millsaps. The Duke grabbed his second straight Progressive Holeshot and held about a second lead over KW on lap two, when he rode over a piece of plastic sitting in a corner, washed out and crashed all the way back to last. First to worst! Millsaps has been so close in the last four races that it seems inevitable that he will win one eventually.

Not as close is his teammate Andrew Short, who we saw in the pits after the race. Shorty was right in the battle last week in San Diego, but then fell a little further back this time. Short is working as hard as anyone in the Supercross class right now, and I think that's what is bumming him out:, all of that work and no podiums to show for it. I hope he can stay positive so he can figure it out.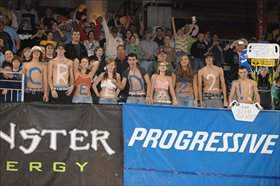 Those are some serious Chad Reed fans.

photo: Steve Cox

And Chad Reed continues to have small struggles with "some issues" that he won't explain to anyone. On the podium after the race, he said: "Kevin rode a great race, I can't take anything away from him. It just kind of caught up to me. We've got some work to do, we've got some issues…we're trying." That's all we know.

Reed wanted to win out for the rest of the season, because that would have given him 15 Supercross wins this year, a new record. Now he can only get 14 if he wins the rest, which would tie MC in '96 and RC in '01. But does Toronto count? That is now part of the AMA Series and it possibly gives Reed a shot at 15 wins this year. Can we get a ruling?

After the main event, Steve Bauer went down to congratulate Windham and had him sign the program page showing he designed the track. "He seemed really, really stoked and proud about designing the track and I kinda doubt he'd even looked at the program before," wrote Bauer.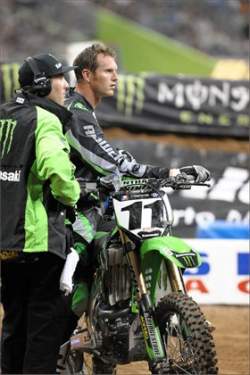 Broken spokes forced Travis Preston out of the Houston main early.

photo: Steve Cox

Have you seen the Monster Energy AMA Supercross Souvenir Yearbook yet? If not, now's your chance to purchase one half-off. Click here for more.



Monster Energy Kawasaki's Travis Preston didn't finish the main in Houston, but it was not because he wasn't trying—another rider ran into him and broke the spokes out of his front wheel.

Honda Red Bull Racing's Ivan Tedesco was also in Houston watching the race, and he told us that he should be healed up and riding about five weeks prior to the opening round of the AMA Toyota Motocross Championship, so he's looking forward to coming out swinging at Glen Helen.




The Texas tornado winds did some real damage in the pits. We shot a few photos to demonstrate: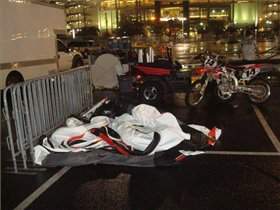 After Kevin Windham whipped up on everyone in Houston, we found his winning machine parked next to his team's battered tent in the pits.
photo: Jason Weigandt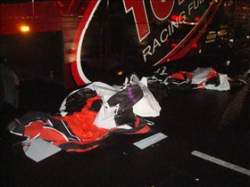 Wonder Warthog Racing is probably going to need a new awning after the Houston wind storms.

photo: Jason Weigandt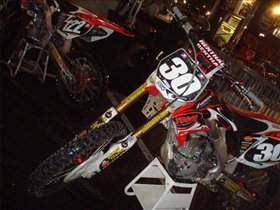 Jake Weimer crashed on the last lap of the Lites main and busted his front fender off—but he at least proved he can put in 14 3/4 consecutive good laps.

photo: Jason Weigandt

Steve Cox
added: Luckily for the racers and fans (and especially for Kevin Windham
and Austin Stroupe
), Houston's Reliant Stadium has a roof. Certainly, motocross and supercross are said to run "rain or shine," but it's hard to say if this race would've run in tornado conditions. Those who left their awnings down in the pits had them torn to shreds by a tornado that touched down nearby. Witnesses said that just before it hit, it got really calm in the pits, and cold, and then all of a sudden, the wind ripped through and immediately lifted and destroyed all of the awnings.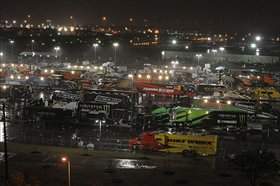 The Houston pits from afar.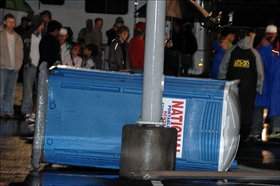 Hope someone wasn't in there!


Weege continues: We're a week and a half away from the first Can-Am Grand National Cross Country round, which takes place on Tuesday March 4, in Melbourne, Florida. That's about an hour from Daytona and maybe a day's flight from Melbourne, Australia.

Travis Pastrana is racing Florida (!) to try to get some revenge on "The Behemoth Ballerina," which is what he calls David Knight. Knighter whips up on TP every year at the Erzberg Enduro. Knight's been racing and testing in Europe for months already, and he should be joining the Red Bull KTM off-road team in Florida right about now to put the finishing touches on his program. Word is that Knight is looking to really dominate things this year since he lost a few races late in '07 (EnduroCross, Last Man Standing) and wasn't happy about it.

While we're on the subject of Travis, did you see what happened to Jackass star Johnny Knoxville when he hung out with Pastrana?

The FMF Suzuki team is down in Florida now, too, after two months of testing and training at Rodney Smith's boot camp in California. Team Manager Mike Webb told me that Charlie Mullins is not only in better shape than ever, but he is also beginning to feel the confidence that being in such great shape creates. He'll be dangerous this year.

And Am-Pro Yamaha is always tough, with Barry Hawk and Jason Raines primed for battle. Throw all of the top GNCC stars and Travis in the mix and it should be a fun one!

Earlier this week we also posted a GNCC Video Report, which takes a look back at David Knight's 2007 Can-Am GNCC championship season. Check it out over on www.gnccracing.com.

And speaking of GNCC videos, Gear Racewear's John Ayers sent us this note: "Check out the music video and the song based on GNCC. The band is Ten Man Push; the lead singer is related to Rodney Smith's wife. Anyway, watch the music video, "In the Dirt"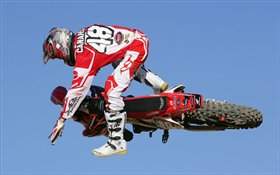 Trey Canard is making his AMA SX debut tomorrow in Atlanta.

photo: Simon Cudby

That's it from Weege. If you still want more, just tune in to the Supercross Live! webcast on www.supercrossonline.com this Saturday night at 7:00 P.M. EST to listen to both Jason and Jim Holley call all of the action from the Atlanta Supercross. You can also watch Atlanta on CBS Sports on Sunday at Noon EST. That's 9:00 A.M. out West.

That's right, the Atlanta Supercross is this weekend, which is quite possibly the most well-attended race of the year! If you want to get Revved Up for it, check out Andy Bowyer's column right here. This weekend also marks the opening round of the Eastern Regional Lites class, and instead of running down the entire line-up here, just check out this in-depth East Coast Lites preview that we posted up yesterday.

On Monday we asked all of you who do you think is going to win the East Coast Lites opener in our Online Poll. So far Ryan Villopoto has earned 75 percent of your votes, and Josh Grant is second with 9 percent. If you didn't vote, go do it right now.

Also, this is the second track of the season which was designed by a rider. Monster Energy Kawasaki's James Stewart designed the layout, and in the Souvenir Yearbook he says, "With my track design I just wanted to design a track layout that will hopefully allow for good racing so those Georgia fans leave the race stoked about the race we just put on for them."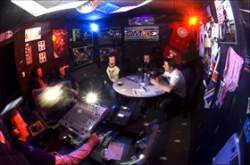 A sneak peek inside the world-renowned DMXS studio.

photo: Tony Scavo

Atlanta is also the stomping grounds of Kevin Kelly, David Izer, and the entire DMXS crew, and they, along with Red Bull, will be hosting their 5th annual pre-Atlanta SX Party in downtown Atlanta TONIGHT at 7:00 P.M. at Moondogs in Buckhead. Enter 3179 Peachtree Rd. NE in your GPS to find it. (Cross Street: Grandview Avenue NE) Or call them at (404) 231-4201. If you're still in town Sunday, be sure to make your way up to Bremen Motocross Park for the annual Ride for A-T charity and auction. Check out www.Ride4AT.com for more information. They have raised more than $200,000 to date, and hope to set a new record this year.

Now's a good time to give a shout out to Atlanta's Racer X Gas Card sponsors, who in addition to Racer X, both put up $250 to give to the third-place finisher in the SX class LCQ. So thanks to Mototalkers Rob Mundt and Luis Mora. Speaking of the Gas Cards, in Houston last weekend the Moto XXX/Hooters Honda team swept both the Racer X Gas Card (Eric Sorby) and Asterisk Medic Card (Ryan Grantom) which we think is a first.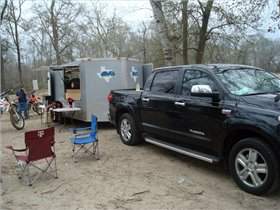 Rick Humphreys tugged the pit area for Toyota ride day behind his Tundra.

photo: Jason Weigandt

I also want to give a special thanks to Scotty LaLonde, Rick Humphreys, and all the guys at Toyota for inviting Weege and I out to their ride day at Three Palms Extreme Sports Park in Conroe, Texas, last Friday. It's been a while since either Weege or I had ridden a dirt bike, and Three Palms provided six different tracks for us to ride on, although we only needed one! The soil and track prep was above and beyond what we could've expected, and it was a great time for everyone, which included Live Nation's Todd Jendro, Dave Muye, and Aaron Anderson, among others. For more information about the impressive Three Palms facility, you can visit them online at www.threepalmsesp.com.

Not sure what the reaction was like at Indy, but in Houston everyone was in awe of the size of our latest issue of Racer X (April 2008), which weighs in at a whopping 396 pages. It's our 10th Anniversary issue and it's packed with some great features, including the story of how the magazine was first started. Kevin Windham is featured on the cover, and after he saw it he was so pumped that he went out and won the race—his first win since Anaheim 1 in 2005! So is the Racer X cover curse over? It sure looks like it. If you don't subscribe, you should. Click here for more information, or check out a trial digital edition right here.

In all of Weege's rambling above, he failed to mention that last weekend was the first professional win for Austin Stroupe! Congratulations to the young Monster Energy/Pro Circuit Kawasaki rider, who looks to be the second coming of Ryan Villopoto. Seriously, there's a lot of similarities there that we will be writing about in Bench Racing Ammo very soon.

Scott USA's goggle rep, John Knowles, told us after the Houston main events that he's taking some credit for Stroupe's first win: "Austin wasn't staying focused during the races so I told him he had to come up with something to do every lap. RC would always grab his helmet, so I told Austin to concentrate on pulling at least one tear-off every lap. He did it and he won."

Stroupe also said that he changed up his program prior to Houston and spent more time on the bike. Word has it that this week Mitch asked him to ride more, and he pounded out more motos. We talked to him on Supercross Live! Saturday morning, and Austin said if he wins, he'll ride every day for the rest of his life. "Anything for a win!"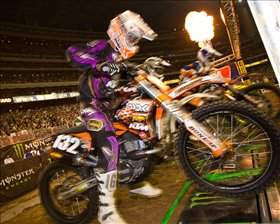 Will Lano switch to a 450 on the East Coast?

photo: Will Pattison

The AMA Supercross class turnout in Houston looked a bit light—there were only 32 riders in the night show, and there were only 12 riders on the gate for the LCQ. Now that the series is heading East, rumor has it that some Western Regional Lites riders might be jumping up to the premier class. So far we heard that Billy Laninovich and Gavin Gracyk may be doing this. For more on that, let's turn it over to Steve Cox.

Saturday at San Diego, I sat down with Ryan Holliday and Jeff Canfield and went through all of it, and that rule still stood as of then. According to them, the AMA sent out an update to their rules before the season, and the change was that riders could use the points they earned THIS YEAR to move them into the 450cc class for supercross THIS YEAR. That rule included earning 20 points in Lites SX as one of the possible requirements to ride 450s. So, if a rider in the West earned 20 points this year, they can ride 450s on the east, if they couldn't already.

However, Laninovich already could. So could Gracyk, as he met another requirement for 450cc SX (100 points outdoors).

And check this out: Cole Siebler finished 20th in points last year in the 450cc class with only 51 points scored, and by rule, it made it so that he could not race the Lites class this year. So, if Laninovich or Gracyk score enough points (maybe only three top-five finishes could do it), they will be booted from the Lites class next year.

Jason Weigandt also talked to Holliday, who added that the rule currently only prevents riders from racing Lites next year, not this year, so Laninovich will be allowed to race Lites in Seattle and Vegas no matter what. But, and this is big, they're in the process of changing the 2009 rules as we speak, and they have to get an answer to the teams this week so we should know what's up before we get to ATL.

Apparently some big hitters have asked to race 450s on the East. Like Dungey (which we're not allowed to know or print yet) and it all depends on these new rules. I would expect the point out rule to go away.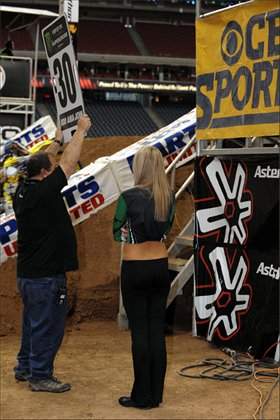 Cliff Nobles teaches "30-second card 101."

photo: Steve Cox

One of the funniest things to watch every week on the floor of any supercross happens before the fans get a chance to join the fun. This is when Cliff Nobles from Live Nation teaches the weekend's 30-second girl the proper way to hold the board above her head. "No, don't hold it upside-down, but definitely shake your booty like this…"

Moving on, last weekend was also the running of The Great American Race, the Daytona 500. Andy "Car of Tomorrow" Bowyer was on hand, as well as James Stewart and family. In fact, on Sirius Radio they even said that Stewart and his family attended the Daytona 500 as guests of DEI's director of competition, Max Siegal. Simon Cudby was also in Daytona, and he said, "Randy and Zack Bradshaw were in attendance at last weekend's Daytona 500. Randy works on the pit crew of the #48 Lowes car of 2007 champion Jimmie Johnson."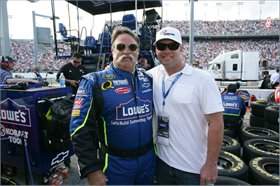 Randy and Zach Bradshaw at the Daytona 500.
photo: Simon Cudby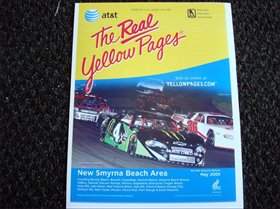 Look who's on the New Smyrna Beach phone book!

photo: Scott Taylor

The Metal Mulisha is doing a freestyle demo at this weekend's Sprint Cup race at California Speedway. Click here to read more.

Also, Trigger was featured on the MTV Jackass 24 Hour Takeover.

Freestyler Robbie Maddison stopped by Cudby's studio this week for a Racer X Films interview. Robbie talks about his New Year's Eve record jump, and about what 2008 has in store for him. View the film at www.racerxfilms.com

The qualification process for the 27th Annual AMA Air Nautiques Amateur National Championship Finals will get underway this weekend at Lake Whitney Cycle Park. The weekend schedule has been posted on www.mxsports.com along with a new edition of The Pulse.

We urge every participant to review the 2008 supplemental rules and class structure before attending so they may enjoy as smooth a weekend as possible. Everyone in the MX Sports office sends sincere good luck wishes to all.

I'm dying to hear some more stories from the annual Indianapolis Dealernews Tradeshow. This was the first year I