Hello, everyone, and welcome to the Rev Up. We've reached a pivotal moment in the 2008 Monster Energy AMA Supercross Championship. Ricky Carmichael always said something to the effect of, "I just want to make it out of the West Coast rounds with the points lead, then I'll put them in the hurt locker when we go East."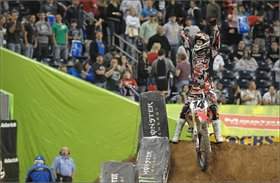 Windham still got it.
photo: Steve Cox
Over the last few seasons we've seen supercross absolutely explode during the East Coast swing. From "fuel gate" to
Chad Reed
vs. Carmichael in 2005, to extraordinary exploits in the Lites class, Atlanta always burns. In addition, I believe the Atlanta Supercross has become our Superbowl. Anaheim 1 is always huge, but when you consider that over 72,000 of the most core supercross fans on the globe will pack the inside of the Georgia Dome this Saturday night, it's hard to argue that this is the biggest supercross of the year.
As we approach week eight the series has some serious juice. Just when everyone was looking for Reed to win on out,
Kevin Windham
proved that he still has the right stuff. Plus, we've got a fresh pack of young lions that are ready to eat with the East Coast Lites group.
Moving along with the theme for this week,
Thunderdome
was my third favorite Mad Max film, but it was still bad ass. The idea behind
Thunderdome
was that it was a place to settle disputes. In my eyes the Georgia Dome matches this scenario nicely. The first thing you'll hear after the opening ceremonies is the thunder of the first Lites class rattle the roof. As for the scores that need settling? We've got 20 different ones for each class come main event time. Let's get Revved Up for Atlanta.
Lites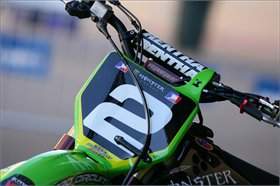 Villopoto will be debuting the deuce in the ATL.
photo: Simon Cudby
It's been a long time since we've seen
Ryan Villopoto
ride. Since then, he's suffered a broken collarbone and undergone wrist surgery. How will that play into his game? Last season the 2007 Rider of the Year could do no wrong. He was the undisputed master blaster of the Lites class and stayed down another year to finish growing into what most in the industry call the future of the sport. I don't know, it could get ugly with the new #2. Sometimes a little time off makes you even faster.
The rest of the usual suspects? Well, Josh Grant has been banging on the door of a divisional championship for a long time. He can ride supercross as good as anyone, and if he can stay healthy I think he can get the job done if RV Park stumbles. After him I see Florida's Matt Goerke and Ecuador's Martin Davalos being big surprises. Then, we've never seen Dominic Izzi or Trey Canard ride supercross before. How will the rookies fare? I just hope they ride smart and keep the rubber side down.
Another big name in this class is Monster Energy Pro Circuit Kawasaki's, Branden Jessemen. He'll be rolling out the #77 KX250F machine and that kind of makes me smile. And don't forget about the man that almost won the title last year, Ryan Morias. He's been around the block and could be a title threat again.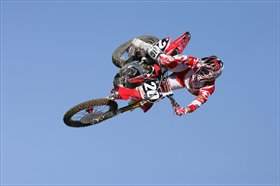 Josh Grant expects nothing less than a championship.
photo: Courtesy of Torco Racing Fuels Honda
My dark horse for this race is Florida's
Kyle Chisholm
. If they build a nasty set of whoops, look for Kyle to put it on the podium, or better. This group will be exciting that is for sure.
Supercross
It isn't over yet. We're not even to the halfway point of the series and anything can happen. Kevin and Davi Millsaps have been nipping at Reed's heels for a few weeks and Kevin finally decided to drop the hammer. Atlanta is a perfect race for something big to happen. Chad Reed is the all-time king of podiums I think. Even Jeremy McGrath had a bad race now and then. I don't think I can remember the last time Reed finished out of the top five. He is on a gnarly podium streak, but everything that has a beginning has an end. Parts break, riders make mistakes, and sometimes bad luck bites. Not to wish anything bad for "two-two" at all; I'm just trying to point out how quick and easy we could have a points battle on our hands again. We're just a breath away from having a five-rider battle for the title if Reed bobbles. Although he's headed east with a healthy points lead and he always rides the second half of the series strong.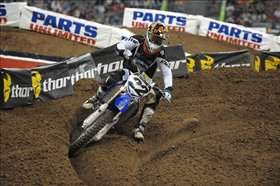 How will Reed fare in the East?
photo: Steve Cox
Supposed to be some West Coast Lites guys coming over too. How fast in Dungey on a 450? Probably pretty fast!
I said it once and I'll reiterate, the Atlanta Supercross has become the biggest indoor race in the world. Some of the greatest supercross races in the history of the sport have taken place in Atlanta and it looks like we have quite a fight on our hands for this Saturday night. Only one place to settle a disagreement like this. It's time to take it to the Thunderdome.
Thanks for reading, see you next week.