Eastern Regional SX Lites Preview
This weekend's Monster Energy AMA Supercross in Atlanta marks the opening round of the Eastern Regional Lites series—the Anaheim 1 of the East, if you will. So to get you up to speed on some of the Lites contenders you'll be seeing or hearing or reading about this weekend, here's a little preview, in no particular order. You can also check out the official pre-entry list by clicking here.
Honda Red Bull Racing
979 Ben Coisy
Residence: France
Frenchman Ben Coisy, as it was just officially announced, will fill in for the injured Ben Townley, who broke his foot prior to the 2008 season opener. Per the press release, "The 23-year-old Coisy has been racing Honda CRF250R and CRF450R machines for the last four of his six years as a professional racer, and he brings a wealth of Supercross experience and determination to the Honda Red Bull Racing team."
Torco Racing Fuels Honda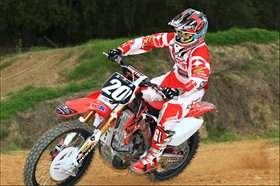 photo: Randy Yoho

20 Josh Grant
Residence: Riverside, CA
Josh Grant is probably favored as the most likely rider to challenge Ryan Villopoto for this year's title. He won three supercrosses in the 2006 East series and the 2007 Mt. Morris National, and he's looking to regain his winning ways as the SX series heads east. "I'm so pumped about the new season and my new trainer and the program that we have going on," Grant said. "I'm really excited about everything. I expect nothing less than the championship. I mean, I feel like I deserve it, and I feel like I put in my time and my work and effort into winning the championship, so I think that if I do everything right, and I keep my head on straight, I should have a real good chance of winning it."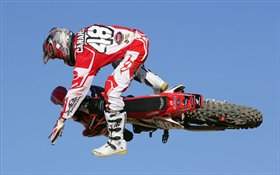 photo: Courtesy of Torco Racing Fuels Honda

48 Trey Canard
Residence: Elk City, OK
This will be Trey Canard's rookie season in supercross racing. A multi-time amateur champion, Canard turned pro at the Spring Creek National in 2007 and contested the last four AMA Nationals of 2007 for the Amsoil/Factory Connection team, which is now Torco Racing Fuels Honda. His best finish was a fifth overall at Freestone Raceway in Texas, and his best moto finish was a fourth. Canard proves to have the speed outdoors, but his Supercross experience is limited.
Rockstar/Makita Suzuki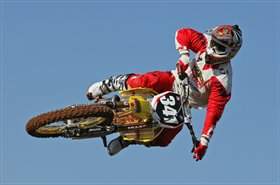 photo: Courtesy of Rockstar/Makita Suzuki

341 Nico Izzi
Residence: St. Clair, MI

Nico Izzi has been groomed by American Suzuki since he was an 85cc amateur racer. He has delivered multiple championships and was signed on to the factory team in 2007. Izzi put in some great rides at the last four rounds of the AMA Toyota Motocross Championship, a fifth-place overall being his best finish. Izzi is a great motocross racer, but similar to Canard, his supercross skills are unknown. On the bright side, fellow rookie Austin Stroupe just bagged a win on the West last weekend in Houston!
Monster Energy/Pro Circuit Kawasaki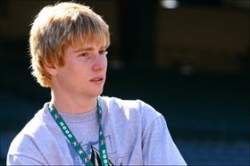 photo: Matt Ware

2 Ryan Villopoto
Residence: Poulsbo, WA

There were a lot of rumors flying around regarding Ryan Villopoto's health and if he'd be ready in time to race Atlanta, but earlier this week Ping talked to RV, who said, "I've been riding and things are going pretty well. Bones [Jim Bacon] stayed back last weekend and we did a bunch of testing to get ready. I'm riding again today and tomorrow and then I head to Atlanta for press day. My wrist actually feels pretty good. And my fitness is okay, too. I tested all day and still did a moto when we were done last weekend. So, I don't think fitness is going to be a problem at all." RV2 is last year's West Region SX Lites Champ. If he is ready, it's bad news for the competition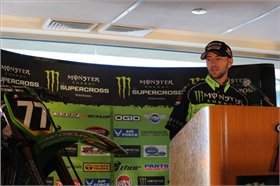 Branden Jesseman

photo: Steve Cox

77 Branden Jesseman
Residence: New Brighton, PA
The Monster Energy/Pro Circuit Kawasaki team originally hired Frenchman Christophe Pourcel, the 2006 MX2 World Champion, to contest the 2008 series, but unfortunately he suffered an injury which has sidelined him indefinitely. Mitch Payton thus had a spot to fill and had a tryout for a few riders. 2003 Eastern Regional 125cc champion Branden Jesseman impressed Payton enough to get the ride. Jesseman hails from Pennsylvania and his most recent Lites win came last year at the Orlando Supercross aboard a Motoworld Racing Yamaha. Replacement riders have a great history at Pro Circuit, just last year Darcy Lange filled in for Brett Metcalfe and nearly won the championship. Brando works really hard and is well aware of the golden opportunity he has.
Boost Mobile/Yamaha of Troy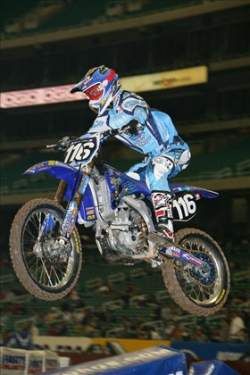 photo: Simon Cudby

116 Ryan Morais
Residence: Canyon Lake, CA

Last year Ryan Morais came within three-points of winning the Eastern Regional Lites title last year, and he's back in 2008 trying again. The Boost Mobile/Yamaha of Troy pilot has been racing professionally for quite some time now, but 2007 was far and above his best season to date. Morais has the experience and a great bike—as Jason Lawrence is proving out West—so this just may be his year.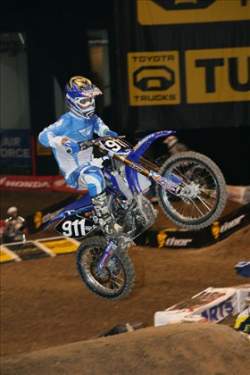 photo: Simon Cudby

911 Tyler Bowers
Danville, KY

Another rookie is Kentucky's Tyler Bowers. A highly-regarded amateur with numerous championships, Bowers is so big that he jumped out of the amateur ranks early and decided to race in the now-defunct BooKoo Arenacross championship in 2006. He gave Lange quite a run for the title. The YoT team loves his style and knows he has talent, but like all rookies, Bowers' experience is limited. He has shown potential indoors with arenacross—but AMA Supercross is one-of-a-kind.

MDK KTM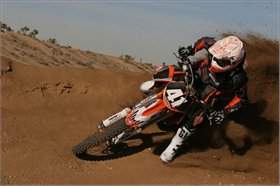 photo: Courtesy of MDK KTM

41 Matt Goerke
Residence: Lake Helen, FL
Last year Goerke rode for Yamaha of Troy and rode well in Atlanta, and then promised to win the second race in St. Louis. He didn't win it but he left the race tied for the points lead. It went downhill from there when a wrist injury slowed his drive. Now Goerke is back riding for the new MDK KTM Lites squad.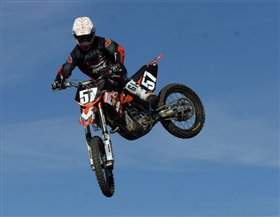 photo: Courtesy of MDK KTM

57 Ryan Sipes
Residence: Vine Grove, KY
Speed has never been a question for Ryan Sipes, but he's had a tough time keeping it together. Last year he rode for Amsoil/Factory Connection Honda but crashed hard while testing (which actually prompted David Bailey's Leatt-Brace video), and then broke his leg in a wild crash in Orlando. The question now is if "Hinz #57" can find his old speed again after a few setbacks and a switch to a new team.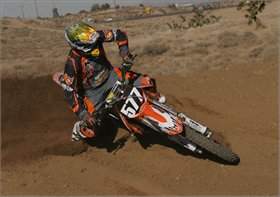 photo: Courtesy of MDK KTM

577 Martin Davalos
Residence: Cairo, GA
Davalos is a serious threat for this year's title. He's actually considered "full factory" MDK KTM rider like Nick Wey is on a 450, where Goerke and Sipes are considered satellite riders. Last year Davalos struggled to get his confidence up in supercross, but once he started rolling his results got better, and by the end of the summer he was up front every weekend in AMA/Toyota Motocross. Now in his third pro season, Davalos is ready to win.
Motosport Xtreme Kawasaki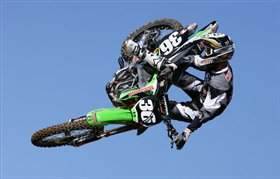 photo: Simon Cudby

36 Kyle Chisholm
Residence: Seminole, FL
From the Kawasaki Racing website: Kyle Chisholm is entering his 11th year as a Kawasaki rider. He began his career with Team Green™ on a KX™60 at only eight years old and has since won numerous championships as an amateur and professional. In 2008, he continues his drive to be out front and add another championship to his resume.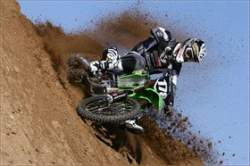 photo: Simon Cudby

178 Phil Nicoletti
Residence: Cochecton, NY
From the Kawasaki Racing website: After making his mark on the amateur ranks, Phil Nicoletti makes his professional debut in 2008. His consistency in the amateurs caught the eye of the Motosport Xtreme Kawasaki team and now he's gearing up for his first full year as a professional. Nicoletti started his racing career on Kawasaki's and now he is back to start his professional career on the green machine.
Lucas Oils/Star Racing Yamaha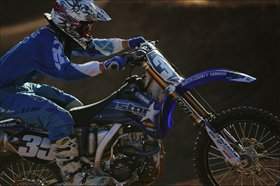 photo: Courtesy of Lucas Oils/Star Racing

35 Broc Tickle
Residence: Cary, NC

2007 was Broc Tickle's rookie season racing Supercross, and it had the typical rookie ups and downs. He failed to qualify for the main in Atlanta, but then finished fifth the next weekend in St. Louis. Broc's a tough kid and he really found his form outdoors, running consistently in the top ten over the summer. Looking to build on that, Tickle returns with the Lucas Oils/Star Racing Yamaha team this year.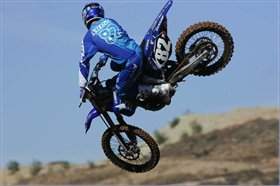 photo: Courtesy of Lucas Oils/Star Racing

82 Jake Moss
Residence: Australia
Australian Jake Moss came to the United States in the latter part of 2007 for a shot at success in America. We spoke with Jake Moss on his preparations for American supercross.
"I have been testing a lot," begins Moss. "It has gone really well, pretty much according to plan. The bike is the best I have ever ridden, it is absolutely unreal. We went with a different set up than my teammates, but the team did an awesome job of getting the power right where I wanted it and the suspension is dialed. I have learned a lot, because at first I was wanting to pin it everywhere, but now I know I need to slow down to go fast which has really helped me to be super smooth.

"As far as the racing and the competition, I feel I have been ready for a month now. I am eager to see where everybody else is at during the first race, I know they will be tough. After that I am here to win, but I want to be consistent and we will see what happens.

"I really have to thank everyone on the Star Yamaha Team for making this all come together, from Bobby to Brad, Donovan and everybody else back at the shop. Plus Chris and John who have been going to the track with me and the gym and working on my practice bikes. We have an awesome race bike and I just can't wait for Atlanta!"

DNA Energy Drink/BTO Sports/Rick Case Honda/BBMX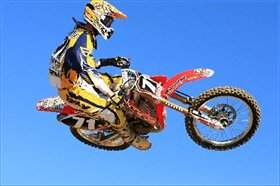 Kyle Keylon

photo: Randy Yoho

71 Kyle Keylon
Residence: Brooksville, FL
Kyle Keylon began his professional career after Loretta Lynn's last year and went straight into the 450 class, putting in some top 20 rides. We talked to DNA Energy Drink/BTO Sports/ Rick Case Honda's team manager Forrest Butler about the young Keylon. Forrest said, "Kyle is looking really good. He has a very cool style on the SX track and flows real well. He also is the type of racer that always seems to step it up come race time when he needs to. He is a good starter and I think he will be able to run the pace when he needs to. Atlanta will be his SX debut, so we will see! He is excited, and so are we."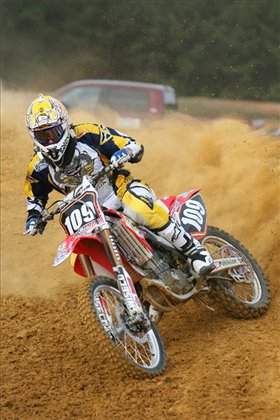 photo: G2 Photos

109 Matt Boni
Residence: Geneva, FL
"Matt Boni is big for the class, but is such a smart rider I think he is going to surprise a lot of people this year," says BBMX's Forrest Butler. "He has raced and beaten every kid in the front of that class in the last few years and that gives him a lot of confidence. He is coming off an injury, so he might not be 100 percent at Atlanta, but I am betting you will see him in the top five come Daytona. He is a bad dude on a bike, period."

Suzuki City/OTSFF/Rockstar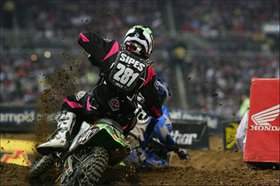 photo: Paul Buckley

79 Justin Sipes
Residence: Vine Grove, KY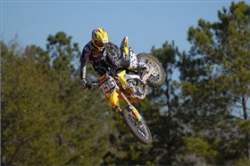 photo: Kaelyn Sheedy

156 Willy Browning
Residence: Rushville, OH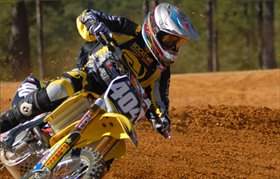 Tyler Medaglia

photo: Kaelyn Sheedy

404 Tyler Medaglia
Residence: Kemptville, Ontario, Canada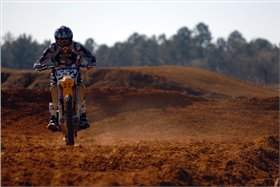 Freddy Karrle

photo: Kaelyn Sheedy

552 Freddy Karrle
Residence: Hobart, IN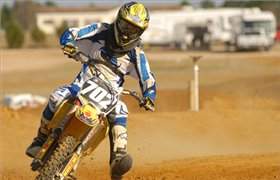 photo: Kaelyn Sheedy

702 Jimmy Albertson
Residence: Ozark, MO
From an official press release issued earlier this year: "U.S. Suzuki in California brought Suzuki City and OTSFF together," explained Andre Laurin of OTSFF. "They knew we wanted to get something going for the winter and through American Suzuki we were set up with Suzuki City in Mississippi. Even at this early date the new team has already picked up support from Rockstar, RG3 suspension, One Industries, Suzuki Genuine Accessories and Crew Wear, American Suzuki, Millsaps Training Facility, Beef O'Bradys, PR2, Hindle, Alpinestars, Twin Air, and CV4."
The team is a mix of young riders, some with experience racing the Canadian nationals. And if they switched the Lites class to minibikes, Browning would be a title favorite!

Team Solitaire/MB1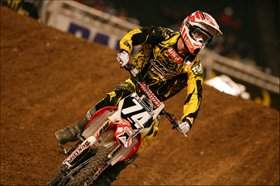 photo: Paul Buckley

95 Kyle Partridge
Residence: Menifee, CA
Kyle Partridge had a couple of breakthrough rides last year during the Lites West Championship riding for MB1 Honda. He's a dark-horse on the East this year. "The first round, I'm shooting for top five," Partridge said of the upcoming Eastern Championship. "As the season moves on, I'd like to progress and be on the podium all of the time. I think that's where I really belong."
Team Manager Ryan Clark is really pleased with the performance of his team's Lites bikes, as evidenced by Bobby Kiniry's podium finish two weeks ago in San Diego.

Moto XXX/Tamer/Hooters Honda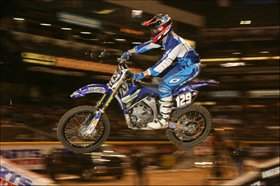 Vernon McKiddie

photo: Paul Buckley

129 Vernon McKiddie
Residence: Huffman, TX
After a good learning year in 2007, McKiddie is ready to step it up for 2008. In 2007 he made half the mains after only having two weeks of preparation before the first round. His results improved throughout the season. His best finish came at the last race in Seattle with a 13th place.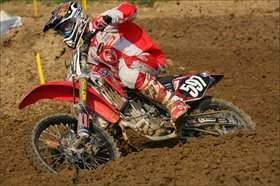 Mitch Dougherty

photo: Paul Buckley

597 Mitchell Dougherty
Residence: Whitesboro, NY
After completing a very successful amateur career, Dougherty once again tried his hand in the pro ranks in 2007. After a limited 2006 season and only his first full season in 2007 Dougherty is looking forward to a Supercross & Motocross Lites season with Moto XXX for 2008. Last year Dougherty completed his first full season of Motocross Lites class. He qualified at 10 of the 12 rounds with a best finish of 21st. He spent most for the offseason in California preparing for the upcoming 2008 AMA Supercross Lites East coast championship.
Chaplin Kawasaki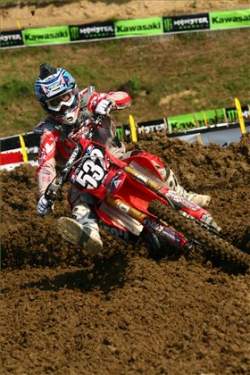 photo: Matt Ware

75 Ricky Renner
Residence: Mulberry, FL

Ricky Renner is going into his first full Supercross season after some impressive performances in 2007. He got some help from Ryan Clark's Team Solitaire squad last season, but is switching brands to Chaplin Kawasaki's satellite program in '08.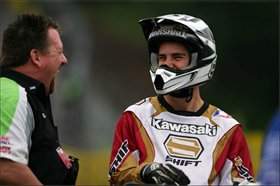 photo: Paul Buckley
89 Robby Marshall
Residence: Stow, MA
Massachusetts' Robby Marshall is a lightning fast product from the NESC, and he can run with anyone when the racers come to Southwick. His supercross experience is limited, but he has good support from Chaplin Kawasaki, which is a top regional Kawasaki dealership based in Connecticut. Marshall should be a regular qualifier in the Lites class.
WWR/MDK/DeCal Works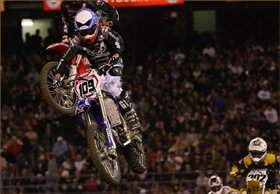 Tyson Hadsell

photo: Paul Buckley

97 Tyson Hadsell
Residence: Hudson, FL
Hadsell will be one of the veterans in the Lites class, and he should have no problem at making main events. A top 10 isn't out of his reach.

722 Jase Lewis
Residence: Carollton, GA

A recent amateur graduate, Jase Lewis is highly-regarded in the state of Georgia, especially by DMXS Radio's Kevin Kelly and David Izer. Unfortunately, we read over on Vurbmoto.com that Lewis broke his collarbone and will be watching from the sidelines.

Atomic Racing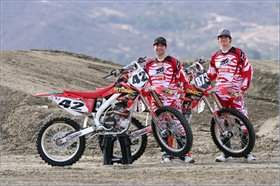 Jack Carpenter #873

photo: Simon Cudby

873 Jack Carpenter
Ithaca, NY

The cousin of #42 Paul Carpenter, Jack Carpenter is the Lites-class member of the newly formed Atomic Racing/Fox Honda team, based out of New York state. Jack is a top privateer who should be a regular qualifier in the main events.