The thing about "sure things" is that you should never bet on them. Take the New England Patriots, for instance. They were going to win it all, and they almost did—all but one. Or look at Monster Energy Supercross: I count myself as one of the many who thought James Stewart was going to dominate again, and now I am humbled by the dominance of Chad Reed, who is doing exactly what he promised he would do at the press conference back in Anaheim—winning races. Thank goodness I didn't bet my entire career on what everyone thought was a sure thing….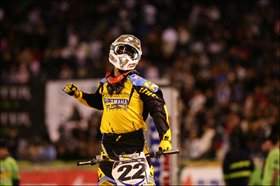 Chad is rolling east with a four-race winning streak
photo: Simon Cudby
In the Lites, three weeks ago I was sure that
Ryan Dungey
had it all wrapped up. Now his lead has disappeared faster than
Hillary Clinton
's, and
Jason Lawrence
is in the driver's seat.
David Bailey
told me this week,
J-Law
is absolutely focused on winning while Ryan seems to be focused on not losing. Now it's going down to the wire.
Lawrence's three-race winning streak has been the talk of the Lites class, and his coach/trainer Ryan Hughes is enjoying seeing things start happening for his young charge. But he says they are doing nothing different, just working according to the plan they laid out together in the off-season.
"I told Jason to just go win races, and you'll take care of every problem," Ryno told me this week. "You will take care of your contract, your sponsors, your bonuses, your everything. Just win. We haven't changed a single thing since Anaheim 1, and it works. Jason's going there completely rested and ready to go. He only worries about winning, and it's working. If you worry about the championship, that's where you start riding defensive, and I think that's what's going on with Dungey right now."
And speaking of the West Coast Lites class, check out the top 10 in points—there's not one rider actually from the West coast!
Western Regional AMA Supercross Lites Class Season Standings
1. Jason Lawrence (Yam) 113 New Jersey
2. Ryan Dungey (Suz) 111 Minnesota
3. Brett Metcalfe (Kaw) 96 Australia
4. Tommy Hahn (Kaw) 92 Kansas
5. Austin Stroupe (Kaw) 88 North Carolina
6. Justin Brayton (KTM) 85 Iowa
7. Dan Reardon (Hon) 80 Australia
8. Gavin Gracyk (Hon) 62 Ohio
9. Broc Hepler (Yam) 59 Pennsylvania
10. Robert Kiniry (Hon) 57 New York
This is a busy weekend for the entire industry, as a lot of us will be splitting time between Round 6 of the Monster Energy AMA Supercross Championship in Houston, while others will be in the capital of Indiana at the annual Dealernews Tradeshow Expo. It was at that very trade show back in 1998 that we first unveiled the first-ever issue of Racer X Illustrated. This year we're unveiling our biggest issue ever, which is 396 pages. So if you're in Indianapolis for the show, stop by the Racer X booth (#1340) and pick up a copy for free. We will also be blogging directly from the Trade Show, as well as positing some Racer X Films with all of the new gadgets coming out.
And if you missed the Racer X Film on "Tradeshow Survival Tips, check it out on www.racerxfilms.com It's hilarious!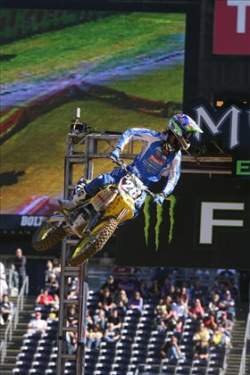 Dungey has got to start looking ahead again
photo: Simon Cudby
But back to Monster Energy SX. First off, make sure you set your DVRs to record the Houston Supercross, which airs Sunday on CBS Sports at Noon EST. And you can listen to the always entertaining
Supercross Live!
webcast with
Jim Holley
and
Jason Weigandt
on
www.supercrossonline.com
. That begins at 9 pm. In the East, 6 out West, and seven if you're in Houston!
Racer X will have all of the coverage online right here, with Steve Cox and Carl Stone on-site, along with Bill Ursic and Weege. Cox has been mixing up the Monday Conversations, spreading the wealth to some extent, though we did tell him we're due to hear from Chad and J-Law if either win again. He just laughed at us, so we might end up hearing from, say, Charles/Josh Summey instead (which would be kind of cool). I do think that his piece with podium newbie Bobby Kiniry on Monday was pretty entertaining. If you missed it, check it out. Also look for a Racer X practice report late Saturday afternoon.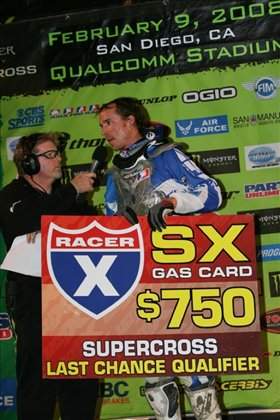 Ryan Clark's night was about to get better
photo: Simon Cudby
How about
Ryan Clark
's night in San Diego? The MB1/Solitaire team owner had another tough go in qualifying and ended up taking the Racer X Gas Card consolation prize. But in the very next race, Ryan watched Kiniry get his team its first podium ever in the Lites main event. In a flash, Clarkstar went from totally bummed to just sort of bummed, and really happy for Bobby.
And what a massive crowd that was in San Diego. The pictures showed full, enthusiastic grandstands, and the race looked fantastic on CBS. Still, it's nice to get out of California for a while.…
Here's an interesting tip we heard about this week: It sounds like Mark Barnett and Glenn Bates may be the guys building the 2008 Daytona Supercross course, with an assist from none other than Ricky Carmichael, the five-time winner of the Daytona SX. The irony here is that as much of a badass as "The Bomber" was as far as training and pure motocross talent goes, he somehow managed to never win the Daytona SX!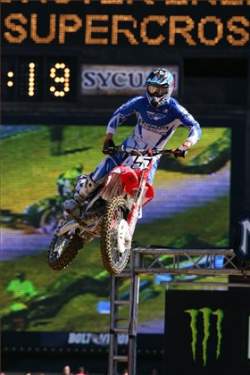 Bobby Kiniry ended up on the box for the first time in San Diego
photo: Simon Cudby
A special thanks goes out to
Nick
at Specialized for helping a few top racers with some training equipment. Specialized is on board with Honda Red Bull Racing's
Davi Millsaps
and MotoGP title contender
John Hopkins
of the Monster Kawasaki team. The two may race in different series, but they share a trainer in
John Louch
.
"They are both young but very mature for their ages, and they are just really hard workers," says Louch of Hopper and The Duke (which sounds like a Rob & Big Show spinoff). "Hopper is quite good at everything—he's still a really good motocrosser—and cycling has helped them both out a lot." As proof of that, Louch points to Millsaps' weight: When they started working together he weighed 210 pounds; he now tips the scales at 194. "That was his first holeshot ever at this level!" Louch says of last week's ride in San Diego.
Unfortunately, an old injury derailed him from a shot at the win once Reed tipped over in the sand section and gave up the lead to Millsaps. "He still has strained ligaments on both forearms, and he couldn't use his front brake very well in the second half of the race, especially going into the sand section. His hand was just locked on. But he's starting to feel confident, and last weekend really helped."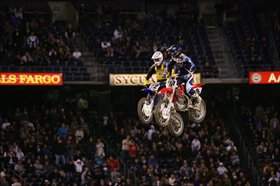 Chad's late spill gave Davi a shot, but he couldn't hold on
photo: Simon Cudby
Here's a good spot to turn it over to
Jason Weigandt
:
I know we've had one rider win five of six events this year, but the racing in the Supercross class has been good. When we started the year off, the field was really deep and just making it into the top ten was tough. Now that Stewart, Tedesco, Langston and Alessi are out, it's a little easier, but still hard. It's actually fun to track who makes the top ten each week, because you have a good mix of riders who probably say "Yes! I got tenth!" and riders who say "No! Tenth sucks!" It's all based on their expectations. Here are a few stats on the top ten:

People are starting to notice that Nathan Ramsey is putting together a good season on the Team San Manuel Yamaha. He has four top-tens in six races. This is good for a rider who was expected to retire in the off-season—in fact, he has scored 24 points more through the first six races this year than he did last year. Conversely, Nick Wey's results have been similar to Nate's, as he too has four top-tens. But last year Tricky was battling Ferry for podiums until he was injured. He only made it to round five of last year's series, but he scored 15 points more in the first five rounds of '07 than the first six of '08. Surely Nick wants more.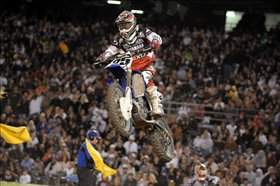 Nathan Ramsey gets our early vote for Comeback Rider of the Year)
photo: Steve Cox

Troy Adams started the year slowly, but now he's got the Rockstar/Hart & Huntington Honda rolling and has gone 9-9-11 in the last three races. That's good for him. On the other end, David Vuillemin is struggling with thumb and knee injuries, but he finally looked like himself at San Diego and grabbed seventh. That's only DV's second top-ten ride this year.

How do injuries become trends? Last year it seemed like riders were hurting their ribs and chests, this year it's hand and wrist injuries. Jeff Alessi is back from his hand injury, but Ivan Tedesco, Broc Hepler, Tyler Evans and Manu Rivas are out with hand problems. Evans just had surgery on his thumb, no word on when he will be back. Tedesco came on our Supercross Live! show and it sounds like he's just looking toward the AMA/Toyota Motocross Championship now (and after watching fellow Honda pilots Davi Millsaps and Kevin Windham run so well lately, IT has to be super bummed about being out for supercross).

Also, Mike Alessi and Eric McCrummen broke their collarbones in San Diego. Doc Bodnar was quick to point out that neither rider wears a Leatt-Brace. Lately some people have been wondering if the brace caused collarbone injuries. Hey, haven't collarbone breaks been around since the day man started riding motocross?
I think Roger Clemens had a better week than the Alessis. First Mike breaks his collarbone, then Jeff breaks his arm practicing, just one week after coming back off another injury. Get well soon to #800 and #801.

In the Lites class, my broadcast partner Jim "Hollywood" Holley predicted Jason Lawrence would win Anaheim 3, and he did. Then he predicted he would win San Diego, and he did. Holley was getting good vibes from Lawrence, but then J-Law decided to do some trash talking on the podium, and now Holley's out of the prediction game because he fears karma may be at work.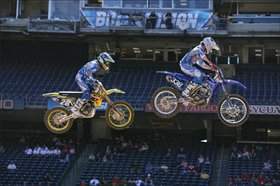 J-Law was doing a little late-practice blocking on RD
photo: Simon Cudby
What did Lawrence say? When we interviewed him on our show, he said, "Yeah have you guys noticed that for the last three weeks, Dungey has made a bunch of mistakes and handed over like 30 points." On the podium, he said, "I was trying to keep tabs on him [Dungey], and he actually crashed, it's the third race in a row that's he's cracked under the pressure."
And Lawrence couldn't care less about the karma. "I'll wear the target on my back my whole life, that's fine," he added. This Dungey-Lawrence battle is such a perfect matchup of opposites. If you go to Houston, keep an eye for them in practice—Lawrence seems to have a way of finding and fooling with Dungey.
By the way, you have to watch the Lites show on Speed this weekend just so you can see
J-Law
's unreal holeshot from the 18th gate pick. He absolutely killed the outside of the sandy first turn.
Lawrence's Boost Mobile/Yamaha of Troy teammate
Zach Osborne
was back in San Diego after breaking his shoulder blade in Anaheim. It's too bad because Osborne turned in the fastest lap of anyone in his Anaheim 1 heat race before getting hurt. He soldiered though in San Diego and managed 13th—he was hurting.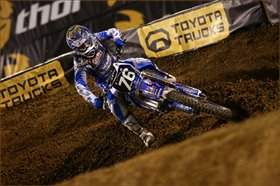 "Six-Pack" Zach was back in San Diego
photo: Simon Cudby
We saw
Daniel Sani
in the pits in San Diego, and he told us he's picked up a ride with the MD Racing Suzuki team for East Region Lites. That's the team that
Branden Jesseman
was originally scheduled to ride for until Monster Energy/Pro Circuit/Kawasaki came knocking. Sani hasn't raced supercross on the East before, but he said, "I heard it's mostly indoor stadiums?" He's right. He'll also have to deal with more ruts than he has seen out West.
We also talked to Ryan Grantom this week, who wanted to let us know what he's been up to: "I signed on with the Hooters Moto XXX team and broke my collarbone at the second round in Phoenix. I am now healed up and ready to race again this weekend in front of my hometown friends and fans here in Houston. All is going good with the team and I look forward to the Outdoor Nationals coming up."
This weekend's Houston event marks the first track on the schedule that was designed by a rider, something new for 2008. The rider who designed this weekend's track is two-time 125cc Houston winner Kevin Windham, who talks about the design in the 2008 Monster Energy AMA Supercross Souvenir Program, which you can purchase on the concourse.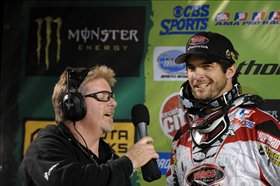 Can Kevin Windham win on a track he helped design?
photo: Steve Cox
"As far as the track design, I didn't really try to design it to my advantage. I just wanted a track that was a little different," says the Torco Racing Fuels Honda pilot. "Probably the most unique obstacle was having the finish-line jump over the start straight, but there was some controversy about whether that'd work. I also had a few rhythm sections that were different than normal.
"My main goal was to have one section that would really stand out and that fans had never seen before. You have a lot of guys who make a living designing these tracks to make racing closer, but I don't think I could come up with that for one track. But I think it's cool having the riders design the tracks. It has to be monotonous for those guys designing the tracks all the time, but I think it's good to have the riders' input."
We got a note from Josh Hansen's mom, Becky, reminding us that Houston is near her hometown, and Saturday is Josh's birthday. "Josh still isn't 100% because of the back injury he sustained almost three weeks ago before San Francisco," wrote Becky. "They're trying to manage his pain, but other than staying off the bike, there isn't much you can do with this type of injury. He's not riding at all during the week, and is trying to race on the weekend. He did pretty good in San Diego in his qualifier (fourth) but landed on a haybale the first lap of the main, and couldn't get his bike started until he was almost a lap down. Let's hope that he will do better in Houston!"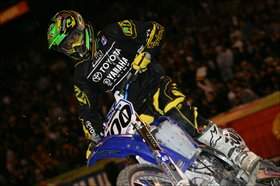 Josh Hansen's back injury is keeping him down
photo: Simon Cudby

Charles Summey went down in a heap at the San Diego Supercross last Saturday night, and he was very slow to get up. We talked to him after the race to find out how he was doing. "I hopped up real quick just out of instinct," the Gibbs Racing Yamaha rider said, "but it kind of dazed me for a minute, so I just sat back down because I was dizzy. Other than that, I was fine." Of course, our photo doesn't show him sitting down. He also jammed his wrist a bit in the crash. "I jammed it real bad at first," Summey said. "It's all right now, though. I'll be ready to go next weekend."
Scott Taylor of Fox Racing let us know that there are a few web spots to follow Ricky Carmichael's progress in car racing. Check out www.speed51.com and you'll spot RC's #92 Monster Energy Chevrolet on the opening page. Also check out www.mustseeracing.com This is a pay-per-view racing website where fans can log on and follow Ricky on a regular basis. Ricky raced with a camera on his roof and an in car camera on Sunday night in the Super Late Model class of the World Series of Asphalt.
"It was fun to see Big Rick Carmichael and Chris Bowyer (Clint's dad) hanging out at a car race this past weekend," wrote Taylor in an email. "It's a new world for Ricky but he's still got some life long friends at the track with him every week." Of course the Bowyer clan has a big race this weekend: the Daytona 500, which may be right up the road from New Smyrna Raceway but is the absolute pinnacle of stock car racing where Ricky hopes to end up one day.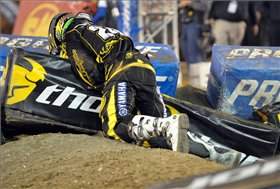 Charles/Josh Summey stacked it up early in San Diego
photo: Steve Cox

Road Racer X's Chris Jonnum spotted none other than Valentino Rossi appearing in the new issue of GQ's Italian edition, riding dirt bikes in the snow with some friends, and he's wearing some of the Fox gear that the Fox gang in Morgan Hill hooked him up with. Here are a couple links to some photos.

Unfortunately, he's wearing another brand of boot, Dainese road race gloves, and has some sort of Yamaha windbreaker on, but you can see his yellow-and-black Fox pants with Yamaha logo in a couple of these photos!
Spotted a blog this week that was really cool over at Chris Hultner's www.amateurmx.com website. It's by Brett Cue, and it's called "Whipped!" The latest includes a funny video of Brett out riding with his friend Derek Ledbetter.
Racer X Publisher and Boise, Idaho, resident Scott Wallenberg was noticing a lack of supercross coverage in the Idaho Statesman, the largest newspaper in the state. A letter to the editor asking about the lack of coverage was speedily replied, and lo and behold…the San Diego Supercross results were printed in the Monday morning edition! Idaho residents can email their thank-yous to Mike Prater (mprater@idahostatesman.com).
My friend and colleague Donn Maeda had a brutal first-turn crash last week that left him knocked out for three minutes. He got a ride in an ambulance to the hospital for observations, and thankfully he was okay, if a little groggy, when I called him Monday to see how he was doing. He then IM'd a video of the crash that pretty much blew my mind. Let's just say he's a lucky man. Donn posted a video of the crash and a safety message on Transworld MX this week that's a must-see for riders.
Congratulations to Kevin Schrantz and wife Michelle on adding a little boy to their family. Cale Schrantz arrived Tuesday evening, February 5, tipping the scales at 8 pounds, 5 ounces.
And here's something from our new man on the beat, Steve Cox:
It seems that it's easy even for a top rider to put on weight when he's sitting on the couch for nearly a year. Since his first race for the Monster Energy Kawasaki squad a week earlier,
Travis Preston
lost enough weight that the Kawasaki mechanics were put to work using zip-ties to secure his pants between practices in San Diego.
First off, our condolences go out to Tony Gardea of Next Level Sports Management, who lost his mother late Wednesday night.
Word has it that Tom Morgan has resigned from White Brothers, although he's sure to land somewhere in the industry.
Kenny Watson emailed us this update on Josh Demuth: "Josh just started to ride this week. He's taking his time, but if all goes well his first race back will be Minneapolis."
And the boys at Pro Circuit called in this week wanting to wish Jim "Bones" Bacon a happy 48th birthday. His birthday was the 13th. They said he hates it when people remember his birthday and he doesn't like the cake or gifts either.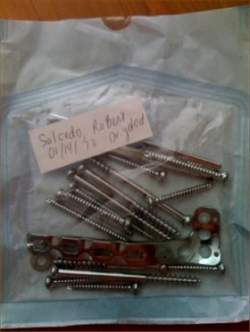 photo: Rob Salcedo
Shift's
Rob Salcedo
sent us this note:
"What's up, guys? Check it out. I had surgery yesterday to remove all the hardware from the leg. Finally over this shit and can start training again, so pumped!"
Dear Racer X,
You have GOT to be kidding! Ten years? Wow, time flies when you're racing, coming back from an injury, raising kids, meeting new friends, and sharing good times. You guys have done such a GREAT job at keeping us informed, entertained, and feeling special. Our world is richer because of the hard work, and dedication you have shown over the years. Congratulations to you and all of your Staff. Keep up the fantastic work, and here's to another 10, plus many more!
Love, Roost, And Block Passes,
Rob and Emily Dresser
The Navy Moto X World Championships are scheduled to take place at San Diego's Qualcomm Stadium on April 12-13, 2008. The event will feature Freestyle, SuperMoto, Best Trick, Speed & Style, Step-Up and Moto X Racing (not sure what Speed & Style is, so maybe Ping will have to figure that out for us). Presale tickets are on sale here (enter the code 'mximxwc' in the promotional code box). The event is owned by ESPN and will be featured in HD on ESPN and ESPN2. For all event information including invited riders, event and telecast schedules, please visit www.expn.com.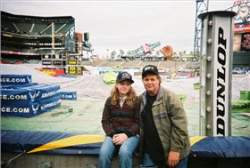 The Dressers say, "Happy 10th, Racer X!"

Ping says, "The speed and style event is new for this year. They did it at Winter X with the snowmobiles. Basically, this is just another event for the freestyle guys. ESPN will set up a track that has ramps and dirt jumps in it. Riders compete two at a time, on side-by-side courses, and are scored on their overall time around the course AND by the tricks they throw along the way. In the end, it is a judged event which is something that would frustrate me. I like racing when there is a clear winner: the first guy to the finish wins."
Like Sondra said, that has Travis Pastrana's name written all over it!
And speaking of Sondra Peters, I checked off the box next to her dad Stu's name for the 2008 Motorcycle Hall of Fame Museum, along with the joint nomination of Geoff and Bob Fox. There are a lot of wonderful motorcycle people up for nomination this time around, including JT Racing founders John and Rita Gregory, 1994 125cc World MX Champion Bob Moore, and the two fastest women of their generation, Lisa Akin-Wagner and Mercedes Gonzalez. One day, all of them will be in the Motorcycle Museum Hall of Fame.
Since the start of the supercross season, trainer Aldon Baker has had his hands full not only keeping his stable of racers in top shape but dealing with James Stewart's unfortunate knee injury. Like most trainers in the industry, Aldon uses the road and mountain bikes as a major ingredient in his training programs both for rehab and conditioning. In this article, Aldon offers up three unique rides from beginner to expert level that he uses to train James, Nicky, Tommy, and Roger Lee Hayden, as well as Nextel Cup driver Jamie McMurray. Go to www.racerxvt.com to read the complete article.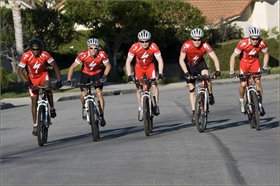 That's James on the left, then Aldon, then the Haydens
It was cool to see
Travis Pastrana
last weekend at San Diego, and the backflip he landed over the finish was a true testimonial to the fact that Pastrana is the single bravest person I have ever known. He never, ever ceases to amaze me.
Next week, the East Region starts, which means the 2008 debut of Ryan Villopoto, the Monster Energy/Pro Circuit Kawasaki debut of Villopoto's new teammate Branden Jesseman, and finally some racing from the new whipmaster Josh Grant, who is featured in the new DVS ad going almost upside down—Renner's got some whip competition! We will also see Honda Red Bull Racing's newcomer Benjamin Coisy and last year's Cinderella story, Ryan Morais, who is the subject of this week's Between the Motos conversation.
And how about Coisy? The kid goes from MX3 Grand Prix racing in Europe to a full-blown Honda factory ride faster than you can see bonne chance! I met Benjamin at the Paris-Bercy SX and he was a really nice kid. I hope he makes the best of the awesome chance he's been handed here.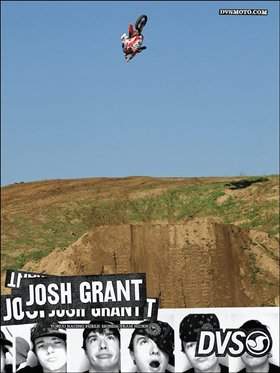 Josh Grant finally gets back on track this weekend
Here's a late note from DMXS's
Kevin Kelly
:
"Just wanted to drop a line and let you know our buddy Shae Bentley has had a rough go as of late. He was working with some riders at our race this past weekend and fell straight on his face, and started to go into seizures. He stayed at the hospital for a few hours, was released and has been back to the hospital twice since this past Sunday. Off the bike has been just as hard as on the bike for the former champ. His shoulder popped out when he passed out, they had to set it back in and it popped out again on Monday."
Finally, here's something pretty cool. How would you like to have your own custom stickers for your truck, notebook, laptop, etc? DeCal Works is now offering this new service that used to be reserved for only large companies.Create your own personal design or DeCal Works will help. check out www.makemyownstickers.com.
Okay, that's it from the road. Big news next week. Hopefully good news. Thanks for reading Racerhead. See you at the races!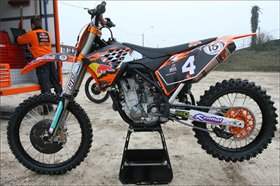 Plons spotted this prototype KTM at Montava last weekend
photo: Plons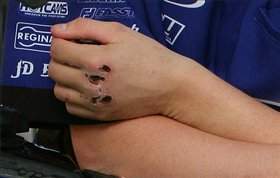 Check out the sprocket gashes on Wil Hahn's hand
photo: Simon Cudby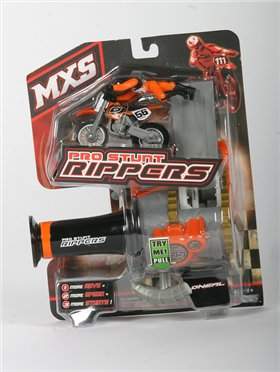 Available now at a Target or Wal-Mart near you
photo: Matt Ware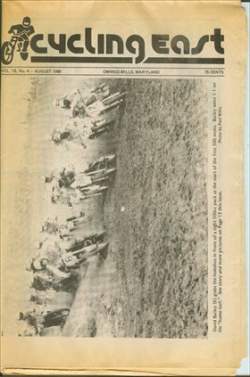 Bailey cover photo by none other than Paul "PDub" Willis!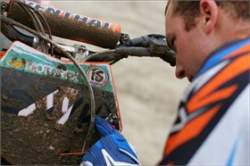 Tyla practices finger roosting
photo: Plons