Between the Motos: Ryan Morais
Ryan Morais was a surprise contender for the East Region Lites Championship in the 2007 AMA Supercross Series. And although a win eluded him all season long, the YOT rider was consistent, smooth, and steady while his opponents results fluctuated. This year, Ryan is determined to get his first win. He has made some big strides in his racing and in his personal life since last year and he hopes they will pay off. And with defending champ Ben Townley out and heavy favorite Ryan Villopoto's wrist questionable, this Ryan is looking pretty good heading into the Atlanta opener.
Racer X: Ryan, what have you been doing during the off-season?
Ryan Morais: I haven't been doing too much. I started riding right after the nationals and had a big crash. I got hurt so I took some more time off. I separated my AC joint, collapsed my lung, fractured three ribs and separated my collarbone from my sternum. I hit neutral going into some whoops and I just slammed into them. So, I started again in the middle of December and I've been riding and training and working on my fitness.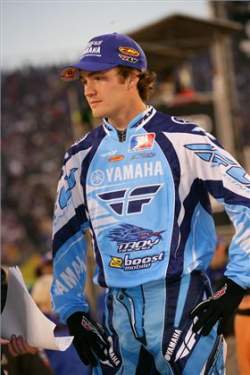 Ryan Morais is a pre-season title favorite on the East Coast.

photo: Simon Cudby

You've got to like the way things look for this series—lots of guys went to the West Region to get away from Villopoto.
Yeah, I think a lot of guys did run from Villopoto. I wanted to do the East form the beginning, no matter who else was riding what. Last year the East was good to me so I wanted to do it again. I've got new goals for this year so I just want to go back in there and be consistent again.
Why do you like the East Region? It seems like a lot more work for a West Coast-based guy to go back there.
I just like to get away from the whole scene here in California. You know how it is—there are so many people around and it distracts you. I like to get back there and just do my job.
What was the difference for you last year? What was the reason for your big improvement in results?
Every other year I have just gotten too excited out there on the track. Last year I was just quietly confident. I let the race come to me and I didn't try to push too hard. Things just worked out for me.
You were often just a couple tenths off of the fastest times last year. What are you going to do in order to find that little bit of speed?
I think this year will be a lot better for me. Last year I was just learning what it was like to run up front and starting to believe that I belong up there. This year, I know that is where I should be. And last year I really struggled with starts. I was usually mid-pack on the first lap. In fact, Detroit was the best start I had all year and I ended up stalling it while running where I needed to be. Hopefully I can improve on that and get to the front sooner.
What was going on with your starts?
I don't know! I had some good starts in the heat races but I was a little anxious in the finals I think. I got stuck in the gate at one of them. I knew I needed a good start and I put too much pressure on myself.
Is anything different about the team this year?
Most of the crew is the same. We have Zach Osborne and Tyler Bowers on board now as riders. Our testing is going well and Jason (Lawrence) is proving that the bike is good out there on the West Coast. It's a good team; I'm really comfortable here.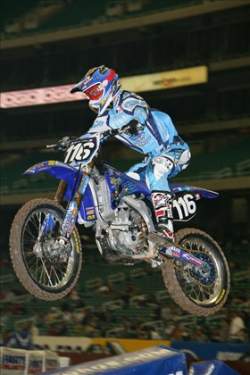 Morais is running #116 again in '08.

photo: Simon Cudby

There is definitely a more laid-back vibe with the Yamaha of Troy team. Some teams are so uptight you could cut the tension with a knife. The YOT team seems like they work hard but they know how to have fun, too.
All the riders already want to win; you don't have to put extra pressure on the riders. They just try to make the atmosphere more relaxed and calm. Just because we joke around and have some fun doesn't mean we're not serious. I think it makes the whole experience of going to the races more fun.
How is Bowers fitting in?
I rode with him back in December a little bit but I haven't seen him since then. I don't know where he's been.
What else is new with you?
I bought a house and live on my own now. I was living with Nate Adams for a long time, so this is a big switch for me.
Nate's place is like the affordable housing projects for struggling racers. There was, like, ten of you living with him at one point, wasn't there?
[Laughs] I think there were six of us living at his place. It was a lot of fun but I just figured it was time to get my own spot. My girlfriend stays with me when she's not in school and during the week I have the place to myself. It gets a little lonely once in a while so I actually just bought a dog. She keeps me company now when I'm hanging out at home.
What kind of domestic things have you been doing around the house?
When I was hurt I actually painted the entire inside of the house with my mom…. I don't ever want to see another paint brush again.
How old are you now?
I'm 24.

When are you going to pop the question to Hannah?
Why? This better not be going in the interview. I'm getting pressure from all angles over here!
[Laughs] No problem. Do you vote? If so, who are you voting for?
I've never voted but I think I'm going to have to this year. Hannah really wants me to so I have to look into it. I don't know much about any of the candidates right now. I'll probably just end up voting for whoever she votes for.
Just like a married man, Ryan…