Monday Conversation I: Bobby Kiniry
Bobby Kiniry isn't a name that was on a lot of lips when people were speaking of the podium threats for the 2008 Lites West SX Championship, but as they say, there's a reason why the races are run. If we knew who would finish where before the drop of the gate, there would be no point in holding the race. Kiniry has shown good speed all season, but it finally came together for him in San Diego, where he got his first-ever AMA Supercross podium. Incidentally, it was also Team Solitaire's and MB1's first podium finish.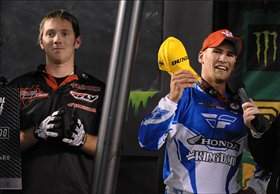 Bobby Kiniry (right) got his first podium finish in San Diego, and his mechanic JR Boyd (left) got the MMI Top Tech Award.
Racer X: Was that your first podium?
Bobby Kiniry
: Yeah, that was my first podium other than like the U.S. Open. But yeah, it was a good weekend. I finally put it together, and my Solitaire/MB1 Honda put me up front off the start, and I just held it together for 15 laps. I rode 15 solid laps. I had three major mistakes that I could've done without, but I think we can build on it and work toward the ultimate goal of winning and being up there consistently. I don't just want it to be a one-time thing, I want to be up there consistently.
It did seem that for a while you were gaining on Tommy Hahn for second, but then all of a sudden, you lost a lot of time...
Yeah, I ended up catching up to Tommy and got within striking distance, and I didn't really get ahead of myself or anything, I just made a screw-up – I messed up one of the on-off sections, and he kind of pulled back away from me. Then I screwed up another section trying to push to catch back up to him. At that point, I just went back into consistent mode and decided to put in the last eight laps or so.
Do you feel like this is a better example of your abilities than the finishes you've had so far this year?
Yes, very much so. I've put in way too much hard work to not be up there. I really feel my mental game is coming around for me. I think that's always been somewhat my problem – I didn't really believe in myself. I've put in so much hard work now that there's nothing to do but believe in myself. I can't thank my team enough, and
Paul Carpenter
for training me, smashing my head in the dirt every week and making me get out of bed in the morning when I don't want to.

Last year, before you got hurt at Washougal, you were basically top 10 every week in the Nationals, but after you got hurt, there wasn't exactly a bidding war over Bobby Kiniry's services for this year. Did that tell you that you had something to prove?
I don't really understand how that worked, because I was top 10 every week. It kind of frustrated me, but I was happy to land where I landed. I'm real happy where I am, and I think it shows in my results. I'm actually more of an outdoor guy. I prefer the outdoors, and it comes a lot more naturally to me, so I'm really looking forward to the outdoor season – especially now that the west-coast season is winding down. I'm really going to shift gears here on our break and start getting ready for the outdoors. I really think I can be up on the podium consistently at the outdoor tracks.
What's with the hat creases up on the podium?
Dude, I'm not from California! I'm from the east coast! That's how we wear 'em. What's with
you
guys?