It's almost here.

photo: Simon Cudby

It's almost here. The coming storm has everyone uneasy. The weatherman said last night that we could expect rain of the level that they the Los Angeles area had in January 2005, and we all remember how that race ended—K-Mud! They are already starting to pair up the animals out here and load them on arks.…

But the rain is late. It hasn't come yet—10 a.m. West Coast time—and it was supposed to start at around 2 a.m. last night. Are the weathermen wrong about their "100% chance of torrential rain"? Man, I hope so.

The track is covered in plastic tarps, but as we saw in a recent Monday Night Football game starring the Pittsburgh Steelers, tarps can't keep all of the moisture out. But the promoters of the 2008 Monster Energy Supercross tour are doing the best rain-prep they can to salvage the track for a good show tomorrow night, when the series kicks off live on Speed TV. For all of the times and listings, check out www.supercrossonline.com.

Yesterday's press conference seemed to have everyone on edge. James Stewart looks cut and confident; Chad Reed looks ready to get back up there and start winning races again; Tim Ferry was his ever-steady self; Grant Langston wants to show he can do SX on a 450.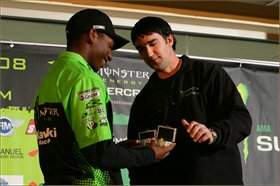 Live Nation's Dave Prater presents James with his championship rings.

photo: Simon Cudby

Ryan Villopoto, on the other hand, will be spectating—he's headed to the East—and Ben Townley's on crutches, and he may be out until summer. Still, he's having a better week than Britney Spears….
So what will the weekend bring, if not a lot of rain? Will the fans watching from the stands see a mudder like A1 '05, or even worse (Seville, Spain, anyone?). And how will supercross fill the giant void on the starting gate that used to be where Ricky Carmichael came to race? RC not being here probably been a big factor in the seemingly lower level of buzz for this '08 season. Of course he's no longer the champion, but he was the one that you could still count on to show up and give Stewart all that he had last season. While we all expect Reed to have more for Stewart than he did last year, what if Stewart—now with trainer Aldon Baker—has more for Reed? That's what has everyone seems to be pondering right now.
As for the Lites class, Yamaha of Troy's Jason Lawrence skipped the press conference yesterday so he could practice dozens of starts in the mud down at the Yamaha test track. The problem is, it wasn't raining yesterday, so he apparently just turned on the sprinklers and flooded the start! Broc Hepler was said to be getting ready to head there and do the exact same thing.
I also heard some troubling news last night: Branden Jesseman may not get to ride for Team Monster Energy/Pro Circuit Kawasaki after all because his old team—the one that was coming together with Jim Chamberlain as manager—might block him. Stay tuned.
Speaking of Pro Circuit, that's where Wes Williams shot a couple of short preview pieces that Jason Weigandt and I did for tomorrow night's race. Check it out later this evening on www.racerxfilms.com.
And finally, like pretty much everyone else, we've been scratching out heads trying to figure out who is riding on which coast and why so many people were keeping their lineups sort of secret. I do know that even the guys at Pro Circuit weren't sure on a lot of counts, but that happens every year—it just seems more so this year. But we do know that Jake Weimer and Dan Reardon are the guys for Torco Racing Fuels Honda out here, Brett Metcalfe and Austin Stroupe for Monster/PC Kawasaki, J-Law is one half of the Yamaha of Troy lineup, and Ryan Dungey will ride for Makita Suzuki. Here are the complete pre-entry lists for Lites and AMA Supercross.
With that, I have another meeting out here that I have to be at—lots going on in the motocross world, obviously. Let me turn it over to Jason Weigandt right here, and I'll see you at the races.
This has now become the tale of two series. On one end we have the traditional A1, the start of the season and all of the speculation that comes with it. You know, that's all of the "I'm super pumped, everything is ready to go, we're finally healthy, I'm just trying to be consistent" stuff you get at the beginning of every season. There are years when fans are practically counting the days until the first race of the year, but this one, unfortunately isn't quite at that level. James Stewart has taken control of the sport, Ricky, Jeremy and Travis aren't racing supercross anymore, and Chad Reed is still on the search for the form that led him to the 2004 AMA title. Right now it looks like James's world, especially since he has Aldon Baker in his corner now and some major fire after watching the AMA Toyota Motocross title slip away last summer. This isn't the perfect storm of 2005.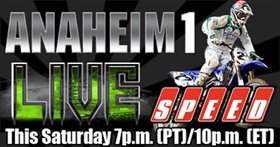 You can't miss this!

Or maybe it is. The storm part sure seems accurate, because weather predictions for rain this weekend are sitting at 100 percent, and unless you're working on the 110 percent scale some racers speak of, it sounds pretty grim. On the other hand, I'm sitting at Hooters next to the stadium right now and everything looks fine to me. And those puffy white socks and white high tops will go perfect with the '80s throwback night out here in two weeks.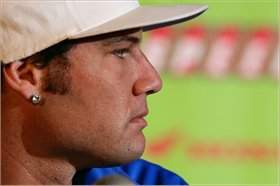 Reedy looks ready.

photo: Simon Cudby

So if it does rain¾and it seems all but guaranteed right now¾you can forget everything you've learned about 2008. The type of rain they're predicting is so bad that the race will become—as Grant Langston said during yesterday's press conference—a lottery. We stopped down at Pro Circuit this afternoon and heard the term "biblical flood." When it rains that bad, even good mud riders can have bad races. If you were looking for something to shake this series up, you may just get it.

There's no sense in even predicting the race if it's muddy, although if you want to, Stewart has proven to be no slouch in this stuff, and you can't forget Kevin Windham, who won that epic mudder here back in '05. But you know, when it was really muddy back then I figured super mudders David Vuillemin and Broc Hepler would take the wins in the 250 and 125 classes and they ended up with seventh and 18th place. If it's bad, you just never know.

My buddy Kevin Kelly from DMXS Radio just called and asked, "Hey, why not just run a 250 two-stroke if the weather is really, really, bad?" That's not a bad idea. I know that all of the GNCC guys will tell you two-strokes are much easier to ride than four-strokes in the mud, and they don't overheat in mud and they start quicker. I recall a few top GNCC guys referring to a 450 as "the plow" in regards to trying to get it to turn in mud. I doubt the factory teams have any 250 parts around anymore, but hey, it would be cool to see (and hear) someone give it a shot. KTM should get the Knighter out here!

I got to host the press conference yesterday and heard the standard "dude, why don't those guys talk smack on each other?" comments. There was a time when I would really blame myself for not bringing more out of the guys, but then I realized that's just the way it is—no human drops that kind of smack down in a room that also includes the person they're talking about. If you look closely, though, you can see where each rider stands. Langston has been clear that he doesn't expect to just show up and beat Stewart straight up, so he'll just do the best he can, put himself in the best position, and hope that when the final points are tallied, maybe he'll be in the lead. But he has to finish all of the races first, which is often tough for him. And I think Reed said exactly what everyone wants him to say: he's out there to win, second and third sucks, and if he has to take some chances or go down every once in a while to try to get a win, he's going to do it. Isn't that the type of fire we all want to see?

Which leads to Stewart, the man everyone is after. It's been a long time since I've seen James look as comfortable with his situation as he did yesterday. The bumps and bruises of the 250/450 class took a toll on him, not just physically, but mentally, and the super-happy kid we knew from the 125 days just didn't look so happy as an adult battling on big bikes. The big class was really the first time James ever faced competition that could challenge him consistently, and it was also the first time the fans and media weren't always on his side. I think that made him uncomfortable, but now that he's getting older and finding his old place at the top of the box every week, it looks like he's loving life again.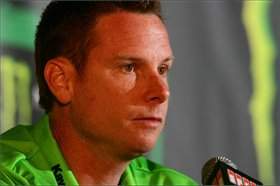 Don't count out Red Dog.

photo: Simon Cudby

James just exuded confidence yesterday, and if everything works out as planned, he really may be the one to take the sport to the next level like we thought he would five years ago. Isn't it odd when you heard people say that Jeremy McGrath and Ricky Carmichael's dominance pushed the sport to a new level of popularity, yet at the same time you hear people say we need close competition and multiple winners to give the fans a show? A few years of James at the top may do supercross just as well as MC and RC's runs did.

Also, the Lites class should provide good racing this year. Ryan Dungey is in along with Jason Lawrence and Broc Hepler, and they're probably the West favorites based on their previous success. But anyone on a Monster Energy/Pro Circuit/Kawasaki KX250F is a contender, so Brett Metcalfe and rookie Austin Stroupe will be in the hunt. And don't forget that Torco/Factory Connection Honda's Jake Weimer won the Saturday night main at the U.S. Open.

It will also be fun to see where all the riders in new digs will fit in throughout the season. Ivan Tedesco, David Vuillemin, Mike Alessi and Nick Wey are on new teams, we've heard rumors all winter about Josh Hill's speed on a factory Yamaha 450, Andrew Short and Davi Millsaps never really had a chance to get their rookie season in last year…it's going to be good. The only major name we've heard who is out at the moment is Michael Byrne, who has a leg injury right now.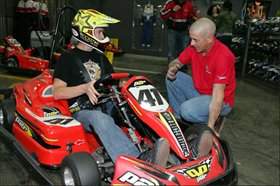 Byrner gets go-kart lessons at Pole Position Raceway!

photo: Ken Faught

We saw Byrner hanging out last night at the annual Racer X Go-Kart night at Pole Position in Corona. It's always a good time there with a lot of the Racer X advertisers and industry insiders showing up to hang out and drive some laps. This year Reed and Windham even showed up to race, and Gavin Gracyk was out there too, running under his racing name "Big Bore." It was a good time. Big thanks to Ken Faught and everyone at P2R for opening their doors to us.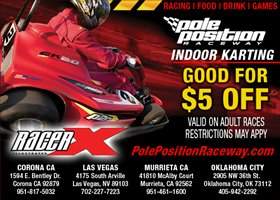 Print this out for $5 off your next visit!

When the podiums finally are settled in supercross this year, it will be a big battle for space among energy-drink sponsors. Monster has a lot of supercross real estate now that they're title sponsor. Ben Townley was sure to stick a can of Red Bull in next to the Monster product when he came to the press conference stage yesterday, and Chad Reed simply took the Monster stuff and moved it aside. Everyone in the room got a laugh out of that, but this is serious business and we'll have to see how this all plays out.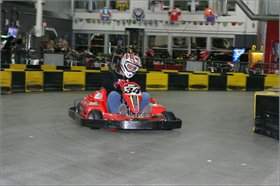 Windham was on the gas!

photo: Ken Faught

Watch it all live on Speed Saturday night. And if you're in the Dallas area looking for a party, you may want to hook up with Brian Crofoot, who sent us this letter:

"I just this read this weeks Rev-Up and wanted to let you know that we are going big time in Dallas for watching the A1 Supercross. We are taking over a whole sports bar and they are going to be playing the race on two 110" big screens with the sound on in the whole bar. So if you have any friends in the Big D who want to watch the race with some fellow Moto Heads just send them are way."

Here's the address:

Buffalos Joes
3636 Frankford RD. STE 390
Dallas, TX 75287



Also, don't forget to tune into the webcast at www.supercrossonline.com which will now feature some cool video stuff as well.

Who do you think is going to win Anaheim 1? Steve Matthes gave us his predictions earlier today, and a two weeks ago we asked all of you to vote on it in our online poll. The results are below:

Racer X Online Poll Results:

Who will win the AMA Supercross class main event at Anaheim 1?

James Stewart (2659) 40.31%
Chad Reed (2603) 39.46%
Grant Langston (238) 3.61%
Kevin Windham (181) 2.74%
Tim Ferry (51) 0.77%
Mike Alessi (221) 3.35%
David Vuillemin (227) 3.44%
Andrew Short (245) 3.71%
Davi Millsaps (90) 1.36%
Other (82) 1.24%

Total Votes: 6,597

We hope the racing between Stewart and Reed is as close as the poll predicts.

The 2008 Dakar Rally is cancelled. This was taken from www.dakar.com:

A.S.O. cancels the 2008 edition of the Dakar rally

After different exchanges with the French government – in particular the Ministry for Foreign Affairs – , and based on their firm recommendations, the organisers of the Dakar have taken the decision to cancel the 2008 edition of the rally, scheduled from the 5th to the 20th of January between Lisbon and Senegal's capital.

Based on the current international political tension and the murder of four French tourists last 24th of December linked to a branch of Al-Qaeda in Islamic Maghreb, but also and mainly the direct threats launched directly against the race by terrorist organisations, no other decision but the cancellation of the sporting event could be taken by A.S.O.

A.S.O.'s first responsibility is to guarantee the safety of all: that of the populations in the countries visited, of the amateur and professional competitors, of the technical assistance personnel, of the journalists, partners and rally collaborators. A.S.O. therefore reaffirms that the choice of security is not, has never been and will never be a subject of compromise at the heart of the Dakar rally.

A.S.O. condemns the terrorist menace that annihilates a year of hard work, engagement and passion for all the participants and the different actors of the world's biggest off-road rally. Aware of the huge frustration, especially in Portugal, Morocco, Mauritania and Senegal, and beyond the general disappointment and the huge economical consequences in terms of direct and indirect repercussions for the countries visited, A.S.O. will continue to defend the major values of great sporting events and will carry on its engagement for a durable development through the Actions Dakar, started 5 years ago in sub-Saharan Africa with SOS Sahel International.

The Dakar is a symbol and nothing can destroy symbols. The cancellation of the 2008 edition does not endanger the future of the Dakar. To offer, for 2009 a new adventure to all the off-road rally passionate is a challenge that A.S.O. will take on in the months to come, faithful to its engagement and its passion for sports.

Check out this photo of the new Troy Lee Designs/Red Bull Honda of Justin Keeney.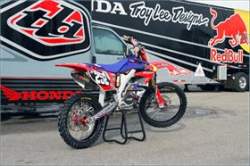 Justin Keeney's ride.

photo: DC

Okay, Ping just checked in with his update:

The week before the season opener is a stressful one for race teams. No matter how early you get started with testing, preparation and parts orders it seems like it always comes down to Thursday or Friday before the first round and you still aren't ready. The 2008 season doesn't seem much different. This time, many teams are scrambling to prepare practice bikes to race what is shaping up to be a mud bog. I mentioned last week that the worst part about a muddy opening round is destroying all that brand-new equipment, and it seems like I wasn't the only one bothered by it. If you are racing on a surface that is more water than dirt, the titanium nuts and bolts and general trickery of a race bike aren't going to do you much good. It's a shame that it is going to rain, because the track layout looked incredible. They finally brought back lots of 180 turns with big bowl berms. After someone (Goerke, maybe?) launched his bike off a berm and into the seats behind home plate a few years back they flattened all the banked turns for safety. Safety? If that's what they're after they should just build an oval and let the guys do circles all night.

Sadly, the rain is coming. In fact, weather.com says it is a 100% chance of rain on Saturday. I could chop one of my hands off and still count on my fingers the number of times I've seen a forecast predicting a 100% chance of rain here in southern California.

While the press conference was exactly the same as it has been for the last several years (you could have used the same interviews from any of the last three seasons, minus RC and it would have been identical), my favorite part of the first round is seeing everyone that follows this dirt bike circus around again. Denny Stephenson, Steve Matthes, Steve Hudson, mechanics, agents, truck drivers all the riders that don't live out here¾even DC and all the Racer X crew are from West Virginia; I don't get to see them that often. It's good to see all of the motocross family together again, dysfunctional as it may be at times.

Something new for the supercross series this year is the pre-show entertainment. Apparently, Live Nation is going to be very strict this year about kicking fans out of the pits at 5:00 on Saturdays. So, to give the fans something to see inside the stadium, they are going to hold pit-bike races. There will be a stock and modified class and both of the classes will be invite-only. Ryan Villopoto's little brother is one of the guys on the list I saw scheduled to compete. The first one will be in Phoenix since A1 will be swampy.

The biggest changes for 2008, as far as I could tell from the pre-race press conference interviews, are the new bikes that Chad Reed and Ben Townley will be riding. Reed is still with L&M Racing but on a Yamahar while Townley is taking a gamble on a bike he called a Honder. It will be interesting to see how that works out for them.

Finally, the AMA has not released any information as to how the schedule might be modified this year if the rain does come down hard. In 2005 they seeded the top riders from the previous year's series right into the night show and drew the remaining positions out of a hat. That was, of course, before they introduced the timed practice sessions that determine who gets in and who doesn't. So, it will be interesting to see how they do it now. If they do pull names from a hat I'll be curious to see who they place directly into the show. Ryan Dungey was not a West coast rider last year so he would be subject to a drawing. Chris Gossellar,[Ed note: Ping still can't spell Gosselaar.] Gavin Gracyk, Zach Osbourne, [Ed Note. Or Osborne.] Will Hahn, Tommy Hahn, Brett Metcalfe, Billy Laninovich, Dan Reardon and many others would all be in the same boat. My guess is they will have to run practice as usual and qualify riders in by their times. Even so, there will definitely be some great riders that don't make the main event.

Here's a small Pole Position Raceway photo gallery by Ping: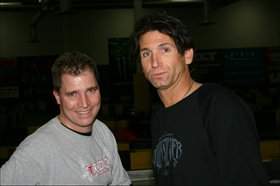 Paul Lindsey and Jeff Matiasevich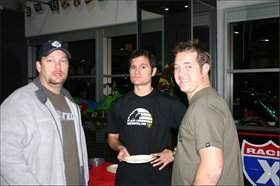 Steve Matthes, Jason Weigandt and Jason Berry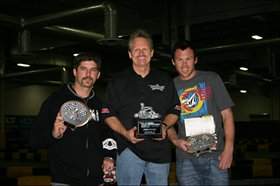 The podium
Thanks, Ping!
The Racer X Gas Card is alive and well for 2008, and we'd like to give a shout-out to the two Mototalkers that stepped up to support the Gas Card for Anaheim 1. Thanks to Joe Lloyd
(Xeno) and Keith Lynas
(Typhoon67) for your support. Your contribution combined with ours will give the first guy to miss the Supercross main event (third-place in the LCQ) a $750 check to help get him to the next race.

Finally, it's good to see that Toyota has signed on again to be a major supporter of Monster Energy Supercross. Also, if you're headed to A1, be sure to check out Toyota's all-new experience in the pit area with "Elrod's Fasthouse. And according to the press release we just received, "Toyota will award the AMA Supercross class champion's mechanic and the winner of the Dave Coombs Sr. East/West Shootout with new Toyota Tundras."
Hey, look, it's starting to sprinkle now. Uh oh. I'm outta here, and be sure to check out the Racer X Blogs throughout the weekend, including my personal favorite, Blogandt. Good thing Sheri Ridenour from Troy Lee Designs gave us a bunch of raincoats today. We're headed to the Tom White MX History museum, and I think it's going to be raining by the time we get out.

Can you tell WVU won the Fiesta Bowl?
photo: Tim Cotter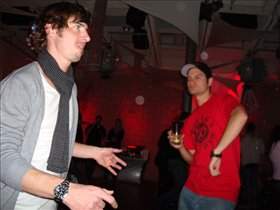 Nice scarf, Langers!
photo: Wes Williams