Like a lot of other people in this industry, I am waiting here at my desk, on the edge of my seat, waiting for the phone call. It's been weeks since word went out that there might be a presence from Europe, and maybe there might not be. As of now, it's still up in the air, no decision has been made, and no one seems to know anything….
But I have to be honest with myself: I really don't think Mitch Payton is going to call. Since finding out that French GP star Chris Pourcel would not be riding for the Monster Energy/Pro Circuit Kawasaki team in AMA Supercross this year, er, make that Monster Energy AMA Supercross FIM World Championship. A lot of people thought Tommy Hahn would get the call up from Xtreme Team Green, but that's not happening either. With pretty much everyone else signed and set for 2008, it's hard to tell where Payton might find his fourth rider. That's the call I am waiting for.
Apparently, so is
Matt Walker
, who left what I'm told was a hilarious phone message at the Pro Circuit race shop in Corona, CA, just letting Mitch know he was still available. There's an article by DMXS'
David Izer
about Walker in the brand new issue of
Racer X
called "Closure" that is a must read for anyone who's ever thought about what it would be like to be a pro motocross star, and also wonders what these guys do when their careers end.
And yes, that's Travis Pastrana on the cover, doing his best JMB imitation out at the Glamis Sand Dunes for Simon Cudby's camera. If you want to check out the new issue right now, sign up for a Racer X Digital subscription—it's as easy as running a mouse!
Here's a question: Since they combined the AMA/FIM Supercross Series, do you think now might be a good time to just go ahead and change the class names to SX1 and SX2? I have to admit, "Lites" isn't as hard for me to say as it used to be, but "the AMA Supercross" class is still strange to me.



AMA Supercross

AMA Supercross Lites
I spoke to
Ricky Carmichael
on the phone last night after he spent the day in Charlotte working on his stock car program, which is rolling right along. I asked about the photos and the Simon Cudby video of him riding a Suzuki RM250 last week.
"You mean the two-banger? Dude, I love that bike. One of my supercross tracks is smaller than the other, and it's really fun to get out there on it. But it's amazing how fast you lose it! I mean, I can go good for two laps, but that's about it." So I asked him if he wanted me to start a rumor that he was coming back for Anaheim 2 or something? "There you go," he laughed. "There you go."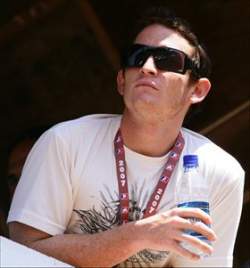 RC will be rooting for the Seminoles.
photo: Simon Cudby
Seriously, his babies will be nine months old on the 16th and he and Ursula and the grandparents are having a blast. And he also hopes his Florida State Seminoles can beat the Kentucky Wildcats in their upcoming bowl game so former UK player
Scott Taylor
doesn't make his life miserable.
There was some real controversy at the AMA this week when some longtime employees—
Greg Harrison
and
Bill Wood
—were dismissed after a combined 53 years with the association. The move led to some open letters from longtime AMA backers like
Ed Youngblood
, the former president, and PR man
Larry Lawrence
. The new president,
Rob Dingman
, went on the AMA's site to outline his plans for the future. It is a very interesting
read
.
Obviously, there are a lot of things in flux right now at the AMA, some of which involves race promotions and the future of American motocross—I don't want to get into that again. But as far as the inner workings of the AMA office and its personnel goes, the hard part of any boss' job is making the changes he feels necessary to accomplish his vision for the company. If Rob Dingman and the AMA Board felt the membership wasn't growing the way they envisioned, or the magazine was not what they had in mind, staff changes are inevitable (and more are likely coming).
Nobody likes to fire someone—there are always hurt feelings, it ends badly, and sometimes it's for all the wrong reasons—but it comes with the territory. People looking in from the outside often have no idea what's really happening inside a company. I've had to give unfortunate news to some good friends I've worked with before, and it was not a pleasant thing to do; I've also been told that I was no longer needed, and that just plain hurts. But that's how a business is run. That said, I feel bad for both Greg and Bill, who were lifelong enthusiasts who spent almost their entire careers with the AMA, and I really hope they land on their feet soon.
Let me turn this over to
Ping
right here:
KTM West had their official move-in party this week. The men in orange have moved their offices from Temecula to Murrieta, CA. They only had to drive their things about five miles from where they were but they got into a much newer building that all the KTM employees seem to think is going to work much better. Sebastian Tortelli was there with his wife and kids, as was Nick Wey.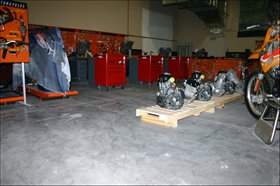 They are still getting set up at the new KTM West facility.
photo: Ping
And my dark horse pick for the west coast,
Justin Brayton
, was there too. He is one of the MDK KTM team riders and their shop is located off-site, but he was there showing support anyway. I think Justin is going to have a breakthrough year in 2008. Other attendees included
Malcolm Smith
,
Donovan Mitchell
,
Mike Sleeter
,
Kurt Nicoll
and all the team mechanics. It was a good time and KTM seems to have found a nice new home there in Murrieta.
Man, what is going on at the AMA? There's drama surrounding the future of the motocross series, the supermoto series isn't even being talked about, and now one of the guys from the road racing side of things has pulled a
Jerry McGuire
, posting a letter that might just see him get his walking papers. If you've been following all of the change with the AMA this year then you know things seem to be in disarray right now. For the sake of all forms of motorcycle racing here in the US of A, I hope they get their crap together.
If you haven't heard about the Red Bull Experiment in Las Vegas on New Year's Eve, check it out here. I've never been to Las Vegas on New Year's Eve, mostly because I want to stay alive and stay married, but I've heard it's a pretty good time. The Strip pretty much closes down and fills with people, all of them somewhere between completely hammered and totally wasted. To add a little more excitement, Red Bull has a guy attempting the first ever back-flip in a truck. I don't know how that is going to work out but it doesn't sound good.
And then, as the ball drops in Times Square, Robbie Maddison is going to jump a football field. They are laying out a football field in the parking lot of the Rio Hotel, complete with uprights and yard markers, and Robbie is jumping through one set of goal posts and landing between the other. If he pulls it off, it will be a new distance world record and one of the craziest things ever done on a bike. If he doesn't, well, it won't be good. Robbie was at Evel Knievel's funeral this week and the family gave him one of Evel's capes. They are going to go on record saying that Robbie is the next guy in line to carry on the traditions that Evel started. That is a pretty big compliment. And I'm sure Robbie feels some pressure from that since Evel was the reason Robbie started riding bikes in the first place. Be sure to see what happens on New Year's Eve. Check the preview video out.

And for additional information including the latest preview video, images and desktop wallpaper of the entire Red Bull Experiment, visit www.redbullexperiment.com.

Also, don't forget about the big Pro Invitational coming up at Perris Raceway on December 22. We'll have more next week, but if you're in SoCal and looking for a pre-Anaheim fix, this is it!

Wait until you see the new handlebars on Kevin Windham's…. Our own Jason Weigandt saw them and he couldn't believe his eyes.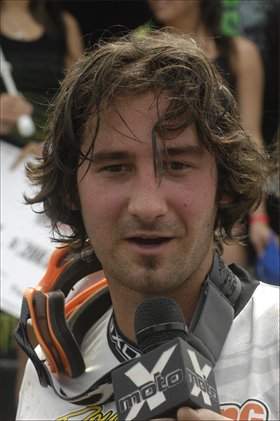 Eric Nye has got himself a deal for the Canadian Nationals.
photo: Allison Kennedy
We talked to
Eric Nye
this past week about his plans for 2008. "I am going to Germany in January for the Dortmund Supercross, then I might do some west coast SX. But I am racing for KTM Canada next year for the Canadian nationals. So that starts in May, so I am just going to try and concentrate on that series and try to win it."
We also got this
James Marshall
update from the Road 2 Recovery's
Anita Button
:
"James had surgery last week to repair a pressure sore. He's doing well and hopes to be home from the hospital by Christmas. The Foundation just purchased him a new wheelchair and it should arrive about the time he gets home. Hopefully the new chair will help alleviate this problem in the future. Cards and donations can be sent to Road 2 Recovery and we will make sure he gets them. We are now selling James Marshall
wristbands
online and all proceeds benefit James."
Sadly, Moto Verte reported that five-time World MX Champion George Jobe was seriously hurt while riding in the sand dunes in Dubai.

It's hard to figure out where things stand with Jobe, though there was a post that he is getting some feeling and movement back. We will update you as soon as we know more about one the best Grand Prix racers of the 1980s.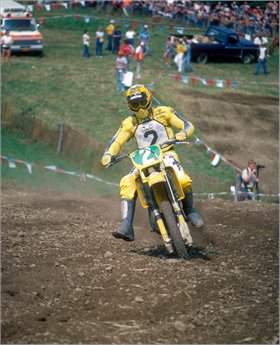 We wish George Jobe a fast and full recovery.

photo: Dick Miller Archives

David Bailey wrote me this week and the man is feeling fantastic. After a long time being down on his health, he's out training again and getting into his groove as The Icon. Here's an update from his website.

David also took time to chat with our own in-house fitness expert Tim "Virtual Trainer" Crytser, and that interview can be found right here.

From Bad Billy:
First off, I want to apologize to anyone that I accidentally left off of my Bench Racing Ammo earlier this week. I tried to list all of the 2008 teams to the best of my knowledge, and I forgot a few. I think the list is pretty solid now, so check it out. If there are any additions, send us an email to online@racerxill.com.

Also, last Tuesday we ran some Flash Trivia in which the first people to correctly identify the rider in a photo would win a Thrillbillies DVD courtesy of EVS Sports.

The answer to the question is Evan Laughridge. The photo was taken at Millville in 2002. Congratulations to the following winners:

Tom Embree. Chico, CA
Nick McBride. Corona, CA
Andrew Shaw. Lakeville, MN
Craig Hough. Mazeppa, MN
Shane Dathe. Palm Beach Gardens, FL

Check out the 2008 Racer X Casual Wear, which we just released this week! www.racerxbrand.com


Did you see this Anaheim Prediction Challenge over at
Predictify.com
?
We also wanted to wish Motoworld of El Cajon's Sales Manager
Jonathan Murphy
a Happy Birthday. He turns 27 this Sunday.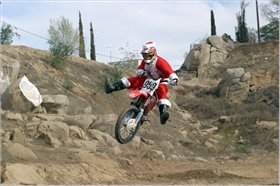 Happy Birthday to Jon Murphy!
Here is a sad note from my friend
Todd Galley
:
To make a long story short…........I assumed 28-point favorite WVU would beat sorry-ass PITT and I'd be enjoying a trip to New Orleans (for the BCS game). Well, I guess miracles do happen and PITT has used all of theirs up as far as I am concerned. Anyhow, I got two tickets for the LSU vs. Ohio State title game in N.O. on Jan. 7th. The seats are in Section: 630, Row: 28, Seats: 34 and 35. I purchased them from Ticketsnow.com for $725 a piece (I know that is stupid expensive) but they are even worse now. The cheapest seat I could find anywhere on the internet now is $1,024 a seat. (Hey, the 40 seat luxury box was only $250K!) If you guys know of anyone who might be interested that would be awesome. Thanks. Happy Holidays.
Todd G.
If you want to go watch LSU and Ohio State, email us here:
Letters@racerxill.com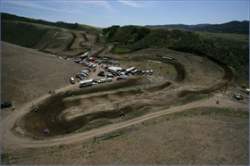 You can ride here between Anaheim 2 and San Francisco!
photo: Simon Cudby
Joanne Pryor
sent over a reminder that the gates of Castillo Ranch are opening to a limited number of ticket holders and some very special invited guests on Wednesday, January 23. That's when 150 ticket holders will ride a prepped track and the trails you see usually only see in the magazines.
"This exclusive ticket will include more than riding the world's most famous home track. Other riders riding or visiting the Ranch that day will include our own
Doc Bodnar
, as well as
Ricky Johnson
,
Jeff Emig
,
Dave Pingree
,
Sebastian Tortelli
, and we are adding champions daily. The Asterisk Mobile Medical Center will be available to tour as well as the
Joe Gibbs
Racing new MX team rig. Cornwell Tools has donated some great products which we will be giving away. Tickets are $250 and available at
http://asterisksuperpass.com
. 100 percent of the funds from this Asterisk Superpass experience benefit our Asterisk Mobile Medical Center.
Here's another cool contest: Win an RC-autographed helmet and jersey, courtesy of Air Nautiques. Learn more at
www.nautiquesmx.com
.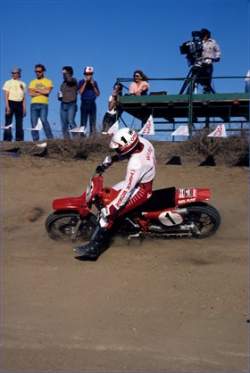 Steve Wise
photo: Dick Miller Archives
Here's a note from former Honda factory rider
Steve Wise
: "We had a great weekend at the old Rio Bravo National track with the reunion.
Marty Tripes
,
Colin Edwards
and myself were there, as well as hundreds of Old School MXers fans.
Richard Huffman
, the organizer, is gaining great momentum with this event and we're hoping next year for more than only Texas riders to attend.
Andy Bowyer has landed in London:
Cheers from England! I landed in London at 10 a.m. and have been running wide open until just right now. The 20th annual Race of Champions will take place this Sunday's inside Wembley Stadium. The event pits the best 16 drivers in the world, from all racing disciplines against each other in five different automobiles. From Honda street bike powered buggies, to Aston Martin speedsters, to full blown Rally cars, the drivers must be fast in all of them. What does this have to do with motocross? Everything.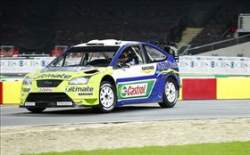 Travis

photo: Courtesy of Red Bull Photofiles

Travis Pastrana is here, representing Team USA. His teammate is Jimmie Johnson, the two-time Nextel Cup Champion. Did you know that Ricky Johnson lived in his house when they grew up as kids?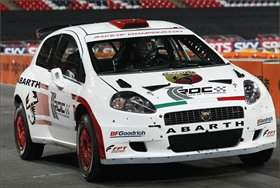 Jimmie Johnson
photo: Red Bull Photofiles
Wembley Stadium
photo: Red Bull Photofiles
This event is absolutely huge. It's hard to explain the gravity and intensity of almost every aspect from the Wembley security, to the incredible media center that was still being put together as we watched practice today. ESPN sent NASCAR columnist
Marty Smith
to cover the event on
www.espn.com
and almost every major European media entity will be here tomorrow to cover. What's at stake? Ego, baby. Who's the best of the best, of the best? Among champions like these boys, that goes a long ways!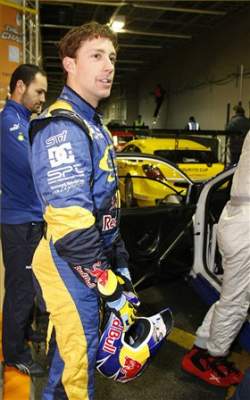 Can TP continue his Rally success in England?
photo: Red Bull Photofiles
Pastrana and Johnson looked amazing in every car they took to the track in. The one downfall was that Johnson drove his rally car too hard into a corner, spun out and slammed it the retaining wall. The damage was minimal and will be fixed, but wrecking this particular car was not what he needed, as Johnson drew none other than Formula 1 legend
Michael Schumacher
for his first heat. That's right, two-time defending Nextel Cup champion and seven-time Formula One champ Michael Schumacher going head to head in a rally car!
Even so, the man drawing the most attention is, of course, Pastrana. Oddly, he was extremely smooth and fast in everything he put the wheel to, and didn't wreck. Travis is matched up against another German, Sebastien Vittel.
"I've raced The ROC before and did OK," said Johnson on www.racerofchampions.com. Johnson, the former R&D Suzuki prospect turned stock car deity, won The ROC Nations Cup in 2002 and is hoping his home fans will tune in to the live race coverage at www.raceofchampions.com/live on Sunday at 9 a.m. EST here in the states). "My teammate, Travis Pastrana, was the unexpected success of the event last year, almost winning the whole thing single-handedly after I pulled out with an injury. That's got to give us the edge this year!"
Tomorrow is more practice and media day. I can't even imagine what kind of a zoo it's going to be like. Stay tuned to www.racerxill.com for updates. Also check out www.raceofchampions.com for more.
Finally, here's some words from our minister of commerce, Jason Berry: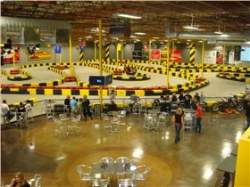 Pole Position Raceway - Las Vegas
photo: Jason Berry
Last Sunday while out in Las Vegas I was invited along to the friends and family opening of the fourth Pole Position Raceway Indoor Karting facility, which is managed by former
Cycle News
and
Dirt Rider
editor
Ken Faught
. The Las Vegas venue follows in the footsteps of Corona and Murrieta in California and also their Oklahoma City site, totaling four great facilities in only two years of operation. Las Vegas' own NASCAR champion
Kurt Busch
, ESPN NASCAR reporter
Jamie Little
and 7-time AMA Supercross Champion
Jeremy McGrath
highlight some of the racing enthusiasts who have helped bring P2R to Vegas.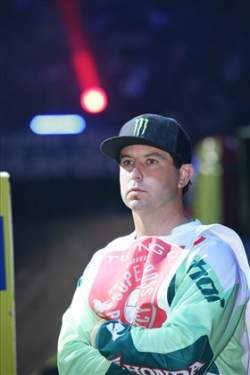 Jeremy's on the board of the growing Pole Position Raceway empire.
photo: Simon Cudby
Ken told me the green flag is scheduled to wave and racing is expected to begin either yesterday or today at the 60,000 square foot facility.
P2R Las Vegas will feature the fastest indoor racing karts in the country and combined with state-of-the-art entertainment, unique meeting and party rooms and one-of-a-kind racing memorabilia, will be a must-see for all racing fans. Now you have an excuse to leave those casinos! Go
here
for more info and directions, hours, etc.
JB, by the way, was cheering fellow Englishman Ricky Hatton in last weekend's losing brawl against Floyd Mayweather at the MGM Grand Garden Arena. But the best punch of the night came from his lovely American wife Amber, who upon hearing the obnoxious and obviously drunk lads behind them boo our national anthem, she punched the man right in the gut. Well done, Mrs. Berry!
That's it from Morgantown, enjoy the weekend, and thanks for reading Racerhead. See you at the races.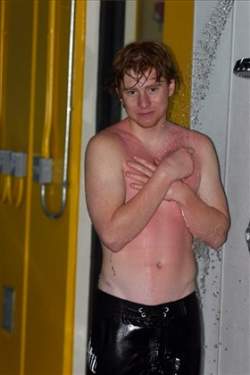 RV has been hanging out with R Kelly during the off-season.
photo: Ping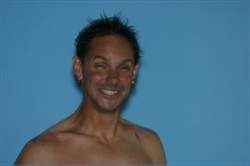 RL has been there too.
photo: Ping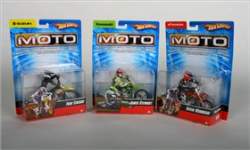 Here are some great ideas for Christmas!
photo: Matt Ware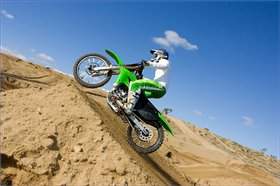 That's Phil Nicoletti getting used to his new Kawasaki.
photo: Carlos Aguirre