Welcome to Tuesday Trivia, presented by EVS Sports. The first five people who correctly answer the following questions will win a new Thrillbillies DVD.
Okay, here it goes: Name the year, track and the rider in the photo below. Email your answers (along with your name and address) right here. The first five correct entries win the Thrillbillies DVD! Good luck!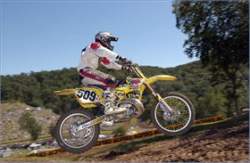 Name the rider, track and the year.