The off-season is so off this year, it's hard to tell what's going to happen in 2008. We've been waiting for lots of announcements—about teams, sponsors, classes, etc.—and everything just seems to be on indefinite hold.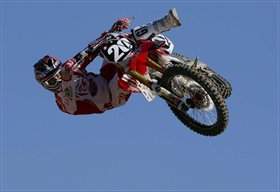 Josh Grant in a photo from the Torco Racing Fuels Honda photo shoot.
Photo courtesy of Torco Racing Fuels Honda
Take the Monster Energy/Pro Circuit Kawasaki team, for instance. After visiting California last week, we were almost positive that
Tommy Hahn
would be bumped up from the Xtreme Team Green Kawasaki rig to take the place of the injured
Christophe Pourcel
, who will not get to join the team until at least 2009. But now the word out of Pro Circuit is that it's not going to happen, and they have a spot open still.
Some were mentioning another French kid, Marvin Musquin, who rode a Kawasaki MX2 last year in Europe but is now moving to Honda. There was also a little bit of buzz about Benjamin Coisy, yet another French kid who goes very fast, but he's contracted to ride a 450 in MX3 this year over in Europe. Coisy was the top domestique at the Bercy SX, and last weekend he won the Geneva SX.
Then we saw the Factory Connection Racing press release with the new team name—Torco Racing Fuels Honda—and members Kevin Windham, Josh Grant, Jake Weimer, Trey Canard and Daniel Reardon….
What happened to Travis Preston? We put Ping on the case this afternoon, and here's what he did (and didn't) find out: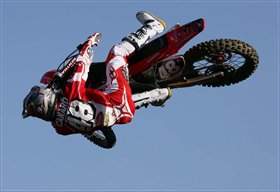 Trey Canard is definitely East Region now—more on that below.
Photo courtesy of Torco Racing Fuels Honda
"I tried getting in touch with Travis this week to find out what he was doing next year. I couldn't get him on his cell phone, but after talking to his longtime friend and sponsor,
Matt Chapman
at Etnies, I found out that it doesn't look good. The Factory Connection guys were hoping to keep Travis but when their sponsor situation changed, they couldn't afford him. Also,
Kevin Windham
is moving into the Lites semi with the rest of the FC boys for supercross-only, plus a few nationals, and Preston is out of a job. He actually had offers from the Hart & Huntington/Rockstar Honda team, but he told them that he was likely staying put so they moved on. The latest has Preston trying to find a bike to ride for now, in case a team needs a replacement or filler. Otherwise, he isn't racing supercross in 2008."
So I told a friend at Pro Circuit to check Preston's Lites-class eligibility, because he would be a perfect last-minute fit. "Hmmm…" was their reply.
Then Matt Walker called—I am not making this up—and said he was not only available for that ride, but he was all pissed off at the BCS for not giving his beloved Georgia Bulldogs a shot at the title game, "And they are the #1 team in the nation!" Well, at least in his mind's eye. Then he rubbed in the WVU loss to Pitt last Saturday night….
That was a heartbreaker. Anyone who was a Damon Bradshaw fan and remembers watching him circulate the LA Coliseum in '92 like he was riding on marbles knows this helpless feeling. Or like being a Team USA fan at Nismes, Belgium, in '97, when Jeff Emig, John Dowd and Steve Lamson were all so far off their games that I thought they'd been kidnapped and replaced with Intermediates….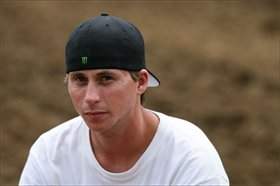 Matt "I Am Motocross" Walker is available if PC is in a real jam.
Simon Cudby photo
But I digress. I think a lot of folks (myself included) were hoping some bigger sponsorship announcements would come out today, but everything just seems a bit off this season….
Which brings me to Leticia Cline (sorry, couldn't resist). In case you missed it, Leticia did an afternoon on the Howard Stern Show and got into what I assume to be some of the normal naughtiness that appears on the show—I don't watch it. It led the folks who were going to be using her in 2008 for the GNCC TV shows to rethink that decision (it's a really family-oriented series), and when she told that to Howard Stern, he took up her cause in between his interviews with guests Casey Parker and Paulina James, two young girls who star in adult films, and asking them about some tricks-of-the-trade. Howard seemed outraged that Leticia would be "fired" from GNCC TV, but the truth is, the shows were in pre-planning—the racing starts in March—and now there's a different plan. Still, he said, "Motorcycle racing should be thrilled to have naked girls."
Since then, we have been getting a stack of email—half calling us "redneck hicks" for "firing" this girl, the other half demanding we ban her forever from, well, everything. Sometimes, you just can't win—and Racer X had nothing to do with this. But if I had a time machine, I would go back and try to talk her out of doing this particular appearance….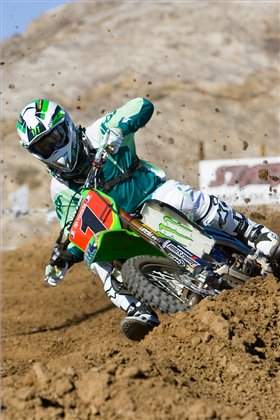 RV1 is back on the track, getting ready for '08.
Carlos Aguirre photo
Let's move on.
Racer X
's 2007 Rider of the Year
Ryan Villopoto
is finally back on the bike after recovering from his off-season shoulder injury, as well as an operation on an old wrist injury. SoCal photographer
Carlos Aguirre
was there to see him strap the boots on with his friend
Nick Wey
and start getting back up to speed.Villopoto will be riding the West Coast, unless his speed take a little longer in getting back to its championship-winning status.
Simon Cudby just checked in from Tallahassee, Florida. Ivan Tedesco is on the East Coast now training at RC's place. Simon says(?) that Ivan looks great on the #9 Factory Honda ride, and RC was chasing him around the SX track on a Suzuki RM250 two-stroke. "RC has lost none of his speed," says Simon. "Just ask Ivan!"
Ricky is recovering nicely from his post-season illness, and the future is looking healthy and strong for #4. Look out for videos on www.foxracing.com and on our own www.racerxfilms.com next week.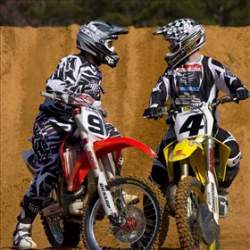 Ivan Tedesco is living in Tallahassee now, getting ready with Ricky.
Simon Cudby photo

Also out at the track on Wednesday was Honda's
Ben Townley
. BT101 has had another pre-season get-off while testing and has a broken heel and tendon complications in his ankle. It's going to be a few months until Ben is back in the saddle, and we would not be surprised to see him on a Honda 450 the first time he races in 2008. Get well soon, BT!
Still trying to find that perfect gift? Give your friends something they can enjoy for a whole year! Not only are you giving them 12 issues of the #1 magazine in motocross, but you'll also get them a 2008 Racer X calendar. And since you're such a good friend, we'll give you one too! Just click here.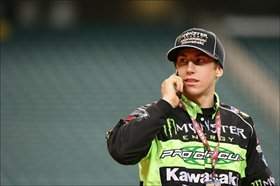 Looks like Ben Townley's going to start the season on hold.
Simon Cudby photo
Calling all Canadians! Do you want to get your two favorite mags but don't have the $29.98 USD to shell out during the holidays? We've come up with a special offer just for you. We are now offering a digital subscription (12 issues) to
Racer X
, plus 6 print issues of
Racer X Canada
, for only $19.98 USD. You can save $10 off the regular price, and we'll even hook you up with a calendar! Just click
here
.
Cheers to Josh Coppins, BT101's close friend, the MX1 Grand Prix racer and Racer X columnist from New Zealand. Josh shaved his head as a fundraiser for the Children's Cancer Foundation, and he pulled in more than $2,500 for the kids. Coppins is a class-act, through and through.
We felt so bad for Josh having to be out in the cold with a bald head that we pledged $100 after the fact for the kids, then we remembered that it's summer in New Zealand… Oh, well, it's for a great cause.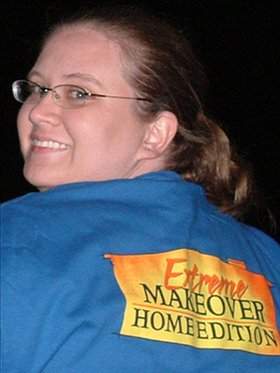 Heather helps out the Extreme Makeover team.

credit
Racer Productions' graphic designer
Heather Moebus
had a chance to help the people from
Home Edition: Extreme Makeovers
this past week. They redid a house down in Fairmont, WV. "I had a chance to work with one of the 'behind the scenes' designers," said Heather. "Her name was KK and we had so much fun!" It was also for a great cause—a family.
Looking ahead to the 450 class, we spotted some photos by Brown Dog Wilson that showed James Stewart at the Kawasaki test track riding a #7 KXF450 with a 21" rear wheel. Andy Bowyer was able to confirm that Stewart is leaning toward running #7 after all in SX and not #1, and the 21" rear wheel is in part to help James from dragging pegs off the face of jumps when he scrubs—something that's bitten him a time or two in the past.
Eric Johnson got together with Kevin Windham this afternoon to talk about his 2008 program for Racer X Online. Check it out because the whip photo in there is Ronnie Renner-esque!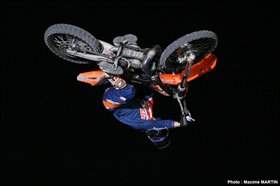 Ronnie Renner was Lord of the Whips in Dubai.
Maxime Martin photo
Speaking of Renner,
Max Martin
checked in from Dubai to let us know that earlier today (Friday night over there), Renner won the whip contest of the X Games in Dubai. "The competition was a head-to-head," wrote Martin. "Ronnie Renner and
Chuck Carothers
were in the final but after a big crash by Carothers, Renner easily got the gold medal. Tomorrow, there will be the best trick with
Kyle Loza
,
Remi Bizouard
,
Greg Hartman
, Chuck Carothers, Ronnie Renner,
Nick De Wit
,
Niki Danielson
and
Alastair Sayer
."
With a nod to Guy B. of Vital MX, who spotted it first, check out this Kyle Loza video.
Here's a good spot to turn this over to Ping….
Finally! After months of waiting and delays the new Suzuki RMZ 450 was introduced to the press this week. Perris Raceway hosted the event and Japanese engineers, the Suzuki media department, Suzuki's off-road team and even a couple of Suzuki's top motocross mechanics were on hand to help out. Racer X invited Michael LaPaglia to give us his opinion on the bike and run it through its paces for the Racer X Films cameras. Click here to see that.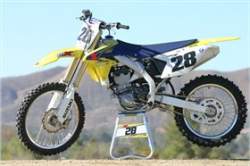 The 2008 Suzuki RM-Z450
Most of the buzz centered on the electronic fuel-injection, despite the fact that the entire bike is new. In fact, there were only a handful of part numbers that remained the same from 2007 to 2008. Michael's first impression of the bike was that it had amazing throttle response and the chassis was leaps and bounds better than its predecessor. He also praised the narrow feeling of the bike and its agility in the air and the turns.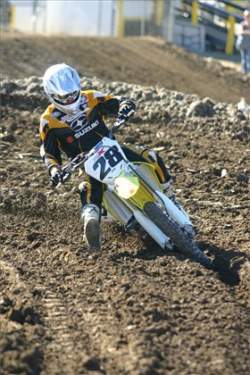 Richardson's RV team rider Michael LaPaglia was our test pilot at the Suzuki introduction.
Ping photo

Other things that stood out were the
RC
replica footpegs which are wide and thin, giving them more clearance in ruts and mud. Also, the aluminum tank is super-trick looking. The fuel tank had to be made from aluminum because the fuel pump creates a vacuum and caves a plastic tank in. Suspension, brakes, plastic, motor, exhaust and everything else in-between is new for 2008.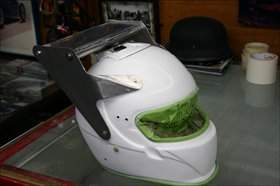 Troy Lee will try anything to make a helmet look faster.
Ping photo

The long wait for the new Suzuki has also caused some drama for media outlets trying to do shootouts on the 2008 models. Now that we are so close to Christmas, many of the manufacturers don't have the staff or the units to accommodate everyone. Most shootouts have been postponed until the first of the year (while one publication apparently went ahead and did their shootout without the new Suzuki). Stay tuned for the Racer X Tested shootout of all the 2008 450 motocrossers.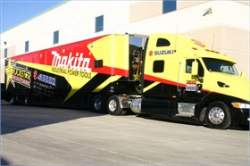 The Suzuki rig has bold new graphics.

Ping photo

The new Suzuki off-road team was at Perris trying out their bikes for the first time as well.
Nathan Woods
and
Ty Davis
have both been hired to compete in the WORCS series next year. Nathan finished a close second in the championship this year, even after missing a round with a broken arm. Both of the new Suzuki riders had great things to say about their new EFI equipped machines.
I ran into former racing prodigy Billy Payne this week at Perris. Billy is making a comeback in 2008 and he was the subject of our Privateer Profile this week.
Remember the GFI invitational Supercross that used to take place at Perris Raceway in the 1990's? Goat Breker used to put on the best off-season event just a couple weeks before the season opener, and it attracted many of the sport's top riders. When Goat sold the track, the event quickly fizzled out. But it's back! Well, it's trying to be, anyway. The new management had scheduled the race for this Saturday and had riders like Mike Alessi and Grant Langston confirmed to compete, until they got a look at the Doppler 7000 weather radar system. There is another huge storm blowing in this weekend that is expected to dump some serious water. The forecast prompted the Perris staff to postpone the race for a week or two until we have better weather. We'll let you know as soon as that event is rescheduled.
The Brett Downey Amateur National on Saturday and Sunday is still a go on the main track. Check www.perrisraceway.com for details.
That's it from Ping. By the way, some of the other Racer X folks stopped by Pro Circuit this week to say hello to the gang there, and Mitch told us he talked to Darcy Lange and he's doing very, very well after having been diagnosed with cancer earlier in the year. There's still no official timetable for his return to the track, but we're just happy to hear that he's feeling great and appears to be on the road to beating this thing.
Also, as I mentioned above,
Trey Canard
will make his SX debut in the East now for sure after breaking his collarbone, according to the team. If he's in the East, he could be this year's
Ryan Dungey
....
Simon Cudby went from Tallahassee to Texas for the Red Bull Last Man Standing contest, which will feature some very tough riders: David Knight, Russell Bobbit, Stephen Edmundson, Chris Birch, Colton Haaker, Stephan Mueller, Kyle Redmond, Justin Williamson, and the man who beat Knighter at the Maxxis EnduroCross, Taddy Blazusiak. Also Wayne Baybrook, who was second last year, and possibly Graham Jarvis will be there. Simon promised us some pics.
I mentioned Josh Coppins earlier—he's the subject for our next "10 Questions" feature in the magazine. You can ask him a question here.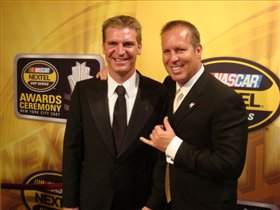 Old friends Clint Bowyer and Rick Johnson at the NASCAR Awards Banquet
Jana Bowyer photo


Clint Bowyer and Rick Johnson at the NASCAR awards banquet at the Waldorf Astoria. Notice the "H" pin on RJ's jacket. Jimmie Johnson drives for Hendrick Motorsports and both he and Rick Johnson are from the "El Cajon Zone". Jimmy Johnson credited the seven-time AMA Motocross and Supercross champion for his assistance in leading him from motocross, to off-road trucks, to stock cars. Clint first met Ricky twenty years ago at the 1987 Camel (or whatever) Supercross round in Texas Stadium and got his autograph.
Steve Matthes turned in another hysterical "Observations" column for Racer X Canada, this time his on-the-spot report from the 1988 Houston Astrodome Supercross (maybe he wasn't there, but that's beside the point). If you missed it, you gotta check it out this weekend.
LETTER OF THE WEEK
Another awesome observations! I'm still trying to get my breath from laughing so hard. I have a copy of that video your referring to—Riding & Training with Ron Lechien—it is truly hilarious. What training?! Although there are some great shots of The Dogger jumping Devils Drop at Carlsbad backwards and "Bullet" Bader Manneh in there also. Let me know if you want to borrow it and I will send it out to you for a good Saturday night laugh,
Peace,
Dogger
Ronnie Lechien
Sports Marketing & Promotions
Maxima Racing Oils
The Asterisk Supercross Superpass is back again this year, offering a VIP ticket experience (including Knothole entry at Anaheim events) and gear from a featured rider. It is a great experience, for a great cause, and every dollar goes directly to support the Medical Center. Ebay Auctions will be going until next Wednesday. AND THEN, Castillo Ride Day tickets go on sale. All information is available on their website.
Here is a preview of a video of amateur motocross from Freestone County, the track that hosts the Texas round of the AMA Toyota Motocross Championships.
Finally, in the wake of Evel Knievel's death, there have been all kinds of cool tributes and stories passed along. He's being buried in his hometown of Butte, MT, this weekend, with one huge Evel party. But the coolest thing I spotted was this old Atari game on eBay (thanks MotoGeek), which was a nod to Evel's bus-jumping skills.

That's it from the front lines. Thanks for reading Racerhead. See you at the races.