Privateer Profile: Billy Payne
A decade ago one of the brightest young riders coming out of amateur racing was Team Green's Billy Payne. After winning four titles at Loretta's and numerous championships at other amateur nationals he was signed with the powerful Pro Circuit/Kawasaki team. For two years he rode under what was then the Splitfire Spark Plug-backed team in hopes of carrying his momentum from amateur racing into the professional arena. Unfortunately, it never happened. A series of injuries left Billy without a ride and with little opportunity available. After hearing rumors of a possible reemergence into the sport we ran into Billy this week at a local track and sat him down for a chat.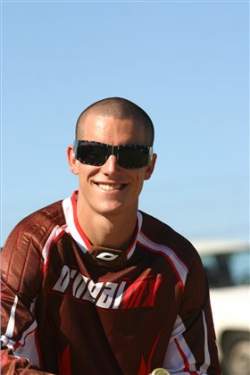 Pingree photo

Racer X: Billy, where the heck have you been?
Billy Payne: I've been working construction for the last four years. Basically, I wasn't even riding a motorcycle. I just got to the point where I wasn't having fun racing anymore. About a year ago I picked up a bike from a local shop and now it's turned into this… I'm trying to get back into it.

I kept hearing that you were staying with Tedesco this summer at his place in Texas. Was that true?
Yeah, I went out there with Jiri Dostal and we were both trying to get back in shape and up to speed. He was coming off an injury and I was just totally out of shape. Riding back there in the heat and humidity was crazy. I was dying at first but I made a lot of improvement in my fitness and my riding by staying back there with them for a while. His track is gnarly but we had a good time. It was fun just to be around my old racing buddies again.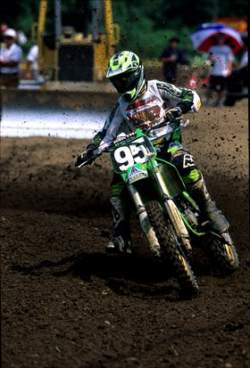 Racer X Archives photo

When did you start racing professionally?
It was 1999 when I started with Pro Circuit. My deal was four Supercross races and the whole outdoor series that year and then I was signed to do the whole series in 2000. That never really happened because I got hurt and sat out most of the season. I think I crashed just about every race I was in that year! I was just young and didn't know what I was doing.

How was it not riding for so long?
For almost two years I didn't ride at all. Before that, when I would ride, I was just getting frustrated because I was out of shape and I couldn't ride very long. I knew how fast I should be able to go but I wasn't fit enough to do it. So I just went out and finally kicked my butt into shape and I'm having a lot more fun now. It doesn't seem like a job to me anymore. Now I am having a blast.

Sometimes when you step away from the sport and join the rest of the nine-to-fivers out there it gives you a whole new appreciation for doing something you love to make a living. Did swinging a hammer for four years open your eyes?
Totally. It doesn't seem like work to me now. You are just bettering yourself by training and working on your skills. I got better at what I did in construction but I wasn't passionate about it. Riding bikes is in my blood and I love it. My parents own a construction company and I actually made good money doing that but this is what I love. If I can make a living doing this I want to give it everything I've got.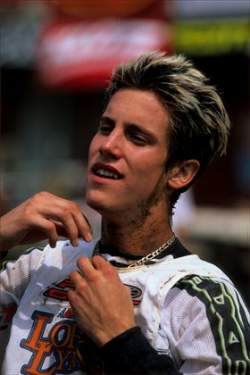 Racer X Archives photo

What are your plans for 2008?
Right now I don't have whole lot of help. I suppose I need to get on the phone and start talking to people. I was never really good at that. My dad always handled everything for me as a kid and then with Pro Circuit I just kind of went with the program. A lot of things have changed now. I'm 26 years old and the sport has totally changed from when I last raced. I think now that I'm a little more mature I will make better decisions on the track and off of it. I used to get caught up in stupid stuff. So, I bought a couple Hondas for right now and Crower is doing the motors and MB1 is doing the suspension for me. O'Neal, 661, Renthal and a few of my old sponsors have been great to me.

Are you planning on riding the Lites class?
Yeah, I tried to sign up in the 450 class and they wouldn't give me a license for that. Thankfully, because of my past racing, they gave me a Lites license. That is something that has really changed; it used to be that any guy off the street could sign up for Anaheim and roll out there for practice. I suppose that is a good change.

Do you have any goals for the season?
I know what I think I'm capable of but I'm not going to put anything out there. I'll just say that I want to put it in the main every weekend and see what happens. And I want to stay healthy all year.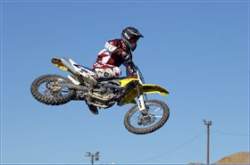 Steve Cox photo


How can someone contact you if they want to help out?
If there are any teams looking for a guy right now they can just call my cell phone at 818-427-3549.

What is the main reason you came back to racing?
Mainly because I was sitting on my couch watching the races and getting pissed that I wasn't out there doing it. It is so cool to do something you really love and I feel like this is what I should be doing.