5 Minutes with ... Kevin Windham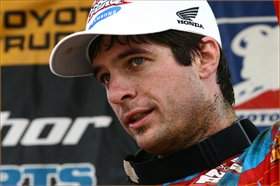 Kevin Windham leads Torco Racing Fuels Honda into the 2008 AMA Supercross Series.
photo: Matt Ware

The last time Kevin Windham won an AMA Supercross was on a rain-lashed Saturday night in Anaheim, California, on January 8, 2005. The past few years have been a bit of a roller coaster ride for the veteran racer, including the 2007 AMA Supercross Series. Windham hovered in the lower recesses of the top 10 before finally getting on the podium at round seven in San Francisco. Then it was back into the doldrums before finishing off his season with two third-place finishes at Seattle and Las Vegas.

Then came the nationals. The last time Kevin Windham won an AMA National was Washougal '03. This past summer, four years later, #14 pulled it all back together to win the overall at Round 6 of the AMA Toyota Motocross Championship. His season ended on a positive note as he won the 24th and final moto of the season at Glen Helen. However, with the result came a lot of uncertainty about Windham's future as, while on the podium — with no deals etched in stone for 2008 — he told the fans they just might be seeing the last of him.

How could a rider the likes of Kevin Windham be out of a job? It took almost three months, but recently, it was announced that KW would be back in 2008 with the Factory Connection-managed Torco Racing Fuels Honda team. Today, Racer X Illustrated rang-up Windham at his home in Centreville, Mississippi. Relaxed and in good spirits, he elaborated on his long and winding journey from the Glen Helen National to his new deal for 2008.

Racer X: Kevin, What are you up to today?
Kevin Windham: I did the same thing today that I've been doing for a while now. Between riding and training, everyday is pretty much the same. We also have some friends here and we're getting ready for Christmas. Race season is now upon us and I guess we're all in the holiday spirit.
Going back in time, heading into the season-ending Glen Helen National, did you think your career was over?
I didn't think I was done, and I did not want to be done. It took a long time to figure out what was going to happen for the 2008 season. Our team thrives on outside sponsorship, and the team knew there was going to be a big overhaul for 2008. Also, I had been with Honda for a long time and wanted to finish out the rest of my career with them. Honda wanted to support me for 2008. The team was happy with my placings and Honda was, too. It took a long time, but things finally did come together and I was real happy about it. I wasn't ready to hang the boots up.
How did things finally fall into place?
It was a real slow process. Factory Connection was ready to supply the equipment and then Torco came on and it all started to take shape. All the deals came together and it was nice to get it done. I didn't enjoy waiting for the deal to come together, but it worked out okay. I was able to take a break in the off-season and then go into riding and training. It was almost perfect timing.
When did everything get finalized?
In September and October. It was late. Normally, deals are done in March or April. I had never done it this late in the year. It was frustrating because it was out of my control. We have a lot of talented people involved with the team trying to bring in outside dollars.
How did it feel to win the last outdoor national moto of the year?
It was great. I didn't want it to be my last outdoor national. In fact, if I would have kept it on two wheels in the first moto I would have had an easy overall. Glen Helen has been great to me. When I came back to race after that year-long hiatus in 2002, my first race was at Glen Helen and the fans were really behind me and it was a great feeling. So to win that last moto this year was a good way to end the season.
How has your pre-season preparation been going?
I feel that I'm right where I need to be. I've been working with Jeff Spencer and I feel that I'm more prepared than ever. Factory Connection has been working on the chassis and we've been going in some different directions, and I'm happy with the machine and the quality of work that has gone into it. A lot of good things are going on, and I think it's a big benefit that I was able to stay with the team. I'm glad it worked out.
Will you be working with factory Honda at all in 2008?
They are helping out and I still have a contract with Honda. They've been giving us a lot of support, however they're in a little more of a back-door role than in the past. I mean, they're coming out in 2008 with a big truck and a lot of people on the team [Ivan Tedesco, Davi Millsaps, Andrew Short and Ben Townley]. They're planning for the future, but they're giving me support and I am appreciative of it. We're working with Mitch Payton, and I'll have a Pro Circuit motor and Factory Connection is doing the suspension work. We're close with Honda and have plenty of open-door conversations. I don't want to hinder the factory team in 2008. They're making some big moves and have their young guns coming up.
The last supercross you won was at Anaheim in 2005. Can you win again?
Yeah, I feel I can do it. I was happy with my X Games performance [last August]. Obviously, Chad [Reed] was in his off-season, but I passed him and it showed me I could do it. But with Bubba, you don't really know what to expect. I'm just going to race the track and do the best I can and put myself in a position that if a great opportunity comes available, I can capitalize on it. Whether I finish first, second or third, I just want to race to the best of my ability.
With Ricky Carmichael now officially retired, do you think the dynamics of racing will change?
I think it will definitely be different. Obviously, Ricky Carmichael being out will take a load off Bubba's mind, but then again, historically, Bubba does not race as well if Ricky Carmichael is not racing. All I know is that when everybody goes into that class [450F class], it's like they get a breath of fresh air. That's how it was for me at Charlotte when I won my first race in the 250cc class ['97]. When guys get in the class, they go gung-ho and really hang it out. Then, eventually, maturity comes into it. I look at my racing now and I've definitely pulled it back a bit. James [Stewart] will mature and become a different rider, too. Me, I'm set in my ways, while James Stewart will keep going. But James is aging. I guess we all are. Now there are a bunch of new kids with new ambitions. It's all an escalator. You get on it and the bar gets raised. I guess I see it through different eyes now.
What are your goals for the 2008 supercross season? What'll make you happy come the Las Vegas Supercross?
To eliminate the eighths and fifths and be more consistent. I don't know how realistic it will be to win races or to be on the podium. You talk to six or seven people who think they'll be on the podium in 2008. And they're not lying. With all the talent that will be out there, you wonder who is going to go by the wayside. Anyone can have one good night. I don't know where people will expect me to be, but all I know is that I'm going to go into each race with my A game.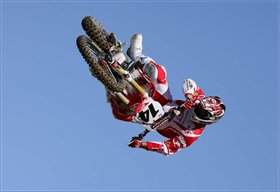 Now that's a whip!
photo: Courtesy of Torco Racing Fuels Honda

Who do you see being in the mix in 2008?
It's pretty wide open. It's almost like the last question you asked: who will be the people on the podium. I know I have to get more consistent. Chad [Reed] has great consistency. Bubba is fast but needs to work on his consistency. He can't be hitting the dirt and breaking his collarbone. Everyone else is going to have to take their tactics and try and run with them. Who knows? I mean, look at Travis Preston. This is no blow to him, but at the Honda test track last year, I was a lot quicker than he was. But then he would light it up in supercross. Remember how strong he was when the season started? I guess you never know until the lights come up and you're in the night air and in front of the crowd. It'll take a couple rounds to find out who the players are.
Kevin, you've been at it since 1995 and are still one of the most popular riders in the sport. What's your take on that?
I definitely appreciate it. I don't know if I'm the most popular, but I'm honored to be asked the question! I guess I see it from the outside, but I like racing for the crowd. I like to connect with the fans the best I can. I've met a lot of people over the years and I see them over and over and I try to talk to them whenever I can. I really appreciate the fan support. I think it goes all the way back to 2003 at Glen Helen. I could feel it there. This year at Glen Helen, when I realized there was a chance I'd have no deal for 2008, I told the fans, 'This might be it." I could hear the fans when I won that last moto and it felt awesome. It was an awesome feeling. I owe a lot to the fans. I have a great relationship with them. I don't know what I did to earn all their support, but it's great to have it. I don't want to mess that up. I won't be doing all the outdoor races, but I enjoy the outdoors. I think they're a critical part of the sport. But if I'm not on the bike and riding it at 100%, I'm not doing it justice. But I'll be doing the supercross series and some of the outdoor races. I'm just not sure which ones yet. I know they have made some changes as far as how the outdoor series goes, and it all sounds like a step in the right direction. It'll be interesting to see how it goes. But no matter where I'm at, I look forward to seeing the fans at both the supercrosses and the nationals.
Okay, Kevin. Thanks for your time and we'll see you soon.
Thanks, Eric. Have a nice Christmas and we'll see you in a few weeks.