Happy Thanksgiving to our readers in North America, and hello to everyone else out there. Thanksgiving means amateur motocross in America, specifically the Mini Os in Gainesville, FL, which is now officially the 36th Winter National Olympics of Motocross presented by Pro Circuit. It's a weeklong race that features supercross for the first half, then motocross the second half.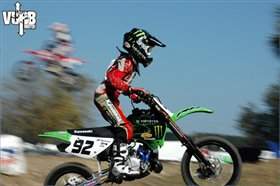 Adam Cianciarulo is looking strong in Florida.
photo: Courtesy of VurbMoto.com
Vurb Moto's
Wes Williams
and
Travis Steward
are on the job, shooting and posting daily videos on both
www.vurbmoto.com
and
www.racerxfilms.com
. And there's more coverage and videos by
Chris
and
Trevor Hultner
on
www.amateurmx.com
. If you want to catch a glimpse at some of America's future motocross stars (not to mention some of England's, what with "
Scuba
"
Steve Clarke
and
Max Anstie
racing here now) take some time to watch.
And props to Wynn Kern and his crew, as the tracks both looked really great—at least until Thursday's typhoon come through.

The Mini Os have changed a great deal since the first time I went back in 1978. They used to take place at a track called Chicken Farm, over in Homassassa Springs. Back then there was motocross, flat track, TT and hare scrambles racing. I remember we showed up in our van, a bike for my brother and one for me, and spent all week changing tires!


It was the first time I met
Billy Liles
too. His dad would show up with a trailer full of bikes, then they'd piece them together for whatever the next race was. Most people remember Billy as a Grand Prix motocross racer, or one of the charter members of Team Green, but before all that, he was an expert flat-track racer in Georgia.
Anyway,
Kenny Keylon
(
Kyle
's dad),
Kevin Foley
,
Karl Jordan
,
Todd Hempstead
, the
Tichenors
… Thanksgiving dinners, campfires,
Bill West
using his old 12-gauge sawed-off shotgun to start the hare scrambles…Those were great times. If I can somehow track down
Anna Addair
, who used to shoot all of those races along with her late husband
Mike
, it could be an epic article in
Racer X
. Any ideas on where Mrs. Addair might be now?
Online@racerxill.com
Okay, the AMA Awards Banquet was held last Sunday night in Las Vegas, and
Jason "Blogandt" Weigandt
offered this report:
This year's AMA Racing season officially wrapped up with the 33rd Annual AMA Awards Banquet, held this year on Sunday night at the Rio Hotel in Las Vegas. The AMA actually holds two banquets during the weekend, one on Friday for amateur racers on one on Sunday for the pros, with the AMA Maxxis EnduroCross in between on Saturday.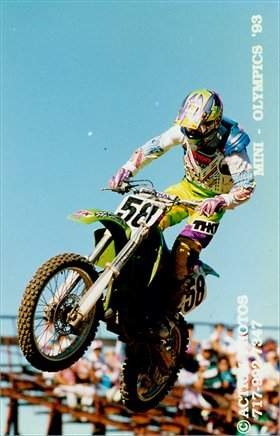 That's the Metal Mulisha's Brian Deegan racing the Mini Os in '93.
photo: Action Photos
Most of the top riders made it to the Sunday banquet, as it was especially easy for the MX/SX gang to make the trek since most of them are in California now for testing. Is anyone really opposed to a day or two in Vegas, especially when you don't have to worry about World Supercross in December any longer?
I saw Andrew Short and asked him about his ride two weeks ago in Paris. Andrew used to be a dominator at that race, but he wasn't as pleased with his ride this time. He really expected to be a little closer to the leader's pace there, and he told me now he's left with eight weeks to pick it up. Andrew had just driven from California to Vegas on Sunday morning and was headed back out Monday, as Honda had photo shoots for the team scheduled this week.
Later on I talked to Short's new teammate Ben Townley, who was also headed from Vegas to California on Monday morning for the Honda shoot. Because of that, Ben wasn't ready to hang out Sunday night, as he was jumping in a car with new Team Manager Erik Kehoe Monday morning! BT101 said he has been riding his Honda CRF250 back in Florida and he'll continue working on that in California—he won't be on a 450 until late spring as he prepares for the AMA Toyota Motocross Championship. Ben is also not sure what coast he's racing in Lites SX yet, but I'm starting to think it might be the East again.
I also saw Trey Canard in Vegas, on hand to collect his AMA Motocross Horizon Award, and he said he's just getting started with supercross testing and will be racing East Lites to give himself more time to get ready.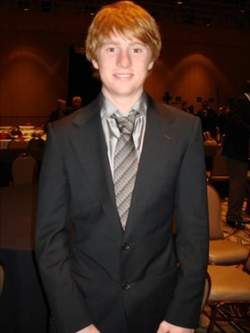 Ryan Villopoto is the AMA SPEED Athlete of the Year.

photo: Miriam Dietcher

Ryan Dungey was on hand to collect his AMA Rookie of the Year Award, and he's been back on the bike for about three weeks now after his collarbone injury from Steel City.

Ryan Villopoto and Townley came on stage to accept their AMA number ones for Lites SX East and West, as well as their first and second place plaques for Motocross Lites. Tim Ferry, Chad Reed and James Stewart were there to grab the top three trophies for AMA Supercross, with Short, Mike Alessi and the champion Grant Langston accepting honors for AMA Toyota Motocross.
Then the Motocross of Nations Monster Team USA was honored, which brought Ferry, Villopoto and Ricky Carmichael to the stage. It was good to see Ricky around again, and AMA President Rob Dingman presented him with a gold AMA number-one plate.

Funny thing was, when Ricky came to the stage, banquet co-host Todd Harris made a few jokes about Ricky taking a long time to make it up there, and then he threw in a "Ricky looks tired, he has twins now." Of course, the whole Ricky-looks-tired thing is a bit of a sore subject now since RC is fighting an illness, but I'm not sure Todd was aware.
And that, really, became the theme of the show. Harris, who you may remember as the play-by-play guy for Supercross a few years back, co-hosted the banquet along with a pretty girl named Mischa, who didn't seem to know anything about motorcycle racing at all. She tried to fill in the gaps by repeating how talented and awesome every rider was, and later she fell in love with the variety of accents all the racers had. Trouble was brewing there. At one point she was interviewing yet another in a long string of Australian riders—I think it was Aaron Gobert or something—and when he told her he was an Aussie, she said, "Wow, Australia! Have you ever held a monkey? I heard you can hold a monkey all day!"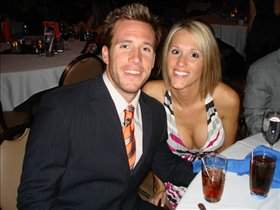 Grant and Chelsea Langston.
photo: Miriam Dietcher
At that point her credibility was shattered, and the rest of the show livened up since you could get easy laughs by making fun of her monkey comment. Even Langston got in on it when he said "I'm from South Africa and for the record I've never held a monkey."
While the hostess' mistakes provided the comedy, the evening featured a little drama since the AMA Crew, Sportsman and Athlete of the year awards would be announced during the show. Mitch Payton and the Pro Circuit squad won Crew of the Year. Then Ryan Villopoto won AMA Racing Athlete of the Year, against the likes of Ben Spies and Ken Coolbeth. This is an amazing accomplishment for a rider still racing in the Lites class, but then again, he beat everyone at MXoN on a Lites bike so what more can you say?
Doug Henry won the Sportsman Award, which is as fitting a victory as you could get. Sadly, though, Doug was unable to make the banquet, as Yamaha Racing's Keith McCarty came to the stage to explain that the Henry family is dealing with even more adversity right now. Doug's wife Stacey has been diagnosed with breast cancer. Unreal. How much can one family deal with? Certainly everyone is wishing their best to the Henrys.
Overall it was a nice night, with a few guffaws by the hosts keeping everyone on their toes until the big awards were handed out at the end. It was cool to see all the AMA Champions together for one night, as well.

That's it from Weege.

Here's a cool wrap-up video from the Paris-Bercy SX.

What's going on at Yamaha of Troy? We talked to J-Law's mechanic, Corey Shea, and he said, "Testing is good so far. Motors are looking strong, improvements from what we had last year. Jason has rented a house next to Josh Hill, and he has been training w/ Ryan Hughes and he looks good—much stronger on the bike. It's easy to see in his riding too. Josh Hill is flying on a 450, too. He has faster times than Grant Langston! And I've watched him do 18 laps so I know he can go the distance."
Here's a blast from the past. Some of you probably remember a very fast rider out of the Nor Cal back in the day, Brett Racine. Well, recently we got in touch with Brett and asked what he's been up to.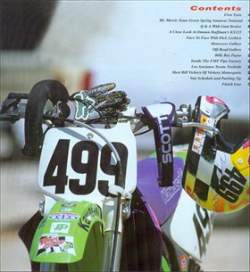 Brett Racine was a top Team Green rider in the '90s.
photo: Courtesy of Team Green News
"I'm a pilot now," the former Team Green amateur standout told us. "I'm a Captain for SkyWest Airlines based out here in California. SkyWest is a regional airline that does Delta Connection, United Express, and Midwest Connect flying throughout The U.S., Canada, and Mexico. I still follow the sport really closely, too. My dad and I both have subscriptions to
Racer X
and I try to at least make it to the San Fran SX and
Hangtown
every year. And 'Motorcycle Racing' is priority #1 on the DVR.
"I still ride occasionally," added Racine, "but not nearly as much as I'd like, though. I've still got my old 2000 KX 125 race bike. I don't ride it too much though, so it's still like brand-new. And the thing rips too. It's kinda funny, I show up to ride and the bike kinda gets laughed at. Then I go out and do a few laps (that's about all I am able to do before I'm exhausted) and people are like, "Damn, that thing sounds gooood!" I'll get a new bike here someday though. All my extra money right now is going towards our new house, furniture, landscaping, etc. All the real life stuff."
Team Suzuki's
David Vuillemin
continues to display his computer savvy with his "DV12 Films" page, which is actually just on his regular site but has a bunch of cool videos. Check it out
here
.
At least a couple of well-known American supercrossers are en route to Europe right now, as both MDK Motorsports' KTM's
Nick Wey
and DNA Energy/BTO Sports/ Rick Case Honda's
Jason Thomas
are competing in Saturday night's Barcelona SX, then staying for the whole week before racing at the Geneva SX in Switzerland (
Mike Brown
will be joining them of that race. While IM'ing with "JT Euros" this morning, I told him to make sure he checked out Gaudi's bizarre
church
there in Barcelona.
"Yeah, I've seen it! Its crazy," replied Thomas. "That guy was on some serious shit!"

Benjamin Coisy, the French rider that was such a revelation at the Bercy SX, won all of his races in Moscow last weekend. Coisy is hoping to make a good impression and get over to the states for 2009, after making a run at the 2008 MX3 FIM title. Coisy, by the way, has a BMX background, just like Jeremy McGrath himself.

Back to Florida for a second. Racer X contributor Jenn Sheppard is also on hand down at the Mini Os, and she reports, "Quinton Bigalow was injured on Tuesday in some freak accident when another bike came flying through the air and took him out. He broke his neck, and apparently if he had not been wearing the Leatt Brace, and the medics had not performed well on the spot, doctors said he would have been paralyzed, suffering the same type break as Nick Depalo one year ago at this event. The thing is, these two guys are best friends. It was all very surreal." Here's wishing Quinton and his family a full and speedy recovery.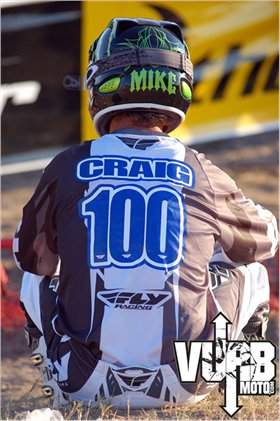 photo: Courtesy of VurbMoto.com
Also,
Michael Ray Craig
was back on the bike at the 2007 Mini Os down at Gatorback Cycle Park this week. His son,
Christian
, broke his femur at Loretta Lynn's this past August, but is already back on the track and riding at the front of the B classes.
The British magazine
Moto
is reporting that there might be some problems with public-funding that has jeopardized the 2008 Red Bull Motocross of Nations at a new facility near Dublin. Read about it
here
.
Moneyglass isn't far from Desertmartin, which has hosted GP races, but the new facility was built with the MXoN in mind, as the access wasn't that good for the crowds that can be expected for the 2008 MXoN, and Youthstream no doubt did not want to see another mess like the traffic problems at Matterley-Basin. Fortunately, if the funding doesn't work for the new track, Desertmartin is a proven track that can host the race in a pinch.
Unfortunately, it sounds like there's nothing that can be done to save the race at The Citadelle at Namur, the most famous motocross track in the world. Namur is likely done hosting motocross races—it's not on the 2008 calendar and the main organizer, who is 73, says he can't do it anymore. The event has come under attack in recent years by environmentalists and historians who didn't want the motorcycles there anymore—
Roger DeCoster
once explained to me that The Citadelle is as famous to Belgians as Gettysburg is to Americans. Hopefully, organizers in Belgium will be able to move the race to one of the other historic tracks over there, as Lommel is being mentioned.
From
Ping
:
The PC guys are still on the mend. Austin Stroupe is recovering from his broken collarbone and RV, who broke his collar bone recently, is actually healed from that surgery. The reason he isn't back on the bike yet is because of the screw that was put in his navicular. He has been training but is waiting until next week to start his riding program for the 2008 season.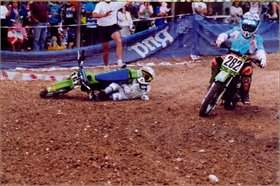 A young RC at the Mini O's in '89.
photo: Action Photos
Meanwhile, the word on
Christophe Pourcel
is not very promising. Apparently his low-back injury is worse than originally thought. In a strange cosmic twist, the one rider that the Monster Energy/Pro Circuit guys have healthy is
Brett Metcalfe
, who has struggled through one injury after another for the past several years.
We mentioned
Travis Pastrana
racing the Baja 1000 solo last week. We couldn't find him in the results, then Red Bull's
Jordan Miller
explained to us what was going on: "Travis did not make it across. He hit a silt bed at about 120 miles from the finish (above Cabo) and sucked dirt in the air box, then the bike blew up. He was in seventh place. Hauling ass. He and
Greg Godfrey
started together and TP was eight hours ahead of him when his bike blew up! But Godfrey finished the Ironman, which is a huge accomplishment."
Jordan also sent us these photos of MX2 World Champion Antonio Cairoli playing around on Valentino Rossi's MotoGP bike.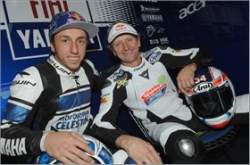 Antonio and Kevin Schwantz
For this week's
Flash Trivia
we asked you to identify the rider in the photo, and the year.
The following readers were the first five to correctly answer the question. The rider was Josh Hansen in 2002. Congrats, guys, and your new SkullCandy headphones are on the way. Special thanks to SkullCandy for hooking our readers up.

Steve Evangelista
Ruben Pina
Kenny Smith
David Younger
Kenny Sievers

Did you catch last week's Number Cruncher on foreign-born or GP-experienced riders who have used numbers in the 900s here in the states, followed by a 900-Redux on U.S. guys in the 900+ range, we actually found out there is some reason to the 900 rhyme and its association to so many foreigners. Our boy, Ryan Holliday, of the AMA filled us in:

"It is my understanding that a lot of the 900 numbers are held specifically for foreign riders. Just like low 100s are held for special guys like BT and Everts. Jane Caston is our office number guru. She assigns the rider numbers for motocross."

We also received a note about a rider we regrettably left off the 900 Cruncher, and that is the late Ron Boyas. He wore #915. We apologize for leaving the highly-respected privateer out.

It was during that Redux that we mentioned that Larry Ward's #971 remains the highest number even to win an AMA National, and that is one of his three places in the record books that still stand. We asked another trivia question: What are Larry Ward's other two special places in the AMA record book? The first person to answer correctly was going to get a Toyota TMX Pit Board and some Racer X Swag.

Here are a couple of the answers we got:

Larry Ward won nationals in three decades, and he used to wear his sisters underwear home from the track when he forgot his… Was I supposed to keep that one to myself? I think he also rode for every brand and every team.

Dane Batty. Portland, OR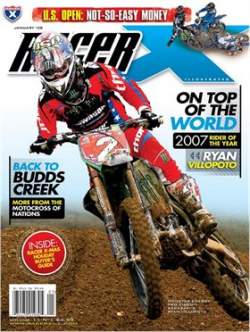 Get your free RV sticker now! Click here to learn more.
I met my idol (Larry) two years ago when he moved to Myrtle Beach, SC. I used to watch him ride and practice at Hank Moree's track in Society Hill, as I lived in Cheraw, which was in the next town. I always looked up to him and wished I could be that guy. Well, long story short, Larry and I ended up being close running buddies through some hard times and became good friends. He has become a great friend, hunting buddy, and graced me with selling me his last 250F he rode professionally (for Moto XXX), which I will probably never get rid of, childhood trophy and stuff, you know? He is a great person and friend.
Jason Deas

P.S. He can still flat-out fly, ride one-handed, slap you on the helmet as he wheelies past you in two-foot-tall sand whoops, and make riding look like an art!
Anyway, we got a ton of responses and answers, but the first guy to correctly answer was Scott Spiwak: Ward was the first man to win an AMA National on a 250F four-stroke (Red Bud '01) and he's the only man in AMA Motocross history to win a national in three different decades: the '80s, '90s and '00s.
Here's a note from the Dave Brozik Essay Contest Winner, Sam Wappelhorst: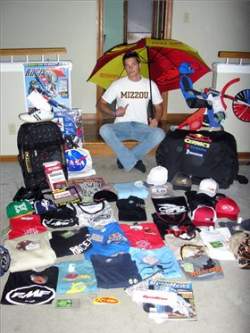 Sam and his swag.
I saw the big brown truck pull up. The guy in the little brown shorts got out (yep, it's 75 degrees in Missouri in November), but he didn't drop off any boxes. I sat in the living room wondering what he did out there. An hour and a half passes and there's a knock on my door. It's the neighbor girl saying there are some boxes outside of her house and they're for me. Sweet. He didn't forget, he was just more caught up in his cigarette and the golf ball in my yard to look for the right address. I go next door to pick up the boxes and bring them inside. I rip open the boxes and OH MY GOD! This is like Christmas on November 19, except I didn't get any Legos. I can't say thank you enough to you and all the industry people who sent along the goods. There is so much stuff it's almost ridiculous. This makes my Christmas shopping so easy. Oh, and my mom is gonna love the NASA stuff. She's a teacher so she should be able to use the stuff in some of her classes. BIG Thank You to: Cernics, DVS, FMF,
Cycle News
, Throttle Jockey, Moose, Pro Action, Chasco Creations @igotfumoney.com, Ogio, MotoTees, Thor, and of course
Racer X
.
Thanks again.
Sam Wappelhorst
Finally, today is Black Friday, as well as the start of our Cernics.com Christmas Countdown, as we have 30 + 2 Days left till the big day. Special thanks to
Jeff Cernic
at
Cernic's Racing
for supporting the feature. To check out today's featured product, click
here
.
That's it for Racerhead. Thanks for reading this far, and have a nice rest-the-holiday weekend. Check back on
www.racerxfilms.com
for more from the Mini Os down in Florida. See you at the races.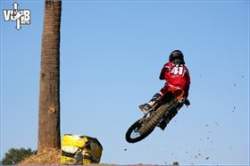 photo: Courtesy of VurbMoto.com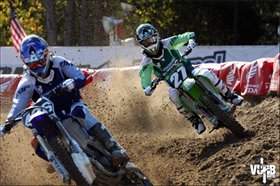 photo: Courtesy of VurbMoto.com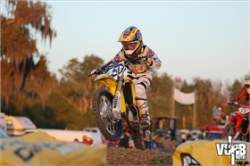 photo: Courtesy of VurbMoto.com