Number Cruncher: 900, Part 2
Welcome to the Shift Number Cruncher. Wow, we seemed to have stumbled onto a number phenomenon when we ran the foreign #900s last week. After a couple dozen emails from fans yelling at me that I forgot Larry Ward as #971—who knew Snohomish, Washington was "foreign"—and receiving a plethora of other cool #900s, we had no choice but to feed you another heaping spoonful of #900 rider trivia. So on this glorious Wednesday before Turkey Day, we're just going to roll out any and all #900s we can find—regardless of passport—and then put the group to bed… For this week, anyway! Please enjoy this second batch of motocrossers who raced wearing digits in the #900s.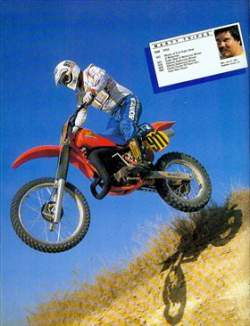 Marty Tripes
Let's kick it off with this rare, killer shot of
Marty Tripes
launching a cherry new CR480R off a cliff, circa 1984 (and courtesy of that year's JT Racing catalog). Hey man, nothing for nothing, I bet that bike would still kick a little butt if you pushed it to the starting line. Tripes is a legend, pure and simple. He was the winner of the first Superbowl of Motocross in 1972 and '73, plus a bunch of other wins. Tripes, who was the original "El Cajon Zone" hero (he was from Santee, CA) is a cool cat, and even showed up at Loretta's this year to hang out in the infield. What's he up to these days? Check out
www.martysgourmetmushrooms.com
.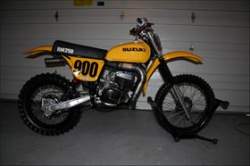 Fred Guidi
Here's is a little more sauce for your old-school pallet. This beauty belongs to AHRMA-MA motocross coordinator,
Fred Guidi
, and he races this bad boy in the vintage series. Beautiful. Guidi grew up racing with the Coombs clan right here in Morgantown, WV, and is a local legend with his style and love of motocross.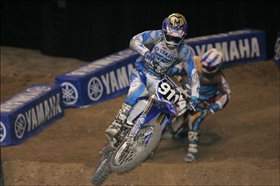 photo: Steve Bruhn
It's hard to believe how much hype this young man has generated in such a short amount of time, with an even shorter amount of professional races under his belt.
Tyler Bowers
is big, he's bad, and he'll be wearing #911 for Yamaha of Troy in the 2008 East Coast Lites Series.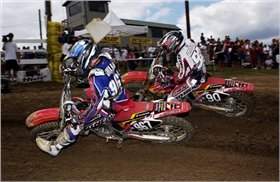 Ryan Mills
photo: Steve Bruhn
Check out this shot of
Ryan Mills
racing
Steel City
during his 2002 rookie season running the #967. Pretty cool to think that four years later he would finish the first moto of the Motocross class in third place on a Rockstar Suzuki.
Steel City
wasn't as good to him this year, if you recall his trip over the bars in the first moto on the uphill triple.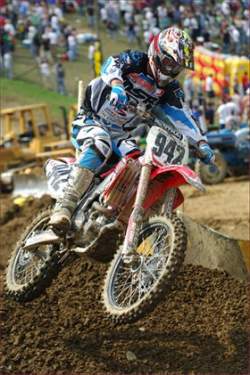 Juss Laansoo
photo: Steve Bruhn
Oh where, oh where has the Estonian speedster gone? Maybe Jim Holley knows. My favorite Jim Holley story about
Juss Laansoo
was about when he had been working on toughening up Juss' hands by making him do pushups in his gravel driveway. Although, when he arrived at
Unadilla
, he noticed Juss had bad blisters again. When Holley asked him why they were so bad Juss replied, "I put lotion on my hands because they were so rough from all those push-ups." We should have run the 2005 AMA Rookie of the Year in last week's foreign edition, as well as this next cat….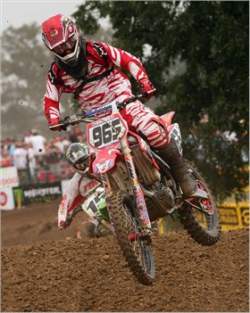 photo: Simon Cudby
Antonio Balbi
is a four-time Brazilian National Champion that came to us last year with a little help from the Wonder Warthog program and
Fox Racing
. He skipped the Lites class and jumped directly into the big boy group and did pretty well. Well enough to earn #55 for 2008.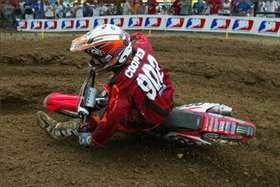 Cody Cooper
photo: Steve Bruhn
And yet another foreign talent is New Zealand's
Cody Cooper
, who came over to run the last couple of AMA Toyota Motocross Championships and surprised some people with his speed. Here he digs out a loamy
Freestone
berm. That's in Texas.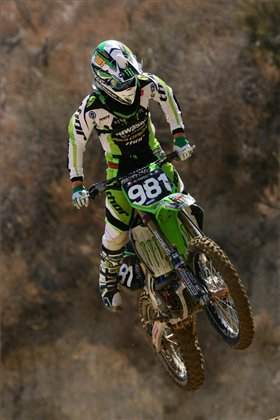 photo: Simon Cudby
Now, this kid called down the thunder! Pure rookies don't just show up and lead nationals anymore – or do they?
Austin Stroupe
showed up at
Steel City
and put up practice times that had team managers picking up their jaws out of the mud. This dude's for real. Second in the first moto of his career, and second in the third moto of his career. Wow.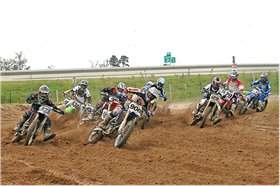 Johnny Marley
photo: Larry Hughes
There was a lot of old faces I saw at the Des Moines arenacross, but seeing
Johnny Marley
was pretty cool. Remember the kid doing the nac-nac on a YZ80 while riding with Robbie Reynard filming
Terrafirma
? Johnny was on his way to the top but was struck down by bad luck and bad decisions. But he is back at it and doing what he does best, and that is good to see.
It just wouldn't be a complete number cruncher if we didn't throw in a Hi Flyer card! Thus, we have Georgia's
Matt Shue
running the #990 way, way back in the day. This Georgia product is one of the nicest guys you'll ever meet around a racetrack.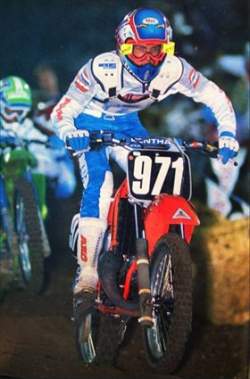 Larry Ward
photo: Courtesy of Daniele Sinatra
And finally, here we have
Larry Ward
wearing #971 in his rookie season riding for factory Honda. He would win
Southwick
that year and establish one of his three places in the record books that still stand, this one for having the highest national number to ever win an AMA National. Look at how bad ass that helmet is. I wish they still did cool paint jobs like that now a days!
Now here's some Racer X Flash Trivia—and it's a tough one: What are Larry Ward's other two special places in the AMA record book? The first person to answer correctly gets a Toyota TMX Pit Board and some Racer X Swag. Send your answers to:
Online@racerxill.com
.
That will just about do it for the #900s. We'll be back with something fresh and new next week. Until then, keep the gas mixed at 32:1, tighten the chain and spokes, and keep that no fog wipe at the ready.