Welcome to the Shift Number Cruncher. After reading the results of the Bercy supercross we had to dedicate this week's column to the theme that was staring us right in the face. The big question of the weekend on the U.S. fans' minds was, "Who the hell is Benjamin Coisy?" The Frenchman certainly put his name on the map by rolling out a couple of runner-up finishes in the opening night of racing on the #979 Honda CRF450R.

So, hey, you all know the ritual around here. You show up and blow up and you just may find yourself in the ole Cruncher! That's the case for Benjamin—the multi-time French National SX Champion—and his #979, which got us thinking about all of the foreign riders we've seen over the years that have ran numbers in the 900-area code. We found a bunch! Enjoy the #900 foreign alliance.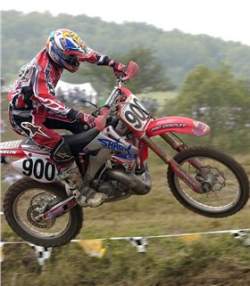 Josh Coppins
photo: Steve Bruhn
Before Ben Townley came to America another fast Kiwi showed up for an outdoor national by the name of
Josh Coppins
, and he was wearing #900. He was actually David Pingree's Shark/Plano Honda teammate that afternoon, and has enjoyed a long career on the GP circuit. In fact, you can read an epic tale of his 2007 GP season in the new issue of
Racer X
.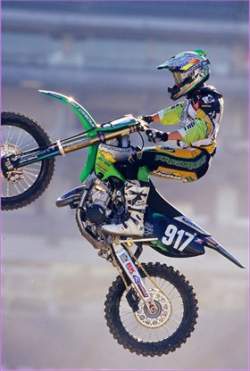 Eric Sorby
photo: Simon Cudby
Eric Sorby
came to America a house of fire riding for Mitch Payton wearing #917. The mega-talented Frenchman was fast enough to win 125cc supercrosses and showed a lot of speed outdoors, but it just never came together. He is the only guy I have seen do a one-handed nac-nac in a supercross race though. He busted one in the LCQ in Vegas last year.
Here we have a "Bad" Billy Ursic shot of the oft injured
Tyla Rattray
. Tyla came over to
Millville
in 2006 on the #971 to help out Alessi in the title chase, but stacked it up in the hoops on Saturday instead. You guys remember that sick scrub shot of him that year?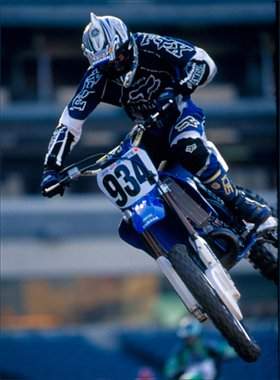 David Vuillemin
photo: Mike Balzer
Here we have
Le
Cobra
in his prime. Pretty cool to remember that David won three outdoor nationals and four supercrosses with #934. I always thought he looked bad ass with that silver Fox gear on the factory Yamaha. He actually rode my personal YZ250 to film for
Wrath Child
that year.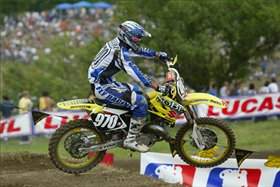 Matt Lalloz
photo: Steve Bruhn
Man, this guy came over here with a tremendous amount of hype. Roger D. was even talking him up. Unfortunately things just never materialized, but #970
Matt Lalloz
has landed on his feet as Scott USA's marketing guy in Europe.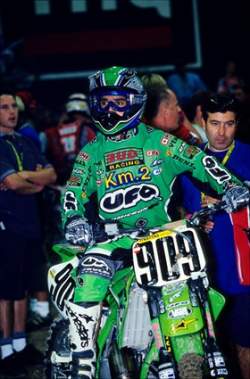 Edgar Torrenteras
photo: Simon Cudby
Here we have the mad man himself,
Edgar Torrenteras
, #909, better known as "ET". He was in Chile with me when I had my big bail. We had a good time together up until that point. My FMX career ended right there while he went on to become one of the best in the world.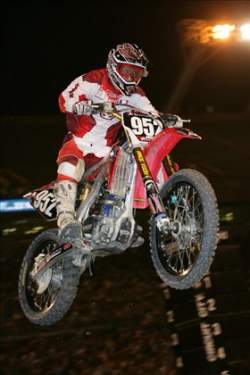 Yoshihide Fukudome
photo: Simon Cudby
Boy did this cat start a bunch of jokes when his name started showing up on the AMA Live Scoring Monitor! Bad Billy has a #952
Fukudome
jersey hanging up in his office and actually saw a guy wearing one at the SHEETZ in Morgantown. You can't make that kind of stuff up. Here he is riding Lites SX for the Moto XXX Honda team.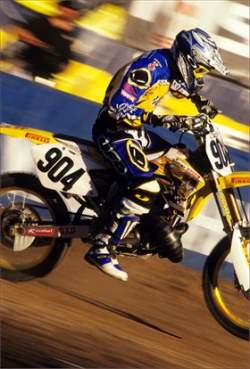 Mickael Pichon
photo: Simon Cudby
How many of you out there knew
Pichon
wore #904? Hell, I didn't. Pretty cool looking cone pipe on his RM250 though.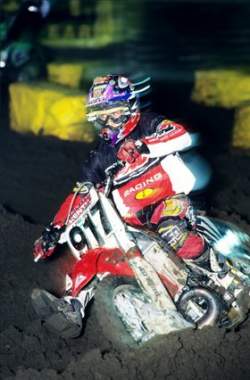 Fred Bolley
photo: Racer X Archives
This is France's
Fredrick Bolley
racing AMA Supercross in the states on the #917, on the same night that Sebastien Tortelli won! By the time Bolley retired, he had two FIM World Championships to his credit.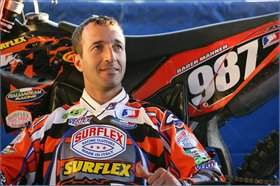 Bader Manneh
photo: Simon Cudby
Bader Manneh
made a lot of news last year by riding the first few rounds of the West Region at age 40! The transplanted Californian, who has lived in Italy for years, didn't make any mains, but won the hearts of vet riders around the country. We then ran a feature of him back in the May 2007 issue of
Racer X
, titles "The 40-year-old Veteran." You can pick up that issue at
www.racerxbrand.com
.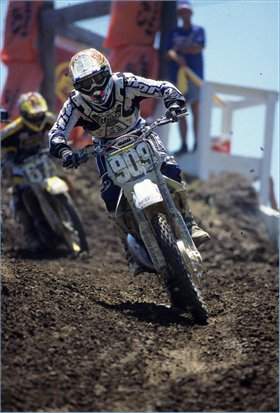 Bobby Moore
photo: Mike Basher
Bobby Moore
isn't a foreigner either, but he did run the GPs for most of his career. Here he runs #909 in one of his last pro rides—this time back on the AMA National circuit on the FMF Honda team.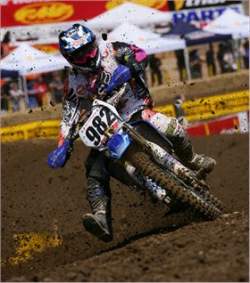 Akira Narita
photo: Simon Cudby
This Japanese rider has been going for it for a long time.
Akira Narita
almost won a moto at the '01
High Point
National on the #982 Suzuki RM, but
Travis Pastrana
passed him on the last lap.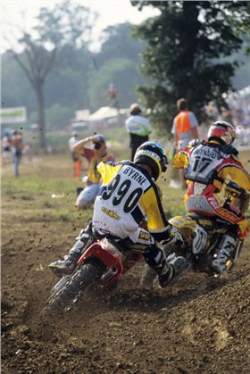 photo: David Langran
This is a cool shot of
Michael Byrne
riding for Jeff Emig's Strategic 3 Motorsports team at
Steel City
. Burner's bounced around some good teams here in the states, and he is on factory Suzuki again in 2008.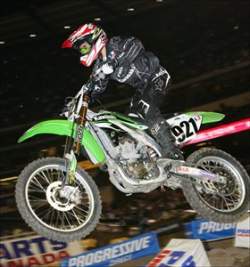 Manuel Rivas
photo: Simon Cudby
Manuel Rivas
showed up to contest the first few supercrosses of the 2007 AMA Supercross season and was turning a lot of heads before heading back to Spain. He finished second on Saturday night at the Madrid SX behind
Mike Brown
, but one spot ahead of Team Honda's
Davi Millsaps
!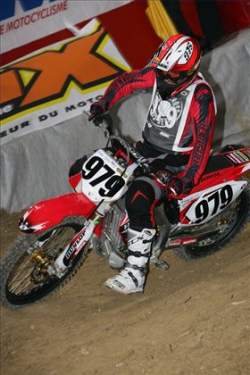 photo: Simon Cudby
Benjamin Coisy
was certainly on the gas in front of his home country fans, giving them something French to cheer about during a weekend where an Australian (
Chad Reed
) won five out of six mains, and a British kid named
Max Anstie
took all three nights in the 85cc class.
We'll wrap it up right there. As per the norm, if ya'll have any other exciting foreign #900s you'd like to see get some attention—and while the familiar #971 of Davey Castillo may sound foreign, he's not, e-mail me. Until then, make sure those goggle straps are straight and the gas is on.