Kawasaki/Racer X Race Report
Chad Reed bounced back in night two at the Bercy Supercross, winning a main event that his Rest of World teammate Grant Langston threw away after a hard crash. The buzz around Bercy is Reed is feeling the love here, and this trip is just what he needed.


The French hero from night one,
Ben Coisy
, won the SX Tour (French SX Championship) main, then found himself off the track in the first turn, pointed down the tunnel going the wrong way. Sorby and Seb Pourcel were on the ground too, which was bad for France since Bercy scores France vs. USA vs. Rest of the World, or something like that.
It's hard to believe it, but Jeremy McGrath may have wrapped up his two-wheeled racing here. He left a night early to race the Baja 1000 on a Monster Energy Truck team. MC had his moments of glory with a heat race holeshot "Did you see the old guy showing them how to do it?" he joked in the pits. After a good start in the main, he just got tired.
This trip was a "Bercy Lite" for MC. He raced Bercy as a guest for about 10 years and always brought his family and they made a big trip out of it, with his mom in charge of bringing crepes from across the street. This time is was just him and his mechanic Lars for two nights, and Kim is at home expecting their #2. When asked was this it for him, he said he didn't have any more supercross planned in the U.S. Hmmmm....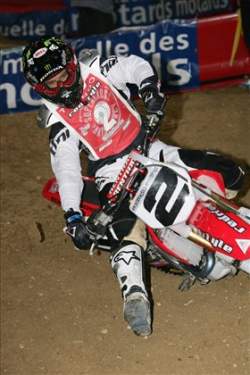 Was this MC's last SX, ever?
Bercy is fun to try and figure out what is going on. There is a SX Tour class for French SX contenders, and the top riders there race as "SX Tour" in the other class, SX, or the International Tournament. This tournament scores France vs. USA vs. Rest of the World, so Reed and Langston are actually teammates, well kind of because they also race individually for "King of Bercy." Then the fast SX Tour guys get mixed in with the other three in the tournament, like a fourth class, or something like that. Also they added a cool elimination race, where two groups of four get narrowed down to a short one-on-one final that is worth points. It's a cool idea and it works. All we know for sure is Rest of the World is killing it, and the strongest guy in SX Tour, Coisy, is giving Short a handful.
The Bercy SX went out of its way to welcome Reed in the show opening with an authentic-looking didgeridoo-playing Aborigene. How do you find out what that is? They researched it on YouTube for videos of didgeridoo performances. (Go look they are pretty cool.)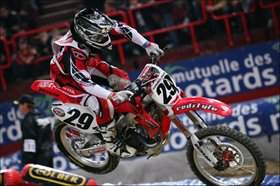 Short finished a strong second.
Three long and impressive freestyle shows break up the racing, and in the second French freestyler Tom Pages did (according to Renner) the first double seat grab backflip. Pages was so pumped he pulled it off that he tossed his jersey celebrating and did the rest of the routine without it! Pages and his brother are proteges of the great Bercy freestyler Manu Troux.
Grant "Don't show Keith the green gear photos" Langston had a nice holeshot in the SX main, or the main main or real main. It seemed all of France was on the ground. Team USA was in good shape at this point, with McGrath and Short behind him and ahead of Reed.
Langston took off and had the race under control, but got cross-rutted out of a 180-degree turn into a step-up and went sideways into the next jump and off the track. Reed was in second by then and inherited a runaway. Short finished second.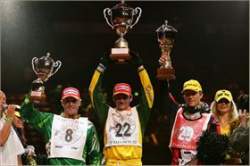 Saturday night's podium.
Seb Pourcel was on the ground twice in the main, the second was a hard impact and he got up slow.
Two of the Americans,
Josh Grant
and
Justin Brayton
, are on 250Fs, and the rest are pretty much 450s, with one fast French guy, Cyril Coulon, on a 2-stroke. Grant is way underpowered on a borrowed bike. Brayton is on 250F from KTM in Austria.
Today is night three and the final night. Rest of World has things under control so far.