Last weekend, Geoff Meyer posted an interview on his MX Large website with Youthstream's Giuseppe Luongo where Luongo basically let the AMA Toyota Motocross Championships have it with both barrels. He talked about how good his world championship series was to America's AMA circuit—as far as infrastructure goes—and how the recent FIM Red Bull Motocross of Nations was a testament to the work they do. He said that the nationals haven't progressed in ten years, and then implied that the AMA has asked him to get involved in motocross here.
I respectfully asked Meyer for a chance to respond to Luongo's take on our series here in America but he politely refused. I asked again for the chance to defend our series and was told no, it just wasn't possible.
So I will respond here. While there is no doubt that the MXoN was a great event, I don't think you can compare that one race—which many call "the Olympics of Motocross"—to every GP or every national. That's like comparing every track-and-field meet to the one you see at the actual Olympics.
In my humble opinion, what makes the MXoN such a great event are the riders and the fans, not the VIP and press tents and the way the track is bannered. Fans traveled from all over America and the rest of the world to see the first MXoN on U.S. soil in twenty years, which also happened to serve as Ricky Carmichael's last race. It was a wonderful weekend, and Jonathan Beasley and Youthstream deserve our thanks for finally bringing the race back here.
It was with that race in hindsight that Mr. Luongo, whom I don't recall seeing at any nationals in recent years, made his critique about American motocross not progressing. Well, I've been to a lot of AMA Motocross races in the last ten years, and to say the series hasn't progressed in ten years is a slap in the face to all the people who have tried to move motocross forward during that time. It's a slap in 10-time AMA National MX Champion Carmichael's face—the face of American motocross. It's a slap in the face of everyone involved with the NPG, from the Ritchie family at Red Bud to Jody Weisel of Motocross Action, the man responsible for the makeover and monster of a motocross track that is Glen Helen. It's a slap in the face to the TV people here, the magazines here, and the fans here. And it's a slap in the face of all the top GP riders who left Europe in the last ten years to come here and race the AMA circuit: Sebastien Tortelli, Grant Langston, David Vuillemin, Chad Reed, Andrew McFarlane, Ben Townley…. They all quit GP motocross to come here, and they've never gone back.
I am not going to slag off on Grand Prix motocross, because I am a huge fan of the sport's traditions, as well as riders like Josh Coppins and Tony Cairoli and Stefan Everts. I haven't been to enough GP races to say anything other than the fact that I am still puzzled by how they constantly make such a big deal of the press facilities and VIP areas while not paying the riders any purse money. They race for free. Here in the States, the nationals need better press facilities—wireless internet is coming to every race in 2008, I promise—and more VIP areas, but not at the expense of the riders. I think the promoters here would rather put gas money in a rider's pocket than champagne in the VIP area. (But we sure could use wireless internet.)
Right now is a tough time for American motocross. The economy is down—even Wal-Mart is restructuring its strategy—and the AMA is in a state of flux. Long before the MXoN, they said that they wanted to finally get out of the racing business after the long and difficult experiment that was AMA Pro Racing. They have had more problems than I can list here, and they now want to leave promoting to promoters. They are looking for a new AMA Superbike series promoter, a new AMA Supermoto organizer, dirt track, hillclimb and motocross.
The first people they talked to about this transition was the NPG, and there were others—it's an open-bid process. The fact that they mentioned that process to Mr. Luongo at the MXoN has now been made to look like the AMA went to the MXoN to ask Youthstream to get involved, and I don't believe that is accurate. It was as if the MXoN suddenly became Luongo's Trojan horse to get into America, and now he's riding that horse for all it's worth.
Budds Creek was a national track for twenty years before the MXoN came, and a good regional track for a dozen years before that. It got a great makeover from the one we saw at the Budds Creek National in June, but there were a lot of reasons for the problems at the national. If you recall, Jonathan Beasley almost crippled himself a few weeks before the June race in a quadcycle accident. He could barely stand, let alone work on his track. As a result, there was poor preparation—it was nowhere near the Budds Creek track we were used to seeing over the years. Isn't that a big part of why he got the MXoN in the first place?
With Jonathan barely functional, the national somehow became a dry run for the MXoN (literally, as it wasn't very well watered) rather than what it should have been: the fourth round of the 2007 AMA Toyota Motocross Championship. After the race was over,
Mario Marini
asked RC about the track, and he went off in his now-infamous press conference.
I have since talked to Ricky about it many times, and he said he was just in a bad mood over almost losing to James Stewart, not feeling good (we now know why), and he just plain didn't like the track setup. (But Ryan Villopoto did like it—a lot—for what that's worth.) Beasley also promised to bring Mark Barnett in for some assistance.
Jonathan's health got better for the Motocross of Nations, Barnett joined the team (at Ricky's urging), Youthstream took full control—Greg Atkins has track building down to a science—and a lot of people came and helped. That's why the water trucks and some of the tractors said "Racer Productions" and "Victory Sports" on the doors. The track was great for the MXoN—better than it's ever been, for sure.
So how much better was the Budds Creek MXoN than the Budds Creek National?
The MXoN had a great TV package, apparently, but not in America. Whereas the national had same-day Speed TV coverage, the MXoN was not actually shown here in America until more than a month after the race, and it was on Outdoor Channel. The national also had free live coverage of the first moto, courtesy of Racer X and Motocross.com, plus a free live audio webcast. The MXoN had neither.
TV is the one place where the nationals have been hurting, but it's getting better. Three races had the same-day deal going and we hope to do more next year. The GPs are all live on selected channels around the world (but not North America).
And all of those VIP areas were great at the MXoN, but the infield was a mess. The tunnels caused massive headaches, and the restrooms were overloaded. But so were the restrooms at Matterley Basin in England in 2006, site of last year's chaotic MXoN. The pits were a mess too, and the announcer's tower was just scaffolding. But the media center was great, no doubt about it. No matter, we need to get better press facilities and better VIP areas, but not at the expense of riders or the general fans.
A big reason why America has 58% of the world's market is we are people who actually ride and enjoy real motocross. We are not a press tent or TV show, but we are trying—there is a press tent now, they serve the media food, and we will have internet at all of the tracks next year. We want to make it better for media as well as the riders and fans.
Which brings me to this: While twice as many fans came out for the MXoN than the Budds Creek National, which is to be expected for that special race, the nationals paid a $63,000 purse. That's not enough, in my eyes, but it's $63,000 more than a GP purse pays. We will never stop paying the riders in order to make the media more comfortable—I will fight that forever.
Mr. Luongo also talked about supercross-only contracts being a big problem in America, which they are—but only because America actually has a supercross series, and a terrific one at that. Riders aren't going SX-only in Europe because supercross has somehow not caught on other there. Those 15 GP races are the only game in town. Here, we have 17 SX races in five months before we even start our 12-race outdoor series. The riders are making great money as a result, and some can afford to make the decision not to race outdoors. We need to make AMA Motocross more attractive to everyone and keep everyone racing both.
The problem in Europe is not people going SX-only, it's people going AMA-only. The GP tour has been losing top talent at an alarming rate in the last ten years, and with Pourcel on his way before his terrible injury, Tommy Searle set to come over soon, and Gareth Swanepoel likely right behind him, the GPs will continue to lose riders to the AMA circuit.
Geoff Meyer should have reminded Mr. Luongo that the 2007 AMA Toyota Motocross Series had bigger crowds this year (well, all except for my family's race at Steel City, where the rain and a new date conspired to really cut things down). He should have told him that Colorado just joined the circuit three years ago, and Tony Miller has built a world-class motocross facility from scratch on his land in Texas.
As a matter of fact, every AMA promoter has busted their ass to make the series better in the last ten years, and while it's not enough in some cases to keep Chad Reed from opting to race supercross only, it's enough for a lot of others, and it's going to get better. It hasn't happened as quickly as anyone would have liked, but with the AMA stepping out of the series promotion and TV business, now is the chance to make things really start happening. I just hope we get the chance, or at least a new partner who gives us a chance.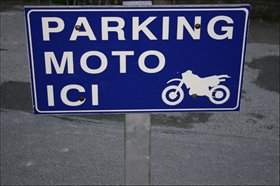 photo: DC
In the meantime, people on that side of the water will talk about how great they do things and how much better their infrastructure is, and we will continue to let the results and the market share and the talent on the track speak for themselves, while also trying to make our infrastructure better. The GPs are in competition with the AMA circuit to hold on to their riders and fight for sponsorship money, which is maybe why Mr. Luongo took such a surprising, one-sided shot at AMA Motocross and its promoters and tracks. Someone needed to stand up and respond.
With that, it's time to get back to work.
And work is what's brought me to Paris for the Bercy Supercross, which begins in just a few hours. I am over here with my mom, who is doing a little shopping (there's that rumor again!) and sightseeing, along with Jeff Cernic and his dad, our sidekick Mo, Keith "Ossa Man" Lyness and Simon Cudby.
In fact, we just got off a subway ride on the Metro, where a man with an accordion serenaded us with classical music, then asked for money (maybe the song he was playing was the theme to Bum Fights.) Jeremy McGrath is here to race, and so is Chad Reed. I saw Jean-Michel Bayle and Sebastien Tortelli in the lobby just a little while ago, and things are taking shape right next door at the Bercy Omnisport Stadium. Simon just shot some practice fans—I missed it for a walk through Pere Lachaise cemetery—so check them out here. Either myself or TFS will post a race report tomorrow morning, right here on Racer X Online. In the meantime, check out these practice photos from Mr. Cudby: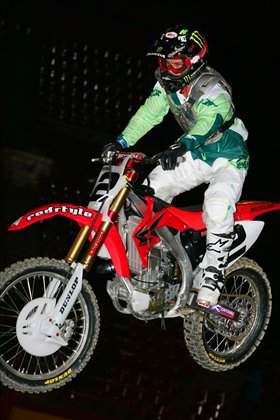 Jeremy McGrath
So, here's where I need to turn this over to Bad Billy Ursic and the rest of the crew back home.…
Thanks, DC.
Speaking of the AMA Nationals, you definitely want to check out
The Great Outdoors: The Formula
DVD. It makes the Nationals look like a million bucks. You can get your copy today by visiting the
No Fear store
.
First off, a little more on Bercy. Click here to read a press release about this year's event, as well as a rider's list. Also, earlier today we asked who you think would win the King of Bercy crown this year in our Troy Lee Designs Online Poll. Cast your vote now!
As far as racing here in the U.S., round two of the 2007-'08 Toyota AMA Arenacross Series is going off this Saturday night inside Albany, NY's newly-named Times Union Center (formerly Pepsi Arena). Why did I say "Saturday night?" Well, unlike years past, this round of the series is a one-night race, which should make things interesting.
Leading the points chase after one round is 2005-'06 Toyota AMA Arenacross champion, Chad Johnson. The Rhinelander, Wisconsin resident came out of Des Moines with two podium finishes, a second place on Friday and a convincing win on Saturday. You can read more about last weekend's race in Andy Bowyer's Race Report.
Points Standings (after one round)
1. Chad Johnson, Honda, 47
2. Josh Demuth, Honda, 41
3. Danny Smith, Honda, 40
3. Kelly Smith, Kawasaki, 38
5. Brock Sellards, Kawasaki, 36
The AMA Supermoto Series concludes this weekend at Troy Lee's Supermoto Mayhem at the Morongo at the Morongo Casino and Resort. For more on that, let's turn it over to our West Coast reporter David Pingree: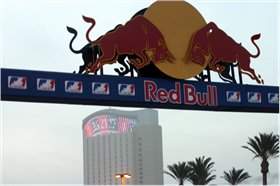 The Morongo Casino/Hotel is the backdrop for this year's AMA Supermoto finale.
photo: Ping
If you are a racing fan living in the Midwest right now, well, you are screwed. There is some great racing going on this weekend but you won't be seeing any of it. On the East Coast is round two of the AMA Arenacross Series in Albany, NY. Last weekend was a pretty good mix-up of riders with
Josh Demuth
,
Chad Johnson
,
Brock Sellards
,
Kelly Smith
and
Danny Smith
all throwing their hats in the ring for that title. Demuth is only running the first couple rounds and then heading for the supercross series, but the rest of them are going to have a season-long battle that will be fun to watch.
Further east is the Bercy Supercross in Paris. Sure, the only thing that stinks more than the cheese are the people eating it, but you can't argue the fact that Bercy always has great racing. Jeremy McGrath is racing what might be his only supercross all year. I'm sure DC and Simon will keep us all posted as they take in the three nights of action.
And finally, on the West Coast, the final two rounds of the AMA Supermoto Series take place at Casino Morongo on Saturday and Sunday. The track is amazing and, once again, Troy Lee and his crew have created what will be the best event of the year. And while the pro racing doesn't start until Saturday, the action has already begun at Morongo. The Racer X bowling tournament kicked off the weekend last night and many of the team riders and personnel were there knocking down pins. Carey Hart was teaming up with his wife, pop superstar Pink. They were together at last weekend's round in Galveston as well and, despite the rumors being started in the gossip mags, they looked perfectly happy. Carey has also been getting quicker each weekend. He told me after the Galveston final that he was really going to try and find time to ride more next year. Sounds like his very successful Hart & Huntington tattoo shop is taking more of his time than he'd like.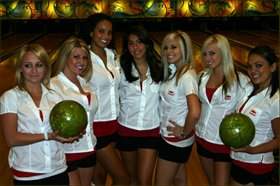 Red Bull sent their own bowling team!
photo: Ping
Red Bull is a major sponsor of this entire weekend, so they certainly didn't want to send a discreet bowling team. They were cute but one of them tried to bowl in high heels and hit the deck pretty hard. Someone should have given her a crash helmet.
Mark Burkhart
and
Jeff Ward
were also in attendance. The two rivals will do battle for one last time this weekend, though, for Ward, the situation is desperate. After jumping to the lead in Texas and controlling the race, Ward suffered a fluke transmission failure that stuck his bike in fourth gear. He salvaged what he could but left the Lone Star State in a big points deficit instead of the four point lead that he would have had otherwise. If Burkhart puts in two solid rides and stays out of trouble he will earn his first national title. For anyone planning on going to the Morongo Mayhem event this weekend be sure to visit
www.troyleedesigns.com
and click on the event icon for a full schedule and details. For photos and updates from the race this weekend you can also visit
www.supermotoonline.com
.
Thanks, Ping, and good luck this weekend.
Shane Schaefer sent us pics of Davi Millsaps's new supercross track in Georgia, which you can see below. Shane added, "How can I not enjoy what we do?" Supposedly Davi just bought Ezra Lusk's old property outside of Bainbridge, GA. Ezra is doing really well and playing a lot of tennis. As for Millsaps, he flew out Wednesday to race in Madrid this weekend.
Speaking of Millsaps,
Mama C.
sent up a photo of Davi, RC and BT carving some pumpkins for Halloween. That's good stuff.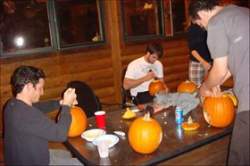 Ricky and the boys.
photo: Jeannie Carmichael
We received a press release this morning about
Jacob Saylor
signing with Sturm Racing Kawasaki of Germany to campaign the World Motocross Grand Prix series, along with select German supercross events and the German MX Masters Series. Saylor will be teamed up with another American, the young New Mexico racer
Bradley Graham
, to take on Europe's best as well as other international competitors in the GPs and German MX Masters Series. For the German supercross events,
Kyle Tobin
will join the team. To read more,
click here
.
Motocross-inspired high-fashion boots?
Mike Farber wanted to give a shout-out to a few industry personnel with birthdays approaching. AMA's Jeff Canfield celebrates his birthday on Sunday, November 11. And Von Zipper's new motocross coordinator, Johnny Kuzo, turned 26 this week. Johnny said, "I have a lot of big plans for 2008 and my first race will be at the Winter Os in a few weeks." Good luck, Johnny, and it's good to see you back.
Last week, Jason Weigandt went to Japan for the Japanese version of the GNCC series, dubbed "JNCC." Read more about it on his blog.
The staff here was excited this past week because the January issue of
Racer X Illustrated
has just left the printer. It's pretty darn good, too, and you can be read in its entirety right now by subscribing to our digital edition. This issue features coverage of the Rockstar Energy Drink U.S. Open, stories on Team Belgium and Mexico at the Red Bull MXoN, and you definitely don't want to miss the pieces on
Josh Coppins
and the 2007
Racer X
Rider of the Year,
Ryan Villopoto
.
So if you're a digital subscriber, log on now to get your new issue. If not, get 12 issues for only $14.98 USD (no matter where you live!) by subscribing to Racer X Digital Edition. If you want to test it out first, there's a free back-issue waiting there for you.
Finally, did you catch any of that WVU vs. Louisville college football game last night on ESPN? It was a shootout, but #7 WVU squeaked it out with a 38-31 victory. While talk of the Heisman trophy has been pretty quiet, I'd like to throw a name in the hat: Pat White, WVU's quarterback. That guy is amazing.
Well, that should do it. The bosses are in France, so we're taking a half-day off! Check back here this week for updates and reports from the Paris-Bercy Supercross. Thanks for reading, and we'll see you at the races.

See you at the races.
photo: Paul Buckley