Kawasaki/Racer X Race Report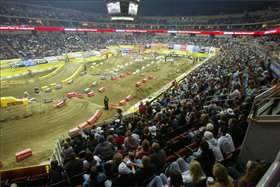 AX fans packed the Wells Fargo Arena.
photo: Steve Bruhn
Round one of the 2007- '08 Toyota AMA Arenacross series has come to pass and things are oddly looking like they did back in 2005 with Chad Johnson standing atop the series points. Tonight's show saw a much larger crowd and a cleaner opening ceremonies but the racing on the track was somewhat uneventful. One of the most interesting stats being mumbled around the media folks was the fact that almost every single race throughout the weekend was won by the person that grabbed the holeshot. With the exception of Demuth's last ditch, last corner pass last night, this stat unfortunately held mostly true for tonight's races as Nathan Skaggs and Chad Johnson won the Lites and Arenacross main events by grabbing good starts and winning with wide margins.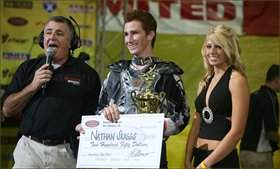 Ohio's Nathan Skaggs took the AX Lites win.
photo: Randy Toy
The highly dramatic events of Friday night had everyone eager for tonight's show. When the gate dropped for the Lites main event it was Nathan Skaggs grabbing the holeshot and opening up a lead over Cory Green. Skaggs played his cards well through the lappers and was able to hold his advantage all the way to the checkered flag. With the exception of some late race crashed the field remained in order throughout most of the event.
Then the crowd was ready for a war in the Arenacross main event. And when the gate went down it had the makings of a barn burner as Brock Sellards barely edged out Chad Johnson and a fired up Nathan Skaggs to set the pace. Skaggs made a mistake and landed on the face of the finish-line double, while Josh Demuth, and The Smiths (Danny and Kelly) were climbing their way into the top five. Just when things were settling down Johnson decided it was time go and caught Sellards off guard in the infamous bowl corner before the finish line, momentarily upsetting Sellards and stealing the lead. Then came the most dramatic moment of the race as Sellards rolled the huge finish-line double on the left side and was nearly landed on by Danny Smith. From there on out a small battle took place between Josh Demuth and The Smiths, with Demuth diving to the inside of Kelly but deciding not to pull the trigger. With that the race for the top five was over. Johnson went on to take a popular win while the top five read Danny Smith, Brock Sellards, Kelly Smith, and Demuth.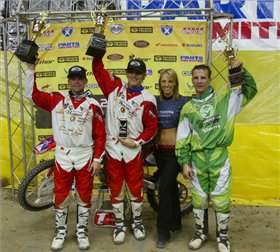 The Arenacross podium.

photo: Steve Bruhn

Arenacross Main Event
1. Chad Johnson
2. Danny smith
3. Brock Sellards
4. Kelly Smith
5. Josh Demuth
6. Teddy Maier
7. Kevin Johnson
8. Tommy Hofmaster
9. Jim Neese
10. Robbie Reynard
11. Keith Johnson
12. Cory Green
13. Nathan Skaggs
14. Kevin Markwardt
15. Roy Horton
16. Erick Vallejo
Arenacross Points Standings
1. Chad Johnson 47
2. Josh Demiuth 41
3. Danny Smith 40
4. Kelly Smith 38
5. Brock Sellards 36
6. Teddy Maier 30
7. Kevin Johnson 26
8. Jim Neese 26
9. Keith Johnson 23
10. Robbie Reynard 21