Gotta love Halloween. It's everybody's turn to try on some new and funny clothes, even if for just one night. In Morgantown, as Andy Bowyer explained in his Rev Up, it means a downtown lingerie show as all the college girls see who can out-undo one another with skimpy outfits; for a parent, it means getting your kid dressed as the superhero or monster or cartoon character he adores most—even if they don't actually make a Silver Surfer costume anymore and you're left out in the backyard spray-painting his old Spiderman outfit while his mom paints his face and hair silver. Add it all up, and Halloween is still a big deal for children young and old. We will sprinkle a few Halloween-related photos throughout Racerhead today….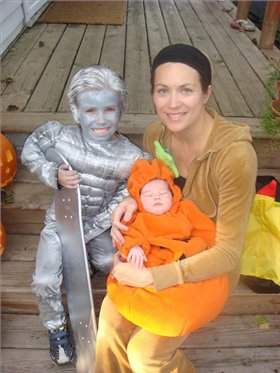 Nice costumes!
photo: DC
Finally, it's time to start racing again! The Toyota AMA Arenacross Series starts off at its traditional opening city, Des Moines, Iowa. It's a whole new ballgame there. Everyone is on 250Fs, and some really fast cats will be lining up, including AMA National winners like reigning champ
Danny Smith
, newcomer
Kelly Smith
, and veterans
Robbie Reynard
and
Brock Sellards
. Then there's red-hot
Josh Demuth
, who podiumed at the Rockstar Energy Drink U.S. Open, then won himself a Toyota truck the very next day! Past champ
Chad Johnson
(no, not the one that catches balls and talks trash for the Bengals) will be trying to get his #1 plate back, and a whole bunch of other AX standouts will be on hand.
Racer X has dispatched Mike Farber, Andy Bowyer and Steve "TFSVSMXA" Bruhn to gather all of the info and keep you posted over the weekend. Unfortunately, the first DNF of the AX season has already been recorded. TFS just let us know that he missed his flight, so he won't be there till tomorrow. Anyway, check out this preview of the track they will be racing on at the Wells Fargo Arena.
Who's going to be the Toyota AMA AX points leader when the weekend's over? That's this week's Troy Lee Designs Online Poll Question. Cast your vote
right here
.
And finally, while it's been pretty obvious to many for months now, the other arenacross series—the BooKoo Arenacross tour by Mike Kidd—is dead and buried. We have tried to contact Mike without any success in the last few weeks, just to get a definitive statement. But since the other series is starting and there's not been a word about the BooKoo AX series, well, that says it all.
TFS has been squarely in the middle of a virtual debate about the rights and wrongs of the AMA, which has people coming out of the woodwork to weigh in on the merits of everything to do with Steve Whitelock and the AMA. But it's strange that the AMA's qualifying and entries policy seems to have become a hot topic all of a sudden. But the truth is, the NPG, the teams, and a lot people have been complaining about it all year long.
It's no secret that the timed qualifying, with four redundant sessions over the weekends, needs overhauled. It's dangerous (they start timing on the very first lap, as everyone noticed after High Point back in May, when Broc Tickle nailed the fastest lap at the beginning of the first practice while everything was still smooth) and it makes the track set up with less lines (riders are not exploring different lines enough, and the promoters can't "bale" the corners). And the two Saturday sessions were overkill for the top guys (that's why James Stewart quit coming on Saturdays and Kevin Windham complained often of burnout).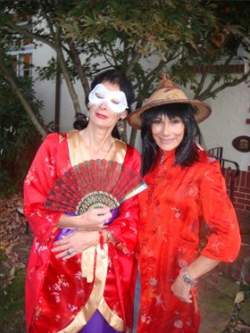 China women
photo: Shannon Coombs
As for the entries, that's always been a sore issue, as the AMA and promoters (especially supercross) have been trying to trim the show in order to make for a better package for fans ("Not every race can be an 'open' for everyone," is something a longtime organizer has been saying since the AIR days.) The rigs are bigger for privateers and teams, more and more riders are bringing their own motor coaches, hospitality areas are multiplying, and there are more rental cars to park than you are probably imagining right now. In other words, the pits are often so crowded, it's hard to get everyone in and parked reasonably (any privateer will tell you that).
Why there were suddenly not enough guys on the gate at Glen Helen may be a mystery to some, but here's a guess: The privateers know that on that super-sized track, with its fifth-gear start, gigantic hills and huge jumps, that they don't stand a chance, so many didn't bother to make that last expensive drive out to California. The AMA had 112 pre-entries for the race, but only 62 showed up. At that point, it's a shame they did not let more people in, no doubt. By the time the 40 finalists were set and it was time for the consi, where only first and second place become alternates, only nine guys bothered to go out. All of the broken wheels and crashes that were happening out there certainly had something to do with that.
The AMA, Live Nation, the NPG, the teams and the media have been talking about this all year. I've attended round-table meetings about these things, written columns and Racerhead pieces about it, had long conversations with guys from the RC on the factory side of the pits to the RC (Ryan Clark) on the privateer side of the pits. Changes are coming—the new schedule was just the start. Anyone else out there who wants to offer some insight, by all means, send your ideas to me: letters@racerxill.com.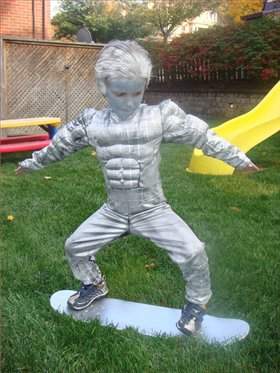 Surf's up
photo: DC
Last thing. All of the talk about the future of the nationals and where they are broke and where they are headed, two and a half years ago, right before the season-opening
Hangtown
National, where the series would be starting without a title sponsor and without a decent TV package, that's were it was broken. AMA Pro Racing failed at the two most important tasks that were assigned to them—series sponsorship and negotiating the TV package. I said it then and I will say it now: That's where the series was really damaged most.
For the two years since, everyone has been trying to make it better, and with Toyota aboard, a better TV package, showing more and more footage on the internet, and the ongoing upgrades to the facilities (which finally got long-enough contracts to justify the investment), the series has been doing better. The crowds were up, Toyota is happy, and we saw two championships go down the last moto. The fact that Chad Reed didn't want to race was a setback, but the series survived and even thrived. Now the AMA wants to get out of the race-promoting business—something the promoters have asked them do ever since Paradama was formed back in the late 1990s. Now I just hope they give the NPG the chance to finally promote its own series, grow the sport and keep working to make things better with everyone.
But the challenge of everyone, from the AMA to the NPG and Live Nation, from Youthstream to the FIM, is to make things better for privateers than they are right now. It's something that needs more work right now.

It has mostly been quiet on the SX front, as guys are either testing, traveling, or gearing up for 2008. The biggest development actually came a couple weeks ago, as Tim Crytser wrote on Racer X's Virtual Trainer, that Aldon Baker is teaming up with James Stewart. That alone must send fear into the competition.
Also, it looks like Ivan Tedesco will be wearing different gear next year. As expected, he will be wearing what his new teammate Ben Townley will be wearing: Fox Racing gear on his Red Bull Honda. Both riders will be headquartered in Tallahassee, FL, working under the watchful eye of you know who. Correction: DC just realized this is wrong, called to have it cleared up -- Townley is still in Thor for the next couple of years. My bad -- typing too fast!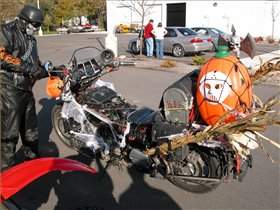 Check out this cat!

photo: Justin McLosky

Simon Cudby is on his way out to the Glamis Desert for "a trailer-trash weekend," as he calls it. He's going riding, camping and filming with his family. He's also going to meet up with Travis Pastrana, Greg Godfrey and the whole Nitro Circus Thrillbillies gang. I can't imagine what the madness will be like out there!
Travis's party premiere also went off this week, doubling as a Halloween costume party, and Leticia Cline went (dressed as a blow-up doll—just like yours, Rupert!) and sent over a few funny pics of her and the Burger King and a certain freestyle cowboy.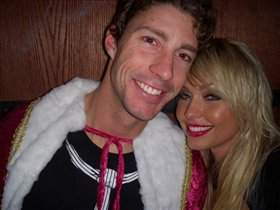 Travis and Leticia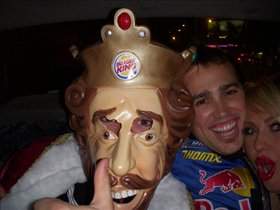 The Burger King
Okay, here's some stuff from
Ping
:
Yamaha introduced all of their TTR models this week at Milestone Raceway. The most anticipated bike in the line is the all-new TT-R 110E. Graced with an electric start (as are all TT-R models), this bike is not just a revamped TT-R90. Yamaha's Tim Olson made sure we were aware of that by showing us just how different this bike is. Beside the TT-R50E and the TT-R110E Yamaha has also made improvements to their TT-R125E/LE/E and TT-R230. For complete specs and information go to www.yamaha-motors.com.
Pro Circuit and Parts Unlimited hosted a contest a while back with the winner receiving a trip to California to ride with Ryan Villopoto. After a day of riding at Perris Raceway, the group would head to Corona to get a VIP tour of Pro Circuit's race shop. The lucky winner was Texan Warren Burch. Unfortunately, Villopoto is still nursing a broken collarbone that he sustained a couple weeks ago, so while he did show up and hang out, he was unable to ride. In fact, while Ryan was under the knife to fix the collarbone, he had his surgeon repair the scaphoid bone in his right wrist.
You may have noticed that RV always wears a brace on his right wrist, and that is because the screw that was put in place to hold the broken navicular years ago had come loose and was auguring out the hole it was in. That was obviously causing some discomfort, so they repaired the problem, and Ryan should be brace-free at the start of the 2008 season. With Villopoto standing at the fence watching, Warren rode the wheels off of a brand new PC-prepped KX250F and had a blast…until the end of the day, when he slid off the track, hit a hay bale and did a cartwheel. Warren was fine, but I think he knew I was standing there with a camera. He sent me this email: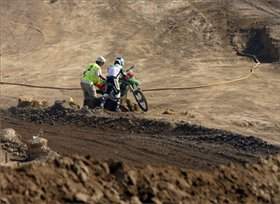 Warren Burch meets a Perris haybale and flagger.
photo: David Pingree
Hello Ping,
It was great meeting you today, thanks for coming out! I read your column every week, and by the way they all told me you cursed me about crashing today! Thanks! Well it was all good, whatever I can do to provide you guys a little entertainment. I hope your arms get better and good luck in Texas this weekend!
Warren
Thanks, Warren. I am off to Galveston, Texas, this weekend for Round 7 of the AMA Supermoto Series. Big thanks to my surgeon, Dr. Reiman, my rehab guy, Dr. Toy, and the good folks at Allsport Dynamics for getting me back to the races in just five weeks. Things are still a little sore, but I just can't stay at home and let someone else cruise around and win that title! I'm at least going to make him earn it.
P.s. I found my crash on YouTube. Even in slow motion it's pretty dirty.

I also just talked to Renthal's old front-man Shawn Norfolk (SND). Shawn did a ten-year stint as Brand Manager and Operations Manager at Renthal. He left Renthal after the company was sold and he became the General Manager for No Fear. Well, Shawn just told me that he and No Fear have parted ways, so if any of you motocross companies out there need a guy that can take your Brand to the next level, Shawn's a free agent now! If you have my cell number, you can call me and I'll give you his cell number. But since pretty much no one has my cell number, you can e-mail him at snd@ctc.net (he'll probably kill me for that).
Here's a Brett Klein Memorial Ride Day Reminder:
What: The guys at panicREV got together with Perris Raceway, to put together a ride day in honor of fallen rider Brett Klein and was made possible through the support of Monster Energy, Deluge, and FMF. The ride day is open to everyone wanting to honor, remember, and put in a few laps for Brett. The event will include memorial t-shirts, a raffle, silent auction, and BBQ. It should be a lot of fun in addition to a great way to honor Brett.
Why: All the proceeds from t-shirt sales, raffle, auction, and BBQ will go directly to the Klein family! Please consider coming out and supporting the Klein's in their time of need!
When: Saturday November 3rd, 2007.
Where: Perris Raceway. 1205 Burton Rd. Perris, CA 92570 perrisraceway.com
Title Sponsors: Monster Energy, Deluge, FMF, and PanicREV.
Raffle Sponsors: 661/Sunline, Rocket Exhaust, AP Racing, Muc-Off, Langston Racing, MB1, EVS, The Riders Kartel, One Industries, Mid-Cities Honda, IMS, BTO, Factory Backing, and Truth Soul Armor.
About Brett Klein: Brett Klein was a young up and coming pro from Southern California. While practicing at Glen Helen Raceway on Thursday August 23rd, 2007, Brett Klein crashed and as a result fell into a coma. Sadly, after fighting diligently Brett passed way Tuesday evening, August 28th. Brett is survived by is mother Agnes, father Gayle, and brother Derrick. Please keep the entire Klein family in your prayers. Please visit www.brettklein199.com for further information on Brett and the Brett Klein Memorial ride day!
That's it from Ping, and since Weege is on the way to Japan for an off-road race, he's off Racerhead this week.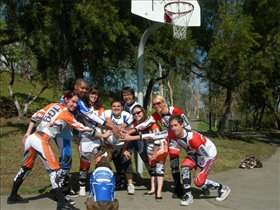 The Smooth Industries gang.
photo: Mike Koger
Dear
Racer X
,
After you ran the Ryan Abrigo update on October 18th he got a phone call from a KTM team. Check out the update on his website as of October 26: Coming Up: Ryan will be heading to Germany next week to race for a KTM team in the German Supercross series. He will be riding aboard one of the new KTM 450s. Ryan is very excited to be racing in Germany again this year and hopes to be one of the top contenders of the series.

Nov 9-10 Stuttgart Germany SX
Nov 30 Dec 1 Chemnitz Germany SX
Jan 11-13 Dortmund Germany SX
As a friend of Ryan and his dad, let me be the first to thank you guys.
Rob Longthorne.
Carl Ben Eielson Middle School

Here's something from Bad Billy:

Did you read yesterday's Motosport Outlet Bench Racing Ammo regarding the AMA Rookie of the Year Award? First of all, congratulations to Makita Suzuki's Ryan Dungey on winning that honor in 2007. Also, we listed all past ROTY winners, and we were curious about a few and asked if any of you knew their whereabouts. Well, here's what you guys had to say about 1982 ROTY John Finkeldey and '91's Butch Smith:
John Finkeldey was a factory KTM rider from Westbrook, CT. His career ended early because of a back injury. He now works for the family sanitation business. He still rides occasionally for fun and is still very fast.
Dave Clark
John Finkleday was a very fast, very big strong rider from the New England Area. From CT, I believe. He raced NESC around the late '70s and early '80s. Rode KTMs. Ask Jo Jo Keller about him; he will know more. He raced with Jim Meenan, Spencer Morrison, Greg Mayo, etc... Ah, the good old days! If I remember correctly, he was qualifying for a Southwick 500 National and his KTM 495 throttle stuck wide open off the old spectator jump. Launched so far and came down so hard that he snapped his bars in half. Can't remember if he was able to qualify that year or not.

Hope this helps.
Mike D.
If I remember John Finkeldey correctly, did he ride a white Husky back in '82 or was it a KTM? That name just kind of sticks out for some reason, and that was the exact same time frame that I began my quest to be one of the best "never wases" in the sport's history, until 2004 when I won the North Carolina Southern Outlaw Spring series +30 class on YZ125! Keep up the good work!! And if I was wrong about John Finkledey, my mind is slipping, but the more stories I tell the faster I was!
1st Sgt Mike Daley
US Marine Detachment
Redstone Arsenal Alabama
John Finkeldey was a KTM rider from up in New England. I think he comes out every once in a while. You might want to give Jo Jo Keller a call for some more info, or you could call Mike Rosso at KTM.
Best Regards,
Mark Hyde
My name is Doug Russell and I live in Visalia, CA. I only met Butch Smith a couple of times though a friend of mine who was basically sponsoring him after his ROTY. He got a bike from Tulare Honda and raced the CMA bounty Hunter series in '93. Great times. He would just knock everybody down. Last I heard he was living up north in Washington.

Moving on, in last week's "Things To Do In...Des Moines," we had some Flash Trivia for you: Chad Pederson is the only rider from the state of Iowa to ever win an AMA Supercross 125cc main event. What number was Chad wearing the night he won? The first five correct entries will get a 2007 Red Bull Motocross of Nations "Team USA" T-shirt from MotoTees and a 2007-'08 AMA Toyota Arenacross Yearbook. Well, the first five were:
Darrin Kness
Jeremy Riesenberg
Jeff Schultz
Chris Riesenberg
Dan Gilford
Guys, e-mail your mailing address to online@racerxill.com and we'll get your shirts and programs sent out ASAP. Thanks for participating!

Finally, we ran an online poll earlier this week asking you which Carl Stone photo would you like to ses as a full-on poster. The results are in and this is how you voted:
Josh Grant whip– 72.28%
James Stewart scrub – 27.72%


Subscribe or renew your subscription to
Racer X Illustrated
and get a
FREE
2008 calendar featuring some of Simon Cudby's best photos from the year! Keep track of all your important dates along with the 2008 race schedule all in one place. Click
here
to subscribe and reserve your 2008 calendar today!
And on a sadder note, this came in earlier this week:
In Memory of Pam Parsons.
The Parsons family would like our friends in the motocross community to know that Pam, Motocross Mom to AMA pro (#930) and BBR Motorsports rider Tom Parsons, passed away on October 27th after a valiant 4½ year struggle with cancer. To her credit she beat the cancer by living much longer than thought possible and doing it with class, never giving in, never complaining, and never ceasing to enjoy life. Even in the darkest hour she continued to be the driving force in the family motocross effort, always believing, like a true racer, that it isn't over until the checkered flag falls. She was much more than a cheer leader, motivator, and organizer. She got her hands dirty and not just cleaning equipment and bikes. She could change a tire with help, did clutches and top ends, and when the 4 stroke came along learned to do valves. She was no stranger to the tractor and could run a dozer. She was truly unique and will be greatly missed.
In memory of Pam, the Parsons family (Greg, Tom, and Christopher) would like to tell everyone that colon cancer does not have to claim another Motocross Mom, Dad, rider, wrench, or fan. It can be prevented by following the recommended action to have a colonoscopy at age 50, or sooner, if there is a family history of cancer. Please do it, if not for yourself, then do it for your family, friends, and loved ones who will miss so much if you are not on the gate.
Greg Parsons

Now here's Dave Brozik with the final update of his Scholarship Essay Contest Thingy:

Ladies and gentleman, I am please to announce, that after five weeks of key-to-key word-battle, SAM WAPPELHORST is the grand-prize winner of the DBSF! I haven't seen a longer, more intense qualifying system since Loretta Lynn's. Sam, our week three qualifying winner, is now the proud owner of the Suitcase (and UPS boxes) Full O' Swag. I'd like to thank Josh, Paul, and Becky for their final entries this week. Great job. Thanks for taking part in my little contest, your creative works entertained millions all across the globe!
For those of you who have crummy, intermittent Verizon internet service like we have here (yea, I said it), click here to read our final four essays this week.
Sam's prize pack is stuffed to the gills with items from our sponsors. Look for Sam at the races next year. He, his family, and half of his neighborhood, will be wearing 10 layers of logoed-out, motocross swag.
I'd personally like to thank my industry friends for supporting my essay contest:
My fellow goons at Racer X
Robert & Matt Davis at Throttle Jockey
DJ Korzen at Pro-Action
Andy Donahue at Ogio
Chuck Coulson at Igotfumoney.com
John Ayers at Moto Tees
Jeff Cernic at Cernic's
Dano Legere at DVS
Lou Lopez at Moose & Thor
Donnie Emler Jr. at FMF
Ryan Merrill at Cycle News
Mitch Youts at NASA
Thanks again, this was a lot of fun.
-DB

That's it for Racerhead; thanks for stopping by. See you at the races.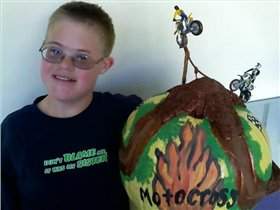 Justin and his MX Pumpkin.
photo: Mike Marshall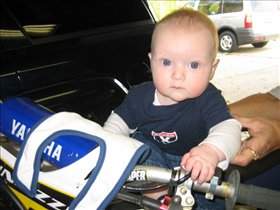 Racer X fan!
photo: Trisha Brunazzi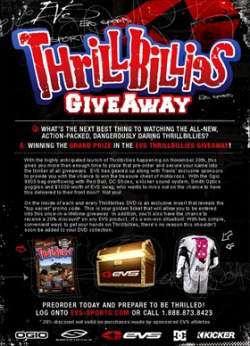 Thrillbillies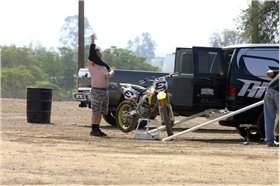 Answer's Big E was there flaunting his B.O.
photo: David Pingree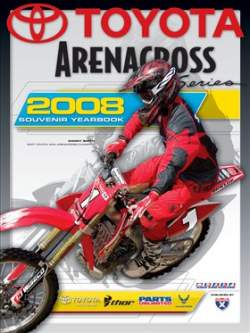 The cover of the new Toyota AMA Arenacross Series Souvenir Program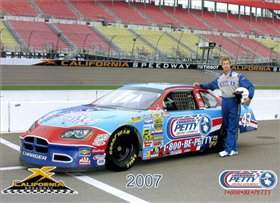 Andy "Waldo" Donahue is the next Richard Petty.
photo: Courtesy of Donahue