Hello, everyone, and welcome to the Rev Up. I had quite a conversation with myself while riding to work this morning in the rain. That's right, it's been between 35 and 40 degrees every morning this week, but I've still gotten up and thrown a leg over just before sunrise. Why? Because I'm tough – or stupid. Okay, I'll make peace with it and call it a 32:1 ratio, but I digress. I was talking to myself because I realized what day it was. November always comes after the weirdest day of the year, October 31 which is, of course "All Hallows Eve." All Hallows meaning All Saints Day. I suppose commemorating November first as a Christian holiday makes sense given the weirdness of the day that preceeds it. Man, I have to tell you, I've never been downtown in a college community on Halloween night before. Much less, in a college town ranked #1 in the party school column. Goodness sakes!
I accompanied my girl and her friend, who were both dressed like hunters, complete with plastic shotguns, camouflage face paint and blood splattered wife beaters. I remained dressed casually—Jack Daniel's #07 T-shirt, hat, underwear, and umbrella (just in case) – having already celebrated Halloween Saturday night when I then leapt at the opportunity to take part in the beloved debauchery of it all. I dressed up as the Phantom of the Opera and duct-taped it wide open. But it was one-and-done for this cat.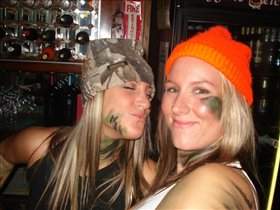 The Doe Hunters
photo: Andy Bowyer
So why was I standing witness to the lingerie show and freak-fest yet again last night? Apparently in Morgantown, the fact that Halloween fell on a Wednesday simply meant people dressed up five days in a row. Alas, we dove deep into the festivities at the 2008 Gibbie's Halloween karaoke and costume contest.
I saw a Steve Irwin that had a huge bloody stinger jabbed in his chest. I saw a kid in "tightie whities" wearing aviator shades and a bathrobe with a sign around his neck that read, "Day Care Service." And in between all of that was a dozen French maids, a pack of slutty nurses, and a gang of what simply appeared to be street hookers—all displaying more "cheek" than a Fredrick's of Hollywood catalog. Typically I would have been elbow deep in all of it, but for some reason my Coors Light tasted flat and I was just kind of freaked out to be honest. So I declared hunting season over, paid our tab, and hauled my two Charlton Heston's home. From there it just got weirder.
As I sat down to the comfort of my couch and laptop to try to make a dent in a writing project I clicked on the tube to watch a History Channel special I had tivo'd about the "
Lost Book of Nostradamus
." I had hardly typed a sentence when the narration of the show caught my attention. Any of you catch that special? Spooky stuff, man. It was distracting my attention so I clicked over to the news, only to see a review of the California fires which looked like the end of the world was upon us. With all this in my head I glanced over to see hunter #2 still holding her gun passed out on my love seat, and heard hunter #1 snapping her fingers upstairs. Time for bed indeed.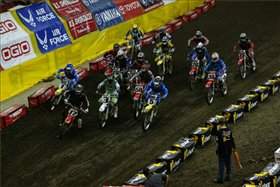 The 2008 season is upon us.
photo: Steve Bruhn
So as I was speeding through the rain up the mountain to work this morning I just kind of began to laugh at myself, "Thank goodness that weird month of October has come to pass and November is upon us." Even though I was a little cold and wet I was happy because I had a throttle in my hand on horsepower between my legs. I smiled with the knowledge that I will board a plane tomorrow morning and fly to Des Moines to report on the Toyota AMA Arenacross kick off. I remembered that a little over a decade ago I raced that event and won the jump contest doing a no-hander-lander! I then laughed as I realized the guy that would win it this weekend would probably have to do a back flip to no-hander-lander. I then took a look out across the vastness of the multi-colored mountains and kind of had a scoff. "Nostradamus, please save it. This is an amazing mud ball we live on and this place is far too weird to come to an end."
The November rain helped me realize all this. If October personifies weirdness, November stands for renewal, at least for us motocross folk. 2008 begins this weekend in Des Moines and from the looks of things, it is going to be a great year.
Thanks for reading, see you next week.