This week AMA Pro Racing announced their 2007 AMA Rookies of the Year, and in AMA Motocross/Supercross, the recipient of this coveted honor is Belle Plaine, Minnesota's Ryan Dungey of the Makita Suzuki team, who recorded three Eastern Regional Lites victories, as well as winning the Dave Coombs Sr. East/West Lites Shootout in Las Vegas this past season.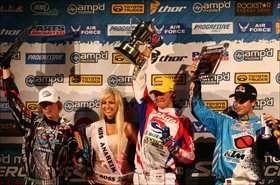 Ryan Dungey won the East/West Shootout.
photo: Matt Ware
"I'm really excited to be named AMA Rookie of the Year," Dungey said in the AMA press release. "I'm really happy about such a big honor, because just one rider a year gets it for working the hardest throughout the year and having the best results out of all the rookies. But I couldn't have gotten this without the support of my mom and dad, all of Team Makita Suzuki, my team manager Roger DeCoster, my sponsors, my manager Tony Gardea and also Dr. G. Thanks so much to everyone." If you have a question for the new Rookie of the Year, you're in luck because he's the new subject for our
10Q feature
.
It's interesting to note that Dungey is the fourth Suzuki-mounted racer to win this award in the past seven years. The others are Travis Pastrana (2000), Brian Gray ('03) and Broc Hepler ('04). And in the 1990s, it seemed like the only way to win the award was to be a Team Green standout as they had a seven-year streak there from 1992 through 1998, in order, Tim Ferry, Robbie Reynard, Kevin Windham, Paul Currie, Ricky Carmichael, Brock Sellards and Nick Wey. Wow!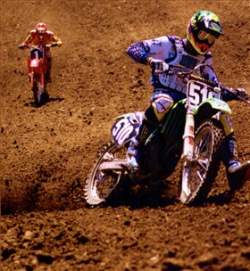 Windham leads Doug Henry at High Point '94.
photo: DC
The Rookie of the Year Award has been in existence since 1979. Larry Wosick (125), Donnie Cantaloupi (250), and Goat Breker (500) all have their place in the AMA record book as the first-ever recipients that year, and for the next five years, the AMA awarded each class their own ROTY honor. In '86 the AMA then started giving out one award per year for all of the classes. The first rider to win that was Larry Brooks.
Since then, the list of ROTYs is pretty much a who's who of American motocross; except for a few. There are no requirements to be chosen as the AMA Rookie of the Year. You don't have to win a race or championship, live in the U.S., or even be a factory-supported rider, although it does help. In fact, Ricky Carmichael won the award after only racing one outdoor national in 1996. (16-6 for 8th overall at Steel City.)
And privateers can, and have, won. Most recently, Juss Laansoo, the Estonian Express, won the award in 2005. And check this out: One of the '81 winners, Kenny Keylon, has a super-fast son named Kyle who will be in the running for the '08 AMA Rookie of the Year award!
But after looking at the list, I have a few questions of my own: Who in the hell is Butch Smith (1991)? How about Scooter Stafford, who won the award in '85? But my ultimate question is: Where and who is John Finkeldey? If you have any idea of the whereabouts of these riders, e-mail us at online@racerxill.com.
Without further ado, check out the complete list of AMA Rookies of the Year in AMA Motocross/Supercross:
2006 – Ryan Villopoto
2005 – Juss Laansoo
2004 – Broc Hepler
2003 – Brian Gray
2002 – James Stewart
2001 – Bobby Bonds
2000 – Travis Pastrana
1999 – Ernesto Fonseca
1998 – Nick Wey
1997 – Brock Sellards
1996 – Ricky Carmichael
1995 – Paul Currie
1994 – Kevin Windham
1993 – Robbie Reynard
1992 – Tim Ferry
1991 – Butch Smith
1990 – Buddy Antunez
1989 – Damon Bradshaw
1988 – Donny Schmit
1987 – Jeff Stanton
1986 – Larry Brooks

1985
Billy Frank (125)
Scooter Stafford (250)
Kevin Foley (500)

1984
Guy Cooper (125)
Keith Bowen (250)
Ron Dunfee (500))

1983
Ron Lechien (125)
Billy Liles (250)
Tim Locey (500)

1982
George Holland (125)
Jim Tarantino (250)
John Finkeldey (500)

1981
Ricky Johnson (125)
Andy Stacey (250)
Kenny Keylon (500

1980
Scott Burnworth (125)
Mike Loeffler (250)
Alan King (500)

1979
Larry Wosick (125)
Donnie Cantaloupi (250)
Goat Breker (500)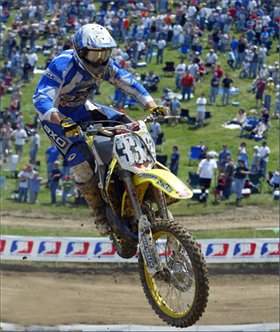 Brian Gray won the ROTY in 2003.
photo: Steve Bruhn