When I was growing up—and even when I was fully grown—I thought that if I ever had a little daughter, I would name her Hannah. "The Hurricane" was not always my favorite rider, but I don't think it would work to name her The Jammer or Mikkola. Over the years, however, I found out that a few good motocrossing friends had named their daughters just that, including my friend
Ken Faught
, the former editor of
Dirt Rider
magazine who is now a go-kart entrepreneur.
I always knew that if I had a boy, I would name him after my dad, which I did: Vance was my dad's middle name. So that meant that the new baby my wife, Shannon, and I were expecting last week—we did not know the sex, as we wanted it to be a surprise—I could maybe convince Shannon to go with a full-on motocross name!
Did you know that Broc Hepler was named after his dad Dean's favorite rider, Broc Glover? I imagine Broc Tickle was as well, because both spell their names without the "k" at the end like most Brocks I have seen.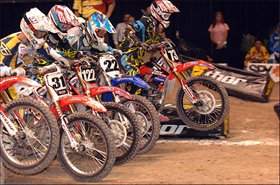 Weimer gets a wheel up on the competition in Vegas.

photo: Carl Stone

Mike LaRocco cut the middleman out and just named his son Ryder, while Jeff Stanton's son Torsten bears the name of Mr. Motocross himself, Torsten Hallman. Managing editor Bryan Stealey just told me he has a friend named Brian Batchelor who named his son Grayson after Grayson Goodman, and a guy my dad used to race against named Dusty Yeager named his son Heikki after the aforementioned Heikki Mikkola.
I am sure there are lots of people who named their children Jeremy or Damon or Travis after those famous, fast and charismatic heroes, and there must be a Jean-Michel or two running around France. (Sebastien Tortelli's son is named Enzo after the founding father of his favorite F1 cars, Enzo Ferrari).
All of those names would have made sense to me had the little tiger that showed up last Saturday morning at 11:07 been a boy, but instead it was a girl, and none of those names worked. Couldn't call her Trampas or Fro, and writing "The Goat" on her birth certificate would have been downright cruel.
So we named her Sloane. Sloane Michael Coombs. Thanks to everyone who called, emailed, or even just thought about us in the last week.
Since I wasn't in Vegas, here's a good place to turn things over to Jason Weigandt, who did an excellent job on last weekend's live webcast, along with Jim Holley, of the Rockstar U.S. Open:
The U.S. Open just couldn't have worked out better. Last year Live Nation invented the Trifecta, which put $250,000 on the line for the rider who could win the Superpole, Main Event Holeshot and Main Event—on both Friday and Saturday nights. (If a rider couldn't do all of that, the winner of the event would still get the traditional $100,000 U.S. Open bounty.)
Last year James Stewart swept all three elements on Friday, which led to a great show on Saturday night, but James made a mistake during his Superpole lap and Kevin Windham edged him out.
This time Chad Reed did it all on Friday and then won the Superpole lap, too, putting him in line for the quarter-million bucks in the main. But Chad had to grab the holeshot to get the money, which put some major pressure on that starting line (if Reed merely won the race but didn't get the holeshot he would walk off with "just" $160,000).

It was quite a scene down there. Reed had chosen a bad gate in his heat and got a bad start, so he and team manager Larry Brooks really studied their gate pick hard, and then Reed went to work grooming his start area, wanting that holeshot probably worse than any since Vegas SX '06.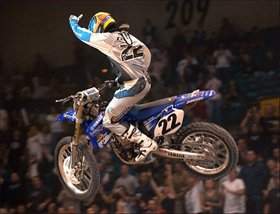 Chad Reed dominated night 1.
photo: Carl Stone
But it wouldn't be easy.
Mike Alessi
—known as the best starter on any gate he lines up on—was there with his magic rocks. Each time #800 went to the line, two Nevada rocks would suddenly appear in the perfect position for Mike to put his feet on so he could get better balance out of the gate.
Reed got a decent jump, and it appeared the gate pick would pay off as he just might have been able to get that holeshot over Alessi and everyone else, but he dove in a bit too hard and proceeded to use Tim Ferry's Kawasaki as a trampoline, knocking the veteran over the outside berm and under the grandstands! No wonder he was pissed later on.
That's what $250,000 will do when it all comes down to the start, and Reed, one of the most precise, controlled supercross riders ever, went into a baseball slide in turn one and took all of the top contenders down with him—Grant Langston, Tim Ferry, Andrew Short and Mike Alessi.
After that, as they say, all bets were off, and a 250F ended up winning the main. The man of a thousand careers, Josh Demuth, came within a few laps of winning the whole darned thing. You couldn't have scripted it better. See for yourself on CBS on tomorrow afternoon, from 1:30 p.m. to 3 p.m. Check your local listings just to be sure!
Also, I have a feeling the marriage between Mike Alessi and Roger DeCoster might just last. Mike has been accused of a being a lot of things, but lazy isn't one of them, and he could be found walking the track after the main on both nights. I talked to Mike on Saturday about what he was looking for on Friday night after the race, and he told me he was trying to figure out how he can charge the corners better. On Saturday, he was back out there again after the race, but this time DeCoster was with him.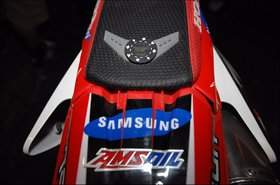 Weimer's good luck chip.
photo: Carl Stone
Also, on Wednesday night, the Alessi gang spoke on
DMXS
, and Mike had great things to say about working with RD, as did his dad (he might even back off of Mike's program a bit since the Makita Suzuki team is so experienced).
We will have more from the Weege later, but here's more from Carl Stone:
Hard to believe it has been ten years since the inaugural U.S. Open of. I was there and even bought my tickets through Ticketmaster. In other words, I sat in the stands and actually watched the race, and I believe I took some really horrible pictures too! Boy how times have changed for me! Damon Huffman was the winner and I remember after the race he walked next to the stands and proceeded to throw his gloves, chest protector, jersey and finally his boots into the stands, one at a time. One of his boots almost hit me in the head!
There was a rider named Jonathan Shimp that won the mini class that weekend and a certain rider by the name of Mike Alessi who finished 14th in that race. Not sure whatever happened to Jonathan, but we all know what's happening with Mike!
This race has a history of riders making their debuts on new machines and also riders making their first pro appearances. Jeff Emig in '99, riding the #11 Yamaha YZ250 privateer-style, won the race that year. K-Dub's first ride on a Suzuki was in Vegas. And RC's first ride on both a Honda and a Suzuki were special (though that cape-and-crown entrance is something he would rather just forget).
In 1999, Travis Pastrana turned 16 that weekend and raced his first professional supercross. A few years ago, Broc Hepler showed up and won the Schoolboy class, practically sweeping every moto that weekend! And last but certainly not least, James Stewart raced the mini class and won in '99.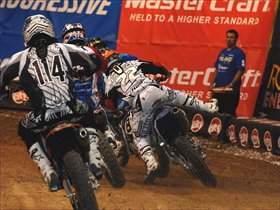 There was some bumping in the main event.
photo: Carl Stone
Oddly enough, it was the one race that eluded
Jeremy McGrath
of a victory. He was, of course, always the favorite when he raced the open, but bad starts and crashes kept him from ever getting on top of the podium.
It was cool this past weekend to have three of the past champions—Huffman, Emig and Mike LaRocco— line up and race again. The fans really enjoyed that, even if MC wasn't a part of it. But I have to say most everyone I talked was stoked to once again hear the "Brrrraaaaaap!" of the 250 two-stroke that LaRocco was riding. There's just nothing quite like the sound of a two-smoke going through the whoops at speed, and Mike was haulin' ass through them. Music to my ears!
LaRocco and Emig got into a battle on Saturday night and the crowd really got into it—it was like the '92 AMA 125 National Championship was being decided! But in the end Mike was the winner that night as well as Friday.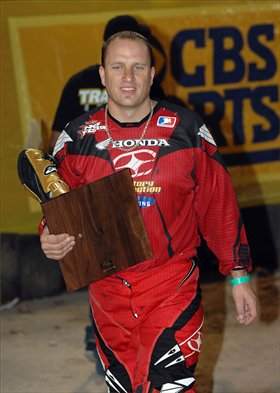 Mike LaRocco put in a dominant 1-1 in the Rematch race--on a two-stroke!

photo: Carl Stone

Jake Weimer rode awesome this past weekend, and he became the first 250F rider to beat the 450s at the U.S. Open. Las Vegas must surely be his town and Lady Luck sure does smile on him there, it seems. Jake got second in the East-West Shootout back in May, and on Friday night he holeshot and led a few laps in his heat. He did it again in the main event on Saturday night after Chad Reed tackled everyone else in the first turn, and then Jake went on to win the thing!
Maybe also what helped him win was the $100 poker chip he had glued to the seat of his bike for luck. Or maybe it was those lucky pink boots—he wore them also at the Vegas SX! As soon as he turns 21, which will be in two years, I am going to be his gambling partner. Jake is a great kid, and I bet we will see him on the podium more often next year. (To hear more about Weimer's weekend, check out Eric Johnson's interview right here.)
I guess the point of what I wrote here is that over the last 10 years there have been many firsts and many great races and surprise winners. Also, putting the 250 and 450 classes together was a great addition to the racing. And after all the racing is done, there are some great parties to attend!
That's all from Carl, though I should mention here that he's been to every single U.S. Open since that very first one.
While in Vegas for the Open, Racer X publisher Scott Wallenberg also made his annual pilgrimage to the motocross mecca of the Primm Collection. This year he met special guests like former factory riders Marty Smith, Marty Tripes and Eddie Cole, along with famous frame builder Derek Rickman and Don Jones, the father of three-time AMA 250cc National MX Champion Gary Jones and his almost-as-fast brother DeWayne. Here are a few observations from Scott: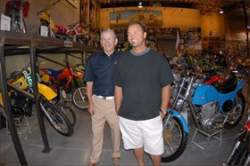 Derek Rickman and Marty Smith
The Primm Collection never fails to astound me. Almost every bike I have ever raced from 1970 on is represented, from the European brands like Monark, Maico and Montesa, to the more popular RMs, CRs, YZs, and KXs. Even more amazing are things like the ultra rare Harley-Davidson MX with rear forks and the glass showcases of gear, photos, posters, model toys and of course an endless supply of Moto Brew!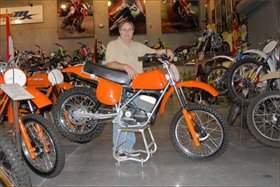 Eddie Cole with the Can-Am he helped develop
The real fun is taking someone new and watching their jaws drop when entering the hallowed halls. It's like being a baseball fan at their Cooperstown Hall of Fame! Row after row of famous and rare bikes many restored and detailed to showroom condition by Vintage Iron's
Rick Doughty
.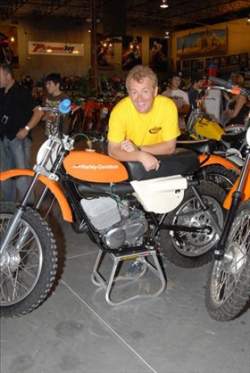 Scott poses with a Harley.

Marty Smith got to see a Monark and many huge posters and ads that he was in that he no longer owns; Eddie Cole saw both the Can-Am 250 he helped develop and the KX125 that he won the Canadian Motocross Championship on; and Derek Rickman saw a version of his famous brand that he never saw before: the Rickman Micro-Metisse fitted with the Hodaka engine. Don Jones enjoyed seeing a nicely restored Ammex motorcycle that he designed and built back in the early '70s.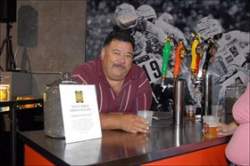 Marty Tripes tending the bar.
In the near future the Primm experience will be available online in a virtual tour, but in the meantime you can check out
www.primmmxcollection.com
and get a nice glimpse of motocross history.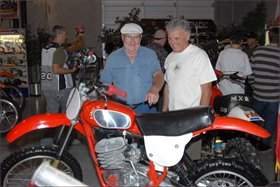 Don Jones and Rick Doughty
Remember the old-school start photo from the '76 Midlands, MI, 125 National we ran last week? It came from Pro Vue's
Randy Nagel
. Here's some feedback:
Great memories from this shot… I was 9 years old, and this was my first motocross race. I still remember walking the pits with my dad. At one point we saw a kid riding around on a home-made mono-shock bicycle, and that was it…I knew my destiny from that minute on. When we got home, my dad and I made a similar monoshock bike from an old Stringray frame, and we've been working side-by-side in this sport since. Of course I also remember Marty Smith floating around that track effortlessly. All-in-all a day I will never forget…And now I have a picture to go along with the memory. Thanks for sharing…
Sean @ Cobra
Saw the photo in Racerhead, I actually got the photo last month at the AHRMA Vintage National in Portland, MI. The guy parked next to me had the 11×18 laminated photo taped onto the hood of his van with a piece of duct tape that said $10, fastest I've burned a ten in a while!! His name is Steve Savo and he also had the original program which he sent me a copy of so I could figure out who everybody was. Steve said that the photo was shot by a friend of his who had never seen a moto before that day. I see you listed all the riders we could figure out, except you missed one- see #613 on the outside with the small FMF logo jersey, yeah, it's Wallenberg. He looked up his results from '76 and apparently he raked in $10 that day—which is $10 more than I ever made as a pro!
Randy Nagel
One last bit of old-school: Last week, in the wake of Bud Ekins' death, I asked the question: Who was the second American to score a GP point in motocross?
The answer, according to Terry Pratt, the author of the new book about the 1972 "Motocross Grand Prix" season, as well as MX historian Len Weed, was Ohio's Bryan Kinney, who scored a single point for tenth place in a moto at the '72 West German 500cc Grand Prix of Motocross.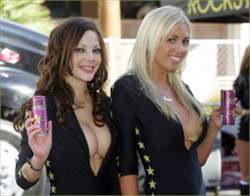 Thirsty for a Rockstar?
photo: Steve Bruhn
This was a tough one! And we had only three correct answers:
Reese Dengler
,
Kevin Thornhill
, and
Jim Myerson
. All three have T-shirts coming!
Make sure you check out Simon Cudby's new video of David Vuillemin as he puts his Makita Suzuki RM-Z450 through its first paces. It looked strange to us at first, seeing Le Cobra on yellow, but that didn't last long!
Make sure you check out Sarah Whitmore's new "Sarah Smile" blog. She's been a reader favorite ever since she started doing her column in the magazine, and now she's going to take her writing talents online -- which will giver her a lot more space to say what she has to say. Look for plenty of photos, stories, anecdotes ... whatever Sarah feels like writing about will show up on her blog. And while you're there, feel free to leave (respectful) comments.
Okay, now some not-so-good news. Paul Buckley just emailed me a piece about state representative in Massachusetts who wants to ban kids under 14 from riding dirt bikes and ATVs. Here's a link has a bunch of info on it.

The full text of the bill (PDF format).

Here's a link to contact the Mass state reps.

Now for some Canadian news. Check out Racer X Canada's Frid'Eh update right here. Also, Steve Matthes was the subject for this week's Suzuki Between the Motos interview. Read it now.
The U.S. Open also means the Road 2 Recovery Hold 'Em or Fold 'Em Poker Tournament! The overall winner was Josh Jepson, who took the $10,000 World Series of Poker Main Event Seat + Celebrity Suite at the MGM. Josh was offered $8,000 on the spot to sell his seat but turned it down and is going to play in the WSOP himself. Good luck, Josh, we'll be rooting for you!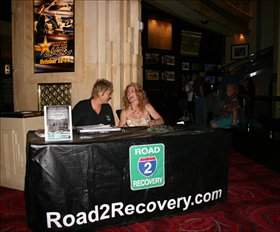 R2R's Anita Button and Christy Baldwin
photo: Billy Ursic
Also,
Dana Kellstrom
, second overall, scored $2,500 cash plus a $200 dinner at MGM. "Actually Dana and Josh did some trading around, and Josh took the dinner and gave Dana the suite," reported R2R's Anita Button. "Josh then donated the $200 dinner back to R2R which we will include in a package for the 2008 Vegas SX. Dana also negotiated $2,000 is cash from Josh and 5% of his winnings in the WSOP final in 2008.
So Dana walked away from the table with $4,500 in cash and the potential of a half million dollars should Josh win the final which pays ten million. Pretty good negotiating skills, I'd say. Tim Dixon scored $2,000 cash for third overall, then came BBMX's Jason Thomas in fourth. Rounding out the top five was our old friend Dennis Parker, who took $1,000 cash, then turned around donated half his winnings back to R2R. Rounding out the top ten were Charlie Augur, Shaun Johnson, Mike Niskar, Paul Lindsey (the defending champion) and Art Thibodeau.
For more on Road 2 Recovery, please visit www.road2recovery.com.
Here's Ping's stuff:
Just when you thought it was safe to go back into the movie theaters… The folks down in Holly-weird come up with another half-cocked idea that will undoubtedly make the sport of motocross look ridiculous to the general public. A brilliant, budding, young stuntman sent me this clip out of Variety, a trade magazine for the movie industry:

"High School Musical co-star Corbin Bleu is leaving the Disney Channel fold to topline 'Metal Birding,' a motocross actioner for Rigel Entertainment. Bleu will portray a motocross racer who dreams of winning the Amateur National Championships, but must juggle his passion for the sport while struggling to support his family…."
Sounds sweet, but how is Bob Marley going to fit all that hair into a helmet?

Ricky Carmichael has pulled out of the Bercy Supercross in Paris. That news didn't come as much of a shock since the GOAT skipped the U.S. Open last week citing a physical illness. What is surprising is that he is being replaced by the King of Supercross, Jeremy McGrath. MC has been testing for Honda and feels pretty good on the bike, according to a source in his camp. Andrew Short is already going over so they will just send one extra setup for Jeremy. That should be cool for the Bercy fans!

Apparently, Jeremy has pulled out of his deal to drive late-model stock cars. The road to the highest level of NASCAR racing is just too long, and Jeremy probably didn't feel like dedicating so much of the great life he's already built for himself and his growing family to start all over in another sport. He is going to continue to compete in CORR events and he is planning on driving a leg of the Baja 1000 in a car the day he gets back from France.

Alpinestars has some incredible new products coming out in 2008. I made it down to the offices in Torrance, CA, this week to check out some of their new stuff. Tim Collins, the new media contact there, gave me a tour of the showroom. I was blown away with the amount of casual wear that A-Stars has. Visit www.alpinestars.com to check out all the latest stuff. Below are a few photos that I shot: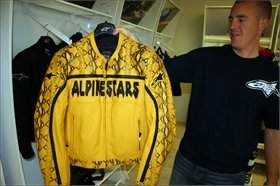 Not exactly subtle.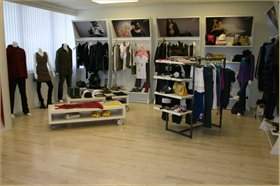 Alpinestars has tons of new casual clothes.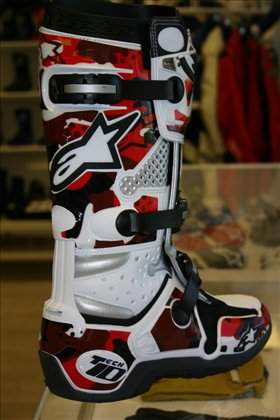 Boot graphics are available in several colors.
Let's turn it back over to
Jason "Blogandt" Weigandt
:
Next weekend's Klotz Ironman GNCC is working to be a huge finale for the series—probably the biggest closing round ever for the long-running tour. For the first time ever both the bike and ATV XC1 pro titles are on the line at the last round, with David Knight trying to notch his first GNCC crown on bikes and Bill Ballance trying to get his record-breaking eighth straight four-wheeled crown. Both need just a top-ten finish to get it done, but they're taking no chances. The globetrotting Knight, for example, was scheduled to race against fellow KTMer Stefan Everts at the Weston Beach Race in Europe this weekend, but he has elected to drop out of the race to make sure he stays healthy for the GNCC final (and Knight isn't afraid to race Stefan—he beat him at Weston last year).

But guess who is racing Weston… Josh Coppins!
In addition to Knight battling Barry Hawk for the #1 plate, Red Bull KTM's Justin Williamson is looking to ice the first XC2 Lites Championship. Early in the year veteran champion Rodney Smith led the points in that class, and he was taking a lot of heat for dropping down to the 250F after five titles in the big class. But Smith has been struggling with a groin injury and Williamson has been putting it all together, hitting the podium in eight-straight races. He's also leading the AMA National Hare Scramble Series on his 250 XC-F, and he's only 20-years old. He usually stops by our office here after the races on the drive back home in his box van. Good going, J-Dub.
Also, the Ironman will mark the US debut of the BMW 450 SportsEnduro bike, and World Enduro vets Samuli Aro and Mika Ahola (don't the Finnish have the best names?) will compete. Australian champs AJ Roberts and Chris Hollis will be on duty as well. The GNCC Series is also debuting something that could end up being very, very big, Side by Side or UTV racing (Rhinos). If you have one and you can get it to Indiana next Saturday, it should be pretty darned fun. As always, it's www.gnccracing.com for all the info.

Get your racing fix in for the weekend by checking out coverage from the ITP Power Line Park GNCC on Racer X Films. Ace shooters Matt Ware and Jeremy Saylor focused through the silt to get some cool shots of the world's best off-roaders doing their thing last weekend. Head to www.racerxfilms.com to check out seperate vids on bike and ATV action.
We got this note from Racer X online reader Luis Courel: "On October 16, in breaking news, I read Tanel Leok was crowned Dutch Champion. In Spain, the Spanish champion this year is Jonathan Barragan of the Red Bull KTM team. He is 23 years old and won the MX1 championship in Talavera de la Reina."
And be sure to check out the
Racer X Brand Fall Clearance Sale
, which is going on right now.
Click here
for more.
Did you guys catch this week's One Industries Rev-Up? Andy Bowyer penned a nice little story about jumping a double for the first time with some coaxing from his father. Check it out here.
From the desk of David Brozik (CFO, DB Scholarship Fund)
The people have spoken! And this week, your favorite essay was penned, then typed by Sam Wappelhorst. Congrats, Sam. You are now the proud owner of $25 of my karaoke earnings from this past Wednesday. Check is in the mail. Sam is also the proud owner of the #3 spot out of 4 in the Grand Finale write-off in two weeks. There, he will compete in the 1,000-word-max, 25-element textorial duke-out for the "Suitcase Full O' Swag" (which now has expanded to a suitcase, PLUS a big UPS box). Keep up the great work, peeps!
This week we have a special gift, a BONUS essay from Adam Heaney (click here).

Remember: 500-word max, no swearing, deadline is Tuesday at 5:00 EST, and send your entry to contest@racerxill.com.
Here are the TWENTY elements for the final week of essays before the grand-prize week: Where's the beef?, donate, squirrely, aggressive, faceplant, skull, Bill Gates, toot, top-end, spoke, uranium, Teddy Pendergrass, apologize, Las Vegas, Halloween, duty-free, Heikki Mikkola, Mad Libs, hooligan, and elephant.
This contest has been a blast! I predict great stuff next week, and a heated battle for the last spot in the Grand Finale showdown! Write now!
As always, thanks to our sponsors: Racer X, Throttle Jockey, Pro-Action, Ogio, igotfumoney.com, Moto Tees, Cernic's, DVS Shoes, Moose Racing, FMF, Thor, Cycle News. Click on their logo below and support our Swagsters.
That's it. Baby's crying. Thanks for reading Racerhead. Have a great weekend, and see you at the races.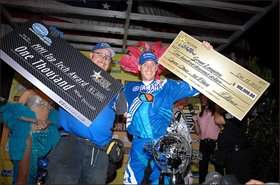 Cha-ching!
photo: Carl Stone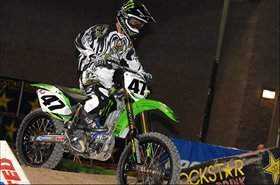 Jeff Emig's 2-3 was good enough for a podium position in the Rematch race.
photo: Carl Stone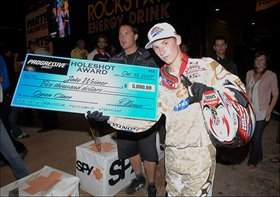 That's a nice reward for getting the holeshot!
photo: Carl Stone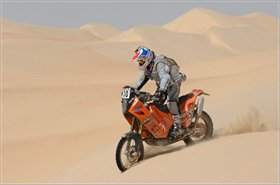 Go Ludo!
photo: Courtesy of Ludo