Between the Motos: Steve Matthes
You've probably heard of Steve Matthes, a regular contributor to both the magazines and websites of both Racer X and Racer X Canada. Steve is a former factory mechanic for Tim Ferry, when Tim rode for Team Yamaha. He's also got a couple East Coast four-stroke titles under his belt with Kelly Smith, along with KTM's first American 125cc win, at High Point. He has traveled the country in a box van wrenching for Nick Wey at Moto XXX, Shaun Kalos, Danny Smith, and Ty Birdwell. Most recently, Steve was with Parts Unlimited, but now he's on the market. We caught up with him for this week's Suzuki Between the Motos.
Racer X: Steve, have you recovered after that crazy weekend in Vegas?
Steve Matthes: Oh yeah, it was definitely an interesting weekend of racing. I'm a little bummed, though, that Tim Ferry didn't win.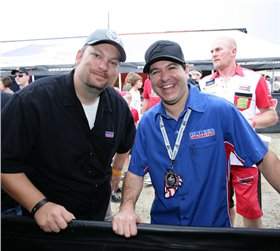 Steve Matthes (left) is currently unemployed.

photo: Simon Cudby

Well, from what I understand, you're now officially on the job market.
Yes, I am. A few weeks ago, Parts Unlimited called and told me they no longer had a position for me. I was the FMF guy, and FMF decided to pull out of the co-op program, which I knew was coming. Unfortunately, Parts Unlimited didn't have anything left for me. Initially, they told me they would, but then they didn't. So I'm hoping for a job somewhere in the industry.
You're still going to keep up your duties with Racer X and Tim Ferry's babysitting, right?
Exactly. I'm pumped that you let me do what I do—I'm happy to do it and want to do it for a long time. And of course I'll always be cheering for Timmy, only now I won't be wearing a Parts Unlimited shirt.
Are you going to shave #15 into your chest?
The possibilities are endless now that I'm no longer employed by a reputable company and industry. I can do anything I want.
If a really good Canadian rider came along, how do you think that would affect your relationship with Ferry?
I think it would survive it. The only thing is if Rollerball came back, we could have a problem. If he came back, Timmy knows that he'd be in a fight for my love. But other than that, Timmy's the guy.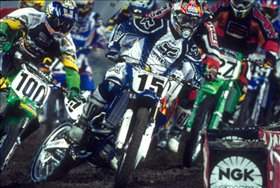 Steve wrenched for Tim Ferry (15) at Team Yamaha.

photo: Simon Cudby

Maybe you could work the privacy tents for Blackfoot Yamaha.
Yeah, exactly. I could practice taking them down and putting them up all day—they seem to be good at that.
Have you gotten any resistance for your subtle criticisms of racing both here in American and up in Canada?
Yeah, I have, unfortunately, and you had to put out some fires for me, which I appreciate. More so in Canada, though. The two races I went to up there were absolutely the two worst ones of the year, and I think my reports reflected that, and it definitely caused some problems. But at the same time, I've also gotten a ton of really great feedback. It just seems that the Canadians are a little more sensitive than the Americans for some reason.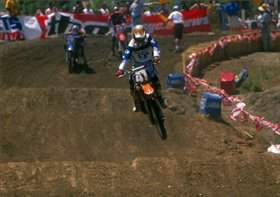 Kelly Smith gave KTM their first American MX win in the 125cc class. Steve Matthes was his mechanic.

photo: Fran Kuhn

What are your skills? You were part of a pipe-fitting union in Montreal or something, right? Or didn't you have a zebra donkey at the border in Vancouver?
[Laughs] Actually, I have a lot of skills. I was the FMF brand manager for Parts Unlimited, so my background of being a mechanic fit in well with that. When I went into a dealer to talk about the latest FMF piece, my background as a mechanic went over pretty well. And all of those race wins - well, one moto win - is pretty impressive. So any company that is looking to get me, I have an extensive mechanical background along with my writing ability. Obviously, you give me a platform to promote that company, just through my writing itself, which is a good bonus. They basically get a guy who can work the technical aspects—talk to dealers and customers. Really, I'm just a well-rounded individual. In fact, I'd even consider being a full-time mechanic again.
Is Ferry looking to expand his camp?
We've talked about it a bit, but he likes the free man-friend—he doesn't want to pay somebody. So why pay for it if he gets it for free?
How can people get in touch with you?
The best way it to email me at matthes@racerxcanada.com. I'm willing to work, and I'm looking forward to finding something else. I really enjoyed working for Parts Unlimited and want to thank both them and FMF. I know that's just the way the industry works. If they ever have anything open up again, I'll be the first guy in line.