5 Minutes With ... Jake Weimer
Unlike any city on earth, 24 hours in Las Vegas can change things dramatically—for better or worse. After finishing tenth in Friday night's main event, Jake Weimer used his potent SoBe No Fear/Samsung Honda CRF250R to snag the Progressive Direct Holeshot while all hell was breaking loose behind him in a first-turn yard sale after Chad Reed rammed Timmy Ferry, bringing down Grant Langston, Andrew Short and more. From there Weimer held on to lead every lap of the thrilling race and, in doing so, scored his first major victory as a professional—as well as the first time a 250F beat such a star-studded field on a supercross circuit. We caught up with the surprise winner after he was back home in Idaho.
Racer X: Jake, what are you up to today?
Jake Weimer I'm not really up to much of anything today. I'm up in Idaho and it's really, really windy outside and I'm not doing a whole lot. I just got a new shotgun and planned to go duck hunting, but it's just too crappy outside.
Congratulations on winning Saturday night at the Rockstar U.S. Open. Are you still feeling the buzz of victory?
You know, it's funny you ask that question. I was just thinking about winning the race today and thought to myself, You know what? The great feeling of winning doesn't last too long…. I guess the initial feeling of winning does not really last that long, but it makes you want to experience again. I'm definitely very happy and excited for both myself and the team. It was a good result. It was a good next step for me. It was a good way to start the new supercross season.
Speaking of the new supercross season, do you know if you'll be riding the East or West in 2008?
I'm not 100 percent sure—probably the West.

Do you think winning a race like you did in Vegas will help you break through and get to the next level?
Yeah, I think it kind of will. I think it's kind of a next step. Yeah, it was kind of a one-off race and a fluke, but to be in the lead and winning the race was a great feeling. It was great to have that feel of winning again. Everyone at this level has won as an amateur and stuff, and it's nice to have that feeling again, no matter who I beat or what race I did it at. To win with a bunch of talented names on the line was a good feeling—and it's a feeling I want again.
When you came out of the first turn with the lead, were you aware of the chaos that was taking place immediately behind you?
I knew things were gong on, but I didn't know what. I knew Reed was down. I saw him come sliding the whole way through the first turn. Leading that opening lap, I was pumped and excited. What was really nice was that when I came around, Ferry was picking himself up and getting going again. I had him right in front of me and I followed him the whole race. That was good because I wasn't thinking about what was going on behind me. I felt good most of the way, but by lap 15 I was ready to be done. I made a pretty big mistake on lap 12 or 13 and I had to calm myself down from that and ride it out. I didn't want to throw it away so I tightened up a little bit at the end. It was such a long race that I almost felt dizzy from all the laps and how tight the track was.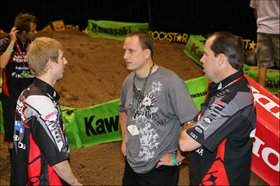 Jake gets some pre-race advice from former U.S. Open winner Mike LaRocco.

How did it feel to see that checkered flag?
Oh, I was way pumped. The whole team was excited. It was a good thing, for sure.
Where do you go from here?
I hung out in Vegas all day on Sunday and we drove home to Idaho on Monday. Now I'll take three weeks to a month off and relax and ride. I'll ride, but nothing too hardcore. I'll be back in California in a month, and that's when I'll start on my program for 2008.
In 2007 you were a bit of a sleeper. But you placed sixth overall in the AMA Toyota Motocross Lites Series after a strong fourth in the West Region SX. Were you pleased with the year?
Yeah, I would say, overall, the year went pretty well. When I look back, I think, I would have done this differently, or I should have done this, but as far as the whole year goes, I can't complain. It was a major improvement over my 2006 season. Mentally, I'm where I need to be. I have the mentality to win.
What's the master plan for 2008?
I want to be on the podium every weekend. There's a lot of talent, but my main goal is to win. I feel that if I can be on the podium, I'll definitely win races. There's no doubt in my mind. In the outdoors, I want to be in the battle out front. I work way too hard to ride as hard as I can for 35 minutes and get sixth. Next year I want to be in the top three and battling for wins — especially after the U.S. Open! In 2008 I want to have fun and always be there up on the podium.