Between the Motos: Ryan Hughes
Team Suzuki WORCS rider Ryan Hughes is well-known to motocross fans all over the world. For the last two years he's been carving out a name for himself in off-road as well. He's the current points leader in the tour, having won three of the first four rounds—including the last three in a row. And when he's not racing himself, he's helping out a few other familiar names. We asked him about both his racing and that of the riders he helps train—Brett Metcalfe and Josh Grant—for this week's Suzuki Between the Motos.
Racer X: So far so good in the WORCS series for you and Team Suzuki. You're three out of four with one runner-up finish, right?
Ryan Hughes: Yeah, the series is going good. The first race we had a little set-up problem with the bike, and not racing for seven months got me off to a tight start.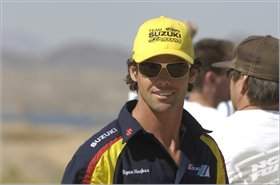 Three consecutive WORCS wins makes Ryno happy

I thought it was arm pump?
[Laughs] Well, that's what I'm saying—it was a tight start! And mentally I was a little tight, too. But after that all of the races have gone according to plan. I changed some things in my training and really started training extra hard, and it seems to be paying off right now.
Last year you were in a good position for the championship, and then of all things to have happen, you get hurt on a motocross track.
Yeah, I had a 53-point lead going into Washougal, and yes, I got hurt on the motocross track. But they changed a section without telling us, and it bit me. But I don't look back on it as a bad thing—I look back on it as probably one of the best things to ever happen to me, because it woke me up mentally and physically, so it definitely was a good thing in my life.
This may sound strange, but you're not the first guy who broke his arm there while leading a series by a wide margin…
Yeah, JMB did in the whoops in 1990 when he was way out front in the 125 Nationals. I did it in a different spot, but yeah, I know I got the same kind of style as Jean-Michel. If you would ever see me ride now you'd be quite surprised now, Davey.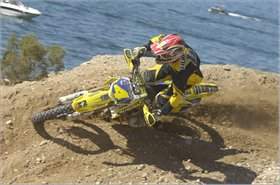 Hughes shows off that Everts-like riding style

[Laughs] I know you're kidding, but I have seen you ride, and I think there's some Stefan Everts-influence in you. You do a lot of standing up and you ride a gear higher than most guys, just like Stefan. I know that you got to race a couple years with him in Europe and you have a lot of respect for Stefan.
Yes, I definitely have a lot of respect for him and his accomplishments, and definitely how he rides. I don't think there is anybody who rides a motorcycle like him—he's a good person to study, watch and learn. You can never stop learning, and I think that's why I think I keep improving as I get older. And tomorrow I'll be 34-years-old.
Hey, Happy Birthday! Now, let me back up a second. You said how the crash at Washougal opened your eyes and changed your life. Can you elaborate on that a little bit?
Yeah, I just think the way I was going in my life—my riding, thinking, training and even emotionally—I was just kind of hung up on a few things. Sometimes when bad things happen, people get so depressed about it, but there is a good thing that comes from it, and vice versa. It's good not to get attached to the things that happen in your life, so I just learned to go about my training, life and spiritual journey a little different. And things have been working out quite well—not just in racing, but life in general. Right now life is awesome. I'm happy and everything is going according to plan. But that is what happens when you try and become the best person to yourself and to everybody else.
I know that as far as the series goes, last year you kind of left that championship on the table, but right now, not only are you winning—you're winning by afar, and you're more controlled.
Yeah, this year, like I said, I learned a lot from my broken arm, and I think it shows with my thinking and my riding. Kurt Caselli is definitely keeping me honest, and it's not like it's a walk-away for me. It's a lot of work, and Caselli is strong and he has a lot of experience. This year, with myself, it just seems a little easier. It's less intense for me for some reason. I've learned that anything you push you just make it go farther away. You have to accept thing with more softness, and things come a lot better and easier.
A few weeks back, one of our own—David Pingree—decided to try a WORCS race. For a guy to debut in the series, is Havasu the toughest race?
I think it's the toughest race. It might not be the roughest—they say Pismo is the roughest—but at Pismo you have 60 degree weather; Havasu you have 103-degree weather, and that's a big difference. Pingree did do quite well, I believe. He was riding a 450 he had never ridden and finished 16th. That's not too bad in a two-hour race in 100-degree heat. And the trainer he is, he did quite well.
[Laughs] Yeah, right. And he's got two weeks off now because he can't type! Anyway, you went to Idaho. Did you miss that round last year?
No, last year I won that round. It was the last round before I broke my arm.
And this time I noticed there was a new motocross racer out there: Jake Weimer showed up.
Yeah, Jake showed up. He called me Friday morning. He lives about two hours from there and I think he had a good time. I think it kind of opened his eyes as to how fast we off-road riders are, because we kind of get the rap that we're slow. Well, not necessarily. We still go really fast off-road. For him I think it helped him out a lot, because you hit every type of condition that you're going to see in the nationals—from rock, dust, mud, square-edge, sand, etc. It's a tough series we run, and the speed is really high and I'd like to see more motocrossers come out and try it out, because it's a great series to get into it if supercross isn't your gig.
Isn't that a lesson you had to learn at first, too? When you were a motocrosser, you're wired to hit it like an outdoor moto.
Yeah, that was the toughest part for me last year. I was trying to be the fastest every lap, every time on the track. I used a lot of energy through the weekend because I was programmed that way. Now it's a little different and I have more patience. I work my way up to speed and I don't waste all of my energy. It comes with a little experience and age, I guess. And also when you break your arm and you have injuries that I have, I think your soul just says, 'Okay, wake up, Ryan. You're doing the same shit, and you're going down the same road every year.' It was time for a change.
I think a lot of people, whether they race or not, can appreciate those kind of lessons. So what do you do from here?
Well, I have a 19-point lead, so it's all beer and barbecues now! [Laughs] No, from here on out I'm just going to take it race by race. To me, I look at it as two series'. The first series is these first seven races, and then we have a two-month break. So my plan is to win the first series and have a pretty good points lead. But I'm going to take it race by race, and from there it should work its way out. I just have to show up 100 percent prepared.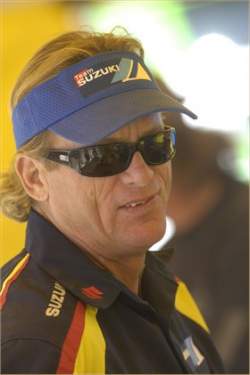 Suzuki's Mike Webb

You still have Jonathan Hoody as your mechanic. Who else do you work with at Suzuki?
I work with Mike Webb at Suzuki. He's the team manager and he helps out a ton. He's definitely on the ball on getting me anything I need and making sure everything is working. My mechanic Hoody, we're like the same person—brothers, almost. And we have Dave Dye and a few other guys in the team that come to help out. We don't have a big team, but we have a strong little team that has a ton of experience, so that helps out a lot.
While you're working on pushing Suzuki to this championship, you have a couple other racing endeavors with Josh Grant and Brett Metcalfe. Let's start with Brett.
Brett has been practicing. We've been training real hard and he's riding really good on a supercross track right now. I think today is going to be the day of decision if he's going to ride the last supercross or not. Other than that, I think he's beyond where he was last year, and he's only been on a bike for a month. The shoulder was a 14-week injury without riding. As long as you're off is as long as it takes to be back 100 percent. We're still being patient, and to me the main goal it the outdoors, and he knows that too, but I think for his personal gratification he'd like to do one supercross. But he's right on schedule and is looking good. It's unbelievable how seriously he takes his racing and his preparation is phenomenal. So, it's a pleasure to work with somebody like that.
Well, Brett can ride East or West, and it looks like Pro Circuit could maybe use his help at that last East race, which is coming down to the wire.
Yeah, but that's his decision. My job is to make sure that he's the most prepared he could be, emotionally and physically. He still got a bit to go, but where he's come from, he has made some big improvements from last year.
The East series is one race shorter, so if he goes out and gets 15 or 18 or more points, he has a better chance of making it to Las Vegas for the East/West shootout.
Good point, and I'm sure they are thinking about that.
Now let's talk about Josh Grant. He had a lot of expectations, but it just didn't get off to the right start. Do you think these nine weeks off will do him some good?
Yeah, we all had big expectations for Josh, but that's racing. I think it's his first year to deal with those expectations and pressure, and I think maybe the beginning of the year did get to him a little bit and put him off into a tailspin, but everyone goes through that. That's just the way his career is made right now, and he just has to get over that. He went to Florida and bought a place back there and has been doing a lot of riding. He's just getting away from everything in California. He had some things here that drove him away, and to get away from all that definitely helps. I believe we'll see the real Josh Grant come out in the outdoor nationals, for sure.
Well, congratulations again on winning your third race and turning 34 tomorrow. Keep it real, Ryno.
Not too bad for an old dude, huh? That proves what organic eating and living does!